Closing Our Doors, Closing Our Minds to Syrian Refugees
A version of this story ran in the January 2016 issue.
As Greg Abbott closes his first year in office, we should note his masterful skill at making us look like fearful dolts. We might have been able to treat the Jade Helm panic as an isolated incident, if not for his deplorable reaction to the Syrian refugee crisis. No statement from the Governor's Mansion in the last year summoned as much bile in my well-worn throat as Abbott's vociferous declarations that Texas would never be a home to the people fleeing Syria's charred remains. In part, that's because I read his letter while in Germany, where I was watching how Europe is coping with the crisis.
The Syrians — and Iraqis and Afghans — are fleeing, in part, the aftermath of America's wars. But it is Europe that is shouldering the burden. In Germany, at least, they are doing so with a measure of compassion I can't imagine occurring in the States; a compassion that Texas officials certainly did not offer our own wave of refugees, the scarred young people from Central America who arrived on our doorstep in the summer of 2014.
The German government has taken in some 460,000 refugees since 2011, and expects applications from some 800,000 more this year. Federal and state governments are pouring money into programs to facilitate their shelter and integration. Volunteers at train stations attempt to help the weary families that appear there after a trek of more than 2,500 miles. At Berlin's Nazi-era Tempelhof Airport, now a refugee camp, the German army assembled IKEA furniture en masse. The media is saturated with the refugees' stories.
A large number of Germans who oppose accepting refugees are more or less openly racist, an admirable honesty that we sometimes lack in America. But there are also serious fissures developing within the conservative government, between Chancellor Angela Merkel and her right wing. The European project as a whole is experiencing similar strain. Merkel has held fast, even though she may lose her office. The humanity of the refugees and the intensity of their need cannot be denied.
"Tell Americans that we need help," I was told repeatedly by Germans. If Texas were to take 10 percent of the Syrian refugees that the Obama administration hopes to resettle in the first round, we would then have to contend with some 0.1 percent of the refugees Germany could end up admitting. This is too much, apparently, for our quivering constitutions, empty pocketbooks, and frail sense of ethnic order.
And Abbott, with a miniscule weight on his shoulders compared to Merkel, is terrified of his right wing.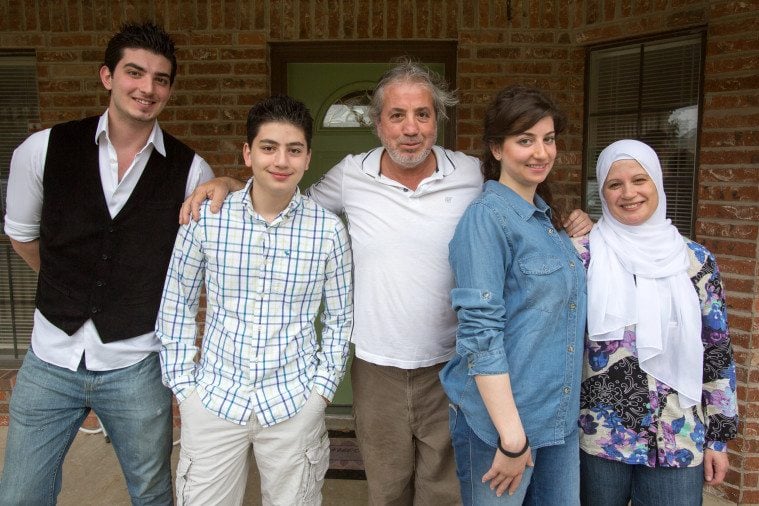 "Neither you nor any federal official can guarantee that Syrian refugees will not be part of any terroristic activity," Abbott wrote to President Obama. It's a true enough statement, in the sense that neither can Obama guarantee that Canadian immigrants will not burgle or stab us. But German police report that Syrian refugees commit crimes at a far lower rate than other German citizens.
And what of Lieutenant Governor Dan Patrick? Texas "adhere[s] to Judeo-Christian principles," he said in a statement, which means we've historically "welcom[ed] refugees." Not these refugees, though, who happen to be mostly Muslim. The last time American Christians were called upon to save anyone from the Judeo- part of that formulation, they didn't, of course: In the 1930s, Jews were thought to be too foreign and treacherous.
But others echoed Patrick's reassurances, in a way. An item in Texas Monthly, meant as a call to action, lists the many times Texas has hosted weary immigrants. A one-sentence paragraph reads, "In the 1970s, Texas welcomed 27,000 refugees from Vietnam and Cambodia." Perhaps "welcomed" is too strong a word: According to the Handbook of Texas, Texans wrote to their members of Congress at a 10-to-1 ratio against admitting the refugees. As those refugees struggled to build new lives, their homes and fishing boats were firebombed and shot. The KKK organized against them. The Texas Legislature passed laws making it harder for them to earn a living as fishermen.
Nativism is one of Texas' oldest traditions, one which coexists with a cosmopolitan tendency that has grown slowly over time. It falls to each generation to nurture the latter and shun the former. Abbott and Patrick shamed themselves and our state, and made Texas a villain in a once-in-a-generation humanitarian crisis happening half a world away. It is as pure a moral test as I can imagine, and we should never, never forget how badly they failed it.