'Refugees Are Victims of the Very Thing You Are Afraid Of'
Despite an uncertain welcome in Texas, these Syrian families are trying to rebuild their lives after fleeing civil unrest and violence half a world away.
Despite an uncertain welcome in Texas, these Syrian families are trying to rebuild their lives after fleeing civil unrest and violence half a world away.
*
The tapestry that hangs on the wall above the sofa in Iyad and Lina Al Afandi's modest home just north of Dallas is the only physical reminder of the country they've left behind: a stitching that depicts a traditional Syrian house with tiled courtyard and fountain, and rugs draped from the balcony.
It's a depiction of a time and place entirely unrecognizable now amid the rubble and dust of the Damascus suburb they once called home.
Eighteen months ago, Lina carried that tapestry, rolled in her bag, across the international border crossing in Tijuana, while clinging to the hand of her youngest son Homam, then 14. With them were Iyad, their eldest son Nawar, now 21, and their daughter Noor, now 24. Today, four-plus years after the violence began, it's hard for them to remember a Syria devoid of snipers' bullets, checkpoints, bloodshed and shelling — the Syria that existed before their eldest son Nawar was arrested, detained and beaten by men working for President Bashar al-Assad. Before their escape to America.
The Al Afandi family is part of an exodus of four million displaced Syrian refugees (there are an estimated 7.6 million internally displaced within Syria). Most of those who fled the country live in camps in Jordan, Turkey, Lebanon, Egypt and Iraq. Hundreds of thousands have somehow made it to Europe, sometimes braving the Mediterranean in unseaworthy craft.
Yet since civil war began in 2011, just 2,200 Syrians have been resettled in the United States. In the 2015 fiscal year, just 213 Syrians — 23 asylum-seekers, who file after they arrive, and 190 refugees, who apply beforehand — have been resettled in Texas.
In September, President Obama pledged to admit 10,000 Syrian refugees over the next year. That prompted Governor Greg Abbott, along with 31 other governors, to pledge to reject Syrian refugees, citing security concerns in the wake of the November terrorist attack in Paris.
Texas Attorney General Ken Paxton has sued, so far unsuccessfully, to block the federal government, along with refugee charities, from bringing Syrians to Texas. A federal judge has said he won't rule before January 12 on the matter.
Meanwhile, refugees like the Al-Afandi family — one of three Muslim households the Observer interviewed after Abbott said Texas would not offer safe haven to Syrians — are simply trying to rebuild their lives.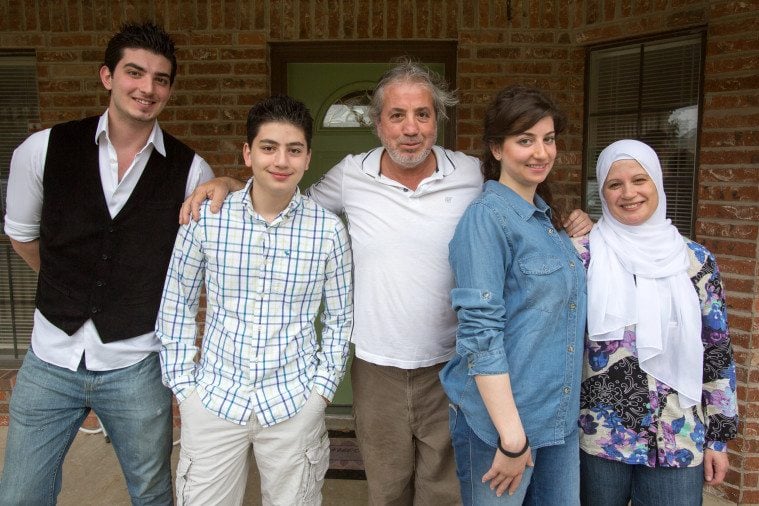 Iyad leans forward on the sofa, pushing a hand through his gray hair. "The Syrians coming here are peaceful," he tells me, speaking through an interpreter — himself a Syrian asylum-seeker and Fulbright scholar currently working as an Uber driver in Dallas.
"We don't even throw gum on the street in case a bird swallows it," says Iyad. "Even though the regime in Syria is so brutal and harsh, we didn't want to fight back."
And yet Homam, who's now 16, says some of his new neighbors have treated him like a threat, playing into Islamophobic stereotypes even as armed Christians protested outside a Dallas mosque and anti-Muslim activists doxxed North Texas Muslims online. Just before Thanksgiving, Homam went into a convenience store and asked the clerk if he could borrow his phone to call Iyad.
"After he heard me talking to Dad in Arabic, he asked if I was a suicide bomber," Homam says. "He was kidding, but not kidding. I took it as a joke."
*
The Arab Spring reached Syria in March 2011 — just a few months after the Tunisian uprising that sparked a revolution across the Middle East. Across Syria, pro-democracy protesters took to the streets demanding reform and Assad's resignation. In April, Assad's troops used tanks and snipers to force civilians off the streets. They shut off the water and electricity. And in spots where there was particularly violent opposition, Assad's forces confiscated food.
Back then, Iyad was working in construction and Noor was studying law in Damascus, but it soon became impossible to find jobs or stay in school.
Homam recalls going to the store with his dad as bullets flew around them. "They were shooting everything," he says, "including cats in the street."
In early 2012, a midnight blast shook their apartment building. The family escaped to the basement. "It was terrifying," Noor says. "I can't describe it in words. You're afraid you will lose family members, that you'll lose your own life."
They moved in with relatives nearby, but in May, Assad's forces arrested Nawar while he was walking near his grandmother's home. A tall, bubbly 21-year-old with red glasses and spiky hair, Nawar still bears scars on his back as evidence of the week-long ordeal that followed.
Nawar says he was thrown in a minibus with other men, struck repeatedly with a stick and a length of metal cable and tasered before being moved to a series of different buildings.
"Every day they beat me. The first day for six or seven hours. On the third day, before they interrogated me, they punched me. They tried to rape me but the interrogator said I was too young and that they were to leave me alone."
Assad's men accused Nawar of having guns and recording protests.
"They knew I didn't, but they tried to make me confess, tried to scare me," says Nawar. "Eventually, after a week they freed one of my hands so I could sign something. I never found out what it was."
After Nawar was released, Iyad knew his family had to flee. After a couple of tries, Iyad secured visas through the Mexican embassy in Cairo. The family then flew to Guadalajara before traveling to Tijuana and crossing into the United States. "We walked through the regular crossing," Iyad says. "We told the [Border Patrol agent] we were from Syria and that we needed asylum."
The family was separated and spent three days in detention on the border before being transferred to the Otay Detention Facility in San Diego. Lina and Homam were released shortly afterward; Iyad and Nowar were detained for 47 days.
Noor was held for a month. "I was so scared," she says. "I had no idea where my dad or mom were."
The Al Afandis have now been given Temporary Protective Status, a designation for those displaced by war or natural disaster. They can live and work here, but the status doesn't automatically lead to becoming permanent residents.
Noor brings over a tray of Arabic tea and some homemade pistachio cookies. She's still wearing the scrubs from her job working reception at a nearby medical clinic. "I want to stay in America now," she tells me. "Maybe in the future I'd go back to Syria."
Nawar works in a jewelry store. Homam is back in school. "The first three months were hard," he says in almost-perfect English. "It's easier now. Easier than in Syria."
Iyad recently found a job setting up ATM machines. "I want to stay here for our children. But I know that if things change in Syria they'll kick us out."
As for their asylum case — whether they'll be given leave to call Texas home, permanently — the family is in the dark. The cases are being heard separately and in both Texas and California, though Noor says they're "trying [their] best to stay as a family in the asylum process."
Recently, they were told by friends in Jobar that their apartment had been destroyed. Homam hops off the sofa to flip through some images on his laptop — pictures of buildings in Jobar that have now been completely obliterated. "It makes me scared looking at these," he says. "I still have friends there."
Numerous studies have confirmed what may seem obvious — that children who have lived through war are at an increased risk of developing PTSD.
As of press time, officials couldn't provide the number of Syrian children who've been resettled in Texas so far. But they include Omran Barakat, whose family resettled in North Dallas near the Al Afandis earlier this summer, and who was 7 years old when mortars rained down on his neighbor's home in the city of Homs.
It was the middle of the night, and Omran instinctively grabbed his one-month-old brother, Zaid, and ran to his mother, Qamar. Together with his sister, Reem, and father, Mohammad, the family headed for the ground floor of their apartment. Since the Barakats' escape, the building has been gutted — by mortar attacks or air strikes, they don't know.
Qamar says her daughter is permanently scarred by what she saw in Homs. "Reem still sleeps with me every night," she says, tears welling in her eyes. "It was the hardest time for me. I thought I'd lose them at any moment."
Fahed Alhaj Mohamad, who interpreted the Observer's interviews for this piece, lives in the same apartment complex as the Barakat family. A quiet, smartly dressed 29-year-old, Alhaj Mohamad's hometown, Al-Bab, was taken over by ISIS in 2014. His father was detained by members of the Assad regime there in early September, according to one of Alhaj Mohamad's brothers, who was living in Syria at the time. Neither has any idea where their father is now.
Alhaj Mohamad came to the United States on a Fulbright scholarship in 2012 to study geospatial information sciences – mapping. He then got accepted to a doctorate program in Dallas, but it's on hold while he tries to make ends meet. He applied for asylum in February 2014, and his application is still pending. Now, he drives for Uber and does interpreting work on the side.
When he thinks about the children left behind in Syria, he says he feels a surge of guilt. "Sometimes I just wish I had died," he says. "It's so hard thinking about what the children are going through."
He told the Observer he thinks Abbott's recent directive to state agencies to cease resettling Syrian refugees "doesn't make any sense," and that the Paris terrorist attacks had "nothing to do with Syrians."
"These refugees are victims of the very thing you are afraid of. There are 10 million Muslims in America," he says. "They are in the army. They are doctors. They are part of the community, part of the country. And they're proud to be American."