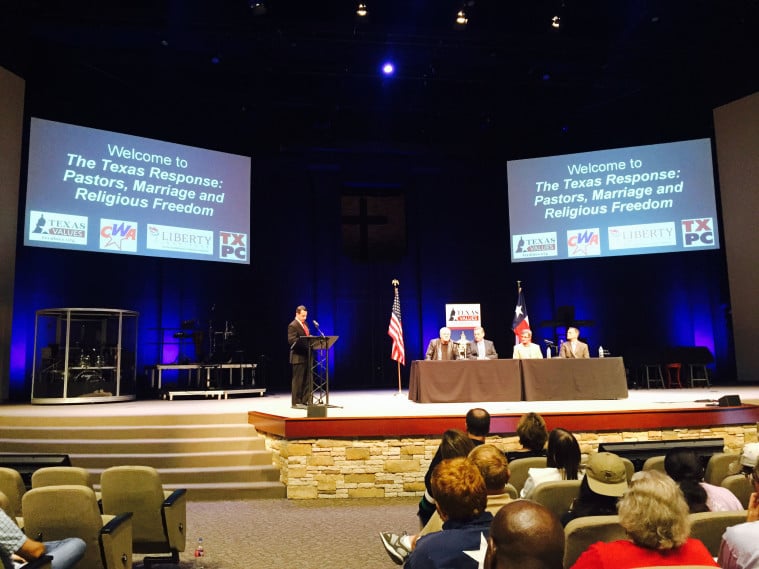 Anti-Gay Groups Mount 'Texas Response'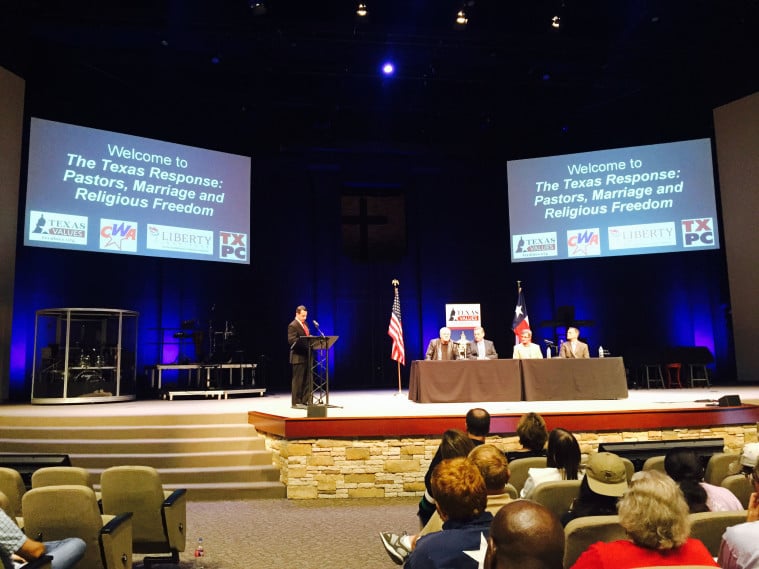 State Representative Scott Sanford, R-McKinney, stood on the stage of the Southern Baptist megachurch where he serves as executive pastor on Tuesday and accepted a religious freedom award from the anti-LGBT group Texas Values.
But Sanford said God ultimately deserves the credit for passage of his so-called Pastor Protection Act, aimed at preventing clergy and churches from being forced to participate in same-sex weddings.
"It was much like being on a mission trip, and you see things just beginning to happen that you can't explain," Sanford said. "God was doing things, and I just happened to be along for the ride."
Progressive groups say the Pastor Protection Act merely reaffirms First Amendment protections, and it cleared the House 141-2 with support from two openly LGBT lawmakers. However, Texas Values President Jonathan Saenz claimed the law protects all religious organizations and employees, as well as church-affiliated hospitals, campgrounds and other facilities.
Sanford and Saenz were joined by hundreds Tuesday evening at Cottonwood Creek Baptist Church in Allen for "The Texas Response," to celebrate passage of the law and map strategy for protecting religious freedom after the U.S. Supreme Court's same-sex marriage ruling. Also in attendance were Representative Matt Krause, R-Fort Worth, who led the Pledge of Allegiance, Representative Matt Shaheen, R-Plano, and Senator Don Huffines, R-Dallas.
Neither Shaheen nor Huffines spoke, but Saenz played a video message from Lieutenant Governor Dan Patrick, one of several state officials, including Krause and Representative Scott Turner, R-McKinney, who've previously spoken at Cottonwood Baptist.
In addition to the Pastor Protection Act, Patrick's message touted the passage in the Senate of a non-binding anti-gay marriage resolution during the waning days of the 2015 session, while over 20 more substantive anti-LGBT proposals died. Patrick said the resolution "sent the strongest message possible" to justices.
"Unfortunately, the U.S. Supreme Court majority didn't listen," said Patrick, adding that a scheduling conflict prevented him from attending. "As a Christian first and foremost, I stand with you in your faith and prayer and in our mutual conviction that no one, especially our religious and business leaders, should ever be compelled to do anything that separates us from the very fundamental principles of our faith."
Nestled between the Sam Rayburn Tollway and an upscale subdivision in one of the fastest-growing areas of the state, Sanford's church cuts an imposing figure against the suburban landscape some 25 miles north of Dallas.
Two large cakes decorated with the Texas flag, along with a third adorned by male and female wedding rings, sat waiting in Cottonwood's cavernous foyer. But before they cut the cake, attendees — predominantly white and over-40 — would sit through two hours of remarks from Saenz, Sanford and others.
On another table near the sanctuary entrance were stacks of anti-LGBT literature from Texas Values and the event's co-sponsors — the Liberty Institute, Concerned Women for America and the Texas Pastor Council — as well as copies of Attorney General Ken Paxton's opinion encouraging officials to defy the high court's marriage ruling.
Inside the sanctuary, as people awaited the program, Murphy-based Protect Marriage distributed a petition calling on elected officials to treat the marriage ruling "as void and of no force in the state of Texas."
"They're trying to shove it down our throats," a woman said as she handed out copies. "The more people the governor sees support him, the more bold he's going to be."
But unlike Paxton's opinion or the petition, speakers didn't advocate outright defiance. Rather, they asserted that the real battle, between LGBT equality and religious freedom, has only just begun.
Kelly Shackelford, president and CEO of the Liberty Institute, warned that same-sex marriage supporters will try to use the ruling to punish those who disagree with them. In addition to persecuting Christian business owners who refuse to serve same-sex couples, he said they'll come after the tax-exempt status of churches, federal student loans used to attend anti-gay schools, and the FCC licenses of televangelists.
But Shackelford said it's a fight anti-gay Christians will ultimately win.
"The law is not on their side," Shackelford said, pointing to a passage from the high court's decision that affirms religious freedom, and flipping the petition circulator's script. "We're going to shove that down their throat over and over again in all these cases."
The real rhetorical fireworks of the day came during The Texas Response's grand finale, which featured Ann Hettinger, director of the CWA of Texas, and Dave Welch, executive director of the Pastor Council.
Hettinger read from what she said was a 1972 document laying out the "homosexual" community's agenda, including the repeal of age-of-consent laws and restrictions on the sex and number of people in a marriage.
"Everything that they set out to do, they're well on the way to having accomplished, and this is all defeating to Christian families," Hettinger said.
Welch pointed to Houston officials' decision to subpoena the sermons of anti-LGBT pastors as part of a lawsuit over the city's Equal Rights Ordinance, calling it "as close to anything as I've seen to Nazi Germany on our soil."
He added that his group is playing a game of "whack-a-mole" against gay rights laws across the state.
One audience member asked about a proposal to add LGBT protections in nearby Keller ISD, which he said would allow boys to use girls' restrooms.
Welch responded that such transgender-inclusive nondiscrimination policies amount to "declaring God a liar" by saying "He didn't create male and female in his image."
The last question of the night came from a woman who said she was "very disappointed" with the turnout, adding that the half-full sanctuary should have been standing-room-only. The woman said her son is a senior at Plano West High School, which she called "so immoral and anti-God it disgusts me."
"Look at Sodom and Gomorrah. God destroyed that place," the woman said. "How do we protect our children?"
Saenz didn't appear to have much of a response, other than encouraging students to exercise their First Amendment rights by witnessing about their faith during non-instructional time.
"The more that you can encourage your children and people in your community to not be afraid, to take full advantage of the law that already exists, I think you'll get a lot of great benefit from that," Saenz said.
Watch clips of remarks by Hettinger and Welch below.