Anti-Gay Marriage Amendment Dies, Capping 'Huge Victory' For LGBT Rights
Back in March, Rep. Cecil Bell Jr. (R-Magnolia) stood in a hallway behind the Texas House chamber and declared he was "very confident" one or more of his four anti-gay marriage bills would become law.
On Wednesday, Bell occupied the same spot—this time without his trademark cowboy hat—and acknowledged that the last of the four still clinging to life was all but dead.
"It's a system designed to kill bills," Bell told the Observer. "That's the whole nature of Texas government, the bicameral nature of it."
Bell touted broad support for the measures in both chambers, pointing to an anti-gay marriage letter signed by 93 of the House's 98 Republicans this month. Later Wednesday, the Senate would vote 21-10 to approve a nonbinding anti-gay marriage resolution, in lieu of taking up one of Bell's bills that had been resurrected as an amendment.
"Running out of calendar is a very different statement than, 'Will it pass assuming you get the opportunity to debate it on the floor?'" Bell said, explaining his previous confidence. "It is a caustic environment for bills. The process in and of itself has no emotional attachment to issue."
It's a valid point—a small fraction of all legislation introduced each session passes. But Bell's four bills targeting same-sex marriage were among more than 20 anti-LGBT proposals that died in the 84th Legislature, so it's probably a stretch to blame it all on the calendar.
In any case, as the clock struck midnight Wednesday, the deadline for the Senate to pass bills, LGBT advocates were celebrating what amounted to a shutout against discriminatory legislation—one pitched amid fierce backlash over same-sex marriage in the nation's largest red state.
"The combination of community activism, legislative allies, procedural maneuvers, all those things came together to make sure we weren't doing anything to hurt the LGBT community," said Rep. Mary Gonzalez (D-El Paso), one of two openly LGBT members of the Legislature (the first in history to have more than one).
"There were some really strong, powerful forces trying to do some really bad things this session, and the fact we were able to push off all those advancements, I think was a huge victory," Gonzalez said. "I think it never hurts to have the business community on your side."
Gonzalez was referring to opposition to anti-LGBT measures from the state's chamber of commerce, the Texas Association of Business, as well as from individual employers, hundreds of which joined the pro-LGBT Texas Competes coalition in April.
TAB publicly opposed only two anti-LGBT religious freedom measures, but CEO Bill Hammond stood alongside Democratic lawmakers at a news conference in early April where they denounced the ongoing legislative assault on gay rights. The presser served as a less dramatic, but arguably more effective, counterpoint to two earlier anti-gay marriage rallies on the Capitol steps, including a now-infamous cake-cutting ceremony and a visit from Alabama Chief Justice Roy Moore.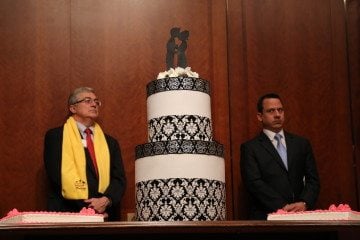 Rep. Jason Villalba (R-Dallas), who authored a proposal deemed anti-LGBT but eventually dropped it, said TAB's opposition was reinforced by tremendous business backlash over passage of a similar religious freedom law in Indiana.
"I think Indiana was a hugely influential moment. That was a nationwide zeitgeist," Villalba said, stressing his amendment was never meant to target LGBT rights. "For me, after TAB spoke, it was done, but when Indiana happened, then it was clear that I had made the right decision."
The impact of TAB's opposition was perhaps most evident when anti-LGBT leaders lashed out at the group, accusing it of abandoning "Texas values" in favor of "the homosexual agenda." But Bell downplayed the influence of business opposition to his legislation, even though both Celanese Corp. and Dell Inc. publicly came out against the most high-profile anti-gay marriage bill.
"I don't see Celanese taking that big plant down there on the Gulf Coast and setting it on a trailer," he said.
Indeed, regardless of corporate pushback, 89 of 98 Republicans co-authored House Bill 4105, designed to undermine a potential June ruling from the U.S. Supreme Court favor of same-sex marriage. Villalba was among those who did not.
"I'm not in the business of telling the federal government that they are wrong and that we have a sovereignty that exceeds the authority of the Supreme Court of the United States," he said.
Villalba also declined to sign the anti-gay marriage letter, which he called "meaningless." And on Wednesday, he expressed opposition to an anti-LGBT child welfare amendment, moments before it finally died.
Villalba's statements were a clear reminder that it wasn't just Democrats who killed anti-LGBT proposals. And they were another sign of evolution, albeit glacially slow, on LGBT issues within the Republican caucus—punctuated by Rep. Sarah Davis (R-West University Place), who last week came out in support of same-sex marriage.
"I think of the 93 members of the House that signed the letter, I think if you had private conversations with them, a significant number of them would feel like I do," Villalba said. "I'm not ready to go on record saying that I support marriage yet, like Sarah has. Sarah was very brave and courageous to do that. I think she feels confident that she represents her district well. I'm not certain that my district feels that way yet, and I also believe this decision is not going to be within our hands."
Rep. Rafael Anchia (D-Dallas) said at times during the session, he felt as though it was his freshman year in 2005, when he served on a small floor team of Democrats working unsuccessfully to defeat the state's marriage amendment.
"I thought the Republicans had sort of played out the anti-gay thing, because we hadn't seen it for a couple of sessions," Anchia said. "It's clear that public opinion is moving away from them rapidly. This feels like a desperate last gasp to pander to the most hateful elements of the Republican primary electorate."
Nevertheless, Anchia acknowledged that when members of his party worked to defeat anti-LGBT bills, they sometimes did so with the quiet encouragement of Republicans—both "moderate" and "not-so-moderate."
"I can't tell you how many members of the House have come up to me and said, 'Will y'all please kill these bills, Democrats? Because we don't feel good about them,'" Anchia said. "The reality is there are many Republican members of this Legislature who have gay children, gay siblings, who may be gay themselves but are just not out. As a result, they understand firsthand how hateful this legislation is."
Bell, of course, insists his anti-gay marriage bills were about preserving state sovereignty, not hate. He said he's received three death threats, as well as two glitter bombs that were intercepted by Capitol mail staff. But he suggested this won't be his last gasp.
"It's essential for us to remember that if we have no sovereignty, we are no longer free people, we are subjects," Bell said. "I will not stop standing for the citizens of Texas or for the state, and again my religious foundation also affords me no recourse other than to stand for our traditional values."