Visualizing the World From Lubbock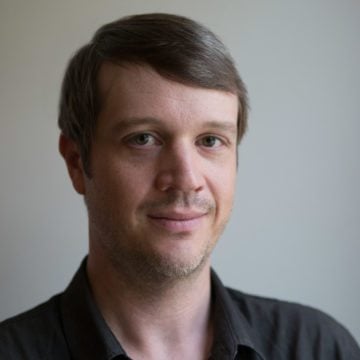 A version of this story ran in the January 2013 issue.
Like fellow Lubbock native Buddy Holly, visual artist Dirk Fowler proves that great art is indigenous to the Llano Estacado. Fowler, 42, is a highly regarded artist best known for his iconic concert posters of Loretta Lynn, Wilco, Willie Nelson and the New York Dolls. He works out of a small home studio in Lubbock with his wife Carol. Fowler got his start as an artist at age 8, when Jack and Jill magazine accepted one of his drawings. He has described his artistic approach as "hand-eye-chicken."
"What does hand-eye-chicken mean? It basically means that I like to start out with a really simple drawing, maybe I'm brainstorming trying to come up with an idea and I just draw something like a hand—it might seem to have nothing to do with this problem I'm actually trying to solve. So I'll just study it, think about it, pretend I've never seen anything like it before, look at the negative space around it. What does this thing do? In this case I drew a hand, I turned it upside down, I realized if I duplicated that hand it actually made the shape of an eye between the two . . . So I started with one thing, then I realized it can look like something else, and then, oh my God, it looks like a chicken.
"My stuff is letterpress printing, which is relief printing. I print them all by hand. After the initial design phase I don't use a computer again until I scan it and put it on my website. I hand-cut all the printing plates; I make those out of rubber and then print each color as a different pass through the press, and I hand-pull each one of those. It's old-school, not many people do it.
"The Internet has made the world a much smaller place. I do design all over the world, and people find me. They see my work and then track me down—that wouldn't have happened 20 years ago. I think a lot of times people blame that they live in a small town and they blame the community [that] they're not able to do the kinds of things they want to do. 'I can't do good design because I live in this small backwards place.' I think that's a poor excuse. I think you can do good design no matter where you are.
"I don't think my work looks like West Texas, but I do have that background. I know what windmills look like, I know who Willie Nelson is very well, so when I'm hired to do a Texas music act I probably know a little bit more about that than I would if I lived in New York.
"I think [concert posters have] taken on a different role. I think it's not used as much as a form of advertising like it used to be. I mean obviously a band like Wilco doesn't need a poster to sell tickets to a show, but the poster has become more of a way to visually connect a fan with that band or that sort of music. It used to be that you might sit on the floor with your albums out and you would have a visual to connect with the band, with that large-format album cover, and now with digital music being dominant . . . a lot of bands don't have a visual identity. You buy the poster at the show and then you hang it on your wall and you remember the feeling that you had. I think it's maybe more important than it ever was.
"I'd say the one I'm most known for is a poster I made for Loretta Lynn, and it's probably my favorite because it was kind of a breakthrough moment for me. It sort of changed the way I try to solve problems. Something about that poster—everything just kind of clicked, for me at least. It's got the headstock of a guitar where her face would be, her lips are like a heart, and then it has a teardrop coming from one eye. There's almost no information, but at the same time it's unmistakably Loretta Lynn. It doesn't look anything like her, but I think I could almost take her name off and people would still know, somehow."