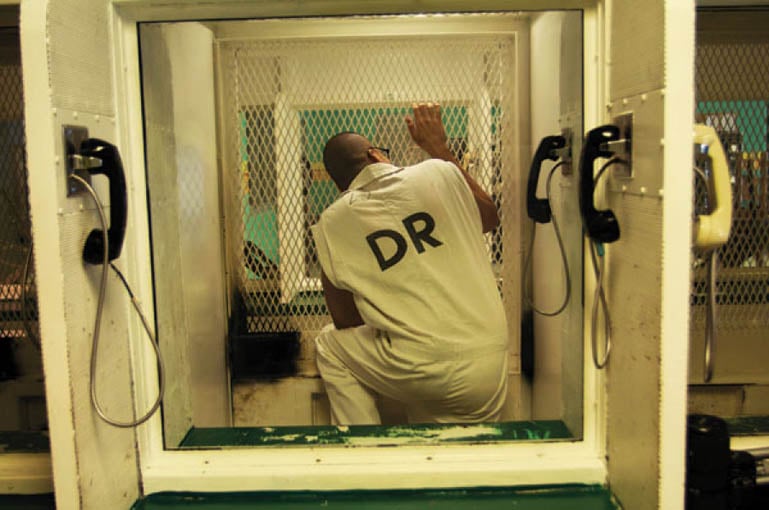 Prison Guard Union Calls on Texas to Curtail Solitary Confinement on Death Row
Above: Daniel Lopez, 23, waits in Polunsky Unit's visiting room for guards to escort him back to his cell on death row.
Texas' largest prison guard union is calling for a partial end to the controversial use of solitary confinement on death row.
In a letter to the Texas Department of Criminal Justice (TDCJ) obtained by the Observer, the American Federation of State, County and Municipal Employees (AFSCME) Local 3807 advocates for TDCJ to house death-row prisoners who pose the lowest security risk in cells with other inmates. The union also calls for the prison system to introduce privileges such as work assignments, streaming television and technology such as computer tablets—all in an effort to reduce the psychological trauma of inmates and the potential confrontations with guards.
It's a particularly powerful statement given the attitude of labor unions to prisoner rights and solitary confinement elsewhere in the country. According to an article in Mother Jones last year by James Ridgeway and Jean Casella, founders of the Solitary Watch digital project on solitary confinement, those unions have largely been seen "as a major obstacle to more-humane conditions."
But Lance Lowry, AFSCME's president, wrote in the Jan. 20 letter that the changes it recommends to TDCJ's death row plan would "positively impact both the correctional staff and offenders on Texas death row."
The union's call for change comes as TDCJ is reviewing its death row procedures. The last time there was a major change to conditions on death row was 15 years ago after seven inmates attempted to escape from the Ellis Unit in Huntsville, the former home of death row. One of them, Martin Gurule, successfully escaped the prison but drowned in a nearby creek.
Six months later, TDCJ relocated the men's death row to the Terrell Unit in Livingston (since renamed the Polunsky Unit). Conditions at Polunsky were much stricter than at Ellis.
A 2010 Observer story described how at the Ellis Unit, inmates enjoyed more freedom. There they could work in the prison garment factory and had several hours a day of group recreation. They could watch TV and were only alone in their cells at night.
At Polunsky, men on death row are no longer allowed televisions. They're confined to solitary cells for 23 hours each day and recreate alone in a large outdoor cage. There is almost no human contact.
Studies have shown that isolating prisoners for long periods of time can have devastating mental health effects. I have interviewed inmates on death row in Texas who recounted stories of fellow inmates screaming out at night, lying naked in the recreation yard, defecating on themselves and even mutilating themselves with shanks—weapons fashioned from objects in their cell.
The AFSCME letter called the changes implemented following the Gurule escape a "knee-jerk reaction," adding that "staff incompetency and lack of proper security equipment were the biggest factors" contributing to that escape.
As a result, Lowry wrote, "the agency ignored the root of the problem." Privileges could be used as management tool for bad behavior, he wrote. At present, "inmates have very few privileges to lose and staff become easy targets."
Death row inmates are currently assigned a custody level from one to three depending on their behavior (all are still housed in administrative segregation, but privileges like radios are removed for category three prisoners). Lowry wrote: "Housing death row [level 1] offenders in a solitary cell is a waste of valuable security personnel and money. [They] should be housed two offenders to a cell and [given] privileges such as work assignment and allowed TV privileges by streaming over-the-air television to a computer tablet using a closed WiFi network.
"Use of technologies such as computer tablets and streaming TV should be offered to offenders who exhibit positive behavior," Lowry continues. "Lack of visual or audio stimulation result in increased psychological incidents and results in costly crisis management."
TDCJ spokesman Jason Clark said the agency has an ongoing practice of periodically reviewing its policies and that it is "currently reviewing and updating the Death Row Plan." In an email, Clark said, "As with any input from the public, the agency will review the information."
He said there is no deadline for submissions from outside agencies or interested parties. Other groups, including the ACLU, are expected to submit their own recommendations.
The AFSCME letter also suggests that staff assigned to death row should earn more money and have more staff training. "A greater pay differential will ensure we have the best officers watching Texas' most dangerous population," Lowry writes. "Let's make Texas a model for successful death row criminal justice reforms."
To support journalism like this, donate to the Texas Observer.