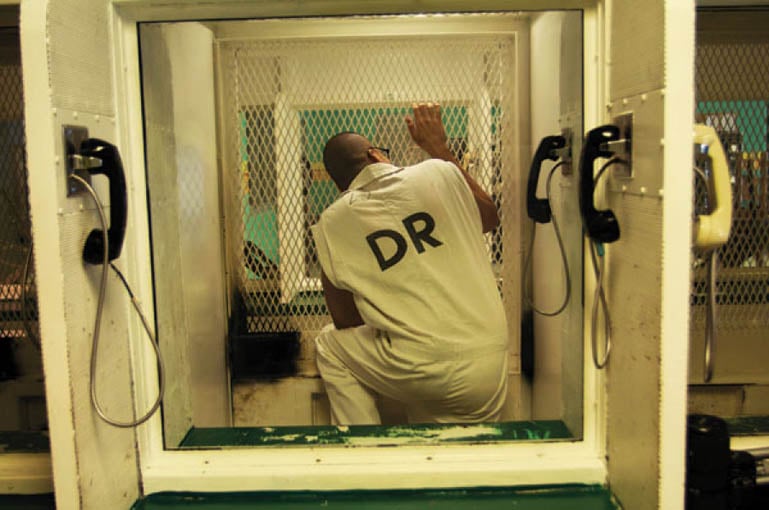 Texas Prisons Lead the Nation in Long-Term Solitary Confinement
Nearly a third of Texas prisoners in restrictive housing have been there for six years or longer, according to a new national survey.
Above: Texas prisons house more than 1,300 of the nation's 1,950 inmates who have been in solitary for at least six years, the report said.
The growing bipartisan consensus around solitary confinement — that it's inhumane and overused across the criminal justice system — has led to its sharp decline in recent years, including in Texas. The Texas Department of Criminal Justice (TDCJ), which kept more than 9,000 inmates in solitary a decade ago, now isolates about 4,200 of its 145,000 prisoners to small cells for at least 22 hours per day.
Yet even as Texas curtails its use of solitary confinement, the state leads the nation in offenders held in long-term isolation. Nearly a third of Texas prisoners held in solitary have been there for six years or longer, according to a new report this week by the Association of State Correctional Administrators (ASCA) and the Liman Center for Public Interest Law at Yale University. The report, built from a recent survey of restrictive housing practices across 42 state correctional systems and the Federal Bureau of Prisons, puts Texas in a league of its own when it comes to long-term solitary.
As of August 2017, TDCJ kept 1,326 inmates in restrictive housing — defined by the report as at least 22 hours a day in a prison cell — for six years or longer. That's down from 1,587 offenders in long-term solitary as of 2015.
The ASCA and Liman Center survey, the third of its kind in recent years, estimates there are around 61,000 prisoners in restrictive housing nationwide, at least 1,950 of whom have been in solitary for six-plus years. According to the report, several states, including Texas, didn't track how long prisoners were kept in isolation until recently. Solitary confinement in California's prison system, which wasn't included in the survey, has plummeted since 2015 due to a landmark lawsuit challenging the practice.
TDCJ inmates in so-called administrative segregation, the official term for isolated housing, spend nearly all their time inside a cell about the size of a walk-in closet. The only physical contact they experience is when corrections officers shackle them for brief trips outside their cells — either for showering, medical appointments, to exercise alone inside a cage or to visit with family while separated by a glass window.
"The experience just destroys your mental health and makes whatever connections you have left almost impossible to maintain," Jennifer Erschabek, executive director of the Texas Inmate Family Association, told the Observer. "I find it appalling that people can go years without touching another human being."
In 1999, after decades of court-ordered reforms to Texas' prison system, federal judge William Wayne Justice concluded that the extreme deprivation of solitary confinement in TDCJ caused "profound and obvious psychological pain and suffering." Justice's ruling, which the state successfully overturned on appeal, called Texas' administrative segregation units "virtual incubators of psychoses."
The neurological effects of prolonged solitary confinement are well-documented. As many as one-third of inmates subjected to it develop acute psychosis and hallucinations. One widely cited 2006 report by a task force headed by a former U.S. attorney general and former federal judge called for abolishing long-term isolation, describing the practice as "tortuous" and "proven to cause mental deterioration." Other studies show that brain function begins to slow after just a few days in isolation.
A 2015 report by the ACLU and Texas Civil Rights Project, drawn in part from a survey of 147 inmates in isolation, concluded that Texas keeps inmates isolated long after they've ceased to pose a threat. Nearly all survey respondents reported developing psychiatric symptoms in solitary. The 2015 report also found that isolated prisoners were more likely to harm themselves, attempt suicide and face re-arrest after release than the general prison population.
Meagan Harding, a senior attorney with the Texas Civil Rights Project, calls the state's continued reliance on long-term solitary yet another reason for Texas to establish independent oversight of its prison system. "If TDCJ's goal is to make prisons and society safer, it's failing at both of those goals with its continued overuse of solitary confinement," Harding told the Observer.
TDCJ spokesperson Jeremy Desel said the agency has committed to reducing solitary confinement. "We're not a follower, we're a leader in the country in assessing our restrictive housing policies and practices, implementing them in ways that other states emulate," Desel told the Observer. "That's how you get to a nearly 60 percent drop in restricted housing."
Last fall, TDCJ announced it would no longer use solitary confinement to punish prisoners for rules violations. The move, however, drew mixed reactions from reformers, as it only impacted about 75 of more than 4,000 prisoners in solitary. Most of the thousands of inmates who remain in administrative segregation are there because of alleged gang affiliation or because they've been deemed escape risks or a threat to officers or other prisoners.
Desel also said that Texas' death row — 218 men and 6 women at last count — inflates the number of prisoners in long-term solitary inside TDCJ. After an escape attempt by seven condemned prisoners on Thanksgiving Day in 1998, Texas moved all condemned inmates into solitary confinement at the Polunsky Unit, near Livingston. Critics, including the state's correctional officers union, have called the move an unnecessary, knee-jerk reaction that TDCJ has long refused to reverse.
In 2016, Terry Kupers, one of the foremost experts on the mental health effects of solitary confinement, assessed the impact of isolation on Rolando Ruiz, a San Antonio hitman condemned to die for the murder of a 29-year-old woman in 1992. In an affidavit, Ruiz said he'd become hypersensitive to the slightest sounds, often hallucinated and routinely lost track of time. "I also have noticed that my memory seems to be slipping," he wrote. "I forget small things really often; for example, I'll put my pen down and then, a moment later, not remember where I put it."
Kupers concluded that more than a decade in solitary confinement causes "immense human damage and dysfunction," calling the practice "torture, plain and simple."
Texas executed Ruiz the following year.