GOP State Lawmakers Sign Brief Opposing Same-Sex Benefits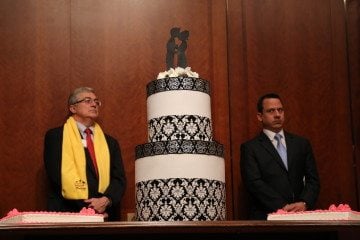 Fifty Republican members of the Texas Legislature have signed a court brief arguing that the same-sex spouses of government employees shouldn't be entitled to health insurance and other benefits.
The "friend-of-the-court" brief was submitted Friday in a lawsuit brought by anti-LGBT activists against the city of Houston in response to then-Mayor Annise Parker's decision to extend benefits to the same-sex spouses of city employees in 2013.
Last month, the Texas Supreme Court refused to hear the case, Pidgeon v. Parker, with only Justice John Devine dissenting. But Jonathan Saenz, president of the anti-LGBT group Texas Values, and former Harris County GOP chair Jared Woodfill have petitioned the nine-member court for a rehearing.
The lawmakers who signed the brief were joined by Texas Railroad Commissioner Ryan Sitton, four GOP candidates for the Legislature, numerous anti-LGBT activists and the Texas Pastor Council, which represents many of the state's largest churches.
The brief argues that while the U.S. Supreme Court ruled in 2015 in Obergefell v. Hodges that same-sex couples have a right to marry, "nothing in that ruling compelled the taxpayers of Texas to pay for a vast array of benefits for same-sex spouses."
"This Court has the opportunity to diminish federal tyranny and re-establish Texas Sovereignty," the brief states. "The people have already spoken on the issue through the Texas Legislature. It would be a detriment to their constituents if this elected Court were to remain silent."
LGBT advocates have said that under Obergefell, if a government employer offers any spousal benefits, it must offer them equally to same-sex and opposite-sex couples. They've also said they believe it is unlikely the state's highest court will reconsider its decision.
The elected officials who signed the brief are Railroad Commissioner Ryan Sitton; state Senators Bob Hall, Robert Nichols, Brandon Creighton, Paul Bettencourt, Don Huffines, Donna Campbell, Charles Perry, Kel Seliger, Lois Kolkhorst, Larry Taylor and Van Taylor; and state Representatives. Dan Flynn, Cecil Bell, Stuart Spitzer, Bryan Hughes, Matt Schaefer, David Simpson, Travis Clardy, Mike Schofield, James White, Dade Phelan, Wayne Faircloth, Dennis Bonnen, Greg Bonnen, Rick Miller, John Zerwas, Ed Thompson, Andrew Murr, Molly White, Trent Ashby, DeWayne Burns, Matt Shaheen, Jeff Leach, Scott Sanford, Jonathan Stickland, Matt Krause, Tony Tinderholt, Bill Zedler, Matthew Rinaldi, Dennis Paul, Allen Fletcher, Jim Murphy, Gary Elkins, Dwayne Bohac, Gilbert Pena, Chris Paddie, Paul Workman, Scott Turner, Jodie Laubenberg and Charles "Doc" Anderson.
The GOP legislative candidates who signed the brief are Briscoe Cain, Valoree Swanson, Kyle Biederman and Dawn Buckingham.
Read the full brief below.
Pidgeon v. Parker Amicus Brief by John Wright on Scribd