Anti-LGBT Groups Still Fighting Same-Sex Marriage In Court
Texas Values is asking supporters for money and prayers as it attempts to take same-sex marriage back to court in Texas.
Fifteen months after the U.S. Supreme Court made marriage equality the law of the land, anti-LGBT groups in Texas are still fighting the decision.
Jonathan Saenz, president of the right-wing lobby group Texas Values, and Houston anti-LGBT activist Jared Woodfill announced Tuesday that they're again asking the Texas Supreme Court to hear their lawsuit seeking to block the same-sex spouses of government workers from receiving health care and other benefits.
Last month, the state's highest court refused to hear the case, with only Justice John Devine dissenting. But Saenz and Woodfill have petitioned the nine-member court for a rehearing. Woodfill is a former candidate for state GOP chair who now heads the Conservative Republicans of Texas, which has been designated an anti-LGBT hate group by the Southern Poverty Law Center.
"It is critical that we succeed in this case to defend what's left of our state's marriage laws, our religious freedom and taxpayers' right to not be forced by government to fund illegal same-sex benefits," Saenz wrote in an email to supporters. "Further, we need the Texas Supreme Court to protect Texas from the growing ideological and activist rulings by the federal judiciary."
Saenz went on to ask supporters for "an emergency donation" to fund the lawsuit, which he says has cost Texas Values tens of thousands of dollars, as well as for "fervent prayer that the Texas Supreme Court decides to grant our petition for rehearing."
Saenz and Woodfill are representing Jack Pidgeon and Larry Hicks, two Houston taxpayers who brought the suit after then-Mayor Annise Parker extended benefits to the same-sex spouses of city workers in 2013.
A state district judge in Harris County initially sided in favor of Pidgeon and Hicks, but the state's 14th Court of Appeals overturned the decision in the wake of the U.S. Supreme Court's 2015 ruling in Obergefell v. Hodges.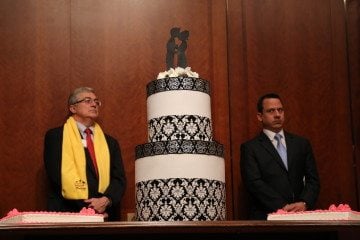 Judge Devine, best known for once refusing to remove a Ten Commandments monument from his office, made national headlines for his dissent, in which he wrote that prohibiting same-sex benefits would preserve the state's "interest in encouraging procreation."
In their motion for a rehearing, Saenz and Woodfill argue that Obergefell should be interpreted narrowly because it violates states' rights under the 10th Amendment, has no basis in the Constitution and threatens religious freedom.
"It is clear that the current Supreme Court will continue to use its power to advance the ideology of the sexual revolution until there is a change of membership," Saenz and Woodfill wrote. "It is well known that the homosexual rights movement is not content with the judicial imposition of same-sex marriage in all 50 States; it is also seeking to coerce people of faith who oppose homosexual behavior into participating in same-sex marriage ceremonies."
Ken Upton, senior counsel for the LGBT civil rights group Lambda Legal, told the Observer that Saenz and Woodfill are "more to be pitied than censored."
"Obergefell requires the government to treat all married couples the same," Upton said. "Obergefell doesn't say that a government employer has to offer any married couple spousal benefits, but if it chooses to do so it must offer the same benefits to all married couples not just the different-sex ones. The government does not get to privilege straight couples over gay couples."
If the Texas Supreme Court were to take the case and rule in favor of Saenz and Woodfill, the city of Houston could appeal the decision directly to the U.S. Supreme Court, Upton said.
"But let's be realistic," he added. "The Texas Supreme Court is not going to grant rehearing. My take is that the Texas Supreme Court is done with marriage. I don't think there's much appetite to re-engage that discussion."