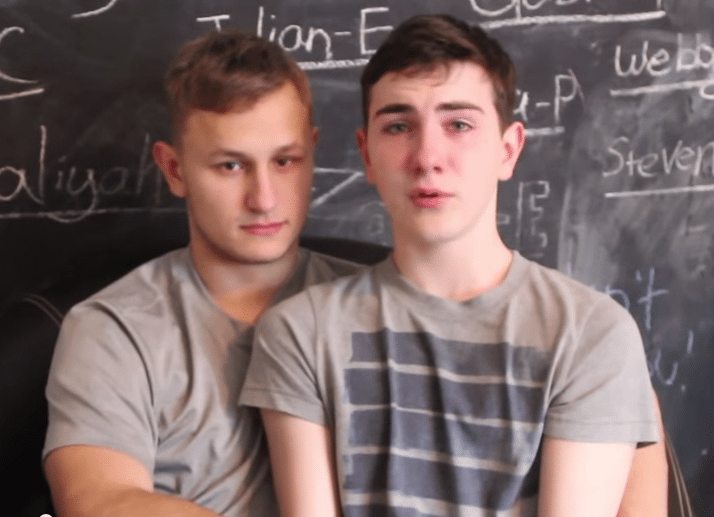 Houston School Responds To Gay Student's Viral Video
Earlier this week, a 17-year-old YouTube blogger posted an emotional video in which he recounted how he was forced to leave his high school because he's gay.
In the video, Austin Wallis repeatedly breaks down crying as he sits with his boyfriend and explains how administrators gave him a choice between going back in the closet or finding a new school. Wallis' story has gone viral, getting picked up by outlets including Huffington Post, and as of Thursday morning, the video had been viewed more than 170,000 times in the four days since it was posted.
Wallis doesn't identify his former school in the video, saying he doesn't want the controversy to reflect badly on teachers who supported him, but the Observer has learned that Wallis attended Houston's Lutheran High North.
Dallas Lusk, head of school at LHN, sent the Observer a statement from Wayne Kramer, executive director of the Lutheran Education Association of Houston. The association covers three schools, including LHN, which has an enrollment of 162.
"Lutheran High North welcomes all students and their families to the LHN community," Kramer said in the statement. "We profess and proclaim our Christian beliefs with the foundations and authority taught in the Bible, all within the teachings of the Lutheran Church – Missouri Synod. We respectfully require students to adhere to these accepted values and moral beliefs. Sometimes, as in this case, students have to make choices and decide whether their beliefs align with our community and we respect their choices. We also respect student privacy and do not comment on any individual student or their actions."
In his email accompanying the statement, Lusk wrote, "The allegations you received have been misrepresented." Asked for clarification, Lusk said he couldn't discuss specifics about Wallis but called the situation "frustrating."
He also indicated that LHN students are barred from promoting "anything sinful" and referred the Observer to a "morals clause" in the school's handbook.
"Lutheran High North reserves the right, within its sole discretion, to refuse admission of an applicant and/or to discontinue enrollment of a current student participating in, promoting, supporting or condoning: pornography, sexual immorality, homosexual activity or bisexual activity; or displaying an inability or resistance to support the qualities and characteristics required of a Biblically based and Christ-like lifestyle," the clause states.
According to the Lutheran Church—Missouri Synod's website, the denomination views homosexual behavior as "intrinsically sinful." The LCMS is the second-largest Lutheran denomination in the U.S., behind the Evangelical Lutheran Church in North America, which voted in 2009 to ordain gays and lesbians.
"The Missouri Synod believes the Bible teaches homosexual behavior is contrary to God's Word and will, and the LCMS seeks to minister to those who are struggling with homosexual inclinations," the denomination's website states.
Wallis posted a coming out video on his YouTube channel six months ago. Since then, he and his boyfriend have posted dozens of others, including one in which they take off their shirts off and draw on each other's chests.
In the video about LHN, Wallis notes that he had never previously mentioned the school on YouTube. Nevertheless, he alleges that approximately two weeks ago, he was summoned to the principal's office. The principal said he knew Wallace was gay and was going to get his parents involved. The next day, Wallis returned to the principal's office accompanied by his mother.
He said the principal told him that if he wanted to stay at LHN, he had to go back in the closet and delete his social media, including his YouTube account, which he said "means the world" to him.
"It means a lot to me that I can, you know, help a few people who might be feeling like they're not worth it, or like being gay is too hard, or they need to hide from everybody, and I don't want people to feel like that," he says in the video.
Two days after the second meeting with the principal, Wallis says he decided to leave LHN. Although technically it was his choice, Wallis says he felt as though he was in danger of being expelled and didn't want to attend a school that considered him immoral.
Wallis says he was a good student, and although it seemed the principal was doing everything possible to keep him at LHN, he was baffled by the fact that his sexual orientation had even become an issue.
"I think it's ridiculous that in this day and age you can be excluded from your own school for being gay," he said. "When I came out, I knew I was going to have bullies … but I never expected it to be from the people who are supposed to protect you from the bullies, who are supposed to try to stop that."
Wallis goes on to call LHN's actions "absolutely disgusting" and says he can't believe they were legal, even though it's a private religious school. He says he posted the video because he wants to change the world for the better.
"I am a Christian and I love my God, and I don't feel like this is what He would have wanted, and I don't feel like excluding someone for who they are is anything near Christian," Wallis says.
Ken Upton, senior counsel at the LGBT civil rights group Lambda Legal, told the Observer he personally believes the school's actions qualify as "abuse." However, Upton conceded it's unlikely school administrators violated Wallis' rights to free speech or privacy.
"The short answer is that if it's not a government school, if it's a strictly private school, the First Amendment doesn't apply to them," Upton said. "If they're a private school, then I think it's game over. They're entitled to discriminate."