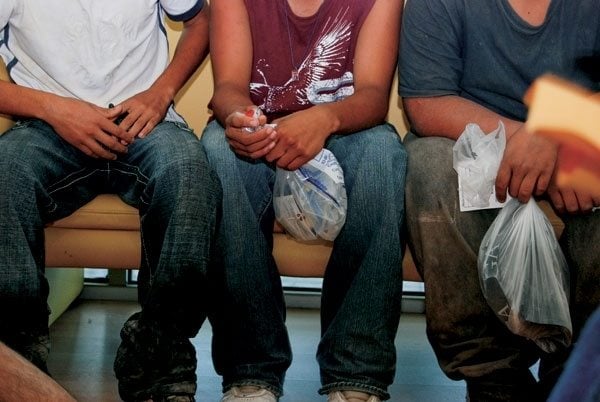 Children of the Exodus
What becomes of kids who are deported without their families?
On the Hidalgo-Reynosa International Bridge, there is a small white room tucked inside the Mexican immigration office where children, apprehended and then released by the U.S. Border Patrol, file in day after day and wait for a family member to claim them.
The office is run by Mexico's social services agency called the Desarrollo Integral de la Familia, or DIF. It receives dozens of repatriated children every week ranging from infants a few days old to 18-year-olds. As the children wait, they peer out, unseen, through a mirrored, plate-glass window at passing motorists. The children arrive with T-shirts covered in mud and the cuffs of their torn jeans still damp from the Rio Grande. Some have cuts and scrapes from running through thorny mesquite groves and cacti, trying to evade U.S. border agents. Others have angry red wounds from snakebites or puncture marks from an IV drip after being rescued from heat exhaustion in the desert. Then there are the marks you can't see: having been kidnapped or raped by traffickers, or having witnessed the death of a family member or friend during their journeys.
The children clutch their belongings in small, clear plastic bags with Department of Homeland Security tags attached. They carry remarkably little for such a perilous journey. Inside the plastic bags there might be a cell phone, shoe laces, (removed for their protection while in U.S. custody), and maybe a rosary, or some wadded-up American cash, or a few pesos. They appear downtrodden, exhausted yet resolute: With few exceptions they'll cross again because their parents or loved ones are en el otro lado and on the other side of the Rio Grande there is hope. Hope to study, to work, or to just hug their mothers or fathers again.
The teenagers act tough and stare at the wall or the floor while they wait to be claimed. Sometimes they crack jokes so the younger kids won't cry. The little kids can't hide their grief. They cry for their parents or their abuelos, which makes it harder for the older kids. A 29-year-old woman with the unlikely name of Agatha Christie Cano (her father is a mystery buff) is the sole employee at the DIF office on the bridge. She sits behind a small wooden desk, a pink daisy pen with a smiley face in a pencil holder by her side. Each morning she fans out on her desk the questionnaires that she'll fill out during her interviews with the children. Cano is cheerful, but then she has only been working at the DIF for six weeks. As soon as she finishes nursing school next year, she says, she plans to apply for work in the United States.
Cano must piece together a child's history with information from the Mexican Consulate in McAllen. The consulate conducts an initial interview to make sure the children's rights have not been violated before U.S. Border agents send them back to Mexico. Cano helps figure out who will claim the children once they've been returned, which is more difficult than it might seem. Every child's family is scarred by death, divorce or migration to the United States. They also share poverty and few opportunities for work or education.
Two brothers from Zacatecas, Armando, 17, and José, 13, arrive on a Thursday afternoon. Border Patrol apprehended them Wednesday morning near Roma, Texas, after the brothers walked several hours in 103-degree heat. Cano listens intently as Armando, the eldest, tells their story, his face impassive as his younger brother starts to cry. After seven hours of walking, their mother had collapsed. The coyote and the rest of the group kept walking. Armando went for help while José stayed behind with their mother. He walked to a highway and flagged down a truck driver who called Border Patrol. By the time he returned with the agents, their mother was dead, and his brother was nearly unconscious.
The agents inserted an IV and pumped fluids into his arm, which saved his life. José sobs quietly as his brother speaks. Cano offers him a tissue. "We never wanted to go," Armando tells her. "We were doing fine where we were." Cano nods. His mother had left them with their grandmother and crossed illegally several years ago, he tells her. She lived in Chicago, remarried, and had a 3-year-old son in the United States. After their grandmother died, problems started among the family members in Zacatecas.
"My mother wanted us all to be together again," Armando says. "She said we could live together
in Chicago."
"Do you have anyone, an uncle or an aunt who can come for you?" Cano asks. "Does your father know you're here?"
"We haven't seen him in years," Armando says, shaking his head.
Cano fills out the questionnaire. The boys watch blankly. "Isn't there anyone who can come for you?" she presses Armando. The room is quiet except for the sound of José crying.
After a few hours of waiting for a relative, José, Armando and four other teenage boys are herded into a van and driven to a larger DIF shelter for repatriated children in downtown Reynosa. A lone policeman guards the entrance. The shelter is in a tough, rundown neighborhood near the railroad tracks. Surrounded by a stucco wall, it has tall iron gates and iron bars over the windows.
There is a funereal pall over the city, worsened by the searing August heat and the ongoing drug war. Everyone seems wary, hunkered down. No one goes out after dark. A week earlier, thugs threw a grenade at the city hall. The mayor was rumored to be living with his family in McAllen for his own protection. A DIF employee mentions that his office downtown was strafed with bullets two weeks earlier. He and the other employees hid under their desks until the gun battle was over.
Even with the military Humvees circling the city's plaza, the children keep coming. The number of unaccompanied children passing through here remains constant despite the spiraling violence. As of mid-August, 800 children had come through the shelter since January, according to Eleuterio Valdez, the shelter's director. In 2008, there were 1,550 children, and in 2009, Valdez housed 1,670 kids.
It's a Wednesday afternoon, and Valdez is busy. He fans himself with a notebook; there's no AC at the shelter. A hysterical woman is on the phone from Florida. She paid a man in Reynosa to smuggle her 3-year-old-son to Florida. She hasn't heard from the smuggler in a week. Valdez assures her he'll call if the toddler is brought in. As he hangs up the phone, the six boys file in, sent from Cano's small DIF office on the bridge. Armando and José, who lost their mother the previous afternoon, look as if they're still in shock. Valdez tells me the shelter provides psychological counseling if it's needed. In the lobby, there is a door marked "psychologist," but I never see anyone there during the course of a week.
The other boys are sullen. Valdez and the policeman pat them down for weapons, and Valdez takes their belts and meager belongings, which they still carry in the plastic Homeland Security bags. He places their things in yellow manila envelopes. "This is for your safety," he says. "You'll get your things back when your relatives come." The boys watch, downcast, as he places their belongings in a file cabinet, then locks it.
At least 80 percent of the children who pass through here are boys. They are housed in a separate dorm on the other side of the walled compound from the girls. Valdez keeps the boys locked inside when they're not in the cafeteria. "The boys are a lot more adventurous," he says.
Inside the dorm room crammed with bunk beds, a lanky teenager named Pedro, 16, sits on the couch watching a soccer match on television. His mother and four siblings live 35 miles away in Harlingen, Texas. From the Mexican side of the river, he can see the traffic signs pointing the way home. He's been trying to get there for six months.
This is his second time at the DIF shelter, he says. Last night a Border Patrol helicopter spotted him and seven others on the U.S. side of the river. They were chased through the brush. An agent tackled Pedro. He spent the night in a freezing holding cell. Today he's back in Reynosa. When he was 5 years old, his mother smuggled him across the river. He attended elementary and middle schools in Harlingen. Then his grandmother became ill in Michoacán. His mother decided Pedro, the eldest at 13, should return to Mexico to help care for his grandmother, which he did until she passed away. Now he's stuck in Reynosa trying to get back to his family. He nearly drowned once already, he says, floating on an inner tube across the swollen river choked with branches and refuse from upstream. The Rio Grande is at its highest level in 30 years. The McAllen newspaper is full of reports of migrants' bodies being fished out of the river by Border Patrol agents on the U.S. side of the garbage-strewn riverbank.
Pedro is burning through his family's savings, having already paid smugglers hundreds of dollars. It's impossible to cross without paying the Gulf cartel, which keeps tight control over the Mexican side of the river. Just to float an inner tube to McAllen costs $400. "My stepfather gives me the money," Pedro says. His mother is remarried to a U.S. citizen. Every time Pedro's apprehended, his stepfather drives to Reynosa and bails him out. Then he gives Pedro more money to pay another smuggler. Pedro wonders how much longer his stepfather will keep coming. "I want to go back to school in Harlingen," he says. "There isn't anything left for me in Michoacán."
His mother can't become legal in the United States. In 1996, Congress stiffened immigration laws so that anyone who entered illegally and married a U.S. citizen could no longer pay a fine to become legal. Instead, his mother would have to return to Mexico, wait years then reapply to enter. These days, the U.S. government isn't inclined to allow anyone to re-enter once they've admitted to entering illegally. It's a Catch-22.
Valdez, like every DIF official I speak to, assures me that before a child is released to anyone, DIF makes sure they are related. A battery of documentation is required, including birth certificates and a photo ID from the relative with a surname matching the child's. They say they always reunite the children with their families and send them home. But what happens if home is on the other side of the Rio Grande? Or if there is no home?
I arrange an interview with the head of the DIF in Matamoros, Marisa Castañeda de Silva, the mayor's wife. (Every mayor's wife is obliged to run the city's DIF office, while the governor's wife oversees DIF for the entire state.) After 20 minutes of waiting in the lobby, I am ushered into a conference room with soft light, scented candles and plates of cookies. Castañeda plies me with cookies and thanks me for coming. In 2008, a Mexican congressional committee reported 90,000 children had been sent back by U.S. authorities to border cities like hers. At least 13,500 were never claimed. I ask Castañeda whether children are being abandoned in her city and what happens to them after they leave the DIF? She begins reading from scripted answers on index cards handed to her by a public relations employee. "The shelter is always ready. We provide blankets and clothes for the children," she smiles. "We work closely with the church to raise money for food and clothes for the shelter." I wait politely, and then ask again. The public relations employee scribbles furiously on an index card, then hands it to her. "We work to reunite children with their parents," she says, then refers me to Lilia Orizaga, who runs the shelter. Her assistant sends me on my way with a bag of cookies.
Matamoros receives about half the children that Reynosa does at its shelter—324 children from January to mid-August of this year, says Orizaga. A city of 450,000, Matamoros is smaller than Reynosa and not as desirable a place to cross. In Reynosa, it's a straight shot to San Antonio and Interstate 35, then on to any destination in the United States. Pass through Matamoros to Brownsville, and just north of the city you reach vast and barren ranchland, which is probably why Border Patrol has sent 14-year-old Susana here. This is her fifth failed attempt to reach the United States in a month. Susana arrived at the Matamoros shelter an hour ago. She clutches a small, black duffel bag as if she might be leaving at any moment. She was in the Reynosa DIF already, Orizaga says, but a cousin bailed her out. Susana says they crossed that night in an inflatable boat. The boat became trapped among broken tree limbs and debris. They were lost for five hours, until Border Patrol agents fished them out.
Her goal is to make it to Kansas, where her father works. "I haven't seen him in five years," she says. It costs $2,500 to get to there. "My father pays half in Reynosa and the other half when I arrive in McAllen," she says. She's been caught three times by Border Patrol: once on a bus in Houston, the second time at the San Antonio bus station, the third time on the river. She just spent two days in a Border Patrol holding cell, where she says she was scared at first because she was alone, "but then the cell filled with at least 10 other children, and we were all together." She doesn't know what happened to her cousin, she says. "The smugglers separated us before we crossed." Susana says she's ready to go home. "I don't want to stay here. I'm tired of fighting," she says.
Orizaga says the Reynosa shelter should never have released Susana to her cousin. "This time it will have to be a parent," she says. But Susana is doubtful that either parent will come to Matamoros. "I don't believe my father will come for me, and the truth is, I don't think my mother will, either, because she has to take care of my younger brothers and sisters," she says.
Susana is one of three kids who say they'll go home once they leave the shelter. The other two are Armando and José, who never wanted to cross in the first place. After two days, an uncle materializes at the Reynosa shelter to drive the boys back to Zacatecas. They are the exceptions. Dozens of other kids I interview over two weeks in Matamoros and Reynosa say they'll cross again as soon as they have the money.
They cycle through the shelters again and again. On the Reynosa bridge, Cano says in the six weeks she's worked for the DIF, she's seen some kids multiple times already. "The children from Reynosa and the other border cities will come through five, seven, even 11 times," she says. Cano refers kids who pass though repeatedly to another government program downtown that offers computer courses and vocational training. The hope is that the children will go back to school or find work instead of crossing the river. "But I'm not sure they actually go," she says.
The only lucrative employment in Reynosa these days seems to be smuggling humans or contraband. There are people in Reynosa poised to help anyone who wants to cross the Rio Grande, providing they pay a price. There are pateros (human smugglers) at the plaza, the bus station or just milling around downtown, a man who works with the migrant community says. He asks to remain anonymous because he fears retribution from the cartel. "Back in the '90s, being a patero was a trade, and there were rules," he says. "You paid your money, and they delivered you to the other side."  Now cartel thugs and organized crime dominate the business. What can't be made in contraband is recouped smuggling migrants. If the children are lucky, they'll find a smuggler who plays by the old rules, and they'll make it safely to their destination. With the Gulf cartel in charge of the river and the security gauntlet on the U.S. side, the chances of crossing safely grow increasingly slim.
Sometimes the kids are paid by smugglers to be caminantes (walkers) accompanying migrants through the remote South Texas ranches. They get from $10 to $20 a head for every migrant they guide through the rough terrain, he says. Others are paid or intimidated by the cartels to smuggle drug loads in backpacks. "These children are like uncut diamonds. Criminals can mold them any way they want," the man says. "With all of the security problems we have now, a lot of children are being taken for many different things, and it's a very, very big problem." Minors are seldom charged with crimes in the United States. Instead, Border Patrol returns them to Mexico, where they are placed in a DIF shelter.
"The children are dumped back in Reynosa like packages," says Rebeca Rodriguez, director of Reynosa's nonprofit center for human rights, Centro Estudios Fronterizos y Derechos Humanos. Rodriguez used to work for the DIF in the neighboring city of Rio Bravo in the mid-'90s. A social worker, she left the agency after a year and says the experience left her frustrated. "I'm sure DIF told you that a relative with an ID and documents must come to pick the child up, but the documents can be forged. And they don't monitor the children after they've gone. They just give them back and say 'bye bye,' " she says. "With all of the technology we have, they should be able to monitor them for at least three months."
I try to investigate what happens to the kids once they leave the shelter, but I underestimate the fear and paranoia fueled by drug violence in Reynosa. Several journalists have been kidnapped or killed, so there's no media coverage about the cartels or organized crime. There's no official information from the city government, either. The city is rife with rumors—some true, some not. Among other things, I hear that the Gulf cartel is the de facto authority in the city. I hear that migrants, including children, are being kidnapped at the bus station and that the local police are involved. The police also keep an eye on the river for the cartel. No city official will talk about the impact of organized crime on the children. Every time I ask about los malos (the bad people), as people refer to them here, the officials change the subject. When I discreetly ask some of the children whether they're afraid or have had encounters with los malos, they look at me blankly or stare at the floor. On the Reynosa bridge, a lanky 15-year-old boy insists I leave the office while he speaks to Cano alone. "It's something very serious," he says. Later, she tells me the boy begged her not to contact his mother because he's afraid she'll be kidnapped at the bus station.
After I pester a DIF official in Reynosa for days, he finally opens up. He says he'll talk anonymously about organized crime. He furtively glances both ways down the hallway in front of his office, then gestures for me to come inside. He closes and locks both doors. "Look, I know what's happening," he says, mopping his brow with a tissue, "because we talk to the children." The man confirms that children are kidnapped at the bus station and that police are involved. "These are very well-known secrets," he says. "But we cannot talk about it openly because we live here, and it's very, very delicate. There are people in uniform and people without uniforms watching all the time." He means that if you say something publicly that might enrage organized crime, a group of armed men might show up at your door one morning, maybe with a police escort, march you to their SUV at gunpoint, and your family will never see you again. Someday, he tells me, when things get better, he'll write a book about it.
Many kidnapped children don't fall under the jurisdiction of the DIF because they're not Mexican, the official says. They come from Central and South America and are waiting to "jump to the other side," as he puts it. From January to August of this year, Mexican immigration had deported 44,918 children to Central and South America. The migrant advocate in Reynosa tells me the kidnappings and extortions have been plaguing the city at least since 2004. "In the last three years, things have gotten really horrible," he says. "The migrants are terrified. They don't want to denounce the crimes anymore. They just want to go home." There are safe houses all over the city, he says, where migrants are being held for ransom. It's the worst for migrants with relatives in the United States because they are perceived to have more money.
Two weeks later, the massacre of 72 migrants at a ranch near Matamoros makes international headlines. It's discovered that they were Central and South American migrants too poor to pay the Zeta cartel's ransom. The only confirmed survivor is an 18-year-old boy from Ecuador.
The kids are too frightened to talk about their experiences, but at a shelter run by Catholic nuns, I speak with a slight, 27-year-old Guatemalan man with the face of a teenager. Speaking in a whisper, he says he asked a man on the street for directions to a money-changing house. Instead, the man tied his hands with rope, took his shoes, and threw him into a dark room with several other bound men. The kidnappers had taken $250 from him and were trying to extort his poverty-stricken family for more. He's lucky, he says, because he escaped. He takes his baseball cap off, and I notice a fresh scar across his eyebrow. He wants to be deported to Guatemala, but he's terrified to leave the shelter. The kidnappers are outside, he says, waiting. The nuns can do nothing to prevent it.
As I leave the shelter, I see a group of men in baseball caps and jeans standing across the street. Three men propped against the wall of the shelter smoke a joint. Their eyes are red. They stare emptily back at me. I look up, and a line of men sits watching from a building ledge overlooking the shelter. Dressed in black T-shirts, they remind me of vultures.
Back at Agatha Christie cano's office on the Reynosa bridge, three teenage boys file into the small office and wait. Chances are, the motorists chatting on their cell phones or listening to their radios on the bridge will never notice what goes on below them. On the Rio Grande, people are also on the move, hundreds of them, day after day, covered in the mud and muck of the river. A mud-encrusted, wide-eyed teen is marched past me by two uniformed immigration officers. He's Central American, Cano says. Since he's not Mexican, he's out of her jurisdiction. The immigration officials won't do interviews. The topic of immigration has become too politically sensitive, one of them says. The boy is whisked away.
If government leaders could rise above the divisive politics, they could stop this humanitarian crisis. Mexico and the United States have binational accords and a repatriation program to protect migrant children, yet neither country ensures they're safely returned home. The U.S. Border Patrol and the DIF could set up a database to monitor children at risk to prevent them from ending up on the streets. The U.S. Congress could pass comprehensive immigration reform that includes a family reunification process to prevent children from being dumped in Mexican shelters. The Border Patrol already has a congressional mandate to screen for vulnerable kids and refer them to U.S. agencies that can help, yet advocates say it's not being done. One thing is for certain: Until politicians on both sides of the river eradicate the poverty that uproots these families, children won't stop coming. Even if the United States puts soldiers on the border and spends billions on fences and high-tech equipment, they're not going to stop the exodus.
At least not until there's something to hope for at home. A skinny 15-year-old from the mountains of Veracruz slumps in an office chair in front of Cano's desk. She picks up a pen and begins filling out the paperwork. He has nothing but a Catholic rosary. The cuffs of his jeans are tattered and still damp from the river. "Aren't you afraid of being killed?" Cano asks the boy. "Wouldn't it be better to go back home?" He shakes his head, "No." His father is dead, he says. His mother and three younger brothers and sisters are at home waiting for him to send money if he makes it. "Where I come from," he says, "we're not afraid to die."
Support for this article was provided by the Investigative Fund at The Nation Institute.