Silent Springs
Is it too late to save Hill Country water?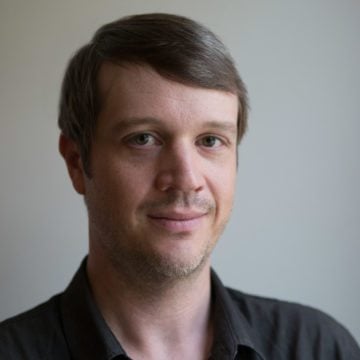 Read more: Herding Water by Forrest Wilder
Sixty feet below the shimmering surface of Jacob's Well, an artesian spring that for thousands of years has pulsed iridescent blue-green water from the Trinity Aquifer to the surface, a sophisticated instrument measures the spring's vital signs. The results are beamed almost instantaneously to the Internet.
These days the gauge detects only the thinnest of pulses.
On a hot April afternoon, David Baker, an artist turned conservationist, stands on the limestone lip gazing down into Jacob's Well. Earlier, Baker had checked the spring flow: an anemic five gallons per second. "At that point, the spring has basically stopped flowing," he says.
Old-timers recall — and spotty historical data confirm — that the spring used to have enough of a head to jet swimmers back to the surface after they cannonballed in. Today the pulse is barely a dying man's heartbeat. In 2000, Jacob's Well stopped flowing for the first time in recorded history.
Its source sapped, Cypress Creek came to a trickle in Wimberley, and the state added it to a list of streams with impaired water quality. "I think it was a big wake-up call for the community," Baker says. "If the well is the canary in the coal mine for the aquifer, then the canary was choking and about dead."
The spring ceased flowing again in October 2008. As this story went to press, it appeared Jacob's Well had gone to zero a third time.
The cessations confirm what water experts have been warning: that Jacob's Well is under immense stress from a development boom over the Trinity Aquifer, the primary source of water for much of the Hill Country.
The trouble is hardly limited to Jacob's Well or the Hill Country. Groundwater scarcity is a looming crisis across Texas. Because of drought, overpumping, and the loss of natural recharge, state water planners estimate that groundwater available for pumping will decrease 22 percent by 2060. The state's laissez-faire water laws and cumbersome regulatory apparatus have done little to help.
Conservationists see bad omens in what's happening to Jacob's Well and the Trinity Aquifer. Water is particularly fragile in the Hill Country, designated by the state in 1990 as a priority groundwater management area. In no other region of the state, perhaps, are groundwater and surface water so closely intertwined. The science is clear: If the aquifers decline, they take the springs, seeps, streams, rivers, and lakes with them.
"By continuing to increase our use of groundwater, we cut off the lifeblood of the Hill Country," says Laura Marbury, a water policy specialist with the Environmental Defense Fund of Texas. "We're trading off increased development for the flow of the creeks and rivers out there. And payback will be harsh."
Jacob's Well is tucked in an out-of-the-way corner of a semideveloped subdivision near the Hill Country burg of Wimberley, a one-time backwater of cedar-choppers and hardscrabble ranchers that's now giving way to suburbanization. No signs mark its location. I attended Wimberley High School for four years, visiting Jacob's Well a handful of times, and still had a hard time finding it. As a sort of omphalos of the region, Jacob's Well is not so much forgotten as obscured.
Its importance is undeniable, though. Locally, the spring provides the bulk of flow for Cypress Creek, an exquisite, bald cypress-lined stream that forms Blue Hole, one of the state's top swimming holes. It was saved from residential development by the village of Wimberley and a local philanthropist in 2003.
"Jacob's Well is Cypress Creek," Baker says.
Cypress Creek, in turn, feeds the Blanco River — a shallow, flash-flood-prone stream with a fluted limestone bottom and majestic white bluffs flanking mostly undeveloped ranch land. During the drought of record in the '50s, Jacob's Well kept the Blanco from drying up below Wimberley. The Blanco flows into the San Marcos River, which itself meets the Guadalupe River near Gonzales and rolls down to San Antonio Bay.
Conservationists and water experts stress the wondrous interconnectivity of surface and groundwater in Texas, especially in the porous Hill Country. Consider: At certain leaky spots, the upper Blanco disappears underground, slipping into the aquifer via a fault. The river may even follow the fault lines (geologists aren't sure) east to the Cypress Creek watershed, providing flow to Jacob's Well, which in turn pushes water into Cypress Creek and the Blanco River. Downstream, the Blanco River again "loses" water to the aquifer.
Adding to the system's complexity, some of that Trinity water — about 64,000 acre-feet per year — moves underground into the Balcones Fault Zone portion of the Edwards Aquifer, the source of the perennial San Marcos Springs. Those springs are the headwaters of the San Marcos River, a main source for the Guadalupe River in times of drought.
Texas water law recognizes very little of this. As a drop of water moves between the ground and the surface, it passes through two different legal spheres. As surface water, it's owned by the state but perhaps allocated, in the form of a water right, to a rancher, farmer, or city. As groundwater, it's the property of the landowner.
Jacob's Well confuses this artificial distinction. The spring is not just a headwater; it's literally a spy hole into the Trinity Aquifer. Divers have mapped the underwater cave over a mile underground, pushing through a series of chambers deep into the limestone Cow Creek formation of the Middle Trinity. Eight have died in the pursuit of the unknown.
"Jacob's Well is the expression of the aquifer on the surface," Baker says. "What it's indicating to us is that the whole system is stressed."
Recent research suggests that Jacob's Well is highly sensitive to pumping, especially in the recharge zone northwest of the springs, an area of small sinkholes (believed to connect to Jacob's Well) and cedar-choked hills that developers are carving into residential lots. The main development is called The Ridge at Wimberley Springs.
"I think we've reached the limit, yet more homes are going in as we speak," Baker says. "And that's the dilemma."
Since founding the Wimberley Valley Watershed Association in 1996, Baker has been fighting to keep developers from chewing up Jacob's Well. At the moment, the watershed association is tied up in a lawsuit with a group that wants to build RiverRock, a "residential resort" — spa, "lagoon-style" pool, gourmet restaurant — a few hundred feet from Jacob's Well. RiverRock wants to build a road through the Jacob's Well Preserve. Baker hopes to stop the development altogether, claiming that it would pump 15 million gallons per year, which could have a direct impact on flows at the springs.
Baker is also at loggerheads with Aqua Texas, a for-profit water utility that serves Woodcreek, an incorporated subdivision of 1,500 people just south of Jacob's Well. Last year, almost half the water Aqua Texas pumped from its main well was wasted because of crumbling infrastructure. Worse, when the company turns on the pumps at that same well, the discharge at Jacob's Well drops a corresponding amount.
In 2005, the watershed group scored a victory by consolidating the four parcels of private land that abut the spring. With a $3 million grant from Hays County, the group is creating the Jacob's Well Preserve, a 55-acre natural area that eventually will be open to the public.
This effort will be for naught if something isn't done to manage the Trinity. Hays County is one of the fastest-growing counties in a fast-growing state. In 2000 the population was a little under 100,000; in 2060, it's expected to reach 500,000. In the past few years, the county has been the scene of intense squabbles between anti-sprawl activists, drawn largely from the Wimberley area's large retired population, and pro-growth interests. (See "Dateline: Hays County," Nov. 14, 2008.)
Add water to the mix. The Trinity Aquifer, which is much less rechargeable than the Edwards, provides the vast majority of groundwater for the area. "There's a lot of straws pulling from an aquifer that doesn't have a lot to give," says Ron Fieseler, the coordinator for Groundwater Management Area 9, which covers a swath of the Hill Country.
Geologists say pumping in western Hays has already passed the limit of sustainability. Computer modeling by the Texas Water Development Board predicts water-level declines during a severe drought of between 50 and 100 feet across the Trinity, including portions of Bexar, Travis, Kerr, Hays, Blanco and Bandera counties.
What would that mean? Hays County got a small taste in 2006. Drought, compounded by overpumping, left about 100 homes near Dripping Springs without water and reduced Onion Creek, which flows through Hays County and South Austin into the Colorado River, to a trickle. A report on the '06 drought by Austin hydrologist Raymond Slade warns of the consequences of a far worse drought, which "will cause many more wells to become dry and probably result in many thousands of people in the County to be without water. Nobody knows when this will happen but it is likely to occur in the near future." Onion Creek, he concludes, is likely to stay dry except when there's significant runoff from storms.
Given this harsh reality, Baker says people in Hays County will have to decide whether to trade flowing streams and springs for growth. "It's a hard conversation to have because no one wants to have limits to what we do," he says. "But there's a carrying capacity to these systems."
Water watchers are keen to see what happens in western Hays County. It may hold clues to the future of the Hill Country. "Hays is the canary because it's so close to I-35," says Marbury, the EDF policy specialist. Many Hill Country communities are approaching the limits of sustainability, she says, but "Hays is more dire because I personally feel like they've reached the point of no return. Whatever decision they make will be extremely difficult. However, they need to make it soon."
Addressing the water crisis in western Hays County falls to a tiny governmental entity with one full-time employee, five volunteer elected directors, a volunteer geologist, and an $150,000 annual budget. The Hays-Trinity Groundwater Conservation District is one of 96 districts in Texas covering roughly half the state's landmass. The districts are supposed to be all that stands in the way of the rule of capture, the unique Texas law that essentially says you can pump as much water as you like, your neighbor's well or stream be damned. If you can pump it, it's yours.
To combat the inevitable depredations of the rule of capture, most of Texas' groundwater districts can collect taxes, meter wells, set minimum distances between wells, issue permits, and impose pumping limits. The Hays district has few of these powers. The man who wrote the legislation creating the district, former state Rep. Rick Green, an ultraconservative Republican from Dripping Springs who now lectures on the myth of the separation of church and state, designed it that way.
"Rick Green thought God would take care of our water," says Jack Hollon, a retired math teacher and member of the district board who grew up raising Angora sheep on a farm on the Devil's Backbone, near Wimberley.
Green's 1999 legislation exempted agricultural and single-family residential wells in the district from regulation — 98 percent of an estimated 6,500 wells. The district has some authority over water utilities, which provide about half the water in the district. But developers are taking advantage of the district's generous exceptions by building small, dense developments that require homeowners to provision their own individual, exempt wells. Another perverse provision of the legislation provides that funding for the district primarily comes from a $300 fee on new wells.
"It's like trying to save the buffalo from extinction by selling buffalo hides," Hollon says.
In 2003, Hays voters "confirmed" the district by a 2-1 margin and elected a slate of directors, including Hollon, that was strongly pro-regulation. None of the anti-district candidates, backed by the Hays County Republican Party, won a seat. The group had little power, but that didn't stop it from setting an ambitious goal: preserving as much water for springs and streams as possible. When directors ran the numbers, it became clear that the aquifer was already tapped out.
According to groundwater availability models, the aquifer in western Hays County can sustainably yield about 3,400 acre-feet a year without unduly straining springs and streams. In 2008, pumping topped 4,600 acre-feet.
"We're operating at what we think the aquifer can yield and still maintain spring flow," says Hollon.
As Hollon and the other water managers stand by idly, the pumps proliferate. About 150 to 300 new wells are drilled in western Hays every year. The district has also identified at least 1,500 small tracts of land that are yet to be built on.
"I know enough about exponential numbers to be scared," Hollon says.
This summer will be a good test of the aquifer's limits. The Trinity is approaching the end of the rainfall boost it received in 2007, and the current drought — severe, but not as prolonged as previous one — may well deepen.
Absent the ability to set limits on production and require sufficient spacing between wells, sustainability activists are gloomy. As developments keep sprawling across Hays County, the streams will go dry with "increased frequency," says Andrew Backus, the district president and retired hydrogeologist who lives in Driftwood. "It will be exceptional when they actually flow."
Why, then, has Rep. Patrick Rose, the Democrat who beat Rick Green in a squeaker of a race in 2002, been reluctant to give the groundwater district greater power to regulate and possibly save the Trinity Aquifer? That question nags conservationists in Hays County. For three sessions, the district and its backers have asked Rose to file a bill granting full regulatory powers. Rose has steadfastly declined, saying that he doesn't think the district should have taxation powers and that the issue is divisive. Four months into this legislative session, he offered a "compromise" bill that allowed the district to collect fees for two years to help pay for a groundwater sustainability study — what Hollon compares to "throwing some candy to kids in the backseat to quiet them on a long trip." In late April, the district board voted to say "thanks, but no thanks" to the proposal.
Miffed, Rose yanked the bill a few days later.
"Why are the legislators throwing us down a dry well?" asks board president Backus. "They're in the process of helping developers get water utility districts, but they're not helping the Hays-Trinity district get powers equivalent to all the surrounding groundwater districts. There's something else going on."
The sense that Rose is protecting development and real estate interests is widespread among the sustainability crowd. "The only reason I can see that Rose and [Sen. Jeff] Wentworth are so reluctant to grant the district the tools it needs to get the job done is they're giving in to the real estate interests who want a weak district," says Jim McMeans, a founder of Citizens Alliance for Responsible Development, a Wimberley-based group that promotes "sensible growth" and has won major concessions from developers. (Wentworth is a San Antonio Republican.)
Rose is a real-estate agent with his parents' own Rose Real Estate in Drippings Springs. From 2004 to 2008, he received nearly $300,000 in campaign contributions from real estate interests and developers, according to the nonprofit watchdog Texans for Public Justice. One of Rose's top donors i
Bob Perry, a Hous
on homebuilder who primarily funds Republican candidates.
Rose declined requests by phone, by e-mail and in person to be interviewed for this story.
Whatever explains legislators' inaction, it looks like western Hays County will have to wait until 2011, when another Legislature convenes, to address its water problems.
"Sadly, I think it's too late for them," says Marbury. She quickly softens that statement. "They would have to throw caution to the wind … and there would be a severe backlash from Realtors, developers, and current permit holders."
Hollon, the Wimberley native, knows what they're up against. "We've got to come to terms with our growth," he says. "Growth is fundamental to capitalism, our banking system and so forth, but it doesn't make much sense ecologically speaking. That's going to take some time to seep in."
Investigative reporting for this article was supported, in part, by a grant from the Open Society Institute.