The Observer

'

s Best Features of 2017
Our favorite longreads of the year.
This year our writers delved deep into important topics virtually untouched by other Texas publications. From spotlighting social and environmental injustices to capturing the characters — artists, politicians and everyday Texans — that make this state unique, these are stories you won't find anywhere else. Among dozens of Observer features this year, 10 rose to the top among staff and readers as the most memorable.
If managing editor Rose Cahalan's piece was only about the rich pageantry and sport of escaramuza, the only women's event within the world of charrería, or Mexican rodeo, it would be well worth reading. With its galloping horses, delicate maneuvers and sartorial splendor, escaramuza is an underappreciated things of beauty. But Rose goes deeper, plumbing the sport's history and its complex, evolving place within Mexican-American culture and the male-dominated world of charrería.
—Forrest Wilder
 The Rise and Fall of the 'Freest Little City in Texas'
As a politics-of-the-weird aficionado, I appreciate a good yarn about experiments in creating ideological utopias. Libertarians seem to be particularly enamored of secede-to-succeed fantasies. Think: seasteading, New Hampshire, Liberland.
What's different about San Antonio freelancer James McCandless' piece is that the libertarian experiment in Von Ormy — a small town south of San Antonio — has been playing out for almost a decade now, largely under the radar — long enough to take stock of its successes and failures. Part tragedy, part comedy, this is one of our most-read stories of the year for a reason.
—Forrest Wilder
2018 is going to be a hell of a year in Texas politics. For the first time in a generation, an unpopular Democrat (Clinton, Obama) or a Texan (H.W. Bush or George W.) isn't in the White House. Instead, we have Trump. Texas Democrats have an unusual amount of energy and number of candidates — perhaps none as unorthodox and potentially game-changing as Beto O'Rourke, the f-bomb-dropping former punk rocker running against Ted Cruz.
In this highly readable profile of O'Rourke that takes him from El Paso to Lubbock to Austin, Chris looks at whether the El Pasoan's DIY campaign has the mojo to break Texas Democrats' quarter-century losing streak.
—Forrest Wilder
At least one good thing has resulted from Donald Trump's pledge to build a "big, beautiful" border wall: a lot of really interesting art. In "Wall Flowers," contributing editor Michael Agresta looks at how Texas artists are responding to the wall, from Doerte Weber's "Checkpoint" — 11 tall panels evoking Mexican textile art, installed along the border in Brownsville — to Margarita Cabrera's "Space In Between," a series of sewn sculptures created from Border Patrol uniforms. Michael writes that these projects respond to the dehumanizing prospect of the wall in a way that only art can: by offering "deep, coherent exercises of empathy and solidarity, experiences that we can step into and share."
—Rose Cahalan
Here is a classic Texas Observer story by civil rights reporter Michael Barajas. Mike digs into "excited delirium," a possibly pseudo-medical diagnosis frequently used by cops to justify deaths in custody, often involving people suffering from mental illness. As with so many things that don't exactly inspire state pride, the diagnosis was popularized by Texans, in particular a Bexar County medical examiner named Vincent Di Maio. This deadly serious topic could've been dry, but the appalling stories of injustice Mike tells make it a thrilling, and infuriating, read.
—Forrest Wilder
Daniel Blue Tyx's feature on Circo Hermanos Vazquez, the only touring Spanish-language circus in the United States, offers surprises at every turn. There's a bellicose clown dressed as Donald Trump and a 16-year-old trapeze artist making her debut under the big top, as well as acrobats, jugglers and dancers galore. Jen Reel's behind-the-scenes photography from the show in the small border town of Donna really makes the story shine — her portrait of fifth-generation clown Peter Campa carefully applying his red nose backstage has stuck with me for months. A story like this could've easily favored style over substance, but Daniel digs deeper, exploring how the circus must strike a balance between tradition and novelty, subversion and celebration, danger and humor. This story was a hell of a lot of fun to edit, and it's a pure delight to read.
—Rose Cahalan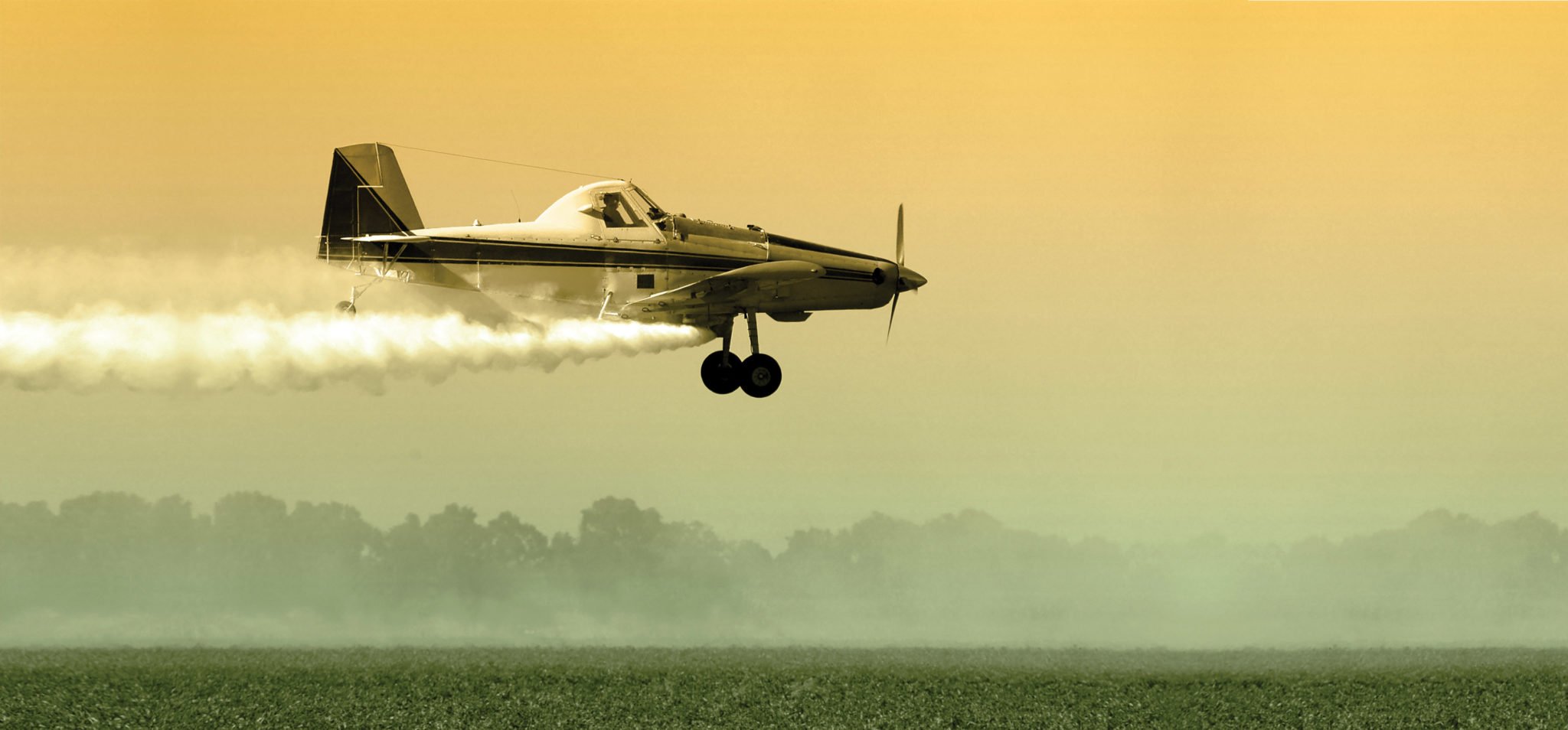 I think it's safe to say that few other publications would venture where rural reporter Chris Collins does. Chris brings his investigative chops and snappy writing to a phenomenon that few of us city slickers are probably aware of: crop dusters dousing unsuspecting people and animals with chemicals. To get a handle on this "chemical drift," Chris spent some serious quality time with a mountain of reports from the Texas Department of Agriculture and spoke to dozens of folks in the Panhandle and West Texas. The story shows that chemical drift is apparently occurring on a large scale and making Texans sick. You won't read that anywhere else.
—Forrest Wilder
Environmental reporter Naveena Sadasivam dug up this weird, fascinating story of how a Corpus Christi man with a fake name who once pleaded guilty to bribery convinced a federal agency and the Texas General Land Office to fast-track a controversial project in Port Aransas. The company behind the project didn't take too kindly to the story, suing us for defamation in a truly frivolous lawsuit that was unable to identify a single factual error in the story. We settled the suit on favorable terms, but it goes to show that accountability reporting comes with a cost.
—Forrest Wilder
illustration by Mark McGinnis
Journalists are pretty good at ripping the scales from our eyes, exposing injustice and revealing the shape of problems. We're not so good at offering solutions and ways forward. In this series, funded in part by the Solutions Journalism Network, reporter Gus Bova does quite a bit of both. He looks at the bursting-at-the-seams immigrant detention complex, a for-profit archipelago of carceral facilities that increasingly hold women, children and men seeking refuge and asylum. What if America were to use more humane and less expensive alternatives to immigrant detention? This series explores, largely through the eyes of immigrants, promising but flawed alternatives to detention, including ankle monitors and residential facilities.
—Forrest Wilder
I had an editor once who really, really didn't like water policy stories. He said they were almost always wonky and boring. I disagreed, but he had a point. Naveena's story about the drying-up of the San Saba River is definitely not. She shows how a fight over who has the rights to water, and who's to blame for the river's virtual disappearance, has pitted neighbor against neighbor in north Central Texas. At the heart of the story is the question of why the state environmental agency has stepped in to stop what it characterizes as illegal pumping.
—Forrest Wilder