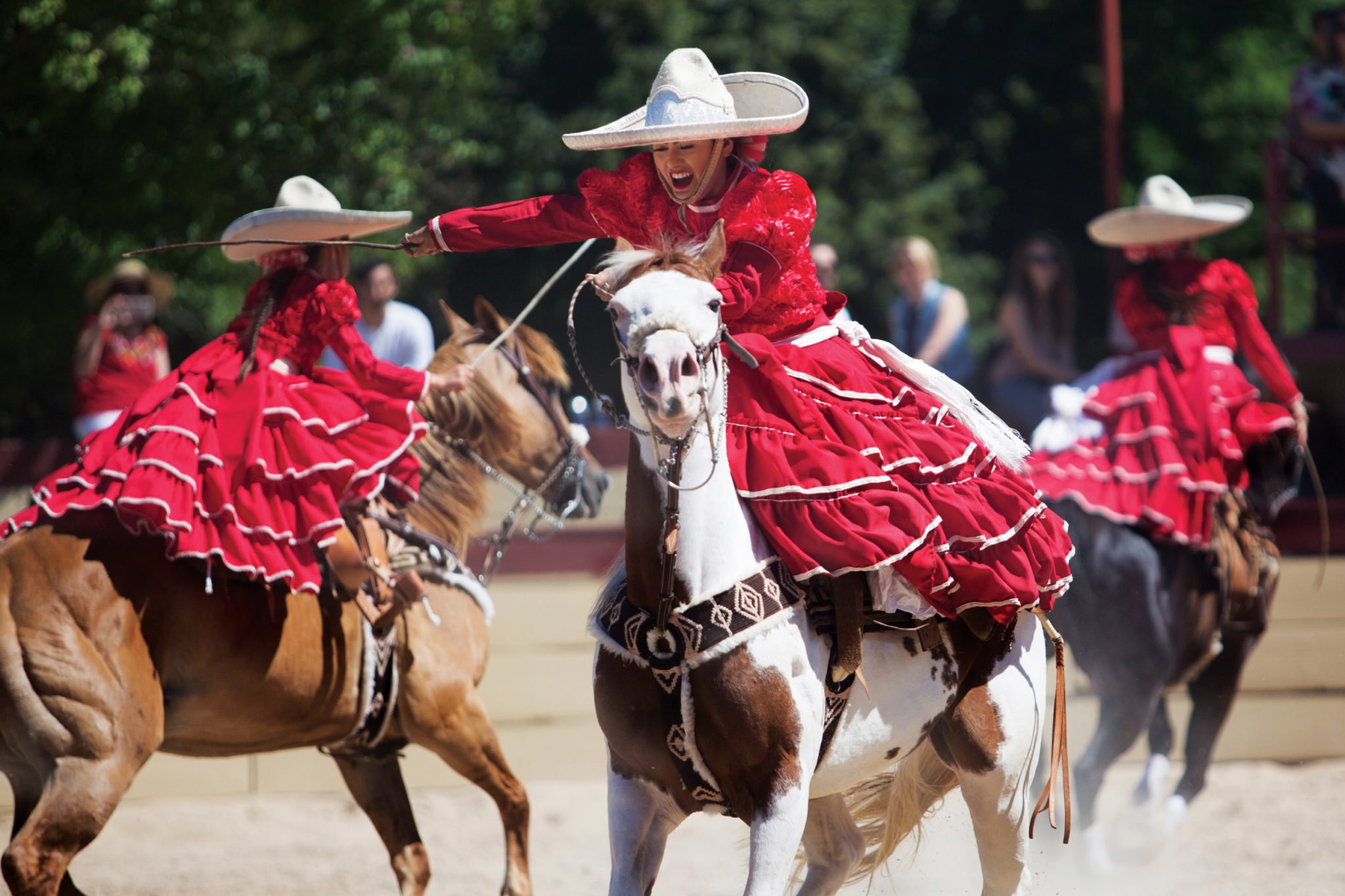 Ride Like a Girl
Women riders take the reins in the macho world of charrería.
by Rose Cahalan
July 10, 2017
"¡Otra vez!" shouts Jimmy Ayala. "Do it again." In the fading light, eight teenage girls on horseback gallop toward each other head-on. At the last possible moment, just when a collision seems inevitable, they turn ever so slightly, and the knot of horses and riders untangles into a seamless line. Each horse passes so close by its neighbor that their tails nearly touch. Then the riders disperse into a wide circle around the perimeter of the lienzo (arena), slowing to a trot. Ayala breathes a sigh of relief or frustration — it's hard to tell which. "Not good enough," he says. "Otra vez, faster this time." He pauses to mop sweat from his brow with a baseball cap before they begin again. "¡Va!"
It's the fifth time the riders of Las Coronelas, an escaramuza team, have repeated this particular maneuver, called a cruce (cross), during an April 19 practice at the San Antonio Charro Ranch, and it won't be the last. The team has only four days left to prepare for a performance before a crowd of 1,000 as part of San Antonio's citywide Fiesta celebration. According to Ayala, their coach and the father of two riders, they aren't ready yet. "Right now, we're OK, but not where we need to be," he says. "We'll get there."
Escaramuza means "skirmish," an etymology that pays tribute to the women who fought alongside men during the Mexican Revolution. The sport is sometimes described as ballet on horseback, though that analogy doesn't fully capture its danger and speed. Las Coronelas and other all-female precision riding teams perform daredevil maneuvers at full gallop, without helmets or other protective gear. Escaramuza is the only women's event within charrería, or traditional Mexican rodeo, and it's little-known outside the Hispanic community. It's also relatively young: Though charrería is more than 500 years old, escaramuza was invented in the 1950s and only became a competitive event in 1991. The sport, like the young women who carry on the tradition, is still finding its way.