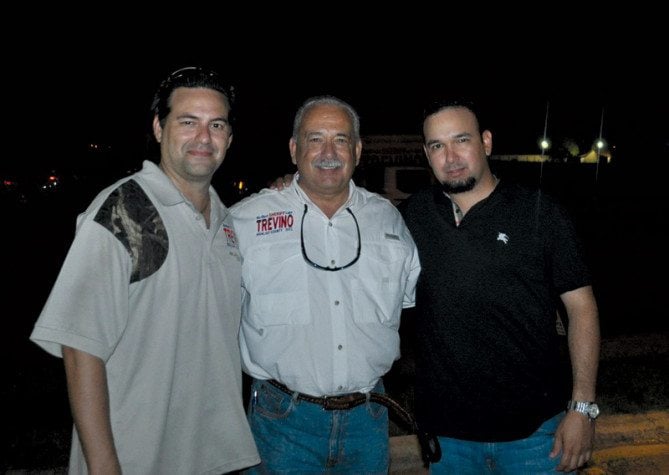 Members of Panama Unit Sentenced; Former Hidalgo County Sheriff Awaits His Day in Court
One by one, members of the disbanded Panama Unit, a street level drug trafficking task force, stood before U.S. District Judge Randy Crane in a McAllen courtroom this week to receive their sentences. The longest sentence—17 years—went to Jonathan Treviño, the leader of the task force and the son of Guadalupe "Lupe" Treviño, the former sheriff of Hidalgo County.
"I blame nobody else but myself," Treviño told the courtroom Tuesday, according to KGBT News. He then thanked the federal prosecutors for arresting him and stopping the rogue Panama Unit before more damage was done.
Jonathan's father, once the most powerful law enforcement figure in the Rio Grande Valley, was noticeably absent from the courtroom. Last month he was indicted for money laundering and forced to resign as sheriff. It was the 65-year-old Treviño, a career lawman, who had engineered his son's quick rise through the ranks of law enforcement, making sure he was appointed head of the Panama Unit in 2006 at the age of 22, just months out of the police academy.
But instead of busting drug dealers, the task force devoted itself to stealing from dealers and reselling the drugs for a profit. Jonathan surrounded himself in the unit with close friends, including Alexis Espinoza, the son of Hidalgo Police Chief Rudy Espinoza and five deputies who worked under his father. For a while the rogue task force was the worst-kept secret in Hidalgo County, at least among law enforcement and local drug dealers. Then, in December 2012, the FBI indicted Jonathan and other members of the Panama Unit, following a nearly year-long investigation.
But the scandal only widened from there to include two deputies, Jorge Garza and J.P. Flores, from the sheriff's crime stoppers program who worked in tandem with two drug dealers, Fernando Guerra Sr. and Fernando Guerra Jr. The crew would fake police stops in order to rip off other local dealers trying to move their product north, according to court documents. Eventually, Flores introduced the Guerras to the Panama Unit, which also included deputies Gerardo Mendoza, Claudio Mata, Eric Alcantar, Sal Arguello and Fabian Rodriguez, who had until then sold their stolen drugs to various local dealers.
The trial, which stretched from early Monday to late Tuesday, was packed with media, attorneys and family members of the 11 defendants. The deputies received sentences between 10 and 14 years with Jonathan receiving the stiffest sentence. Fernando Guerra Sr. received 15 years and his son received 8 years.
This week's sentencing signals the end of one complicated chapter in a law enforcement scandal that continues. Throughout his son's travails, the former sheriff has repeatedly insisted he knew nothing of his son's activities or of the corruption in his own department. But after his recent indictment, the normally talkative former sheriff has gone quiet, even deactivating his Facebook page—where he often addressed his critics. The sheriff's right-hand man, Deputy Commander Jose "Joe" Padilla, recently pleaded guilty to bribery and has been linked to a local convicted drug dealer, Tomas "El Gallo" Gonzalez, who reportedly gave thousands of dollars to Treviño's reelection campaigns. And just two weeks ago, the former sheriff pleaded guilty to taking the campaign contributions. Now Treviño is awaiting his own sentencing before a federal judge in July.