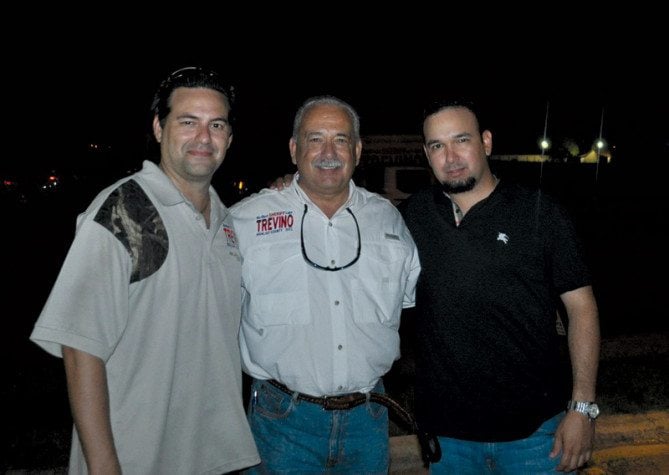 Former Sheriff Lupe Treviño Pleads Guilty to Money Laundering
Former Hidalgo County Sheriff Guadalupe "Lupe" Treviño pleaded guilty Monday to money laundering, just two weeks after resigning from office.
For several months federal investigators had been looking into cash donations to the former sheriff's campaign from a convicted drug trafficker named Tomas "El Gallo" Gonzalez. Last Friday, Treviño's former chief of staff, Maria Patricia Medina, who also served as his campaign treasurer, pleaded guilty to withholding information from a crime.
During a hearing Friday in McAllen, Assistant U.S. Attorney James Sturgis said that Medina knew that Treviño had deposited money from Gonzalez in banks under false names. Medina then falsified campaign reports to make it look like Treviño had returned the money to Gonzalez after it became public, according to the Monitor.
Scandal has shadowed Treviño since ICE's homeland security investigations and the FBI arrested his son Jonathan Treviño, a former Mission police officer, in December 2012. Since at least 2006, 30-year-old Jonathan Treviño had run a street-level narcotics task force called the Panama Unit in Hidalgo County. In March 2013, Jonathan and other officers associated with the Panama Unit—including five Hidalgo County deputies—were indicted for "conspiring to possess with intent to distribute" cocaine, marijuana and methamphetamine.
Deputies and former deputies also told the Observer that Treviño had forced employees to work on his campaigns or be demoted. They said they were forced to buy and sell tickets to fundraisers to pay off Treviño's campaign debt. Many of the deputies said that one of the sheriff's commanders, Jose "Joe" Padilla, served as the sheriff's chief enforcer, making sure deputies carried out his wishes. In December, Padilla was arrested on a seven-count indictment for drug trafficking and money laundering related to the El Gallo case. Padilla is still awaiting trial.
Miguel Flores, a former narcotics investigator at the sheriff's office, said he felt relief after the sheriff's admission of guilt Monday. For more than six months, Flores wore a wire and worked as an informant for the FBI to bring down the corrupt Panama Unit task force. Last May, Flores revealed for the first time to the Observer that he was an informant because he felt Treviño was retaliating against him after he found out Flores had been instrumental in his son's indictment. Eventually, Flores was forced out of the department and was unemployed for several months. He recently found another job with a local police department. "This has ruined a lot of lives," he said. "And It's been a long hard journey for me, but I feel that it was worth it," Flores said. "No one wanted to believe me but now they'll know the truth."