Who Are the People Still Marching for Trump in Texas?
At a march in Austin, an odd coalition of out-of-staters, white supremacists and the ordinary supporters who maintain his GOP approval ratings.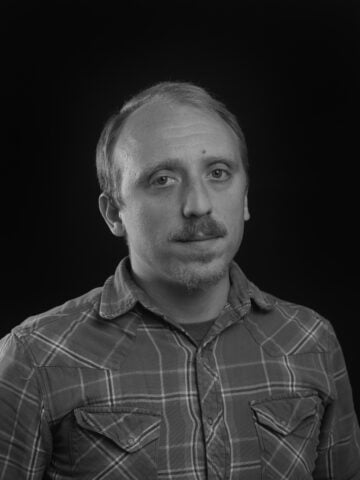 A version of this story ran in the April 2018 issue.
Above: Trump supporters recite the Pledge of Allegiance at the Texas Capitol on March 3.
More than a year into Donald Trump's scandal-plagued tenure, what sort of person would show up to march in the streets in support of the president? On a Saturday in early March in deep-blue Austin, the answer was a menagerie of D-list conservative celebrities, actual Nazis and the sort of ordinary Trump supporters who bolster his persistently high approval ratings among Republicans.
Harim Uziel, founder of a Los Angeles group called "Homies for Trump," was one of many speakers who traveled from out of state to attend the small rally, which drew about 100 people. Like many at the event, Uziel, who's Latino, repeatedly denied being racist: "Do I look like a Nazi? That's fake news, homies." Other speakers included Lauren Morris, a dreadlocked white woman with the Islamophobic group ACT for America, who warned the crowd of a "war on women" and concluded: "I don't ever wanna see a burqa in Austin, Texas."
One of the oddest speakers was Haley Adams of Portland, Oregon. Adams, who calls herself "Rebel Barbie" on her Dixie flag-filled Facebook page, shared a confusing anecdote of a "feminazi" relative who somehow started a prison riot. "Women, it's time to get back in the kitchen!" she concluded, to applause.
It would be easy to dismiss such a small event headlined by fringe activists. But consider this: Gallup polling in late February found Republican approval for Trump at 85 percent. Fact is, the people in Austin that Saturday remain part of a solid political base. Counting on Republicans to abandon their man looks like a losing wager.
Trump supporters came that day decked out in variously colored MAGA hats, "Trump 2020" shirts and American flag apparel of every conceivable sort. They reveled in reciting both the Pledge of Allegiance and the national anthem before the march.
Some told the Observer they were genuinely proud of Trump's first year in office. A home health aide from Detroit lauded Trump's recognition of Jerusalem as Israel's capital and his proposal to replace food stamps with food boxes. Others argued that he's been stymied by Democrats and moderate Republicans so far. "We should have had several hundred miles of wall by now," lamented Jim McCoy, of Katy.
Brandon Masin, a 24-year-old Marine vet and one of a few black supporters at the march, said tax reform was Trump's top accomplishment. He said he would personally benefit, adding that he enjoys proving black folks can think for themselves and not just blindly follow Democrats.
But as I spoke with Masin, a thin-bearded young white man handed me two flyers and quickly walked away. The flyers read, "Strong families make strong nations," and bore the old Nazi slogan "Blood and Soil" and the name of Patriot Front — a small but attention-grabbing white supremacist group that's littered college campuses around the state with its propaganda.
"Wow," said Masin, recognizing the group's name and slogan. "I'm not saying I 100 percent agree with everyone here, but I'm here for the values of this march."