How Texas Colleges Have Responded to the Hate Groups Behind All Those Racist Flyers
Records show a few dozen angry young white men, led by a teenager from the Dallas suburbs and emboldened by Trump, have caused headaches at universities across the state.
–
by Candice Bernd and Jordan Buckley
January 29, 2018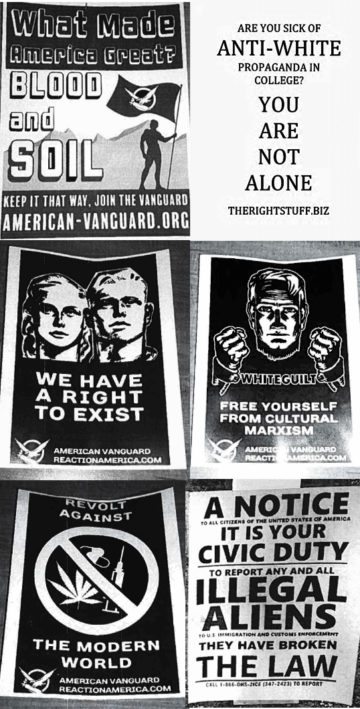 The first flyers appeared on November 9, 2016, plastered on lampposts and in bathroom stalls across Texas State University. "Now that our man TRUMP is elected and republicans own both the senate and the house — time to organize tar & feather VIGILANTE SQUADS and go arrest & torture those deviant university leaders spouting off all this Diversity Garbage," read one. It happened again and again, not just at Texas State, but also at the University of North Texas, Rice University, the University of Texas at Dallas and others: "Look around, white man. Is this the country your ancestors died for?" "Imagine a Muslim-free America." "A Notice To All White Americans: It Is Your Civic Duty To Report Any and All Illegal Aliens."
Many of the flyers bore the logo and website of American Vanguard — a group whose manifesto begins, "White America is under attack" — or, later, those of a splinter group called Patriot Front. More than a year after the 2016 election, hateful messages paired with fascist and Nazi symbols continue popping up on college campuses across Texas, and administrators are still struggling with how to respond.
Records obtained by the Observer show how colleges attempt to balance campus safety, police resources and free-speech protections as they react to guerilla propaganda campaigns. Taken together, the hodgepodge of responses illustrate the outsized disturbance that a group of a few dozen angry young white men — led by a 19-year-old from the Dallas suburbs — have caused for Texas colleges.
Patriot Front, a neo-Nazi group led by Coppell native Thomas Rousseau, came out of a splintering of white supremacist and alt-right groups in the aftermath of the "Unite the Right" rally in Charlottesville. Rousseau, a then-lieutenant of American Vanguard, wore the hate group's uniform at the rally as he stood alongside James Fields, the murder suspect who allegedly rammed a vehicle into a crowd there, killing one and injuring 19.
Two months later, three Texas men linked to Patriot Front were charged with attempted homicide after an altercation outside a speech by white supremacist leader Richard Spencer at the University of Florida in Gainesville. William and Colton Fears, brothers from Pasadena, Texas, as well as Tyler Tenbrink of Richmond, Texas, allegedly yelled "Heil Hitler" at a group of counter-protesters and Tenbrink fired a gun, police said.
Rousseau was on the FBI's radar as early as May 2017, records show, when he was still attending Coppell High School. In emails to North Texas campus police departments obtained by the Observer, a special agent and a domestic terrorism investigator identified Rousseau and three other white men as having posted "propaganda posters" with language used by "white supremacy extremist" groups on Dallas campuses.
In September, Rousseau and other "patriots" carried a giant banner, "For Race And Nation. Blood and Soil," to a book fair in Houston and confronted attendees with homophobic and racist language. They were kicked off the University of Texas at Austin campus in November after Rousseau led a torch-wielding publicity stunt in front of the school's iconic tower. In December, the group passed out flyers to tourists on San Antonio's River Walk and waved American and Texas flags in front of the Alamo as Rousseau ranted on a bullhorn.
Carla Hill, senior researcher for the Anti-Defamation League (ADL), said her organization has tracked 59 instances in Texas of racist propaganda — the majority associated with Patriot Front and American Vanguard — in Austin, Dallas, Houston, San Antonio, San Marcos, Tyler, Wichita Falls and other cities since Trump was elected. She said more incidents have been reported at Texas State than any other campus in the state.
Hill said that Patriot Front has about 70 active members nationwide and a few small clusters scattered across Texas are responsible for most of the flyers. Most Patriot Front members, not including Rousseau, wear masks when demonstrating or posting neo-Nazi flyers and use pseudonyms online. When contacted by an Observer reporter seeking comment, Rousseau hung up as soon as she identified herself.
In one of the few instances in which people posting the neo-Nazi flyers were caught red-handed, Texas State police — with the help of student witnesses — detained five white, nonstudent men who admitted on December 3 to posting about "30-40 flyers" and two banners on campus, as well as several other posters at a San Marcos apartment complex, according to a police report.
Some of the flyers, which included the Patriot Front website, targeted Texas State student Rudy Martinez, the author of a controversial column about race in the student newspaper. The posters included Martinez's face, name, phone number and employer's contact information, a tactic known as "doxxing," and encouraged people to contact him and his employer.
Police detained, questioned and released the men with a criminal trespass warning. University spokesperson Matt Flores said he doesn't know if officers "were aware" the posters "referenced a Texas State student," but that the police department "typically issues criminal trespass warnings to individuals who are caught for the first time violating university policies."
Texas State has refused to name the men, citing a school policy to not identify individuals cited with a warning. The university redacted the men's names from a release of public information to the Observer and is seeking a ruling from the attorney general to keep them private. The Observer has challenged the appeal.
Tafari Robertson, a public relations senior and activist at Texas State, likened the refusal to identify or charge the men to protecting the hate groups. Rebecca Bell-Metereau, a Texas State English professor, echoed that sentiment. "It seems that for the safety and security of students on the Texas State campus, we deserve to know the names of individuals who are … posting intimidating hate speech on our campus," she told the Observer.
At the University of North Texas (UNT), officers struggled with how to balance campus safety and free-speech protections.
"We've now been out to Wooten [Hall] three times in two days for the same group's posters being put up on bulletin boards," UNT Patrol Supervisor Lieutenant Jeremy Polk wrote in a January 2017 email obtained by the Observer. Polk instructed officers not to respond to similar reports unless "there is something threatening" and that "public boards are free speech protected."
Other schools in Dallas seemed to take a more proactive approach. The University of Texas at Dallas (UTD) deployed an officer to investigate members of the hate groups that were seen posting what police internally called "white supremacists flyers" on campus in surveillance footage. In an internal email, the investigator identified Brett Sanders, an American Vanguard member from Frisco, as one of the men in the surveillance footage, noting that "the header on his [Facebook] profile page is 'SMASH CULTURAL MARXISM' and his profile photo is of himself in a red 'Trump' hat, and he is kissing some type of automatic weapon." UTD police then circulated a memo alerting officers in the area to be on the lookout for Sanders, while noting that it wasn't immediately clear if he had committed a crime.
Similarly, Southern Methodist University publicly released surveillance video of five men who hung a white supremacist banner on campus, inviting the Dallas community to help identify the perpetrators. That investigation remains open.
In October, Lieutenant Governor Dan Patrick ordered senators during the interim to "ascertain any restrictions on Freedom of Speech rights that Texas students face in expressing their views on campus" and "recommend policy changes that protect First Amendment rights and enhance the free speech environment on campus." Responding to Patrick's call, the Senate Committee on State Affairs is set to hold a hearing on free speech at Texas State. The agenda for the Wednesday meeting notes in bolded letters that "Public testimony will be limited to 2 minutes."