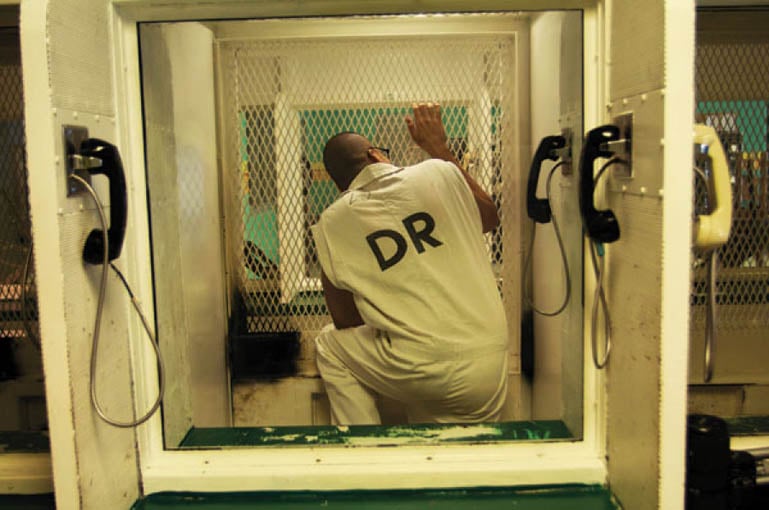 Letters from Death Row: Books Behind Bars
The first in a series…
In the spring of 2014 I sent identical letters to each of the 292 inmates on Texas death row. The letter consisted of 10 questions designed to find out more about life for the condemned: the effect that solitary confinement has on them, for example; whether they had found religion in prison; what sort of childhoods they had; what books they read.
The aim was twofold: to shine a light on little-known areas of life on one of the most notorious death row wings in the United States, and to see if any patterns emerged. Was there a trend in death row inmates who had abusive childhoods, perhaps? Was there a genre of fiction that those in solitary confinement preferred, as a means of escapism?
I addressed the questionnaires to the Polunsky Unit in Livingston, where men who are on death row are housed. I did not send the same questionnaire to the seven women on death row, housed at the Gatesville Unit near Waco, for the following reasons: Women on death row in Texas are held under different conditions. They can participate in work programs. Some can watch TV outside their cells. They can occasionally associate with other death row inmates. And they are allowed to knit and sew. I intend to approach the women on Texas death row separately for an extension of this project.
In the months that followed the letters being mailed out, 41 inmates responded, either by filling out the questionnaire, writing a letter expanding on their answers to the questions, or both.
Twelve letters were "returned to sender," unopened for various reasons. A sticker saying "Refused. Unable to forward" was attached to five, while three inmates had been moved off death row (and TDCJ hadn't updated its public database), and four were "unable to forward."
While the questionnaires were completed by just under 14 percent of inmates on death row in Texas, perhaps something can be gleaned from looking at the non-responders too.
Some inmates prefaced their answers by saying they were suspicious of the media and indicated that they believed not many would respond. Just as some inmates have refused to take the hour per day of recreation offered to them—perhaps indicating they had given up on living, preferring to stay in their cells 24/7—others have lost hope that communicating with the outside world could improve conditions for them.
While the survey doesn't purport to be scientific, the results are revealing and fascinating. Over the next couple of months the Observer will publish a series of stories based on the responses to the questionnaire, expanding on them with the voices of the death row inmates who replied, and giving context where appropriate through analysis by experts.
***
When F. Scott Fitzgerald told his paramour that literature makes you realize "your longings are universal longings, that you're not lonely and isolated from anyone," he probably wasn't thinking of the effect of books on prisoners—much less their impact on death row inmates. But there's something profound about the idea that literature can offer a way of metaphorically escaping the solitary confines of a cell.
It's a compelling thought: The condemned read books that move them, temporarily, beyond the prison walls. But is it actually true? Do death row inmates favor fantasy fiction over, say, suspense or biography? Spiritual tomes over prison lit?
My perhaps morbid interest in these questions was piqued in early 2010 when I visited Guantanamo Bay to work on a story for Esquire. As part of a "media tour" we were shown the library for detainees—an old portable building near one of the detention centers with a meager collection. One of the most popular items was Sharh Sahih Muslim, a collection of books about the Prophet Mohammed. Obama's memoirs Dreams from My Father and The Audacity of Hope were in demand too. Among the limited selection in the mobile office building were Aesop's Fables, Watership Down and Chicken Soup for the Prisoner's Soul.
As part of an in-depth project for The Texas Observer, I wanted to find out what books inmates on death row read, and what this said—if anything—about their mental state or predicament.
Through the questionnaires they divulged a surprisingly broad cross-section of reading material' some high-brow, some low-brow.
Inmate Jeff Wood told me that while he was free, he had hardly read at all. "Reading was useless to me in the world," he wrote. "It was fishing, hunting, sports, women—and my daughter when she was born." Now, from the confines of a cell in Livingston, he was reading a lot—mostly Westerns, and in particular the Mountain Man series by William W. Johnstone, which follows a boy as he travels to the American West.
The publisher's website sums up the series: "In his hand is a Navy Colt. By his side is the old mountain man named Preacher, who'll teach young Smoke Jensen everything he needs to know about fighting like the devil, and—when the time comes—dying like a man."
The single most popular book among inmates—though it was still picked by only six out of the 41 respondents—was the Bible, or in the case of one inmate, the Book of Job.
Six months before his execution in September for killing his former common-law wife and her brother more than two decades ago, Willie Trottie wrote that the Bible was a source of solace in his final days. The Bible, he said, "helps to keep me spirited in an un-spirited environment; keeps me spiritually uplifted and encouraged, despite the grim circumstances we're facing."
Many books on the inmates' reading lists had religious themes. One man cited The Urantia Book, a new-age spiritual tome apparently designed to unite religion and science in order to divine the meaning of life, as his favorite. Another listed The Cost of Discipleship, the classic by Dietrich Bonhoeffer, and a third chose A Divine Revelation of Hell, a book in which author Mary K Baxter reveals how "Jesus Christ appeared to [her] on 40 consecutive nights," taking her on a tour of hell and heaven.
But inmates are limited in what they're allowed to read. In 2011, the Texas Civil Rights Project said the Texas Department of Criminal Justice "arbitrarily censors books and magazines" in violation of prisoners' First Amendment rights. Among those proscribed books were Dante's Inferno, The Color Purple by Alice Walker, and First Love by Joyce Carol Oates.
Kosoul Chanthakoummane, sentenced to death for stabbing to death Dallas real estate agent Sarah Walker in 2006, wrote that most of the books he wanted to read have been censored by the TDCJ Director's Review Committee—the body tasked with hearing appeals related to rejected correspondence and publications.
Chanthakoummane wrote that he "will likely receive 60 – 70% of my magazine subscriptions," and said that among the titles periodically censored were GQ, Vogue and Popular Mechanics. He wrote that censorship was "limited to a handful of reasons, which are conservative in their nature."
Chanthakoummane also claimed that publications and periodicals "targeting African Americans are more closely and often censored [including] King, Jet [and] Diva magazines … it's blatant racism / sexism at the root of censorship."
In an email to the Observer, TDCJ spokesman Jason Clark said the department reviews publications that are not listed on its 10,000-title list of approved publications. Any magazine not listed is reviewed "on an issue by issue basis" and a decision given within two weeks.
Typically, Clark said, publications are rejected because of sexually explicit images, the break-down or manufacture of weapons, depictions of drugs, alcohol and information deemed a security threat.
TDCJ staff had reviewed 3,005 publications between January and September, rejecting 960, Clark said.
He added that the "rules are appropriate and do not violate offenders' constitutional rights."
Lisa Guenther, an associate professor of philosophy at Vanderbilt University, who is currently facilitating a philosophy discussion group on death row in Tennessee, told me the thing that struck her about the literature consumed by inmates in the Observer project was the contrast—or perhaps continuum—between "heavy" books of philosophy and spirituality and escapist genre fiction.
"The latter," she said, "help to pass the time, and the former help to make the most of one's time. Somewhere between these two poles, I would situate the books that conjure up another world, such as Lord of the Rings and other sci-fi/fantasy books."
 Prisoners are reading The Alchemist, the Bible and challenging works by existentialist Jean-Paul Sartre and Holocaust survivor Viktor Frankl. They're also reading thrillers, adventure novels, erotica, Hunger Games and Stephen King.
"Both genre fiction and intellectually- or spiritually-demanding texts transport the reader elsewhere, either by allowing them to forget themselves and their current situation or by drawing them into a closer, more powerful self-awareness," she said.
The things we need in order to sustain a meaningful life—a sense of awareness, but also a feeling of anonymity; an absorption in things other than ourselves—are, Guenther said, enormously hard to sustain in prison, particularly on death row. Prisoners are isolated, yet under constant surveillance; they are alone, yet surrounded. 
"It makes sense to me that people in prison, especially people held for long periods of time in extreme isolation awaiting execution, would be drawn to both page-turners and also slow, thoughtful, thought-provoking books."
John A. Johnson, professor emeritus of psychology at Pennsylvania State University, said what intrigued him about the reading list was the degree to which it overlapped with what non-inmates like to read.
In the 1980s, Johnson conducted a study with prisoners in which they were presented passages from the poetry of Walt Whitman to see if they were capable of discerning subtle themes within.
"They were, in fact, able to do this as well as our control group of college students," Johnson told me. "Within both groups, scores on an empathy measure predicted their ability to understand the poetry (more empathy equalled better understanding). What really struck us the most was not the 'criminality' of the prisoners we interviewed, but rather our inability to perceive any major differences between their personalities and the personalities of the students we teach."
The findings lead Johnson to an unsettling conclusion.
"I would say that it is a stretch to think that inmates on death row are particularly escapist or fantasy-prone or anything else in their reading tastes," Johnson said. "As much as people on the outside might want to deny it, many individuals on death row are not as different from us as we might want to think."