Fri, May 27, 2016 at 8:00 am CST
Naveena Sadasivam is a staff writer covering energy and the environment at the Observer. She is currently an Ida B. Wells fellow at The Investigative Fund at The Nation Institute. Contact her at [email protected] and follow her work on Twitter.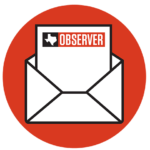 Get the latest Texas Observer news, analysis and investigations via Facebook, Twitter and our weekly newsletter.
Enter your email