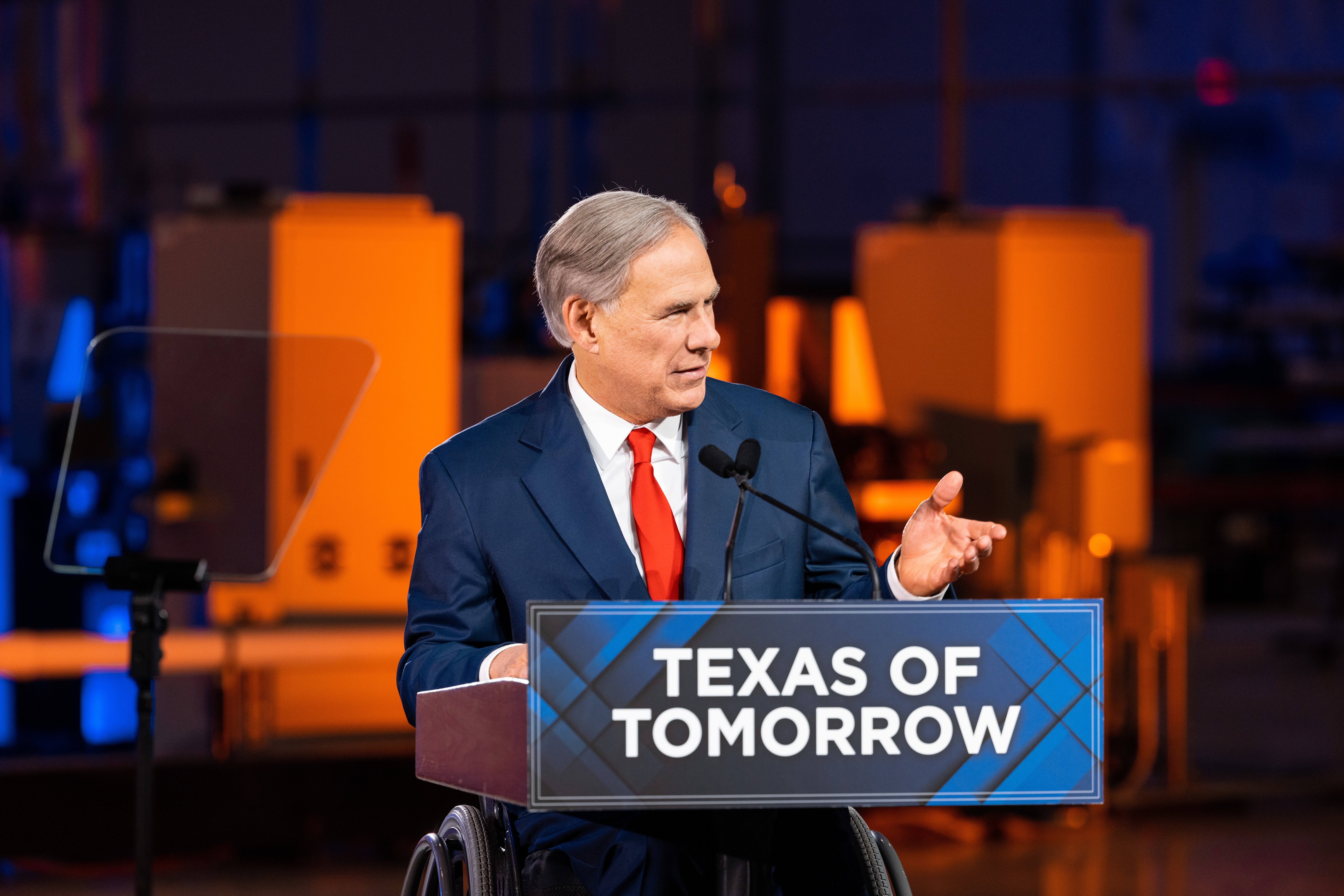 Greg Abbott's 'State of the State' Was a Weird, Alarming Infomercial
"I'm speaking to you from the manufacturing floor of Noveon," announced Texas' fearless leader to a limited audience before laying out yet another right-wing agenda.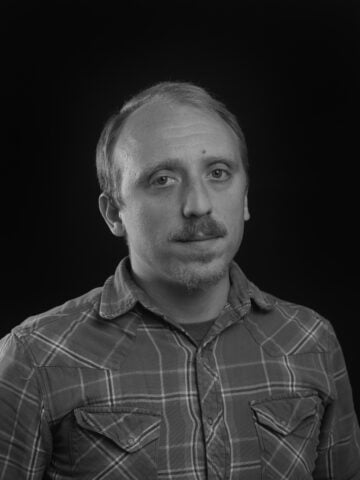 On Thursday night, GOP Governor Greg Abbott used his fifth State of the State speech, a biennial address mandated by the Texas Constitution, to cut an ad for a large television conglomerate and a corporation that manufactures "rare earth magnets." The three-term governor, fresh off an easy reelection, also took the chance to snub the Capitol press corps and unveil a list of policy priorities that, while soundly regressive, was perhaps a touch less vicious than it might have been.
Bucking tradition, Abbott chose not to give his address—which clocked in at a tight 20-odd minutes—in Austin's state House chamber during a joint legislative session with media present. Instead, he spoke at the facility of Noveon Magnetics in San Marcos with lawmakers invited but no press besides Nexstar Media, which carried the speech. At one point, attendees had even been told to sign a nondisclosure agreement.
"I'm speaking to you from the manufacturing floor of Noveon," Abbott pointed out near the top of his remarks, as the televised broadcast cut to b-roll of Abbott getting a tour of the company's quite unremarkable facility. The governor continued to wax rhapsodic about the specific company: "With the help of businesses like Noveon, Texas is number one in the United States for the most new jobs."
An Abbott speech is never an exhilarating event; the governor's rhetorical style is plain when it's not affected. And he's long made a habit of dodging questions at press conferences (and don't even get me, or any Texas media member, started on his office's responsiveness to inquiries). Still, Thursday's padlocked event represented a new affront to transparency in Texas, which comes as the state Senate is also exiling reporters from the chamber floor. As John C. Moritz wrote recently for the Corpus Christi Caller-Times, "When it's left to the politicians to decide the terms of how the public is informed, that whole experiment in self-government thing can unravel in a hurry."
Two years ago, Abbott first moved the State of the State away from Texas' iconic pink granite Capitol to take place at the vaunted property of Visionary Fiber Technologies in Lockhart—but that was ostensibly due to COVID precautions. Rest assured, that was not the motivation this time: During his address, Abbott pledged "to end COVID restrictions forever."
In an interview with KSAT, longtime Lege reporter Scott Braddock assessed Abbott's motivations: "I think Governor Abbott became very comfortable in sort of the COVID cocoon. … This governor thrives best in environments that are very controlled."
Abbott, who's on track to be Texas' second-longest-serving governor, has not ruled out a presidential run next year.
As for policies, Abbott used the speech, as he has in the past, to unveil his "emergency items" for the ongoing legislative session. These items are not necessarily true emergencies but rather represent the governor's priorities and, per the process laid out by the state constitution, determine what bills the Legislature can act on in the first sixty days of the session. It's one of the governor's major powers, along with the veto pen and the ability to call additional special legislative sessions.
Entering this session, the GOP's grip on all levers of Texas government is as strong as ever and the state is faced with abundance: a historic $33 billion budget surplus. Fittingly, Abbott unveiled more emergency items than he has in years prior. His seven priorities were: property tax relief, banning COVID restrictions, so-called education freedom, school safety, limiting incarcerated Texans' access to bail, tightening border security, and addressing fentanyl overdoses.
Mercifully, some possible red-meat issues were absent, such as depriving trans youth of healthcare or expanding prosecution related to abortion—but the package will still rightfully alarm Texas liberals. Property tax relief, for example, may benefit some, but both legislative chambers are presently proposing that about half the state's budget surplus go to property tax relief rather than to fixing broken governmental services and safety-net programs. And "education freedom," for Abbott, refers to a hodgepodge of measures that includes "education savings accounts"—the current rebrand of "school vouchers," which amount to redirecting public funds to private schools.
"Border security," meanwhile, equates to an ever-growing taxpayer tab for the governor's problem-plagued Operation Lone Star, and "school safety" is a byword for pumping money into security and surveillance rather than passing gun control policies as a response to school shootings. The word "Uvalde" did not pass the governor's lips Thursday—perhaps in part because Uvalde parents have persistently called for gun control in the wake of last year's massacre at Robb Elementary.
After the speech, the television broadcast carried a response from Texas Democrats, a somewhat awkward video mash-up. In it, a mother of a transgender son decried a state investigation of her family, while still-bereaved Uvaldeans—along with Democratic state Senator Roland Gutierrez—asked the governor to support policies including raising the age to purchase assault rifles to 21. "Please, listen to these voices, it's too late for these families," said Gutierrez, addressing Abbott. "But maybe if you show some political courage, you can save the next family from having to endure this kind of heartache."
Anyway, it was a good evening for Noveon Magnetics.