Sat, Jun 26, 2010 at 12:23 pm CST
Jen Reel was an Observer intern before joining the staff in July 2010, first as Web Content Manager, and most recently as Multimedia Editor. She left the Observer in 2017.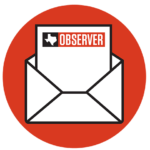 Get the latest Texas Observer news, analysis and investigations via Facebook, Twitter and our weekly newsletter.
Enter your email