Can a Convicted Felon Run for Office in Texas? Lewis Conway Jr. Intends to Find Out.
"Children whose fathers are locked up, they need to see somebody like me on City Council," said Conway.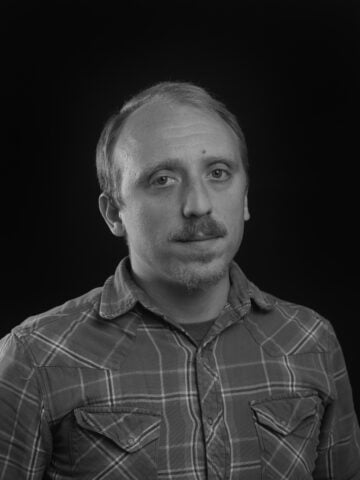 Above: Lewis Conway Jr.
Last spring, Lewis Conway Jr., a 47-year-old community organizer, began planning a campaign for Austin City Council like most candidates do. He gathered friends and asked for their support. He considered his fundraising prospects. No stranger to City Council, Conway had fought for Austin's 2016 Fair Chance Hiring ordinance, which prohibits many employers from considering criminal backgrounds before making a job offer. Conway, who calls himself a democratic socialist, drafted a platform of aggressively building out public housing, giving tax breaks to poor folks in gentrifying East Austin and expanding indigent healthcare and public transportation.
But as he began informally campaigning, Conway ran into a snag: In 1993, he was convicted of felony voluntary manslaughter for fatally stabbing a man during a dispute at an East Austin apartment, a crime for which he served around eight years in Texas state prisons and 12 years on parole. Finishing his parole restored his voting rights, which he thought also cleared his path to run — until a city memo revealed in December that Texas law may not be so forgiving.
Convicted felons can generally hold federal office, but state laws form what a federal report called "a national crazy-quilt of disqualifications and restoration procedures." Conway's candidacy is in limbo because local and state officials say they've never dealt with the issue: As far as they know, no convicted felon has ever tried to run for state or local office in Texas. Officials seem sure that the right to vote does not automatically restore the right to candidacy and Conway needs either a pardon from the governor (unlikely) or some kind of ruling from a state judge. But they don't know what sort of judicial order would suffice, and an opponent might still successfully challenge whatever he does get from the court.
"We don't have any concrete examples to go off of," said Sam Taylor, spokesperson for the Texas Secretary of State's Office. Taylor said a ruling called a "declaration of actual innocence" might work, but he couldn't be sure.
That leaves Conway trying to campaign and fundraise without the ability to promise volunteers and donors that he'll be on the ballot in November. The doubts about his candidacy are public, but he might not be able to resolve them for months to come. He can't file his candidacy until July 21, so he can't deal with potential challenges until then.
"I'm having to run a legal campaign and a political campaign at the same time," said Conway, who is a criminal justice organizer at Grassroots Leadership, an Austin-based group that fights private prisons. "It's a civil rights issue; I'm being denied access to a public job based on my background." Conway added that he fears perjuring himself if he applies for a spot on the ballot without being positive he qualifies.
The issue, according to Conway's attorney, Ricco Garcia, stems from a 1985 state statute that he calls "extremely vague." The law disqualifies felons from public office unless they've received a pardon or been "otherwise released from the resulting disabilities." Garcia said he doesn't know which "disabilities" are relevant: Felons, for example, are prohibited from owning firearms or holding many professional licenses. Garcia speculates that perhaps Conway could become eligible to run if a judge restored his right to serve as a juror, but he's not sure, and the state has been of little help. "You'd think it would be pretty cut and dry," said Taylor. "But this 'release from disabilities' thing, I think it needs to be clarified."
It's possible, said Garcia, that a legal battle over Conway's candidacy could clear the path for others in the same situation. "This is the stuff that a lot of large cases come from … a lot of litigation that's appealed to higher bodies like the Supreme Court," said Garcia, who said he's working pro bono and looking for other attorneys to help.
Garcia said he'll also ask the governor for a pardon, though Texas' tough-on-crime conservative governors typically reserve their pardons for folks who committed minor crimes — unlike Conway.
In August 1991, a 21-year-old Conway was charged with fatally stabbing another 21-year-old man in Austin. Conway, who later pleaded guilty to voluntary manslaughter, says the other man stole drugs and money from him, and when Conway confronted him, the man pulled a gun; Conway says he stabbed him in self-defense. Conway then bounced around Texas state prisons until August 10, 2000, according to state records.
When he was released, Conway found a very limited sort of freedom. "You get out here in the world and you realize you've been convicted of a violent crime, and you're big and you're black," he said. "Even McDonald's wouldn't hire me."
Conway, who was born in Abilene but has lived in Austin since he was 5, did graveyard shifts at Walmart, directed music videos under the name "Louie Fattz," wrote a self-help book and was eventually hired by Grassroots Leadership as a community organizer. This legislative session, Conway successfully lobbied against bills that would have overturned Austin's Fair Chance Hiring policy, which had been the first such measure to pass in the South.
Conway is running for Austin's District 1, a historically black part of the city that's represented by Ora Houston, a veteran African-American community activist. Conway says he's modeling his campaign on that of Chokwe Lumumba, the mayor of Jackson, Mississippi who's vowed to make his Southern town "the most radical city on the planet."
Beyond policy, Conway sees his campaign as important for formerly incarcerated people and their loved ones: "Children whose fathers are locked up, they need to see somebody like me on City Council so they can say: 'I know where he come from; I know him in these streets. But I've also seen him at City Hall, at the Capitol.'"
For her part, Houston, Conway's would-be opponent, said she thinks he deserves a shot. "I believe in second chances," Houston said. "He served his time."