The 'Liberty-Loving Latino' Who Uses Talk Radio to Make Texas Great Again
"As a Latino American I want American citizens to be put first; all immigration should be halted until this government takes seriously the threat of illegal immigration."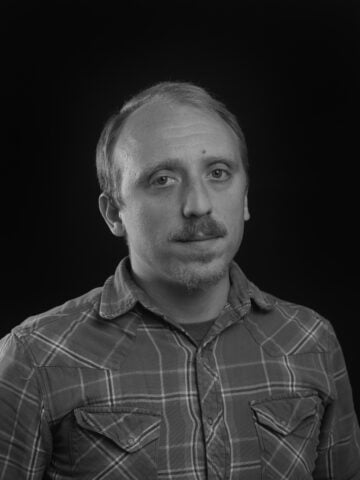 A version of this story ran in the February 2018 issue.
Editor's note: With the far right ascendant in Texas politics, once-marginal ideas and people have found a place in the political mainstream. Our recurring Fringe Factor series is an introduction to the often-unknown, but influential activists, thinkers and operatives who play a growing role in shaping the state.
Chris Salcedo, a conservative talk radio host in Dallas, is a man of many neologisms. For five hours a day, Monday through Friday, the 47-year-old fills airwaves in Dallas and Houston with invective against "resident Obama," the "basket of bias press" and "crony crapitalists." Salcedo, who calls himself a "liberty-loving Latino," also revels in proving that Hispanics can champion border walls, immigration bans and tax cuts for the wealthy.
Born and raised in San Diego, California, Salcedo moved in 2006 to Dallas, where he worked as a TV reporter and anchor for four years before moving into talk radio. Today, Salcedo fills the early-morning drive-time slot on KSEV 700 — the Houston-area station owned by Lieutenant Governor Dan Patrick — and a late-morning slot for the Metroplex's WBAP 820. He held down a regular gig on Glenn Beck's The Blaze until its recent round of layoffs.
Though Salcedo is in many ways a standard-issue conservative talker, he's picked a side in the Texas GOP's civil war, aligning himself with his boss, Dan Patrick; the House Freedom Caucus; and Empower Texans, the far-right enforcer group funded by Midland oilman Tim Dunn.
On air, Salcedo spent last year's legislative session railing against Joe Straus, the moderate Republican speaker of the House who stymied a number of extreme bills. Salcedo has called Straus "a Democrat" and a "pile of manure," and hailed his recent retirement announcement as "manna from heaven."
Salcedo is no voice in the wilderness. His guest list has included Vice President Mike Pence, U.S. Senator Ted Cruz, Governor Greg Abbott, numerous Texas congressmen and state lawmakers and, of course, Patrick, who made his own name during more than two decades in Houston talk radio. Neither of Salcedo's stations has a massive following — each ranks third among "news/talk" in its respective area — but they reach a politically potent audience.
"Talk radio helps spread the 'movement conservative' gospel among those people most likely to participate in the Republican primary," said Mark P. Jones, a Rice University political scientist. Mostly Anglos over 40, Jones said, the talk radio audience can propel outsider candidates through primaries and into noncompetitive general elections.
Salcedo brings something new to the pasty world of talk radio. Beck's radio network promoted his show as "politics with a side of Latin flair," and its website trumpeted: "The national media can never seem to find a conservative Latino to speak on the big issues. It didn't take us long." But far from feeling tokenized, Salcedo leans into his identity and uses it to absolve fellow conservatives.
In a May interview with Michael Quinn Sullivan, the Empower Texans head recently in hot water for calling a black lawmaker "thuggish," Salcedo said, "I have broken bread with [Sullivan] … so I can attest as your liberty-loving Latino, folks, that accusations of racism toward Empower Texans are not founded in reality."
For Salcedo, it's actually liberals who take a jaundiced view of Hispanics. "I understand the Democrats and Joe Strauses of the world think if you have a Latino surname, chances are you're illegal. That's their prejudice," Salcedo told the Observer. "The idea that the Latino community supports allowing illegal alien felons out on the streets and supports illegal immigration, which is wrong and immoral, it's a fallacy."
Salcedo argues the GOP can win voters of color without softening its immigration stance, citing polls that indicate Abbott and Patrick won the Hispanic male vote in 2014. In an interview with Salcedo that November, Patrick concluded, "We don't need moderate or weak Republicans moving to the middle to appease the left," saying his anti-abortion and border security message had worked. "Amen to that," Salcedo replied.
Now the 2018 primaries look primed to push the Texas GOP even further to the right, as conservative challengers line up to take on centrists clinging to life in the statehouse. An analysis by Jones found that the most moderate quartile of Republicans is facing nearly the same number of challengers as the other 75 percent combined. The top target, said Jones, is likely pro-choice Houstonian Sarah Davis, who's drawn the opposition of her own governor.
Asked whether he'd be riling up listeners to oust Davis and her ilk this year, Salcedo interrupted before the question was even out. "Absolutely," he said.