The King of Pulp
In Cross Plains, a literary festival honors Robert E. Howard, the most influential Texas writer you've never heard of.
by Robyn Ross
August 28, 2017
"Where y'all from? Is this your first time here?" The door to the Robert E. Howard House and Museum in Cross Plains swings open, and a volunteer in a red polo shirt greets a group of visitors. The clapboard house's narrow hallway is noisy and crowded with travelers from Dallas, New York, California and Japan. They've come to envision the home as it was in the 1920s, when Howard lived here with his physician father and chronically ill mother. In a porch converted to a tiny bedroom, he typed up to 12 hours a day, spinning stories about his most famous character, Conan the Barbarian, along with other fantasy stories, Westerns, boxing stories, pirate stories, horror stories and "sword and sorcery," a genre Howard is credited with inventing. Just outside is the swath of grass that once was the driveway where, on June 11, 1936, 30-year-old Howard sat in his car and shot himself, cutting short one of the most promising careers in Texas letters.
In just 12 years, Howard wrote at least 250 stories in multiple genres, more than 750 poems, three novels and 350 letters. His ideas have influenced comic books, video games, Game of Thrones and role-playing games like Dungeons and Dragons. Most Texans have heard only of Conan the Barbarian, and few could name Howard as his creator. But for three decades, devoted "Howard Heads" from around the world have descended on Cross Plains on the anniversary of his death for Howard Days, a long weekend that serves as a pilgrimage for some, a family reunion for others. "Any time you get to the place where a literary or artistic hero lived and worked, it's like a trip to Mecca," says Bill Cavalier, a Howard Head who helped organize this year's events. "You're standing on holy ground."
Inside the house, local volunteer Yvonne Shumaker points out the original baseboards and French doors. In the dining room, the table displays a paper Howard penned for his high school English class. In the margin, his teacher wrote: Robert, I believe that someday you will be one of our major writers. Develop your talent. Across the hall is the narrow, low-ceilinged room where Howard slept and wrote. In the warmer months he opened the east- and south-facing windows while he typed, often talking out the scenes as he wrote them, a habit that did not endear him to the neighbors. A window on the north side of the room, which was once an exterior wall, looks directly into Howard's mother's bedroom. There, volunteer Theresa Morgan picks up the story of Robert's devoted but oppressive relationship with his mother.
"This is the bedroom where Mrs. Howard suffered from TB," Morgan says grimly. "She lay here in the bed and watched Robert through the window over there. He was a mama's boy, you know, and they didn't want to be out of each other's sight for very long." As an adult, Robert was often his mother's primary caregiver, and Hester Howard's neediness and protectiveness curtailed her son's social contact. "The town sentiment was that Howard was a loony tune," Morgan continues, "and that the pieces he wrote were absolutely rubbish. This is small-town West Texas, and his writings were off in left field. … They just thought he was a nuthead."
A visitor replies from the hallway. "That's what happens when you're 50 years ahead of your time."
After the tour, Barry Reynolds sits at a picnic table adjacent to the covered pavilion where several dozen Howard fans are having lunch. The retired librarian and occasional horror writer had for decades dreamed of traveling from his home in rural Patrick Springs, Virginia, to the home of his literary inspiration. As a boy, Reynolds hoarded Marvel Comics with Conan stories, reading them at night by candlelight to intensify their mystical quality. He later discovered Howard's other genres, particularly his Westerns and horror stories, and read his biography. The Texan seemed to Reynolds like a kindred spirit, a bookish young man growing up in a culture that valued physical work rather than that of the imagination. As an adult Reynolds has been known to walk down his dirt road alone in the predawn darkness of a winter morning, listening to Howard's horror story "Pigeons from Hell" on audiobook.
For decades, Reynolds had conjured the image of Howard at his typewriter: the echo of the Underwood keys in the narrow room, Howard bellowing the lines, his voice carrying out the open window into the dark of a summer night. "I feel sort of numb," Reynolds says. "It's humbling and awe-inspiring for me to stand where he stood."
Cross Plains was an unlikely home for a writer of fantastic tales. The Howards settled there just before the town's population exploded in the 1920s oil boom, and Robert spent his teen years surrounded by fleeting prosperity and violence. While the boom provided fodder for his writing — some of his characters were patterned after the roughnecks from the oil field — the crime and the get-rich-quick nature of the era contributed to his cynicism about "civilization." When he was 18, Howard sold his first story to the pulp magazine Weird Tales, which mixed adventure and the supernatural. He spent several years working at day jobs he detested — soda jerk, postal employee, oil field news reporter — until he made a deal with his father when he was 20. Doctor Howard agreed to support his son for a year while he focused on writing. If Robert wasn't successful after a year, he would get a bookkeeping job. Howard sold enough stories to make writing his profession, and for the rest of his life he lived in Cross Plains, cared for his mother and pursued a literary life in a town where few people picked up a book other than the Bible.
Howard wrote consistently for Weird Tales while branching out to other pulp genres. He was an accomplished amateur boxer and wrote boxing stories, many of them humorous tales starring a fighter named Steve Costigan and his bulldog sidekick, Mike. In 1932 he began to write about Conan the Cimmerian, a warrior-king who adventured through distant lands fighting monsters, rescuing damsels in distress and defending his sense of honor (the moniker "Conan the Barbarian" was used in later editions of the stories). The character was a hit, and Howard sold 17 Conan adventures. He devoured history and incorporated aspects of the Texas frontier and settlers' wars with the Comanches into Conan stories and Westerns. But Howard invented landscapes far beyond the Texas plains: ruined cities, jeweled palaces, icy kingdoms and distant deserts.
"All those worlds he created were born in that little room, in this little town," says Mark Murphy, who came to Howard Days from Dallas. "It's a testament to the imagination."
This June, Howard Days drew about 200 people, a crowd that would have seemed unlikely when the Howard Heads first came to town 31 years ago. In the days before the internet, Howard aficionados communicated via the Robert E. Howard United Press Association, or REHupa, a group of avid readers who wrote and circulated Howard-related fanzines. REHupan Rusty Burke invited fellow fans to meet in Cross Plains on the 50th anniversary of Howard's death in 1986, and seven people from across the United States, one from Australia and two from Switzerland took him up on the offer.
The visit inspired members of a recently formed civic group called Project Pride to pay closer attention to their town's famous son. When the Howard house was listed for sale in the late 1980s, members came up with the money to buy the house and restore it to its 1920s appearance. Howard Days became an annual event in the late 1990s, and Cross Plains volunteers began hosting the concurrent Barbarian Festival, an event complete with a tractor show and hula hoop contest, aimed at locals and "Howard widows," the bored wives of fans.
Today, Cavalier, Burke and other members of the Robert E. Howard Foundation, which publishes some of Howard's stories and letters, work with Project Pride to organize Howard Days. Volunteer docents staff the museum, and locals serve lunch at a pavilion built next to the house. Project Pride organizes a silent auction of memorabilia donated by Howard fans, and proceeds go to the museum. "It's just a mutual admiration society," says Arlene Stephenson, president of Project Pride.
That admiration hasn't always been shared by everyone in Cross Plains.
"The first time they had Howard Days, people here thought we would be bikers and guys with swords," quipped Paul Herman, the secretary-treasurer of the Howard Foundation, at one of the weekend's panels. Locals generally hadn't read enough Howard to object to his descriptions of violence, demons and bare breasts, but those who had known the Howards personally didn't understand why an event would honor the man known as "Doc Howard's crazy kid," who lived at home, wrote stories all day instead of getting a real job, and ended his own life. Howard fans, mostly men well-versed in nerd culture, stuck out in the hunting and ranching community.
The culture shock worked both ways. "I really have the impression of coming back in time," says Patrice Louinet. The French scholar made his 10th trip to Cross Plains from Paris, where he is completing his dissertation on Howard at the Sorbonne. "I take pictures of the people and the things I eat, because otherwise no one in France believes me. When I go to the Mexican joint and ask for a small plate, I get this thing that could feed my whole family for a week."
Over time, the number of people who remembered the Howards shrank, and locals saw that Howard brought tourists, money and a sense of identity to Cross Plains. Many Howard Heads now stretch their annual Cross Plains trip into a five-day vacation, arriving early to reconnect with friends. The Howard Foundation presents a $1,000 scholarship to a Cross Plains student each year. "You don't have to like Howard to like what he does for the community," Stephenson says.
These days the Friday-night banquet at the Cross Plains community center draws a mix of locals and Howard fans. Before the crowd tucks into plates of chicken-fried steak, First Baptist Church pastor Kenneth Reiter rises to give the invocation. "Father, creator of the world," he begins, head bowed. "Creator of Robert E. Howard. We thank you for this man, the reason we all come together each year."
After dinner, the mic is passed to Herman. "Lots of people read Howard and say, 'It's got babes, swords, dragons and wizards,' but it's also inspirational," Herman says. Growing up in Tulsa, he explains, he had been a poor kid in a tough neighborhood whose academic promise was rewarded with a scholarship to an elite private secondary school. Herman never quite fit in there. One day, when he was 17, a friend pressed a Conan paperback into his hand. For Herman, it was revelatory.
"Conan's never at home: He's always the barbarian walking through someone else's society," he tells his audience. "But he embraces his differences, and they give him the ability to solve problems. Being the barbarian, the outsider, actually gives him the advantage. That blew me away — maybe it's OK to be different. I decided I'm going to be who I am, and I don't need other people's approval."
That outsider mentality is shared by many who come to Howard Days. Fans often identify not just with Conan but with Howard, who, as a voracious reader of history and an eccentric character, was out of step in his small Texas town. "A lot of these guys got into Howard because Howard was like us growing up," says Ben Friberg of Austin, who has come to Howard Days for 12 years. "He's this nerd who read everything he could get his hands on. He has two or three close male friends, but there's not a lot of people for him to buddy around with."
Howard's devotion to his craft allowed him to make a living as a writer even after the Great Depression hit Cross Plains. His stories appeared in Weird Tales and other popular pulp magazines alongside those of Gaston Leroux, Ray Bradbury and H.P. Lovecraft, with whom he corresponded for six years. Readers wrote responses to the stories that became early versions of fanzines.
Within a decade of Howard's death, the pulp magazines that had printed him began to fold as tastes shifted and television became popular. But in the 1960s the Lancer publishing company produced a series of Conan paperbacks, some featuring Frank Frazetta's dramatic cover illustrations of brawny Conan fending off attackers. Many of today's Howard Heads were drawn in their preteen years to those images, or to the Conan tales Marvel Comics published in the '70s. Howard's influence continued to ripple outward when the first of several Conan movies was made in 1982. As recently as April, George R.R. Martin, who wrote the fantasy series on which Game of Thrones is based, tipped his hat to Howard on his blog. "I fell in love with fantasy, thanks to Robert E. Howard, Fritz Leiber, and J.R.R. Tolkien," Martin wrote.
Why, then, did Howard never become a household name in Texas?
"The Occam's razor answer is the pop culture ghetto," says Sam Hurt, a Lubbock resident attending his first Howard Days. "His presence in the zeitgeist is still Arnold Schwarzenegger," who portrayed a laconic Conan in the 1982 Conan the Barbarian movie. The fact that Howard published in pulp magazines works against efforts to bring his work into the academy, where genre fiction is often viewed as less worthy of analysis than literary works. A further challenge is the fact that, until recently, there were no standard editions of Howard's works; many of the Conan stories published between the '50s and '90s were edited, augmented, or even written by other authors.
In recent years, fans and scholars have sought out Howard's original typescripts and have republished his stories in his own words. Howard aficionados have attended the Popular Culture Association conference and the International Conference on the Fantastic in the Arts in order to bring Howard into scholarly conversations. Louinet chose the Sorbonne for his graduate studies in part to gain legitimacy for Howard. "The moment someone has written and defended a Ph.D. dissertation on Bob Howard at la Sorbonne, anyone in the world can do that," Louinet says.
Howard Foundation chair and president Burke is confident that, in time, his beloved author will be viewed as canonical. The Library of America, a publisher of major American authors, included a Howard story in a 2009 collection of horror and fantasy stories and has produced anthologies of pulp writers like Lovecraft and Raymond Chandler. "It can't be long before Howard works his way in there," Burke says. "He's too important of a writer to ignore."
Had he lived, his fans say, ignoring him would not be an option. But Howard's 30th year brought a host of troubles that converged with his depressive tendencies. His mother's health began its final decline, and the family's medical bills were growing; Howard was consumed with caregiving and unable to write. The only woman he dated had ended the relationship and moved away. Howard had spoken of suicide before and began to plan for his death. When a nurse told him that his mother would never regain consciousness, he went outside, sat in his car and pulled the trigger.
"He thought his life wasn't worthwhile and would have no meaning whatsoever," Friberg says, "but look at the impact he had."
Perhaps Howard would have made a different choice if he'd known that, eight decades after his death, devotees would come from around the world to read his words aloud just steps from where he died.
On Saturday evening, as the sun sinks toward the horizon, two dozen guests pull folding chairs into the Howard House yard for the annual Porchlight Poetry reading. It begins with a succession of volunteers reading Howard's poem "Cimmeria" in seven languages. The poem describes the invented homeland of Conan and, according to Howard's notes, was "written in Mission, Texas, February 1932; suggested by the memory of the hill-country above Fredericksburg seen in a mist of winter rain."
Then the floor is opened. Kenneth Bykerk declaims, from memory, "The Weakling," a conversation between Satan and a recent arrival in hell who led a dissipated life, chasing women and drink. The devil kicks the man out, telling him he's no match for hell's other inhabitants: "factory owners, brokers, elders, priests." Bykerk's friend James McNew takes the stage, growling the furious stanzas of "The Song of a Mad Minstrel":
Never the sun goes forth, never the moon glows red,
But out of the south or the north, I come with the
slavering dead.
I come with hideous spells, black chants and ghastly tunes;
I have looted the hidden hells and plundered the lost black moons.
This year is the third for Bykerk and McNew to make the thousand-mile journey from Prescott, Arizona. Both are writers who say the annual trip invigorates their creative practice. On Friday night, they drove to Brownwood after the banquet to visit Howard's grave and witness the rising of the full moon, "like a yellowed skull cast grinning into heaven by a long-dead race of giants," McNew proclaims, fists clenched, staring at the sky, before adding, "That's like something Howard would write.
"A personality like Howard, even 81 years after his death, leaves such a huge footprint — a huge aura of lingering energy you can still feel," he says. "If you pay attention, if you focus, you can still feel that crackling of Howard's life force, still charging this sleepy little town."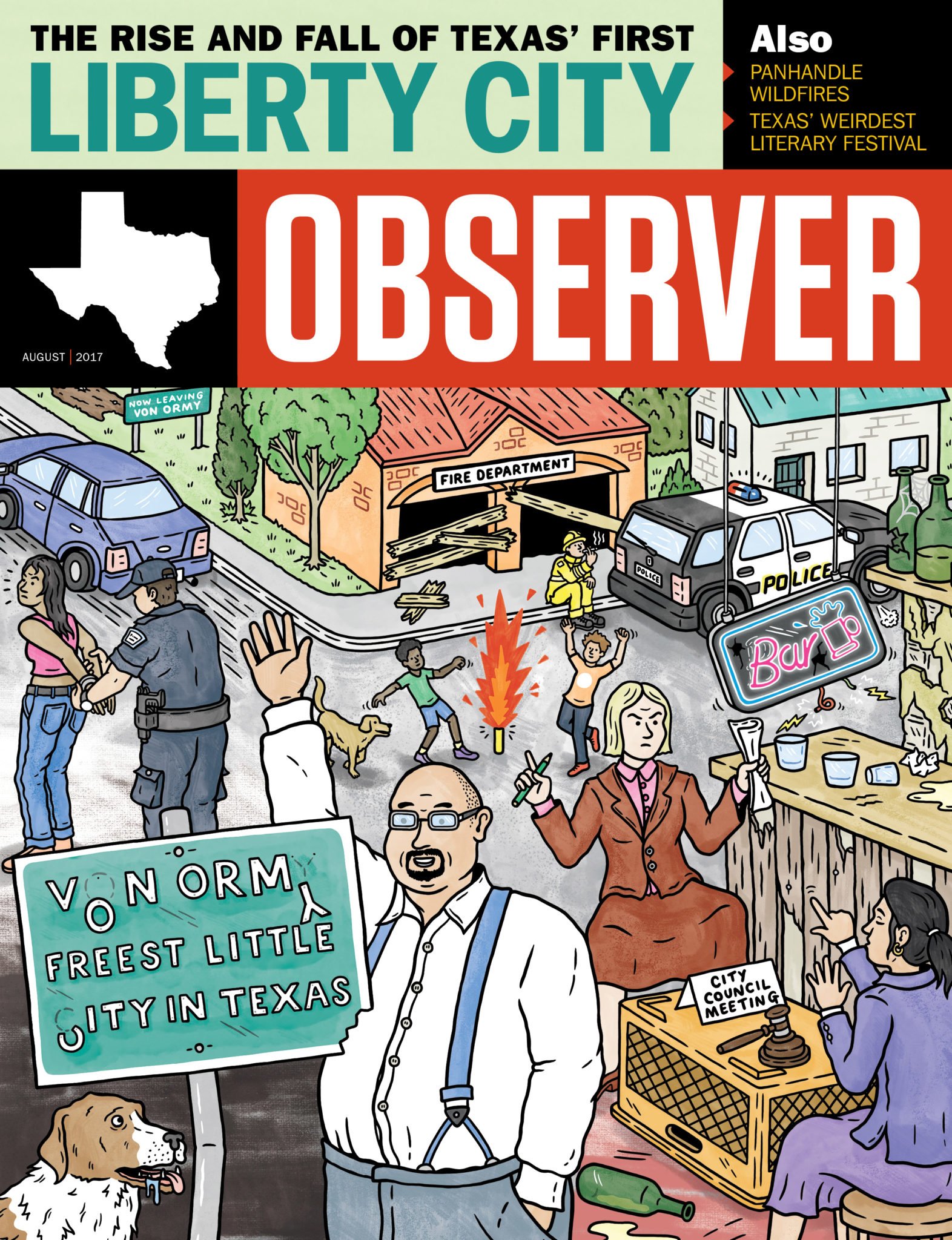 This article appears in the August 2017 issue of the Texas Observer. Read more from the issue or become a member now to see our reporting before it's published online.