Imperfect Ten: Taking Stock of the Crowded Democratic Slate for Texas Governor
What is a Texas Democrat, and why do they matter? That's no easy task, because most Texas Democrats couldn't tell you.
For much of the year, Texas Democrats have fretted at the possibility that they might not have a gubernatorial candidate — now, they have too many. It's a bizarre problem in a year of bizarre problems. In the language of the internet, Democrats had been hoping for one horse-sized duck — a single shiny candidate with a strong pedigree — and ended up with an army of duck-sized horses. Ten Democrats are running for governor; only one of them has much experience in politics or public life at all.
Running for statewide office as a Democrat in Texas is a project full of hypotheticals and dilemmas, like the horse-and-duck routine. The last successful gubernatorial campaign took shape when the Soviet Union was still alive and kicking, so arguments about how best to win are purely theoretical. Do you focus on firing up your base, or try to persuade independents? What would it look like to do both? No one knows!
Another quandary: Strong Democratic candidates don't want to run in a race that's unwinnable, but to persuade them to run you need to run a good campaign the previous cycle, which requires strong candidates. It's a losing formula. Still, every four years, the party's nominees get an opportunity, in a politically apathetic and tuned-out state, to tell a very basic and elementary story: What is a Texas Democrat, and why do they matter? That's no easy task, because most Texas Democrats couldn't tell you. They prefer to do small-bore stuff. Wendy Davis, for one, failed heartily at this, because the campaign was so focused on attacking Greg Abbott.
Candidates don't have the luxury of working to spread the message about a pre-existing political philosophy — they have to invent one on the fly, more or less. That's why it's a little dispiriting to see the 10 candidates lined up for the gubernatorial nomination, the marquee race around which other political efforts are organized. None of the 10 has demonstrated the ability to bear that load. Let's consider the two most prominent candidates, Houston businessman Andrew White and Dallas County Sheriff Lupe Valdez.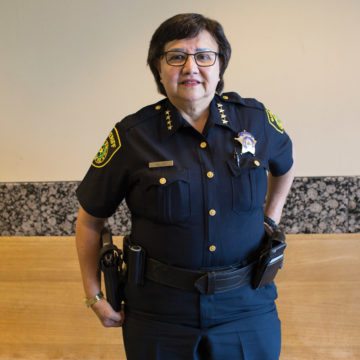 Valdez has been the sheriff of Dallas County since 2004. She has an unusual pedigree for Texas politics: She's a lesbian Spanish-speaking Latina Army veteran who gave a short but well-received speech at the Democratic National Convention last year in which she described growing up as "the youngest of eight children born to migrant workers," and becoming a law enforcement officer against the wishes of her father, because "he and my older brothers had been beaten by the police for no legitimate reason."
Outside of Dallas, Valdez is known primarily for her refusal to honor ICE immigration detainers without a warrant, a practice that helped spark Abbott's jihad against so-called sanctuary cities. At her very brief campaign launch on December 7, Valdez hit Abbott for creating a "climate of fear" around immigration and repeatedly pledged she'd run a "common sense" campaign.
But her tenure at the sheriff's office was plagued by problems with transparency. The editorial board of the Dallas Morning News recently described her performance as "merely adequate." And her role in the sanctuary cities fight is a potentially significant drag — polling says most Texas voters back Abbott, who chose to make such a big deal of the issue because his team felt it to be excellent political fodder. He would doubtless love to run against its avatar. If she won the nomination, the first thing Abbott's team will do is to make a list of every crime committed by every undocumented immigrant ever released from one of Valdez's jails.
White, meanwhile, has no experience with public service or running for office — he's an investor in Houston who has variously described himself as a "very conservative Democrat" or "moderate Republican." His father is Mark White, a Democrat who served as Texas governor from 1982 to 1986. White, the younger, has adopted as his motto the Sam Houston axiom, "Do right and risk the consequences." That sounds nice, but White's lack of involvement in politics and government shows.
Past "liberal governors were no more insightful than the conservative ones," he told the crowd at his campaign announcement. The best governors set out to "do right," instead of the current fellows in office, who "calibrate their decisions to win the approval of a small group of extremists in their party," he said. "Wouldn't we be better off if government focused on its real business and stopped playing games?"
White is sprinting away from "polarizing" language and focusing instead on consensus, so if you think the key to winning is to collect the votes of depressed Republicans, he's your guy. (That has not worked out well in the past — ask Bill White.) His best moments at his campaign launch were when he talked about what Democrats like his dad did when they were in charge, which isn't something you hear about very much any more, in part because so few Texans have any memory of it. Democrats in the 1980s, he said, primed Texas for success in tech by encouraging state investment in education, health care and job training.
But there's something fundamentally odd about White's message. He's caught a lot of flak from abortion rights advocates for his waffling language on the issue so far, and again at his campaign launch he reiterated his belief that "abortion is legal and we must all work to keep it safe and to make it rare." Some of his other positions are a bit out of tune, too. In the "border security" section of his website, he writes that "illegal immigration violates our laws and our sovereignty," before seemingly contradicting himself a few lines later by arguing that "we need a path to citizenship for hard working, law-abiding people." Then there's this:

Border protection is not simple, but it's possible. No country understands that better than Israel. Our country gives (not sells) $4 billion a year to Israel in military aid. As governor, I'll ask Israel for support in preparing a detailed action plan as a goodwill gesture for the military aid we give them. Partnering with the Israeli Border Police, our federal government and Texas Department of Public Safety can learn the most effective ways to manage and protect our borders.
This is the rhetoric of centrism — innovation and the appropriation of the symbols of the other side. (Without the ability to drop cluster bombs on Matamoros, the state of Texas is unlikely to control its border the way the Israelis do with Gaza.) Will it fly in a 10-way Democratic primary? I dunno, man.
Though the tendency of the media is going to be to treat Valdez and White as the "serious" candidates, it is by no means assured that both make it to the runoff, or even that one of them does. Very weird things happen in the Texas Democratic primary, because turnout is low and candidates struggle to connect with voters. In 2014, the party backed a "serious" candidate for the agriculture commissioner race, and he placed a distant third to Kinky Friedman and Jim Hogan, a guy who put his name on the ballot and never campaigned.
In the governor's race, there's also Tom Wakely, a "Berniecrat with a Panama Hat," who's been doing a "La Quinta Tour" of Texas counties; Jeffrey Payne, a gay Dallas businessman and former International Mr. Leather; Dallas financial analyst Adrian Ocegueda; Cedric Davis, the former mayor of Balch Springs; a Houston electronics businessman named Joe Mumbach; Demetria Smith, also from Houston; Austin's James Jolly Clark; and Grady Yarbrough, a perennial candidate whose periodic electoral strength seems to rest mainly in the fact that his name sounds like old-time liberal darling Ralph Yarborough's.
Texas democracy — there's nothing like it. Of that, we can be glad.