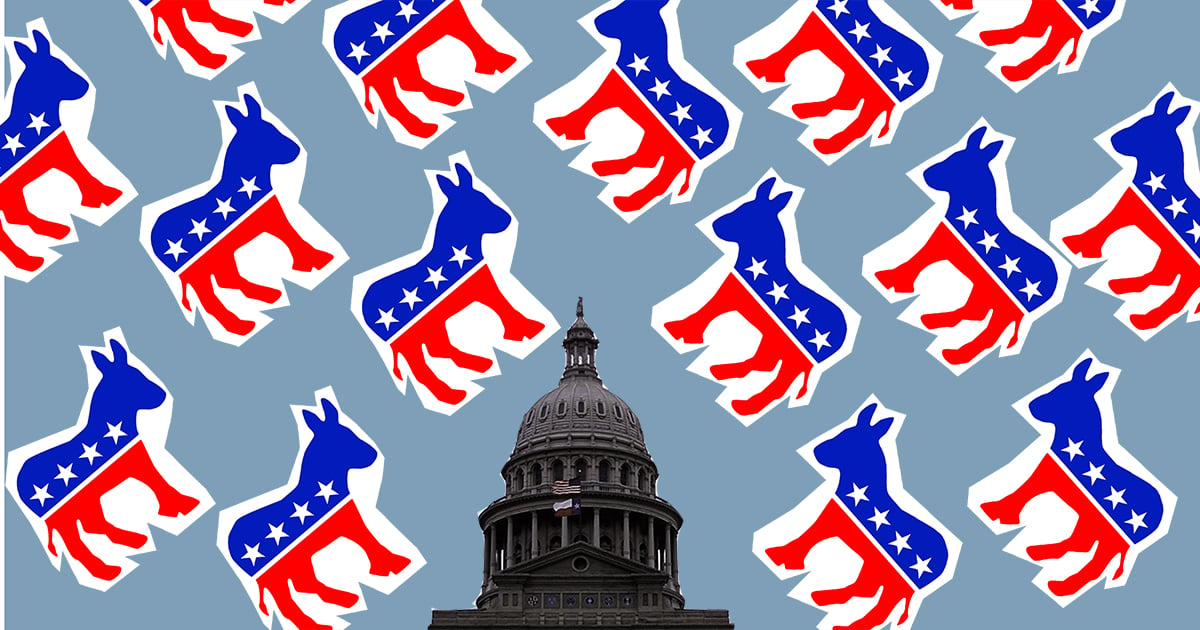 Texas Democratic Convention: Can the Lone Star Left Seize the Moment?
As the immigration crisis in the state's backyard has shown, the GOP is stuck with Trump's immoral agenda. The question is whether state Democrats can capitalize on that.
The Texas Republican Party convention in San Antonio last week showed the dominance of the GOP's far-right fringe, and party leaders' outright deference to President Trump. Attendees were also treated to an apocalyptic vision of a George Soros-backed socialist takeover fueled by an invasion of illegal immigrants hellbent on killing the Lone Star spirit. Or something.
Starting today, Texas Democrats are in Fort Worth for their own convention amid yet another political and moral firestorm engulfing the Trump administration. This time it's in their own backyard as thousands of immigrant children are being detained at facilities in Texas.   
The perpetual crisis along the Texas-Mexico border is in no way over — despite an executive order Trump signed Wednesday purporting to end family separation — and immigration is sure to be a predominant focus at the convention. Ongoing calls to reunite families and pass substantial immigration reform measures will likely be coupled with discussions at the convention about how to capitalize on the GOP's anti-immigrant extremism and win enough seats in November to regain influence in Austin and Washington, D.C.
The question on the minds of Texas Democrats is whether a national blue wave — fueled by backlash to Trump policies such as family separation — will crest high enough to get over the Republicans' formidable seawall, which is fortified by a greater number of registered voters, more money and districts meticulously gerrymandered to protect GOP incumbents around the state.
Democrats certainly have the candidates ready and willing to ride a wave. There are more Democrats than Republicans registered to run for the Texas Legislature for the first time in a decade. Democratic candidates are contesting 133 of the 150 state House seats and 14 of the 15 state Senate seats that are up in 2018. Most of the potential legislative pickups are concentrated in the Dallas-Fort Worth area. Democrats have also fielded candidates to run in all 36 congressional districts — a feat they haven't pulled off since the early 1980s — and are seriously gunning for at least five of those seats. Two of the top-tier candidates, MJ Hegar, who's running against Congressman John Carter in Congressional District 31, north of Austin, and Gina Ortiz Jones, who's running against Congressman Will Hurd in the swingy 23rd District that stretches along the border, have featured speaking slots at the convention.
There's also Beto O'Rourke, arguably one of the strongest statewide Democratic candidates in a generation. The El Paso congressman's bid against Senator Ted Cruz, which has included visits to all 254 counties in the state, has attracted millions of dollars in small donations from around the country. Despite his pledge to take no PAC money, he substantially outraised Cruz last quarter. And while his Senate campaign faces long odds, he's still the marquee candidate on a relatively nondescript statewide Democratic ticket. Texas Democrats are hoping that Betomania will rejuvenate an otherwise ramshackle state party infrastructure.
In what was at once a savvy political move and a powerful use of the grassroots campaign he has built, O'Rourke led a march Sunday to the "tent city" in Tornillo, Texas, where hundreds of children are being held. "We would like to think, and we try to tell ourselves, this is not America, this is not us, this is not what we do," O'Rourke pronounced. "But ladies and gentleman, at this moment, this is America, this is us, this is what we are doing."
Lupe Valdez and Mike Collier, the Democratic candidates for governor and lieutenant governor, are set to hold a press conference before the convention in which they will call out Abbott and Lieutenant Governor Dan Patrick for aiding and abetting the family separations. As the Observer reported Tuesday, state officials have helped facilitate the detention of children by allowing at least 15 immigrant youth shelters to operate beyond their maximum capacity, thereby cramming in an additional 700 children.
"Governor Abbott broke his silence on the humanitarian crisis happening on our borders when it was politically convenient for him. Yet, he does not acknowledge that his unwavering support of this administration and years of racist and anti-immigration policies and rhetoric, got us here," Valdez said in a press release.
Valdez, the first openly gay and Latina candidate to run for governor in the state, made it through her runoff bruised and battered. But despite her compelling backstory, she's struggled to prove she knows the issues or to raise much money. The most recent campaign finance reports filed right before the May 22 runoff showed that she had raised about $200,000 since late February and had $115,000 on hand; Abbott already has a $40 million campaign warchest.
The official business of a party convention — including electing a chair and approving a platform — will also happen, though it's not expected to be nearly as contested, or as impactful, as the GOP convention. Some things to keep an eye out for are whether the Bernie Sanders wing and the traditional party establishment clash at all. There were several primary contests that played out along those lines, but it remains to be seen whether that spills onto the convention floor. Also, we'll be keeping an eye on whether Democrats effectively articulate a clear policy message on top of the ritual bashing of Trump, Abbott, Patrick and other GOP leaders.
As seen by the fiery backlash to family separation on the border, Trump and the GOP's extremism presents ample political opportunities on both the state and federal level. In Fort Worth, we'll get a glimpse of whether the Texas Democratic Party is capable of capitalizing on one of the most advantageous and aspirational political climates in years.  

Correction: The original version of this article misstated the number of state House seats contested by Democrats this year. The story has been corrected. The Observer regrets the error.