A Texas Militiaman Reconsiders the Mission
Charles Gilbert joined the Texas Border Volunteers to "kick some ass," but the group's tactics forced him to do some soul-searching.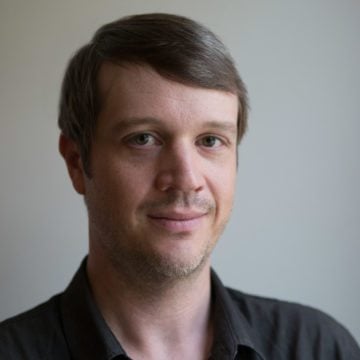 Lots of stuff on Fox News pissed Charles Gilbert off. A self-described "angry white male," Gilbert watched with dismay as the country went to hell. But there was something about this one story that really got to him: In September 2010, David and Tiffany Hartley were jet-skiing on the Mexican side of Falcon Lake when, according to Tiffany, the couple was ambushed by heavily armed men on a boat. Tiffany said her husband was shot in the head, and the pirates chased her back to the Texas side of the enormous reservoir. His body was never found, but he's believed to have been killed by members of Los Zetas, a brutal cartel that controls a large swath of Northern Mexico. Gilbert, six-foot-four with a solid build and a military-style haircut, sat on his couch in Canyon Lake watching the grieving widow recount her story and decided he had to do something. Murderous cartels were operating just four-and-a-half hours from his home. Job-stealing illegals, drug-runners, cartel thugs, terrorists—they were all exploiting the Texas-Mexico border and the federal government wasn't doing jack.
"I decided I wanted to go down to the border and kick some ass," Gilbert says. "I'm your typical angry white male. I'm conservative. I'm pissed off at the double-standard in the media. I'm that guy."
A commercial A/C repair supervisor, he'd done a stint in Afghanistan as a KBR contractor and felt he was prepared for the task. He talked to some militia guys but he says he "didn't get the warm fuzzies that they knew what they were doing." Then one day, he went to a gun show at Freeman Coliseum in San Antonio and visited a booth for the Texas Border Volunteers, a group based in Brooks County, where hundreds of immigrants trying to circumvent a Border Patrol checkpoint near Falfurrias perish every year. The group struck Gilbert as being professional and he joined in April 2011.
Soon he was spending every spare day in South Texas, looking for bad guys crossing the scorching brushlands.
Over the next three years, he invested at least $10,000 in equipment. His girlfriend's garage is filled with the stuff: camo gear, two-way HAM radios, $3,000 worth of night-vision equipment, a camo Polaris ATV, a Yeti cooler with a bumper-sticker reading "Extremely Right-Wing," books on tracking and avoiding ambushes. He's still got his handguns and his long guns. He's still got his vest with the LED flashlights, the first aid kit and the pockets with extra ammo. At first the experience was exhilarating; the sense of mission very real.
"It reminded me of the camaraderie in Afghanistan," he says. "The sense that we were making a positive contribution."
For three years, Gilbert devoted almost all of his free time to chasing down undocumented immigrants in South Texas, a weekend warrior with a call of duty to secure the border. But Gilbert saw something in the brush that he hadn't expected—ordinary human beings struggling, surviving and dying. Sure, there were the sketchy men with MS-13 tattoos. There was the Urdu dictionary that they found, which has now become a fetish object passed around at tea party meetings and flogged on conservative news sites. But mostly he encountered a shambolic parade of humanity, desperate people at the mercy of Border Patrol, the heat, the coyotes and American men in camo. More than 300 immigrants have died in Brooks County in the last three years—a human toll that weighed heavy on Gilbert. And he wondered about the Texas Border Volunteers' tactics. Were they really securing the border or were they harassing vulnerable people, perhaps even ushering them to a more certain death in the desert? Over time and thought, the spell lifted.
Texas Border Volunteers is run by Mike and Linda Vickers. The couple owns a 1,000-acre ranch in central Brooks County, which serves as a base of operations for their activities. Mike Vickers is a veterinarian who has considerable sway in Brooks County and the ear of influential Republicans, including Gov. Rick Perry, Congressman Michael McCaul, the chair of House Homeland Security, and DPS Director Steve McCraw. Dr. Vickers travels around the state addressing conservative groups about the crisis at the border. Access to the vast private ranchlands of Brooks County is often coordinated by Vickers, who's a go-to source for reporters from around the world seeking information on illegal immigration in South Texas. The Vickers founded the group in 2006, spun off from the Minutemen, the controversial border-watchers that imploded years ago in an orgy of in-fighting and violence. Texas Border Volunteers claims to have some 300 recruits. Dr. Vickers presents a more moderate image than some of the other, cruder militiamen running around in South Texas. In public presentations and in the media, the Vickers typically describe what the Border Volunteers do as "observe and report"—they use their expertise of the rough terrain of Brooks County's ranches to patrol for undocumented immigrants and then call Border Patrol to pick them up. On TBV's website, the group describes its mission as "assisting law enforcement officials with securing the border, upholding the rule of law and educating the general public with regard to immigration issues." It all sounded pretty good to Gilbert.
Eventually, Gilbert became one of the core members of the Texas Border Volunteers, serving on the board and helping to supervise new recruits. He appears in an agit-prop documentary, They Come to America II: The Cost of Amnesty, explaining to the filmmaker, regular Fox News guest Dennis Michael Lynch, how emergency distress beacons and five-gallon water containers for languishing immigrants come "courtesy of the United States government."
But as Gilbert became more deeply invested in hunting immigrants, some things he saw started gnawing at him.
"You get down there and you begin to see humanity," he says. "You can set up here and watch Fox News and say 'these alien bastards, we need to shut the border down.' But what I saw coming through Brooks County was humanity." Once, he says they rescued a pregnant woman in her 20s—tired and desperate—who gave birth hours later while she was in a detention center.
Donate now to support independent, nonprofit journalism.
Another time Border Patrol came across a man in his 40s who looked like he'd gotten off work on a casual Friday. He was walking with an 8-year-old boy who'd been left behind by the coyotes. The man had abandoned his trek to stay with the boy, a stranger, knowing they'd both likely be captured and deported. "He essentially sacrificed himself so the kid wouldn't be left alone."
And there were the dead bodies—some 300 corpses have been reported in Brooks County in the last three years alone. Once, Gilbert found a man in his late 20s or early 30s limply resting against a tree. His eyes had been plucked out by vultures. The sight shook him.
"Apparently this country was worth dying for," he remembers thinking. "I had a hard time not feeling profoundly upset by that."
He began thinking back to the Falcon Lake shooting. "These people didn't shoot someone," he says. "That's what you heard on Fox News. And all of a sudden you go down there and the world looks completely fucking different. My enlightenment, if you will, is that this is not black and white."
Then came what's come to be known as the "shoestring incident." The details are laid out in a report conducted by Clell Gresham, a retired narcotics cop who grew up in Brooks County. Over the summer, Brooks County Sheriff's Chief Deputy Benny Martinez tapped Gresham to provide law enforcement oversight.
On April 27, 2013, Gilbert was patrolling a remote part of the 50,000-acre Cage Ranch on an ATV when he got word that another group of Texas Border Volunteers needed assistance. When he arrived, he found a group of six men with their shoes removed and their hands bound with their shoelaces. According to the Gresham investigation, which backs up Gilbert's account, four TBV members were scouting near an emergency distress beacon in the wilderness when they spotted a large group of people on foot. As they gave chase—what the group calls a "hurry scurry"—the immigrants split into two groups. Two of the border volunteers—Mike Simms, aka "Pacman," and Derrick Dongog, aka "DD"—gave chase to the smaller of the two groups, some of them teens judging by photos taken at the scene. Finally, Pacman and DD ran the exhausted men to ground. They ordered the men to take off their shoes—a practice adopted from the Border Patrol that makes it difficult for captured immigrants to take off through the hot sand and prickly undergrowth. When one of the men apparently reached for something in his back pocket, Dongog became suspicious and frisked the man, who then handed over his wallet. Others in the group followed suit, handing over wallets and other personal items to Simms and Dongog, which they put into a black trash bag. At some point, Simms and Dongog still "apparently felt some level of fear based on the size of the group and demeanor," according to the Gresham report, and bound the men's wrists with their shoelaces.
Soon, TBV president Tom Kile showed up, followed by Gilbert. Kile, according to the report, gave no order to untie the men or return their possessions. About two hours after the whole thing began, Border Patrol arrived on scene to take custody of the immigrants and the black bag with the wallets.
There's no evidence that any of the men's wallets were stolen, but the incident apparently caused a stir among the Texas Border Volunteers, Border Patrol and the Brooks County Sheriff's Office. "This is a serious situation that has left our organization with a black eye," wrote Linda Vickers in an email to TBV board members obtained by the Observer. "Dr. Vickers spent that Monday morning with the heads of the Falfurrias Border Patrol and then onto the Brooks County Sheriff's Office. So I am sure you can see the embarrassment that Dr. Vickers and I have had to endure. The law enforcement entities do not believe that anyone of us took anything from these IAs [illegal aliens] but the possibility of allegations from the Mexican Consulate can still be looming in the background. And I imagine that I do not need to mention again the amount of liability that it has put on the unsuspecting landowner."
Simms and Dongog were each suspended for two watches but some in the group felt that the Vickers were more concerned with PR. The Gresham report claims that "it would appear that [the] Vickers only responded to this incident when Border Patrol contacted them about complaints they had received once the criminal tresspassers [sic] were processed in Falfurrias. My strong suspicion is they had every intention of covering up this incident from Brooks County Sheriff and Presnal Cage."
Mike Vickers wouldn't speak to the Observer about the allegations, writing in an email that "as a matter of policy we do not make public comments about claims of former members." Vickers says the group has "long standing operating procedures that have served us well in our relationship with landowners and law enforcement agencies."
To other media outlets, Vickers has contrasted TBV with other militia groups, pointing to their policy of requiring new members to provide a concealed handgun license or consent to a background check. Members who broke the rules by, for example, pulling weapons on immigrants, were usually kicked out of the group by the leaders, according to former members.
For Gilbert, the "shoestring incident" led to some soul-searching about TBV's tactics. For one, group leaders would tell the press that they simply scouted for illegal activity and reported it to authorities. "Everybody knows 'we just observe and report,'" Gilbert says. "Well, that's horseshit."
Instead, away from the eyes of the press, TBV engages in aggressive armed interdiction and detention of immigrants using ATVs and trained dogs. The group's official policy was to allow members to carry handguns if licensed by the state and "concealed at all times." But former members say open carry happened regularly and photos show the members had their guns holstered in front of detained groups of immigrants. The reason: a loophole in the group's policy that allows for open display of a handgun "when in the presence of criminal trespassers." A handgun can even be withdrawn from the holster "when a specific threat is felt." But if the authorities show up, the rules change. "When law enforcement agents arrive in an area where TBV members are displaying handguns, either holstered or not, TBV members will conceal their handguns unless requested by the law enforcement agents."
The Gresham report warned the Brooks County Sheriff's Office that the combination of aggressive pursuits and the weapons policy is "extremely disturbing and a huge liability for landowners and a recipe for a possible disaster in the field."
Gresham told the Observer that he's meeting with the Brooks County district attorney to present a criminal case against the Vickers.
"Taking people into custody like that, it's against the law," he says. "These people have done it and gotten away with it for so long they think nobody's gonna ever call them on it."
Gilbert and others in the group wondered if what they were doing wasn't unethical, if not illegal. His conclusion: "Texas Border Volunteers operates as a militia in plain sight and no one is calling them on it. They've done a good job at suppressing what they do."
Kevin Cottrell, an Austin entrepreneur who joined TBV in May 2013 and left in April, says he grew uncomfortable with the tactics.
"They're actually chasing and doing what a law enforcement or government agency would to catch people who have violated immigration. The problem is they have no law that allows them to do it, especially off their ranch."
"There's something wrong here with the fact that the Border Patrol is using TBV as an interdiction force," Cottrell says. "I witnessed that from the very first time I went out from the time that I left the group. They are essentially unlawfully detaining people. That is part of the reason I left."
Over the summer, new militia groups—much less organized than TBV—began cropping up in the Rio Grande Valley in response to the influx of Central American children and families. After a Border Patrol agent opened fire on a militiaman with a group called Camp Lonestar in Brownsville, the agency put out a statement distancing itself from militia activity. The Border Patrol's position was fairly unequivocal: "Forced detention can be viewed as a criminal offense and violators will be referred to local, state or federal prosecutors for possible legal action."
Then there's the use of dogs. Linda Vickers, as has been reported elsewhere, has a passel of dogs—Blitz, Elsa, Schatten and Tinkerbell—that she's nicknamed the B.E.S.T. Team and orders around in German. A Newsweek article about TBV, titled "Hunting Humans," notes that the dogs are "trained to sniff out migrants," but Gilbert says Vickers will release them to give chase once immigrants are spotted. In a post from Vickers' Facebook page in June—since made private—she describes taking the dogs on her ATV to look for a group of immigrants in the area. When the dogs catch a scent, they leap out and sprint "full speed and head straight to these 2 illegals."
A photo on the Facebook page shows two men perched in a tree. "300 pounds of K9 would and should put you up a tree like it did the guy in red," she writes. Soon Blitz "smells illegals" nearby and takes off. "Sorry, but it was so funny to see this IA [illegal alien] on one side of the fence running parallel with my dogs on the other side."
Linda Vickers even composed a song to the tune of "Los Laureles," a mariachi song made famous by Linda Ronstadt.
AHHHHHHHHH Yo estoy La Cazadora
Do not cross mi rancho
Cause  tu y yo will meet
con mi peros diablo (sung in the deep throaty voice)
then its adios penche vatos
and you go back to the borderrrrr
I am the huntress
Do not cross my ranch
Cause you and I will meet
With my devil dogs
Then it's goodbye you fucking guys
and you go back to the borderrrrr
Gilbert and Cottrell, who grew close, fear that TBV's pursuit policy could actually be leading to more deaths. It's important to understand the geography of Brooks County to understand why: The Border Patrol checkpoint is located 14 miles south of Falfurrias on U.S. 281, about 70 miles north of the U.S.-Mexico border. To circumvent the checkpoint undocumented immigrants, led by coyotes, make a treacherous trek through deep sand and deadly summer heat. By the time they reach the ranches of northern Brooks County—where TBV operates—they're dehydrated and disoriented, sometimes near death. The tragic irony is that many die north of the checkpoint, within reach of their ride to points north. When TBV gives chase, using dogs or ATVs, some give up easily but others manage to escape on foot.
"How many more people died because they're already dehydrated and now they're running for their lives from these K-9s?" Cottrell says. "How many more people had to die because they started this process and they just don't care about human life? They're criminal trespassers—it's a misdemeanor—not a sentence for death."
It all became too much for Gilbert, Cottrell and other members of TBV. Gilbert and about 15 others quit the group in January to form the Texas Border Rescue, a "humanitarian-focused" search and rescue outfit composed primarily of former TBV members. He would use his expertise, his gear, his bravado, to save lives rather than jeopardize them. He even got Eddie Canales, a Prius-driving liberal from Corpus Christi who's made it his life mission to render aid to the migrants passing through Brooks County, to endorse the group.
Gilbert pitched the idea to Benny Martinez, who is saddled with patrolling 900 square miles with just a handful of full-time deputies. Martinez bit and in June Gilbert and Martinez announced the formation of the Brooks County Sheriff's Office Rescue Posse in a press release. The Rescue Posse would work with law enforcement to respond to emergency calls and patrol for injured, lost or distressed immigrants. The project had the blessing of Susan Kibbe, executive director of South Texans' Property Rights Association, a powerful group representing landowners, who said in the press release that the "rescue posse couldn't come at a better time."
But then it just fizzled. Gilbert claims the Vickers tried to discredit him and the Rescue Posse by claiming he and Cottrell were involved in a "shake-down" of immigrants during the shoestring incident. Gilbert says the story was concocted, and points to the Gresham report, conducted for Deputy Sheriff Martinez, which "found no evidence" of such a shakedown. (Vickers refused to speak with the Observer about the alleged incident.)
Martinez says he hasn't read the Gresham report. "I haven't seen anything. I just know—I haven't looked at anything. I've been busy. I haven't looked at anything." But he says there's a simpler reason the Rescue Posse never took with the big ranches. "What happened is I couldn't get the landowners to make this program work because of liability issues and the fact that there were civilians coming in."
Martinez says he can't comment on the shoestring incident because it happened on private ranchland. Indeed, the sheriff's office has little interaction with TBV. But Border Patrol does—and that's perhaps the most enduring question for former TBV members. Does Border Patrol condone TBV? As militia activity has mounted in South Texas, the agency has been pressed to explain its relationship with armed groups. Repeatedly Border Patrol issues a boilerplate statement that it doesn't "endorse or support any private group or organization from taking matters into their own hands" and has said "forced detention can be viewed as a criminal offense." But there's little evidence that Border Patrol has done more than issue statements.
"Border Patrol is complicit in this," says Gresham. "They're letting it go by. They know what the law is. They're not stupid."
Gilbert thinks about the lives he could be saving. The Texas National Guard is doing some search-and-rescue work in Brooks County now, a welcome relief for Chief Deputy Martinez, but the scale of the humanitarian disaster and the fact that the Guard deployment is only temporary tugs at him. He's no open-borders type and maintains his conviction that citizens are entitled to report illegal immigration to the authorities, but he sees his calling in a more direct kind of intervention.
"We felt like if we could get out there and save some lives it would be a worthy endeavor," Gilbert says. "We still do."
To support journalism like this, donate to the Texas Observer.