Rotten Apples in Donna ISD
Corruption that led to the indictment of two Donna school board members roils the border town they served.
A version of this story ran in the March 2016 issue.
The attorney made the payoff on April Fools' Day 2015 with a blue bag packed with money. In the parking lot of the McDonald's in Donna, he passed the bag to city employee Juan Adrian Guerrero, who delivered the $3,000 to Eloy Infante, a Donna Independent School District board member. A few weeks before, Infante had demanded $10,000 from the attorney in exchange for protecting his firm's contract with the school district. The attorney didn't have all the money at the meet. Nor did he have the San Antonio Spurs tickets that Infante's partner and fellow school board member, Elpidio Yanez Jr., had demanded.
Over the next few weeks, Infante and Yanez pestered, then threatened the lawyer. They wanted the rest of the $10,000 for Infante and later asked for another $10,000 for Yanez. If the lawyer didn't provide it, Infante said, he wouldn't protect the firm's three-year contract with the school district for collection of delinquent taxes.
Later, when Infante and Yanez were indicted following an FBI investigation, what would surprise people is that the two thought the tax collection firm, Perdue Brandon Fielder Collins & Mott LLP, would get involved in a dodgy deal in a McDonald's parking lot just to protect one of the thousands of contracts it has with government agencies all over the state.
Infante and Yanez's cynicism was so deep, it actually made them naive. Certainly, their brazenness was a measure of how serious corruption on the school board has become in this border town of 16,000 people. In a place where the school system is a cash cow — by far the biggest employer and one of the largest sources of contracts — dipping into its funds has long been a serious temptation. But Infante and Yanez went too far, even for a community accustomed to corruption.
"It's all politics — dirty politics, that's the way it is in Donna," said Norman Cordova, a prominent local businessman who served on the Donna City Council from 1975 to 1985, including a stint as mayor pro tempore. Grey-haired and distinguished, he still holds pachangas, backyard barbecues for political and business associates. "But I didn't think it was going to be this bad," he said. "In the last year or so, it's been worse than any year I have seen. No one wants to come to a city with all this going on. Who wants to come to a school district corrupted like that? My hope would be that the FBI would continue their investigation and end all this corruption that is going on. That would be my prayer."
When Yanez and Infante joined donna's school board in 2014, controversy was already troubling the Valley town, a handful of streets lined with mom-and-pop stores built from pale brick and stucco. On New Year's Day, the board's president, Alfredo Lugo — a respected community leader and former high school football star inducted into the Rio Grande Valley Hall of Fame in 2005 — committed suicide. Lugo had been on the school board for nearly 16 years, and his loss reverberated through the town. "The community hasn't been the same since he died," said Sandra Vicencio, a Donna native who now lives in nearby Alamo. "If there was a problem, he would unite everyone and figure it out."
Two weeks before his death, several campaign workers, or politiqueras, were charged with buying votes for school district candidates later identified as Lugo and others on his slate, according to the trial brief filed by federal prosecutors. Using food, beer, cigarettes, drugs and cash, the politiqueras bought votes for Lugo, Dr. Michael Flores, Nick Castillo and Jose Ernesto Lugo Jr. (no relation to Alfredo). The men were trying to maintain their "control of the DSB [Donna School Board]," according to the trial brief.
Voting irregularities are nothing new in Donna, a working-class community where the politiquera system has been a means of picking up extra money for decades. In a measure of the scarcity of cash in the area, the politiqueras usually paid $10 a vote and as little as $3 a vote. Lugo's fellow board members ended up getting just a slap on the wrist. Flores and Castillo were fined $5,000 each by the Texas Ethics Commission for lack of financial oversight and full disclosure of contributions and expenditures. Ernesto Lugo, who provided information about the slate's finances to the state agency, was fined $2,000. But Lugo's suicide put the long-tolerated politiquera system under the glare of local, state and national media. The Observer and even the New York Times ran stories on Lugo's suicide, predicting that it might catalyze the beginning of the end of the politiquera system in Donna.
As news of his suicide circulated in the barber shops, markets and cafes on Donna's Main Street and Salinas Boulevard, Flores quietly resigned from the board. His and Lugo's seats were filled during a special election in 2014. Three more seats came up in the board's regular election in November, and Infante and Yanez won two of those. While the elections opened the door for change, the wrong men walked through it. Infante and Yanez moved quickly to take advantage of their positions. Within weeks of Infante and Yanez's elections, the new school board majority, which included them, voted to get rid of the firm responsible for tax collection and instead contracted Perdue Brandon Fielder Collins & Mott. A few months after that, Infante and Yanez began trying to shake down Perdue.
On February 8, 2015, city employee Guerrero, the middleman working for Infante and Yanez, made his first contact with the Perdue attorney, according to the federal indictment against the three men. Guerrero delivered Infante's audacious message: Come up with $10,000 or the firm "would lose" the three-year contract. But the firm didn't react the way Infante hoped. Instead, Perdue got in touch with federal investigators. The attorney, whose name was not released in case documents, started working with the U.S. Attorney's Office and the U.S. Department of Justice's Public Integrity Section. Together, they put together a sting that unfolded in the town over the winter and spring of 2015.
Within a month after Guerrero's first meeting with the Perdue attorney, Yanez personally stepped into the deal — not even bothering with the middleman. He just called the lawyer on the phone and told him that he'd like tickets to a Spurs game for himself and Infante as well as tickets to a comedy show for his son. Over the next weeks, a date was set for the payoff. Then on April 1, the attorney met with Guerrero at the McDonald's and gave him the bag with $3,000. Did the "boys make it home ok?" the attorney later texted to Infante. In another communication in April, the attorney apologized to Yanez for not getting the comedy show tickets. Yanez asked for tickets to an Aerosmith concert instead.
In May, the attorney and both school board members ended up at the same conference on South Padre Island. Infante told the attorney that he wanted the rest of the $10,000. Yanez said he, too, wanted $10,000, and the men talked about a time frame for protecting Perdue's contract. In May, the attorney gave Infante an additional $3,500, and Infante warned that if he didn't come up with the rest, the contract would be canceled. Three days later, the attorney drove $3,500 over to Yanez's house, which evidently gave federal prosecutors enough for their case.
On November 10, about a year after Infante and Yanez were elected, a federal grand jury returned a four-count indictment against them and Guerrero. The men were charged with conspiracy to commit bribery and two counts of extortion. Infante and Yanez were also charged with receiving bribes. Under plea agreements, the three men pleaded guilty to extortion in January. The rest of the charges are expected to be dismissed at their sentencing in March.
But their indictment was only the most recent headline-grabbing school board scandal that left Donna residents wondering about the scope of corruption. While Infante and Yanez were badgering the attorney for money, the Donna ISD superintendent Jesus Rene Reyna and school board member Ernesto Lugo were becoming embroiled in a separate controversy. They were accused in a municipal court complaint of trying to bribe Roy Padilla, the chief of the school district's police force. In the complaint, filed in May 2015, Padilla reported that the two men tried to cut a deal with him to put an end to "a criminal investigation on Mr. Reyna and his family for insurance fraud and theft against the Donna school district."
According to Padilla, Lugo promised that Reyna would reimburse Padilla for $496.23 in mileage Padilla had accumulated while on school business and set up a monthly stipend for travel. Lugo then told Padilla that in return, Padilla should "make this investigation go away," according to the complaint. The complaint did not provide details on the criminal investigation that Padilla said was under way. The case never went anywhere. A state grand jury found that there wasn't enough evidence to indict the superintendent and Lugo. But Reyna was suspended, and once again, corruption within the school system was on the front pages of newspapers and the topic of conversation online.
"It's sad that Donna is in the news almost every day — I'm sure it affects all the kids," said Martin Flores. A 12-year resident of Donna, he manages the Kwik Pantry Food Mart on Salinas Boulevard. "They should just run everyone off [the school board] and start all over again."
Esperanza Benítez de Ayala, born and raised in Donna and the 94-year-old widow of celebrated accordionist Pedro Ayala, says she can't remember when school system corruption so engulfed her town. "People don't want to vote" in school board elections, she said. "We don't trust them."
One of the strangest moments for the increasingly dysfunctional Donna school board came in January. In celebration of school board appreciation month, staff members had decorated the board room with cartoon cutouts of Superman and Supergirl. They'd also prepared elaborate gift baskets for all the board members, one filled with fruit, another with swag from the Redskins, the Donna High School football team that is the town's biggest source of pride. There were name plates in front of the seats for all the board members, including Yanez and Infante. They weren't there to claim their gifts, though. Just hours before, they'd stood before a federal judge, pleading guilty to extortion.
"It's embarrassing — that's what it is," said school board member Efren Ceniceros, who worked as a coach and teacher for 30 years before retiring. "People don't trust the administration, they don't trust the board members, and they have good reason. I hate being associated with stuff like this."
The most difficult part, Ceniceros says, is that his former students and players — many of whom stayed in Donna as adults, raising their own children there — still look to him to set an example. "My biggest fear is letting them down," he said. "Doing something that is going to make them say, 'Chihuahua! The coach screwed up!' No. That's not going to happen. The coach is not going to screw up."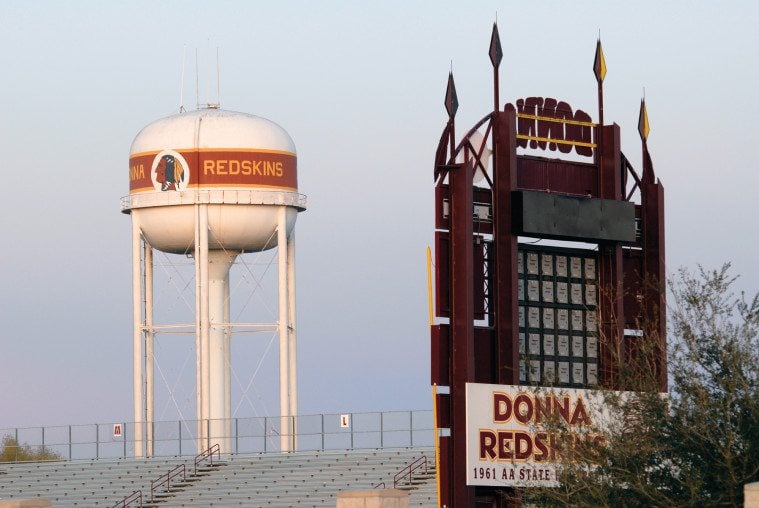 To that end, whenever he thinks something bad is about to go down at a school board meeting, he refuses to attend. That way, the other members can't get a quorum and take action. He doesn't go when he thinks that the majority on the school board intends to make Reyna's suspension permanent, because, he said, there's not "enough of anything to fire him. I'm not going to go and fire somebody without having justification."
He says he's been told that the Texas Education Agency is concerned about his boycotts. "OK fine, come on down here, TEA," he challenged. "I have some things I want to show you and point out…. I have done nothing wrong other than try to protect our constituents."
School board President Alberto Sandoval says TEA might do just that. "They might come in here in the sense of forcing members to provide a quorum," he said. Ernesto Lugo, one of the board members involved in the politiquera scandal, also skips meetings, making the quorum problem worse. The dysfunction, Sandoval says, sets a bad example for both students and teachers. "If we can't demonstrate a positive outlook to our teachers, and we can't demonstrate that to our students, then how can we expect to get our scores higher? How can we expect to make decisions like on land purchases, or on a bond issue that is coming up?" TEA has adopted a stance that allows the school system to bypass the board, so its dysfunction matters less. Deputy Superintendent Fernando Castillo said that with TEA's blessing, the school system takes actions that would normally require board approval and then gets them ratified when the board can get a quorum. "We're taking care of what needs to be taken care of," Castillo said. "It's a matter of keeping them [TEA] posted."
Raquel Martinez is infuriated by the Donna ISD school board, so much so that she got charged with disorderly conduct at one of its recent meetings. At 59 years old, the 5-foot-2-inch grandmother has become a ferocious community watchdog, attending school board meetings so regularly she's missed only about 10 since 1999. At a recent session, she called a staff member a "bitch," because, Martinez explained, she "was heckling me." Martinez was charged with using "abusive, indecent, profane, or vulgar language in a public place." At the next meeting, she wore a mask to demonstrate that people were still watching the school board, albeit anonymously. She was escorted from the meeting by the school police.
Along with commenting at meetings, she watches and listens, and does her own research. Then she reports back to people who have approached her with their concerns, or she posts her findings on a community Facebook page created to cover local government in several Valley communities.
She believes that the school district, in yet another case separate from the recent, high-profile controversies, is deliberately trying to delay release of information regarding purchases. Told by staff that the subject of her request was under investigation, she asked the board in January who was being investigated and for what.
She is either an ever-vigilant activist or just a troublemaker, depending on who you talk to. Board President Sandoval took umbrage when she posted the salaries of all school district employees on Facebook. "The intention was what?" he asked. "Are you really a watchdog or here just to bash other members?" One resident complained because Martinez calls attention to her research by posting it in her front yard. At one point, she posted all of the school system employees salaries.
For Martinez, the corruption swallowing up the school board means she has to be on the lookout. "Tomorrow or the day after, officials can't say they didn't know about this or that," she said. "The recordings will show that on this date, this is what I said, and you did nothing about it. They don't have to listen, but the little recorder is."
Update, Wednesday, March 9: Ceniceros and Lugo are contesting the appointments in state district court in Hidalgo County, alleging a violation of the Texas Open Meetings Act. They filed a civil lawsuit against Donna ISD on February 12. The court denied a request for a temporary restraining order. As of March 4, the board had not met since the appointments. The case is on the court's docket for Wednesday.