Moms Protest Bill That Would Remove Licensing for Handguns, Allow Them in Schools, Bars, Churches
The Republican-backed measure would largely do away with the licensing process for handgun owners.
More than 100 activists with Moms Demand Action, a national grassroots movement backing tighter gun regulations, marched at the Texas Capitol Tuesday to lobby against Republican-backed proposals that would expand the places guns are allowed to include public schools, bars, churches and government buildings — and remove the requirement for a state-issued handgun license.
"We really support the Second Amendment, but we felt there needs to be a counter-voice to the NRA, who is lobbying constantly for more lax gun laws that don't do anything to accomplish anything that makes us safer," said Angela Turner, a self-described gun owner and mother of three who volunteers with Moms Demand Action. "Guns have their place, but it's not in bars and schools."
House Bill 560, filed by state Representative Drew Springer, R-Muenster, would allow state-licensed gun owners to carry a firearm in public K-12 schools and universities, polling places, government courts and offices, as well as racetracks, airports and establishments with licenses to serve alcohol.
House Bill 375, filed by state Representative Jonathan Stickland, R-Bedford, goes a step further by decriminalizing carrying a firearm without a license as long as the gun holder is not "prohibited by law from possessing it." Or, as some gun rights' activists call it, "constitutional carry."
The bill would remove the licensing process — and its associated training, background checks and fees — for carrying a handgun in Texas. The only factor in determining whether a person can legally carry a handgun would be his or her criminal record, which wouldn't be checked unless an alleged offense occurred.
The license would be optional, likely used by people who travel to other states that recognize Texas-issued licenses.
"It is time in Texas to restore our Second Amendment rights to their originally intended level," Stickland, who proudly carries his pistol at the Capitol, said in a statement. "No Texan should have to pay a fee or take a class to exercise their right to bear arms."
HB 375 would also allow firearms in universities, bars, high schools, collegiate and professional events, correctional facilities, hospitals or nursing facilities, amusement parks and churches, synagogues or other places of worship.
"With gun ownership, as with any right, comes responsibility," said Turner, who lives in San Antonio. "To drive a car you have to have training, you have to have a license, and there's law enforcement. I feel like things should be the same way with firearms."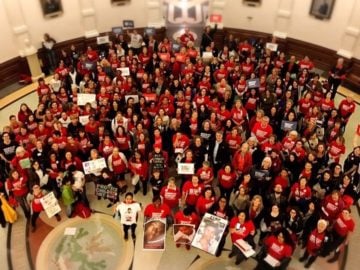 Last legislative session, Republicans passed "open carry" laws allowing Texans with handgun licenses to carry their firearms openly in most public places. The GOP also passed the so-called campus carry law, allowing individuals, including students, with handgun licenses to carry in college classrooms.

"If we keep going down the road we're going, violence is going to increase," said Jill Bailey, a volunteer for Moms Demand Action. "I think it's vital that we say, 'OK, we have guns in America,' and logically we're not going to be able to get rid of them all. But if we have to have them here, we have to be really careful and strict about whose hands they get into."
Correction: The story originally stated that activist Angela Turner lives in Austin. She lives in San Antonio.