'Look & See' Is a Love Letter to Family Farming, Rural America and Wendell Berry
'Look & See' is a Love Letter to Family Farming, Rural America and Wendell Berry
The film turns out to be less about Berry himself and more about the thing that worries him most: the industrialization of American agriculture.
For 52 years, the nature writer Wendell Berry has sat down to work every day at a long wooden desk in his office, facing a large window with 40 panes of glass. The window, which Berry built himself, overlooks his farm in tiny Port Royal, Kentucky. Most people would say the view isn't much: just a few tree branches and a river off in the distance. But Berry revels in the smallest, most mundane details, and he's written volumes of poetry based on the view from his window. He thinks of its 40 panes as a graph, a framework he can use to make sense of the world outside. "In a sense what I've done all my life," he says in a new documentary inspired by his work, Look & See, "is hold up an artifact that you can, so to speak, see through against the world."
At 83, Berry is one of the most celebrated environmental writers and activists in the United States. He's published more than 40 books in genres as diverse as lyric poetry, political essays, an eight-novel series and at least 47 short stories. Berry has won almost every major literary award and often draws comparisons to Faulkner and Thoreau. He's an acclaimed activist who once debated the U.S. Secretary of Agriculture, yet he's also notoriously media-shy, preferring to grow vegetables and raise sheep on his family farm rather than participate in movies or magazine profiles. Last year, when the New York Times asked him who he'd want to write his biography, he replied, "A horrible thought. Nobody."
That makes Look & See: A Portrait of Wendell Berry, which is being marketed as the first film about Berry's life, an unexpected delight. The film is now showing in Austin after premiering at SXSW as The Seer. Berry requested the name change after he "had misgivings about being labeled a prophet," as the filmmakers explained. Look & See is produced by Robert Redford and Terrence Malick and directed by Laura Dunn, an Austin documentarian whose last project centered on the battle to preserve Barton Springs.
Like its subject, Look & See defies categorization. It's equal parts biopic, issue film and cinematic poem. Berry himself never appears, speaking only in mysterious off-camera voiceovers. And only one of the film's six sections — like chapters in a storybook, they're delineated with beautiful woodcut illustrations by Wesley Bates — focuses on his life story. Over its 80 minutes, the film turns out to be much less about Berry himself and more about the thing that worries him most: the industrialization of American agriculture and the disappearance of small-scale farms. Berry has dedicated much of his career to this issue, most famously in his 1977 book The Unsettling of America.
Farming has always been a hard way to make a living, but never more so than today, as the dozen or so farmers interviewed in the film attest. There are 4 million fewer farms than in 1935, and the ones that remain have doubled in size. Small family businesses can scarcely compete with Goliaths like Monsanto and Bayer. Look & See underscores this point with a few too many ominous shots of industrial farming equipment in motion, all scored to tense, thrumming music meant to raise your blood pressure. During what felt like the 10th minute of watching a combine harvester conquer a field of grain, I found myself questioning Berry's radical premise. Sure, he may work his few acres with only a horse-drawn plow and refuse to use a computer in order to not be "implicated in the rape of nature," but is technology really the enemy? I like my hyperlocal, organic farmer's market strawberries as much as the next Austin yuppie, but we've also got to feed 7 billion people somehow.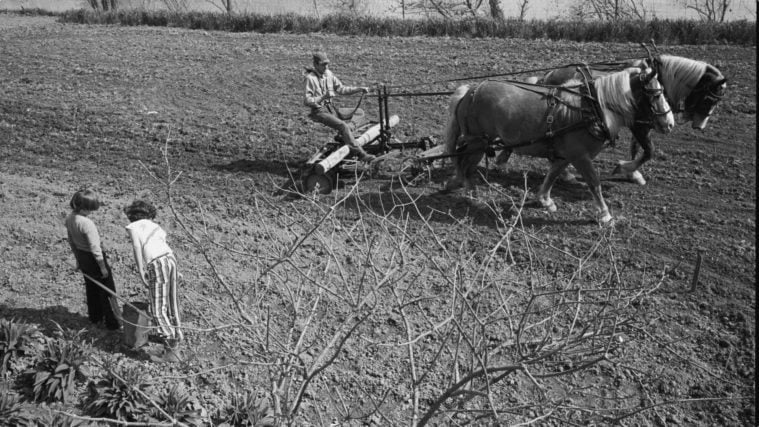 The film is at its best, though, when it spends time with farmers themselves. In one scene, an unnamed tobacco farmer looks away uncomfortably as he talks about the razor-thin margins in his business. "It was not my small farm dream that I had as a youth," he says. "My line of credit is very high. … Sometimes it gets a little hard to sleep at night." Another memorable shot lingers on a Mexican-American migrant farmworker as he speaks about the sacrifice of leaving his wife and children for "six, seven, eight months at a time" to pick tobacco for minimum wage.
There are light-hearted moments, too, as when the youngest farmers talk about their work as an irrational calling that they couldn't resist, the way other young people talk about painting or writing novels. One man, a dairy farmer who looks to be in his 20s, laughs as he recounts all the adults, including his farmer parents, who tried to dissuade him. "My mom tried to sway me in other ways, but it didn't work too well on her part," he says. "I always wanted to farm."
The film's title comes from a moment when Berry's daughter, Mary Dee Berry, explains how growing up on the family farm shaped the way she sees the world. "Things that my parents thought were important for us to notice, they told us to notice," she says. "Whatever field we were in, whatever walk we took, we were told to look and see. What is that tree? What is this grass? That field was plowed incorrectly, why is that?" It's a small reminder, but a good one: Remember to see the natural world around you. Put down your phone and look up.
Berry's vision of an agrarian utopia, free of corporate overlords and machinery, will strike some viewers as beside the point — especially in the age of Trump, when even basic decency seems an impossible goal. But I'll say this for Look & See. Thinking of Berry at his 40-paned window, I glanced out my much smaller, dirtier living room window today and saw a flash of red: a woodpecker, ruffling his feathers in an oak tree.
Featured image: Kentucky tobacco fields in a still from Look & See. Photo courtesy the filmmakers.