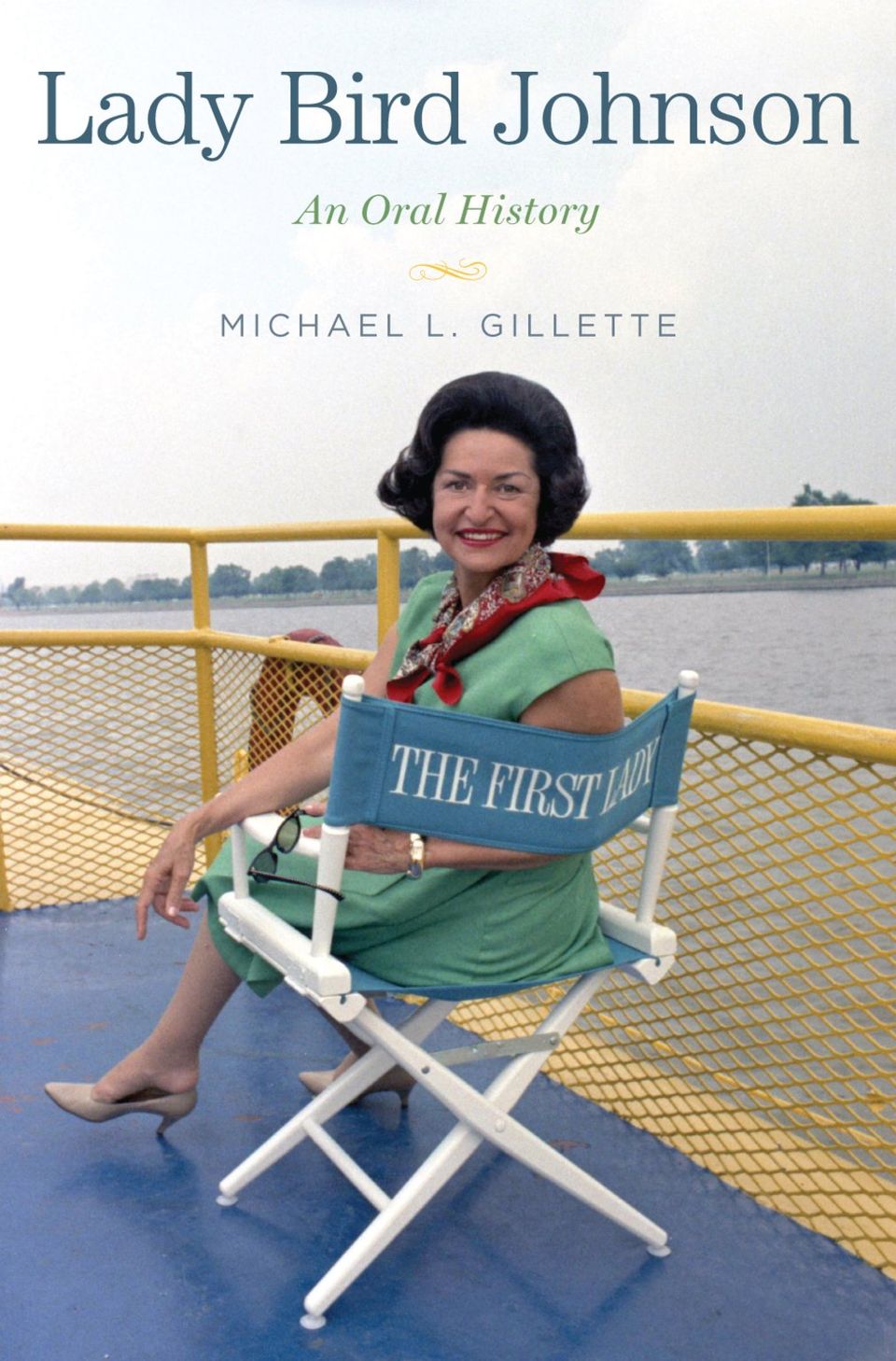 Lady Bird in her Own Words
A version of this story ran in the February 2013 issue.
Michael L. Gillette's Lady Bird Johnson: An Oral History—compiled from 47 interviews conducted with the former first lady between 1977 and 1996 as part of the LBJ Presidential Library's Oral history Project—chronicles Mrs. Johnson's journey from deep East Texas to the White house and beyond. Related here in a question-and-answer format, this well-worn story is infused with new, if peculiar, life by her undeviatingly genteel command of the English language. After passing through Lady Bird's spun-sugar Southernisms, some of the most traumatic events of the 20th century take on the redolence of rose oil, making even exhausted topics seem oddly unfamiliar.
The greatest example of this transformation is, inevitably, her description of the fateful events of Nov. 22, 1963. Though Mrs. Johnson, who passed away in 2007 at the age of 94, never directly discusses President Kennedy's assassination, she does present its aftermath in her exceedingly decorous fashion. Aboard the plane back from Dallas, she says, "I never in my life saw such a crescendo of activity, never before or after, and such a gathering of forces." Through such delicate turns of phrase, which recall the "elevated" tone of a garden-club newsletter, Lady Bird delivers her idiosyncratic view of history. The Eisenhower years, she says, were such "an odd time in [America]. Everybody was crazy about pink." The Kennedy administration's effort to inhibit her husband's locomotive energies was "a pebble in a shoe," and certainly not "a major thing." The vietnam War was a "frustrating " time, and LBJ's attempts to pass civil rights legislation collided with certain "entrenched mores of the country."
Anyone who reads Gillette's book in hopes of seeing Lady Bird's mask slip will be disappointed. Claudia Alta Taylor Johnson—a smart cookie, and a tough one—belonged to a generation of Southern ladies whose strength was expressed by never letting the public see them ache. Which is not to suggest that this volume isn't, in its way, profoundly revealing.
Asked whether she possessed "any specific recollections" about whether Robert Kennedy was considered as President Johnson's running mate in 1964, Lady Bird answers, "No, I don't, except that Lyndon would … have wanted a running mate that he had warmth for." That's about as close to a smack-down as Lady Bird gets, though she also recounts the following anecdote about RFK, the figure for whom she seems to reserve her greatest scorn. "I remember another time standing in the East Room at the White house … [Kennedy] leaned over and said, 'Well, Lady Bird, I hear you're going to make Washington beautiful.' … I just had this feeling of a little lady over the teacups … I just smiled and said, 'I'm going to do my best.'" For Lady Bird Johnson, that qualifies as a rebuke of Dorothy Parker proportions.
Coping with Lyndon's operatic mood swings—from thunderous displays of confidence to, as Lady Bird gracefully calls them, "slough[s] of despond"—may well have required the mastery of understatement revealed by the following quote, in which she offers an example of how the president might have produced a more effective administration: "he might have kept those members of the cabinet that he had felt closest to and most in-tune with, like Dean Rusk, and gotten some new people, more committed to him." But alas, she says, "the word 'loyalty' was tattooed on his heart." One imagines that her own heart bore a similar mark.
The portrait of Lady Bird that emerges from these transcripts is that of a woman who, despite her self-effacing protests, was vastly more than her husband's helpmeet. Aside from providing the seed money for Lyndon's career and ably managing the couple's ever-multiplying fortune, she also provided the emotional constancy that enabled his vaulting political ambitions. Though he bullied, bossed, and criticized Lady Bird (and seems to have been particularly cruel about her figure), it's Lyndon who appears to have been the more dependent spouse. That's surely not the way Lady Bird would have described the marriage, though in the final pages of Gillette's book she does own that she served as her husband's "island of serenity … I would try to temper him and level him and keep him—say, 'Feel [what] you must. Go off and raise cane [sic] in your own room, or raise cane to me, and I won't let it hurt.'"
No matter what you call such devotion—masochism or quiet strength—it's hard to shake the feeling that, without it, to quote historian Doris Kearns Goodwin, "the course of Lyndon Johnson's continuing ascent … becomes inconceivable."