'Guerrilla Warfare': A Long-Shot Campaign to Unseat Brownsville's 17-term State Rep
René Oliveira faces two challengers in the Democratic primary this year. One is counting on poor people, an anti-corruption message and 20-hour days to see him through.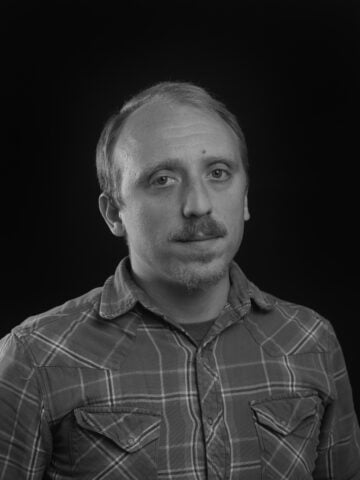 Above: Left to right: Alex Dominguez, state Representative René Oliveira, Arturo Alonzo
In a parking lot next to a middle school in one of Brownsville's poorest neighborhoods, Arturo Alonzo steps out of his beat-up 2010 Dodge Nitro, lights a Marlboro Red and starts talking. On a Saturday morning, five young volunteers have gathered to knock doors for him and turn out early voters. A Democratic candidate for state House District 37, he's taking on a Goliath of Rio Grande Valley politics: Representative René O. Oliveira, who first won his seat in 1981 and, except for a four year gap, has held it ever since. Alonzo, an Army veteran, gathers his volunteers into a huddle and plays drill sergeant.
"How many days of early voting left?" he asks. When a rail-thin 19-year-old gives the wrong answer, he replies: "Count, güey! It's 7 days." Calling the campaign a type of "guerrilla warfare," he gives them targets for how many doors to knock on, votes to turn out and Facebook Live videos to produce. "This guy [Oliveira] has the teachers' association, the AFL-CIO, the politiqueros, the whole Democratic Party. And we got y'all."
A 27-year-old Brownsville native, itinerant campaign organizer and founder of a data analytics firm, Alonzo isn't running your typical state House campaign, especially by Valley standards. He's refusing all PAC money, foregoing yard signs and mailers in favor of a grueling schedule of calls and door knocking. And more important, he's forswearing politiqueros — campaign workers in the Valley who get paid for each vote they turn out and sometimes use illegal methods. Alonzo has released a detailed platform that includes a $10.10 state minimum wage, legalizing marijuana, higher salaries for cops and teachers and creating a regional hospital district.
Alonzo says he regularly campaigns from 7 a.m. to 2 or 3 in the morning. With about 30 volunteers — friends, family, activists from a local environmental group and the Cameron County chapter of Our Revolution — he claims the campaign's knocked on more than 90,000 doors.
Having grown up in Section 8 housing in one of Brownsville's poorest neighborhoods, he's campaigning with a chip on his shoulder. "Everybody tells me estás pendejo; why are you knocking doors in all the poorest neighborhoods?" he said, explaining that he's hedging his bets on new voters. "People think we're stupid, that we're just a bunch of cholos. We're not dumb, but no one invests in us; even the Dems spend nothing on us."
Alonzo is one of two challengers to Oliveira's long reign. The other challenger is Alex Dominguez, a one-term Cameron County commissioner who lost to Oliveira in 2012 by 25 points. Though Oliveira is a senior member and chairs the House Business and Industry committee, both opponents allege that he has neglected his district, whose 39 percent poverty rate is one of the highest of any state legislative district in the nation. "What has he been doing?" said Dominguez. "We know the Dems are playing defense, but if you're not bringing jobs or educational funding, then what good is your seniority doing?"
Both note Oliveira's financial support comes from PACs and wealthy individuals outside his district; indeed, his January financial filing listed no donors from Brownsville and no donations under $50. The two also air a widely held grievance about Oliveira: that he spends too much campaign money on food and booze. "It's like his legislative office is in Cobbleheads [a Brownsville bar and grill]," said Dominguez. "If you have this much extra money, surely it could be spent better." A 2017 article by the right-leaning Texas Monitor labeled Oliveira a "big spender" and noted he spent about $16,000 in campaign funds at liquor stores from 2007 to 2016.
The Observer requested an interview with Oliveira, but he replied with an emailed statement in which he lashed back at his critics, calling their claims "desperate insinuations." Oliveira said his food and beverage spending is for work-related meetings, and that the numbers reported are what he spends on others, not himself. He also defended his PAC support, saying that ordinary Brownsvillians "contribute to organizations to pool their money and more effectively help candidates they support."
Oliveira also ticked off his legislative accomplishments in the email: helping to bring Elon Musk's SpaceX project to Brownsville; passing a 1983 constitutional amendment that permitted wage garnishment for unpaid child support; and helping create the University of Texas Rio Grande Valley. He noted that while poverty rates remain high in his district, unemployment is much lower than in decades past, and also said that he's not using any politiqueros. "We are much better off economically than we were when I started," Oliveira wrote. "There is more to be done, but I think our considerable improvement shows a record of accomplishment."
In the Valley, politics are Newtonian: Those in power tend to stay in power. Just like the Lucio family (state Representative Eddie Lucio III and his father state Senator Eddie Lucio Jr.), the Oliveiras are a political dynasty. René's mother, Gloria, was an activist memorialized in her Herald obituary as "a powerhouse in the Democratic Party"; his uncle, Arnulfo, was president of Brownsville's Texas Southmost College (TSC) and has a local middle school named after him; his cousin, David, is a local attorney who served as the TSC board chair and helped select a federal judge in the '90s. General elections are formalities since Republicans rarely bother to run, and voter turnout is abysmal: In 2014, 20 percent of voters turned out in Oliveira's district.
Predictably, Oliveira has the financial upper hand. Over the last two months, he raised around $98,000 and has $30,000 in the bank. Dominguez raised only $6,600 over the same time period, and has $2,000 on hand — though he also spent some $49,000 of his own money, much of it on a credit card. Alonzo's grassroots fundraising has been fairly successful, but he's played it fast and loose with his reporting: His haul over that two-month period was $28,000, much of it from small donations — but he didn't submit his last two filings until Wednesday, and he may face fines from the Texas Ethics Commission.
Oliveira criticized both challengers' disclosures: "One of my opponents won't report so the public can know his spending, and the other's reports are vague about who is giving to him and lending him money," he wrote.
Mike Carrera, a long-time Valley political consultant, told the Observer he thinks Oliveira could be forced to a runoff, most likely with Alonzo. But Carrera said Oliveira would likely prevail, in part due to low turnout in midterms: "If it were a presidential year, Alonzo would have a better shot." So far, while large urban counties are seeing a huge spike in early Democratic turnout this year, Cameron County's numbers are actually lower than in 2014.
After gathering by the middle school, Alonzo and I drive to the apartment complex where he grew up: a collection of tan brick buildings alongside a wide and muddy resaca. We get out, and he points to a metal staircase pole. "Chipped my tooth on that," he says, then points elsewhere. "Used to smoke weed over there." His rapid-fire conversation, switching between Spanish and English, touches on everything from his family history to his favorite political philosophers to recriminations of the Texas Democratic Party, which he calls a "losing organization of bourgeois elites."
After finishing high school, Alonzo spent six years in the Army before attending A&M International in Laredo. After college, he bounced around, working on a marijuana legalization campaign in California, a minimum wage campaign in Arkansas, Sylvester Turner's Houston mayoral campaign and San Antonio political brawler Trey Martinez-Fischer's failed state Senate bid. Alonzo says a visit home early last year convinced him to return. "I saw how fucked up everything was, so I packed up my shit and came back," he said.
The first few apartments Alonzo knocked that day were empty, before Joe Torres, a 25-year-old security guard and delivery driver, opened up. Alonzo jumped into his spiel, a litany of points that don't fit neatly on either side of the political spectrum. He tends to lead with "I'm not a politician," then talk about higher wages, health care and his mom's health problems, his Army service, God, the value of entrepreneurship and, ultimately, how the Valley's "Mexican aristocrats" have impoverished Brownsville. "How is it that the district with the hardest-working people is so poor?" he likes to ask.
Torres said he'd never heard of Oliveira and never had a politician knock on his door before. Between his two jobs, he said he makes $1,800 a month, barely enough to pay rent and take care of his 4-year-old son. "Cómo te digo, there is jobs, but they're shitty," Torres said about Brownsville's economy. The two talked for 45 minutes, at the end of which Torres promised that he and his family would vote for him, and took a stack of Alonzo's campaign lit. "What I like about you is I understand where you're coming from; I relate to you," Torres said.
Over the next 14 hours, Alonzo campaigned hard. He talked up the Starbucks employees (after ordering 4 shots of espresso with soy milk), random pedestrians, the waitress at the taco joint, everyone in two different bars and the guy who bummed a smoke off him at 2 a.m. Without exception, everyone who recognized Oliveira's name had a negative opinion of him. At a sports bar called the Ice House, Alonzo spoke at length with a husband and wife: a union machine operator and a school principal. "It's time for him to go," the husband said, and his wife followed, "He's done." Asked about Oliveira's seniority, she replied, "What has he done? He hasn't done anything," before giving Alonzo $90 in cash.
The most skeptical listener was a home health aide at one of the apartments where Alonzo grew up. Elsy Puente, a permanent resident unable to vote, listened off to the side as Alonzo gave his spiel to the apartment's 94-year-old tenant. When Puente spoke up, she explained that she had met Oliveira and other legislators while doing volunteer flood relief in the '90s.
"Oliveira's a politician to the bone," she said, adding that the system was ruled by corruption and money. "I hope the best for you, because you want to make the change the people need — but it's a high mountain you're trying to climb, m'ijo."