Fringe Factor: CJ Grisham and the Paranoid Heart of Texas' Gun Rights Movement
After video of Grisham getting slammed against a police car went viral in 2013, he took the lead in Texas' gun deregulation movement. Now, he's aiming for constitutional carry.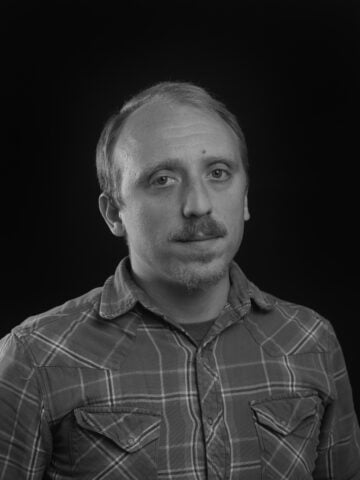 A version of this story ran in the June 2018 issue.
With the far right ascendant in Texas politics, once-marginal ideas and people have found a place in the political mainstream. Fringe Factor is an introduction to the often-unknown, but influential activists, thinkers and operatives who play a growing role in shaping the state.
CJ Grisham, the 44-year-old founder of Open Carry Texas, is only comfortable when he's armed, and he's not concerned with how you or the police feel about that.
An Army veteran and aspiring politician, Grisham most recently made headlines with protests in Olmos Park, an independent city within San Antonio that for decades banned citizens from carrying loaded rifles and shotguns. Grisham believes in little to no firearm regulation, so in March, he rounded up his group to roam the streets with AR-15s. During one demonstration, Grisham refused police orders to get on the ground; after a brief argument, he was allegedly tased and arrested on multiple charges, including felony assault of an officer. But two days later, Grisham got what he wanted: The Olmos Park City Council repealed its ordinance, conceding that it violated state law.
Grisham first made a name for himself after another run-in with the cops. In 2013, he was hiking along a country road outside Temple with his son, who was earning a Boy Scout merit badge. Like any responsible father, Grisham carried a loaded AR-15 slung across his chest. A Temple police sergeant confronted Grisham, and the encounter quickly escalated, with the cop pointing his gun at Grisham and then slamming him against the hood of the squad car. Grisham was convicted of interfering with police duties, and the dashcam video of the arrest went viral. A star was born. That year, Grisham founded Open Carry Texas, which claimed some 36,000 members by late 2014.
Despite its gun-crazy reputation, Texas had relatively strict gun laws for much of its history. For 125 years, Texas banned citizens from carrying pistols outside the home, a measure aimed at keeping freed slaves unarmed. Only in 1995 did the Legislature allow concealed carry of handguns. For another two decades, Texas gun activists watched as other red states pulled the trigger on even more NRA-friendly laws. Their big break finally came in 2015, when the Legislature passed laws allowing open carry of handguns statewide as well as concealed carry on college campuses.
Open Carry Texas energized the movement with heavily armed demonstrations around the state to pressure lawmakers. In the lead-up to the 2015 session, the Dallas Morning News named Grisham a finalist for Texan of the Year. Even former state Senator Wendy Davis went to bat for open carry, a position she later said she regretted.
In a 2015 Esquire profile, Grisham — who declined to be interviewed for this story — explained the roots of his gun obsession. In 2003, his Army intelligence unit was ambushed in Iraq, and Grisham rushed toward automatic gunfire with a pistol and a grenade, earning a Bronze Star. Grisham has said his military experience caused him lasting trauma and made him dependent on his weapons.
"I think having firearms around does, on a weird level, make me feel a little calmer," Grisham told Esquire. "Because one of the things about guys like me with PTSD is you have this hypervigilance."
Of course, the price of Grisham's comfort is often the discomfort of those around him. His group has flooded chain restaurants — Sonic and Chili's in particular — with men wielding semi-automatic rifles, making even the NRA a little nervous. In 2014, an NRA staffer called the demonstrations "downright scary," though the organization recanted when Grisham's crew began publicly destroying their membership cards.
Since 2015, Grisham's accomplishments have been modest. During last year's legislative session, gun activists passed a minor bill cutting costs for concealed handgun licenses. In March, Grisham tried to unseat Republican state Representative Hugh Shine; he came in third in a three-way primary.
But there's plenty of meat left on the gun-deregulation bone in Texas. Grisham says the next frontier is "constitutional carry": the right to carry handguns open or concealed, loaded or unloaded, without a license. Twelve states already have such laws. Though the legislation hasn't gained much traction yet in Texas, it's supported by the NRA and the state Republican Party.
In May, Grisham's charges for the Olmos Park incident were dropped. But he wasn't satisfied, promising a lawsuit in a YouTube video. "I look forward to seeing [Olmos Park Police Chief Rene Valenciano] in court, and taking possession of everything he owns and giving it to charity," Grisham said.