Fear and Loathing at the San Antonio Border Security Expo
Immigration officials say they no longer "distinguish between border security and interior enforcement" and aim to "push the borders out."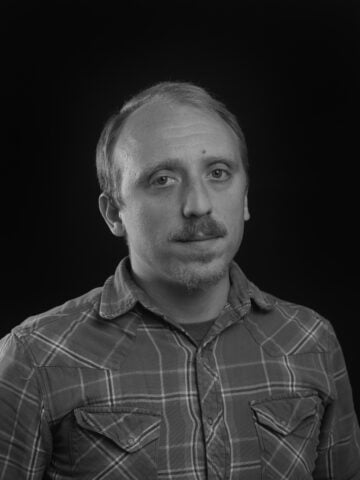 If there was an overarching theme at a border security expo in San Antonio Wednesday, it was that the border is in crisis — and the border is everywhere.
"We used to distinguish between border security and interior enforcement; now we're lumping it all under border security," said Elaine Duke, deputy secretary of the Department of Homeland Security (DHS) on Wednesday. Duke was speaking to a crowd of around 100 law enforcement officials and technology vendors in a downtown conference hall. She spoke of a need for aggressive immigration enforcement in the U.S. interior to deter migrants, and for breaking up smuggling chains abroad, which she referred to as "the away game for national security."
Edward Dolan, Central America regional attaché for DHS, said his agency needs to "push the borders out," and celebrated that DHS now has at least one officer in every Central American country. Dolan told the crowd he's working to convince those small and poor nations that they have "skin in the game" of combating illegal immigration — which he said costs them money, introduces diseases and facilitates terrorism. Dolan said deterring migration through arrests and deportation is necessary to avoid deaths, citing a stretch of jungle between Panama and Costa Rica where migrants from around the world sometimes perish. "How is encouraging people to walk through a jungle and die along the way humanitarian?" he asked — without acknowledging that many refugees fleeing violence would likely make the trip regardless.
Meanwhile, during a keynote luncheon, Acting ICE Director Thomas Homan used his platform to bash "sanctuary cities," the media and members of Congress. Homan said that by not holding immigrants in jail for extended periods of time so ICE can arrest them, "sanctuary cities" release criminals and gangsters who will re-offend, adding that the policies encourage illegal immigration and buttress the human smuggling industry. "'Sanctuary cities' are bankrolling the very criminal organizations that have murdered our agents," he proclaimed.
Homan, who frequently referred to himself in the third person, said so-called sanctuary cities are forcing him to ratchet up enforcement at worksites and homes by limiting his access to incarcerated immigrants. In a simulated dialogue with the "sanctuary state" of California, he said: "Homan's threatening to arrest more people at worksites and their homes — Yeah! Because you won't let me into your jails," adding that the audience would "never" hear this explanation from the media.
Aware that the room was full of vendors looking to sell the government expensive weapons, software and surveillance gadgets, Homan also offered an ICE "wish list" that included everything from facial recognition software to cloud storage services to devices to help discover border tunnels.
On the other side of a partition, dozens of vendors had set up booths where they proffered mobile surveillance rigs, long-range thermal cameras and radar, license plate scanners, all-terrain combat vehicles, waveform radios and handguns specially engraved with the Border Patrol logo. One high-end camera was going for hundreds of thousands of dollars, according to a vendor.
RELATED: Texas National Guard Installed Cellphone Spying Devices on Surveillance Planes
"The Prowler," a vehicle currently being tested by Border Patrol and going for around $30,000, according to a company rep, featured an onboard temperature-regulated dog kennel. Some vendors said this was their first time attending the annual expo and that they believed the Trump administration created new opportunities. A few Border Patrol agents wandered the floor chatting amicably with the dealers.
Other topics of the day included DHS recruitment, the impending elections and Trump's border wall. Duke, the DHS deputy secretary, said in her opening remarks that the agency needs to make it easier for people to become immigration agents, in part by reducing polygraph testing. "We need to make it not as horrible of an experience trying to get in," Duke said.
Some speakers said it was important to get congressional border security money before November, when the Democrats could take back one or both legislative chambers. Brian de Vallance, former assistant secretary for legislative affairs for DHS, cautioned that the Democrats could easily pick up 30 seats this year.
Trump's "beautiful" border wall divided opinion at the expo. Val Verde County Sheriff Joe Frank Martinez said on a panel that what he needs is more "manpower" to police the 110-mile-long border that his largely rural county shares with Coahuila, Mexico. Martinez was dismissive of a border wall, saying that whenever he shows Washington, D.C. insiders the terrain he deals with, they realize the wall "can't be done."
But Martinez apparently hadn't gotten through to Homan, who is awaiting Senate confirmation as the head of ICE. Homan called the wall a "necessary tool" and concluded that "everywhere they've put the wall, it's worked."