Dan Patrick Finds The One
The lieutenant governor's relationship with Ted Cruz hasn't always been this cozy.
A version of this story ran in the December 2015 issue.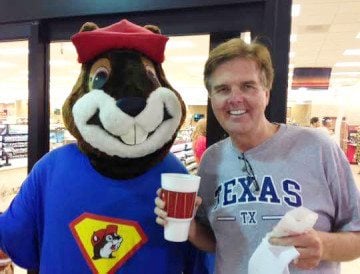 Let us not to the marriage of true minds admit impediments. In late October, at a Houston event, Lieutenant Governor Dan Patrick gave a full-throated endorsement of U.S. Senator Ted Cruz's presidential bid. But would it be rude to point out that Patrick backed poor David Dewhurst in the 2012 Senate election that catapulted Cruz to power? Or gauche to remember that the two sparred over issues of character, including a tense conversation on Patrick's own radio show?
Apparently concerned lest his support for Cruz seem new or strange, Patrick, during remarks at Cruz campaign headquarters, cited old statements as if building a court case. "In August of 2013, the Dallas Morning News quoted me as saying I was supporting Ted Cruz for president," Patrick said. 
Of course, by the time Patrick started sending mash notes in 2013, Cruz had gone from being a longshot primary candidate to a national figure. A month after Patrick's statement, Cruz helped shut down the government for two weeks, vaulting himself to the conservative movement's front ranks.
It's worth recalling that Patrick had a shot at the crown Cruz now wears. In 2011, Patrick was a second-term state senator and a firebrand widely expected to run for higher office someday. He took a long, hard look at running for the open Senate seat being vacated by Kay Bailey Hutchison. The 2010 tea party wave showed the power of the new angry conservatism, to which Patrick belonged.
But Patrick ultimately declined to run. Dewhurst, then Texas lieutenant governor, was too strong, he believed. "If you look at the race today, it is likely — especially with me out of the field — that Dewhurst wins," he told the Texas Tribune in 2011. In that case, Patrick would have an easier time running for lieutenant governor, helping to explain why he only warmed to Cruz after Dewhurst lost.
There were no such coarse calculations on display at the Houston endorsement. Cruz was a "true conservative who can inspire our base across this country like they have not been inspired since Ronald Reagan," Patrick said. "Ted Cruz is the prescription for what ails this country and this party."
Cruz was equally effusive about Patrick. He "is a man who when he stands up and says he's with you, he's with you with every breath in his body," Cruz said.
Patrick is fully part of Cruzworld now.
There's one place that might be a cause for concern: the Governor's Mansion. Greg Abbott has a longer personal relationship with Cruz than does any other elected Texas official.  He made Cruz the state's solicitor general in 2003. But Abbott has been quiet about this race so far. And Cruz's top man in the state is viewed as a rival of Abbott's. Alliances  often shift in politics, but the Cruz/Patrick lovefest is something to watch.