The Case of the Missing Governor
What does Greg Abbott want?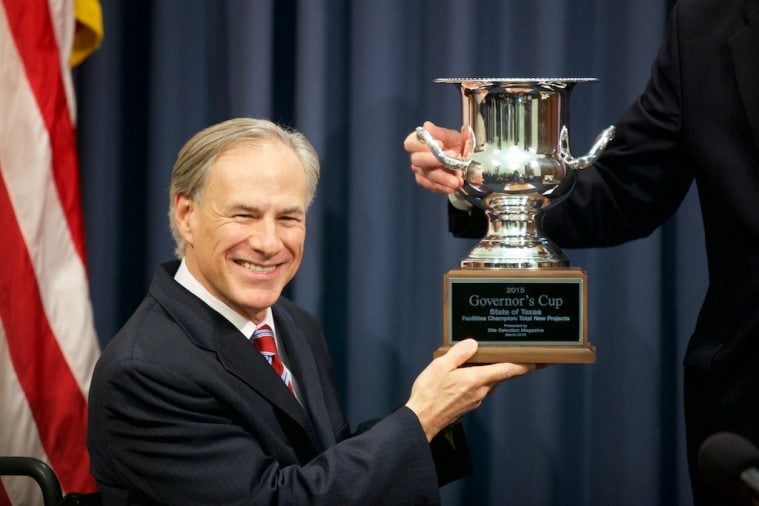 We're now more than halfway through Greg Abbott's first term as governor, and we still know little about what makes him tick. He makes periodic public appearances and policy pronouncements, but they often seem oddly detached from what's happening on the ground in Austin. He has shown neither the zeal nor the ability of his predecessor to shape the world around him to his will. He remains, generally, a mystery.
Depending on your policy preferences, it may be a great thing that Abbott has taken a backseat. A lot of people hated Rick Perry's bullying style, and pre-Perry governors were traditionally pretty toothless. The problem is that eventually — maybe in the next few months — Abbott's political courage will be tested and he'll be forced to make choices with big consequences for the state. But with so little evidence available regarding his inclinations, it's difficult to predict how he'll respond.
Before we get to that, let's reflect a little on his record. During the 2014 election, Abbott produced some policy papers on issues like higher education, but seemed to go out of his way to avoid saying much else. At the Texas GOP Convention, where Dan Patrick's supporters flooded the arena with his distinctive signs, Abbott gave a brief speech, and then dipped out. The speech was ambitious in scope — he laid out his plan to get the state ready for its bicentennial in 2036. How should Texas prepare for its 200th birthday? Abbott proposed ending highway funding diversions and banning CSCOPE. Stirring stuff. Oh, and he would make Texas "No. 1 in education."
His inaugural address — preceded by a fiery speech by Patrick — wasn't really about anything at all, apart from his pride in fatherhood and belief in the eternal greatness of Texas. All that's fine, but still, the assumption was that eventually the rubber would hit the road and we'd get a better sense of who the governor actually is.
Except, then, he barely showed up during the 2015 legislative session, which featured some blockbuster fights between the House and Senate. For the biggest battle, over tax cuts, Abbott refused to weigh in at all. The biggest Abbott story of the year was the Jade Helm fiasco, which embarrassed Texas at the international level. Then he took expensive trips to Israel, on Sheldon Adelson's plane, and to Switzerland, where he attended the World Economic Forum in Davos. He made a cool video about the trip, set to some pulsing electronic music. Otherwise, he's spent much of the rest of his first term advocating for a national constitutional convention, a scheme to pass a bunch of amendments of his own devising — the Articles of Gregfederation — a dead-in-the-water idea that his staff seems too polite to tell him is a waste of time.
The stakes are much higher this legislative session: Both chambers have proposed austerity budgets that are going to end up hurting a lot of people. The squeeze is highlighting the fact that there are some significant threats to the state's long-term prosperity right in front of us, in plain sight. What has Abbott been doing lately? Well, on April 10, he elevated the Texas State Operations Center to Level 3 (Increased Readiness) in anticipation of heavy rainfall; a few days later he traveled to Richmond, Texas, to attend the "valve-opening ceremony" of something called Petra Nova, a carbon capture facility part-owned by the Japanese oil company JX Nippon. The valve was opened successfully.
Abbott's most important policy pronouncement this year might have taken place in Corpus Christi last month, where he said he supported a "broad-based law" that would allow the state to preempt local regulations "across the board." That's quite radical, but it's not anything the Legislature is currently considering, nor is it something Abbott's office has actually tried to advance. On Twitter, he's been talking up the need to do more to stop teachers from having sex with students. Well, OK.
The governor does have a few things he actually wants out of this session — some meaty issues like child welfare reform, which the Legislature would be doing without him, and a few other pieces of red meat. But, perhaps most notably, he's also pushing for his signature pre-K program, his university research initiative and full funding of the Texas Enterprise Fund. Right now, lawmakers are pissing on all three.
Why? Well, consider the story of Abbott's predecessor. Rick Perry was elevated to the position of lieutenant governor in part because the Bush organization thought he was handsome and pliable. He hadn't earned a ton of respect. When he became governor in 2000, he had a pretty big chip on his shoulder. So he rode out his first legislative session, and immediately after, in what became known as the Father's Day Massacre, he vetoed more bills in one sitting than any governor had since Reconstruction.
A couple of the vetoes were for ideological reasons, but the real meaning of the event was clear to everyone in Austin. "It was a punch in the nose, and a 'By the way, I've got my fist cocked if you still want to fuck with me,'" one lobbyist told the New Yorker many years later. Lawmakers who were felt to have disrespected Perry in some way suffered, as did lobbyists who hadn't paid up. Give him lip, and the man from Paint Creek would haunt your dreams.
That's who Perry was in a nutshell. He didn't care all that much about policy, but from his first election in elementary school to his last day in office, he loved manipulating the levers of power. He loved wheeling and dealing and he loved the Legislature. He was in office 14 years and all his friends and allies ended up rich as hell. Whatever disrespect Perry had suffered before those vetoes, he never suffered it again — at least, until the 2011 presidential debates, but that's another story.
Whatever gene is responsible for that, Abbott doesn't have it. Rick Perry — allegedly — shot a coyote while jogging with his .380 Ruger. Greg Abbott has a golden retriever named Pancake. In the past some people, including me, have read his vague public statements as reason to hope for some tendency to political moderation, but an easier answer is simply that there's no there there. Perhaps all that drives Abbott is a desire to hold his current office.
There is, of course, still time for Abbott to come into his own. His advisors tout his upcoming line-item veto abilities. On Tuesday, he seemed to weigh in on the bathroom wars. As we edge closer to a potential re-election campaign, we could see an attempt to forge a more decisive, determined Abbott. But that, in a way, is the problem: A lot of Capitol observers suspect the main factor shaping Abbott's calculations is the fear of a primary challenge by a figure like Dan Patrick, which is the only political risk he faces for the foreseeable future.
If that materializes, we may come to miss the Abbott who went around Texas opening valves. But there are consequences to inaction, too. If budget negotiations reach an impasse, there will be a special session this summer. If there is one, there will be a lot of pressure on Abbott from Patrick and from conservatives to add items such as the bathroom bill and "school choice" to the special session's agenda. In fact, the budget negotiations could reach an impasse because conservatives want a special session. The abortion bill Wendy Davis filibustered came about because of special session theatrics.
It might be the first truly meaningful, and politically dangerous, decision Abbott has had to make as governor. If he's forced into making it, it's because his counterparts in the process smell weakness in him. And even if the special session doesn't come to pass, the threat itself may be enough to materially shift Abbott's policy priorities in the Legislature's last month. And because we still know so little about the governor, we can only guess at how he'll respond to the pressure.