Decision on Temporary Ban of Guns in UT-Austin Classrooms Delayed
Injunction would allow three professors to keep guns out of classes temporarily.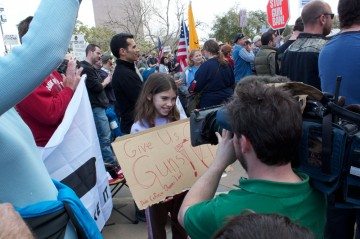 No decision was reached Thursday on a preliminary injunction filed by three University of Texas at Austin professors that would allow them to temporarily ban guns in their classrooms.
Proceedings in U.S. district court in Austin languished as lawyers entered into an unexpected debate lasting more than an hour over what consequences the professors would face if they prohibited guns in their classes despite the new campus carry law. The legislation, which allows those with concealed carry licenses to bring guns onto public college campuses and into classrooms, went into effect on Monday.
The injunction sought the temporary ban until the three professors' full case could be brought before the court in a few months. In July, they filed a suit against UT-Austin President Greg Fenves, UT Regents and Attorney General Ken Paxton. The suit argues that having guns in classrooms violates the professors' First Amendment rights, because armed students will inhibit their ability to freely discuss controversial topics.
"I was buoyed by [the fact that] these proceedings will continue," said Helena Woodward, a professor of English at UT-Austin who attended the hearing to support Gun Free UT, an organization opposed to campus carry. "I think a trial would bring out important issues not discussed yet."
During the Thursday hearing, attorneys for the professors pointed out that there do not appear to be specific rules or language that address what would happen to professors if they tried to ban guns in the classrooms. They posed the question of whether the case was worth pursuing on Constitutional grounds if there are no repercussions. In other words, they asked, what would keep the professors from just saying no to guns in their classrooms? The attorneys for UT couldn't provide an answer.
All parties agreed a decision on the injunction should be delayed until information on possible repercussions could be submitted by an August 8 deadline.
The two sides also began to address the larger First Amendment issue. Counsel for UT and Paxton argued that academic freedom has only been upheld in recent cases as an institutional right under the First Amendment and not as a right for individuals. Further, they argued that neither the campus carry law nor UT policy prohibits professors from expressing their opinions freely.
A ruling on the preliminary injunction will be issued before classes start at UT-Austin on August 24.