For Two-Year Colleges, Campus Carry Raises Special Risks
In 2017, the new law could put high schoolers in classes with armed students.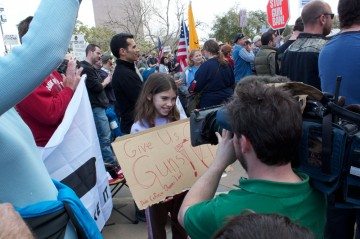 With tens of thousands of high school students attending classes at Texas community and junior colleges through partnership programs, some legislators and educators worry that the new campus carry law will put minors in the path of people with deadly weapons.
At South Texas College, a community college in the Rio Grande Valley, about half of the school's 34,000 students are high schoolers getting a jump on their higher-ed credits and testing out campus life.
Starting in August 2017, these kids — and tens of thousands more like them — could end up sharing classrooms, cafeterias and libraries with students carrying concealed handguns. Unless, that is, Texas lawmakers revamp the campus carry law for two-year colleges or Attorney General Ken Paxton decides it should be interpreted differently for these institutions.
The campus carry law, which allows people with concealed handgun licenses to carry their weapons in most places on public university campuses, went into effect for four-year institutions Monday, but will face a lawsuit in federal court on Thursday.
Community colleges have another year to decide how they'll comply with the highly controversial law.
"There's no question we have high schoolers on campus," said Paul Varville, chief administrator of South Texas College's public safety department. "We're grateful the legislature gave us an extra year to implement the campus carry law."
In June, state Representative Abel Herrero, D-Robstown, asked Paxton to consider allowing two-year colleges to ban concealed handguns due to the number of minors on campus. Paxton has not yet issued an opinion. An opinion would not change the law, but instead interpret the law and guide implementation for community and junior colleges.
When the Observer contacted the AG's office,  a spokesperson declined comment because the opinion is pending. State law bans concealed handguns on elementary, middle and high school campuses. In December, Paxton issued an opinion stating that banning guns in those schools when they are located on college campuses was consistent with Texas law.
The grade school law and Paxton's opinion, Varville said, made it a clear-cut decision to ban concealed weapons in a building on campus that houses an early college program for high schoolers.
However, at some South Texas College campuses and at other two-year colleges in the state, students in early college and dual credit programs do not have a separate building. They attend classes in the same facilities as traditional students, and sometimes they share classes with regular students, too.
Evangelina Orozco, coordinator for the early college program at William B. Travis High School in Austin, said her high school students are encouraged to spend time outside of class exploring campus to better prepare themselves for attending a university. Orozco's high schoolers sometimes take class with traditional students, and all their courses are in shared buildings.
"They're definitely incorporated into campus life," Orozco said. "As they go through the program, they're spending more and more time at the college."
In his December opinion, Paxton wrote that widely banning concealed handguns in classrooms was inconsistent with the Texas law. The opinion stated that such bans would effectively prevent licensed owners from carrying their guns on campus, because attending class is the primary reason that people are on college campuses.
His opinion guided four-year universities as they developed implementation plans, and none banned guns in classrooms.
While many undergraduates at four-year universities aren't yet 21 — the minimum to obtain a concealed carry license in Texas — the average age of traditional students at community colleges skews older. At South Texas College, the average age of all students is around 24, Varville said.
That means a higher percentage of students on these campuses could be carrying a concealed handgun, even while sitting next to a high schooler during class or in communal spaces, like libraries or cafeterias.
Further complicating concealed carry for two-year institutions is the wider use of college facilities by community members. At El Paso Community College (EPCC), campuses host a variety of summer camps and children's programs, said campus police chief Joe Barragan. Many community members, including small children, also use the college's libraries.
"The library is used by students, but it caters a lot to children," Barragan said. "It was designed for them to come in and learn and read."
Barragan said EPCC has held public forums to prepare for campus carry, and Varville said his college has received questions from community members and parents about how they will implement the law.
"We tell them what the law states," Varville said. "We will not allow (guns) near Early College High School, but we can't prevent people with a license from going into (another) building just because we have early college or dual enrollment students attending class there."
Austin Community College said in a statement it will begin the process of developing campus carry policies in 2017.
During its next session in January, the Texas legislature could change the campus carry law to explicitly allow community and junior colleges to ban concealed handguns.
Scott Daigle, chief of staff for State Representative Donna Howard, said in an email to the Observer that changing the law would be an uphill battle, even though their office has heard from a number of worried citizens interested in seeing the law changed.
"That number is sure to grow as we move into session and closer to the implementation date for community college campuses," Daigle wrote.
Unless something changes in the next 12 months, two-year institutions will have to figure out how to balance compliance with the law with the safety of their youngest students and visitors. "The law is there," Barragan said. "There's not much we can do about the law. We still have to make campus a safe learning environment."