WTF Friday: Freaking Magnets, How Do They Work?
Hey, we made it! It's Friday, the day when having continued to exist during the immutable passage of time feels like an accomplishment. Time to look back at some recent choice moments in our state's public discourse.
This week's theme: the elusive "core concept."
1) The Texas Democratic Convention happens this weekend in Dallas, but one of the party's most buzzed-about candidates won't be there: Jim Hogan. The Democratic candidate for agriculture commissioner who raised no money, has no experience, and did not campaign will preserve his flawless outsider cred by not showing up at the convention, either. ("Boycotting" seems like too active a verb for this guy.) The candidate for statewide office explained to The Texas Tribune, "There's not a political bone in my body. I just want to be ag commissioner. I don't want to have to go be a politician to get there."
2) Most of the week's WTF-ery related to the influx of undocumented immigrants, including thousands of unaccompanied children, crossing the border and being detained. Gov. Rick Perry did his best to frame the problem as the humanitarian crisis it is, but did so, in true Perry form, by evoking one of our nation's most outrageous atrocities against people of color. "There's babies," Perry told a press conference on Monday, "I mean there are babies there that have been transported all across Mexico. I'm telling you in July and August, if the message does not get out into those countries in Central America, you're going to see a trail of tears again, from Central America to Texas."
Props to Mike Ward of the Houston Chronicle who pulled no punches when he explained, in the second paragraph of his piece about the comment, "The Trail of Tears is the name of the ethnic cleansing campaign and forced relocation of tens of thousands of American Indians from the southeastern United States to Oklahoma during the 1830s. More than 6,000 are believed to have died."
3) As a break from the darkness, here's Rep. Louie Gohmert willfully photobombing Oklahoma Rep. James Lankford on live TV:
He may have been motivated by the attention he received after photobombing freshly elected House Majority Leader Kevin McCarthy and conservative activist Ralph Reed last Friday: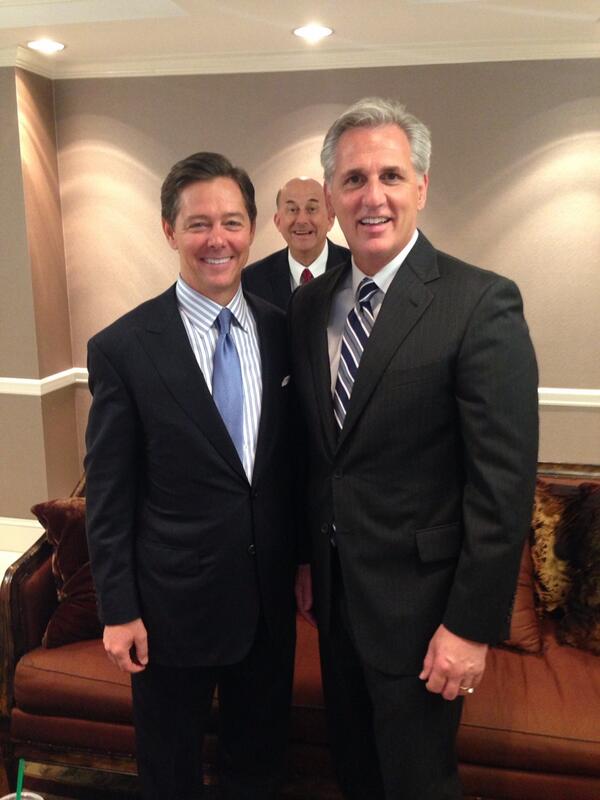 The Washington Post called this one "Amazing," but we think the FOX News creep-up is even better.
Gohmert also talked this week. On Wednesday, at a House Judiciary hearing tastefully titled "An Administration Made Disaster: The South Texas Border Surge of Unaccompanied Alien Minors," Gohmert said the Obama administration must stop "luring these children into America" because "there are children that are suffering and being hurt, being lured here to their detriment." See? Like Perry, Gohmert cares because the children could get hurt! Oh and because they carry "lice," "scabies" and "H1N1," or swine flu, he added. Keep it classy, Gohmert.
4) State Rep. Jonathan Stickland also subscribes to the "luring" theory. On his website Tuesday, Stickland wrote, "All the magnets attracting folks here must be turned off. No more benefits or special perks for illegal immigrants."
In his honor, we proffer the classic music video "Miracles" from the group Insane Clown Posse, an un-ironic meditation on the natural world that features the line, "[Expletive] magnets, how do they work?" If you don't mind a handful of F-bombs, it's definitely worth your time.
5) Now let's get down to brass tacks. State Rep. Bill Zedler knows how to fix this mess: boycott Mexico.
Tahmooressi is a U.S. Marine being held in Mexico on weapons charges. Bud Kennedy of the Fort Worth Star-Telegram pointed out that Mexico is Texas's top trade partner, doing about $539 million in trade a day, so a boycott would probably be bad. But at least it would stop Central Americans fleeing violence from migrating to the U.S.
6) Happily, none of us have to worry about this tragedy, or anything, much longer, according to Kathie Glass, the Libertarian Party candidate for governor. On her website, she declares, "If I don't become Texas governor, it really doesn't matter which one of the other two does, because America will die and take Texas and liberty with it."
Whew!