A Texan's Political Guide to Resisting Trump
Activism isn't always grand or heroic. There is no task too small or out of reach.
A version of this story ran in the February 2017 issue.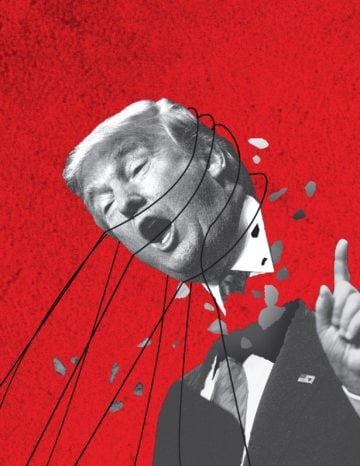 To fight Trump, we must fight his brand of corruption and state-sponsored bigotry at home, too. We must beat back his appeasers and appointees, and, more important, resist local and statewide politicians who enact micro versions of the Trump agenda. Increasingly, it appears that many of our very worst Texan politicians will be exported to Washington in the form of cabinet appointees. If you never found time to resist Rick Perry and Sid Miller while they were on the rise here, the responsibility lies in your hands in this moment. A tolerance for indignities, small and large, in daily Texan life has ballooned into a crude, international offense to us all.
It's time to question yourself, your social network, your places of worship, the businesses and institutions you patronize or work for. Donald Trump's conflicts of interest make Rick Perry's Texas Enterprise Fund look like the model of public rectitude. Ask yourself, "Can I afford to spend money at businesses that enrich the Trump agenda?" One Texan resister, Debra Haas of Austin, has been participating in #grabyourwallet, a boycott of all Trump family products and hotels, since before Election Day. She dutifully avoids any outlet that carries Trump products or supports the administration. It may be awkward, but standing with neighbors who are vulnerable to indefinite detention means no longer buying meals prepared or services rendered by neighbors who welcome his agenda.
Just before the holidays, I watched as an Austin Energy employee called out her employer on social media. She listed all the reasons why it was disingenuous for her company to assert before City Council that every poor family knew how to navigate paying late bills. She clearly spelled out all the ways a customer could fall through the cracks.
Demand critical thinking, confront racial and religious scapegoating and threaten estrangement if your demands are not met. In January, Jan Chamberlin of the Mormon Tabernacle Choir provided a great example of spiritual resistance when she resigned from the choir after she could not reconcile performing for the Trump inauguration with Christ's teachings.
Applauding or sharing your thoughts on social media is not enough anymore. Offline, attending protests unattached to any real demand and engaging only people we already know is no longer enough either. Commit to making local politics a weekly (if not daily) exercise. Issue advocacy is a great way to learn how bills are crafted and passed in your cities, counties and state capital. Look up a local, active, transparent advocacy group dedicated to your issue of choice and ask them if you can become a citizen lobbyist. The Texas Coalition to Abolish the Death Penalty runs an excellent training program every legislative year. NARAL Pro-Choice Texas, which is tasked with protecting reproductive rights and resisting injustice around the state, also holds training for Texans across suburbs and major cities.
The possibilities for participation are endless, but one certain way to challenge abusive power at home is for progressives to start winning elections again. In Texas today, we face a true crisis of even the most basic civic participation. We must take our voting rights in local elections more seriously — if not for ourselves, then for those disenfranchised masses trapped in immigrant detention and those incarcerated for nonviolent drug offenses or mental illness. Every year, politicians run unopposed up and down our state ballots. To gain a healthy bench of candidates, we must strengthen parties other than the GOP at home and in Washington, D.C.
Democrats in major Texas cities must move beyond making ActBlue donations and voting straight ticket every presidential election. A small group of people have been doing the work of the Texas Democratic Party for almost 30 years, and it shows. Relieve them in your resistance. For Texas Democrats, this means showing up to county executive meetings, club meetings and county conventions. (I took my own advice in 2016 and joined the leadership of the Texas Young Democrats so I could start taking responsibility for the choices I was asking voters to make.) Reject alienation by becoming a precinct block captain or filling one of the thousands of empty precinct chair positions across the state. Doing so will give you access to your neighbors who have been showing up to vote or who voted eight years ago and haven't been back to the polls since. Talk to each other and figure out why most of the people in your community aren't voting. Your answers are more valuable than the pundits who told a different story for the last 18 months.
There are alternatives to the current party in power and the Democratic Party in Texas. However, voting for a third-party candidate every four years is not building an alternative. The Green Party of Texas, Democratic Socialists of America and the Libertarian Party all exist and can be contacted today. By writing to them or contacting them online, you can join in building infrastructure that could rival the votes and dollars of the major parties.
It will not all be grand, heroic gestures in our Texan resistance. There is no task too small or out of reach. If you have social anxiety or are confined to home, find a way to research bills online. Make yourself available to support the volunteer work of those who are ready to be on the ground by giving rides across our sprawling cities or hosting meetings for those who need escape from conservative communities where they can't gather openly yet. Every hour we dedicate early on to this resistance and its support network will help us find more Texans to carry on the work for the next four years. Stepping out in your suburban community today will empower the closeted progressive down the street to enter the fray. There is much resistance to sow across these 254 counties. I hope to see you out there.
This article appears in the February 2017 issue of the Texas Observer. Read more from the issue or subscribe now.