The Mystery of the San Antonio Four
For 20 years, Elizabeth Ramirez, Kristie Mayhugh, Cassandra Rivera and Anna Vasquez have fought to prove their innocence.
A version of this story ran in the January 2014 issue.
Above: Elizabeth Ramirez served her sentence at the Hobby Unit in Marlin, where she worked at the prison's print shop.
Elizabeth Ramirez was four months pregnant when she heard a knock at the door. She had just gotten home from a shift at Arby's, where she had recently been promoted to manager. The man standing outside her small apartment had thick black hair. He introduced himself as Detective Thomas Matjeka from the San Antonio Police Department, and though he was not in uniform, he said he was with the Homicide Unit. Elizabeth was confused. Had someone died? Matjeka was helping investigate a sex crime and asked if she would come to the station to answer a few questions. Elizabeth, who had recently turned 20, climbed into his unmarked police car.
At the station, Matjeka asked if she knew a man named Javier Limon and his two daughters. Of course she did. Limon was her sister's ex-boyfriend, and the two daughters were her 7- and 9-year-old nieces. She saw them often. About a month before, they had spent a week at her apartment.
Matjeka's tone grew less friendly. He explained to Elizabeth that her nieces were accusing her and several of her friends—who had also been at the apartment that week—of sexually abusing them. Elizabeth was stunned. She immediately denied the accusation. Matjeka typed her answers into a computer. His questions grew more personal. Had she been in lesbian relationships? She said yes. Had she ever left her nieces under the care of her friends? Yes. Were they lesbians? Yes.
Matjeka told Elizabeth that if she had committed a crime, her son—due in about five months—would probably be taken by the authorities. He continued typing. She started to cry.
One morning several days later, in September 1994, Elizabeth's friends Cassandra Rivera and Anna Vasquez met at a park. As a lesbian couple in conservative San Antonio, they seldom showed affection in public, but Anna was unusually touchy that morning. Cassandra, who goes by Cassie, was uncomfortable and could sense something was wrong. Anna said she no longer cared if anyone saw them as lovers, since they had so little time left. Cassie didn't understand, so Anna broke the news: They too were being accused of sexually assaulting Elizabeth's nieces.
Elizabeth's roommate Kristie Mayhugh was at her mother's apartment in Rosenberg, outside Houston, when the police surrounded the building and ordered her out.
All four were indicted for sexually assaulting Elizabeth's nieces, and all four maintained their innocence while scrambling to remember if anything out of the ordinary had happened the week the girls stayed at Elizabeth's apartment. They realized that the four of them had rarely been in the apartment at the same time, because they were so busy with long shifts at various jobs at odd hours—yet the girls were claiming that all four women were present for the assault. When offered plea deals of 10 years probation, they all refused and decided to go to trial. But still they were baffled. Where had these accusations come from?
Elizabeth had one theory. The girls' father, Javier Limon, who had dated her sister Rosemary before a messy breakup, had been making advances toward her, she said. He would offer Elizabeth rides, he would give her small amounts of cash when she needed it, and he would leave long messages on her answering machine. Recently he had been sending her love letters. She had rejected his advances.
Elizabeth had told Detective Matjeka about Javier's advances, but he hadn't thought much of it. So she decided to tell her lawyer about Javier. Maybe the lawyer could explain to the authorities that no crime had occurred; it was just a malicious accusation orchestrated by a bitter man.
In the midst of her legal troubles, Elizabeth gave birth to her son. She was still leaking milk when the police took her to jail. "The most painful memory of that day was being separated from my newborn son," she later wrote. "The arresting officers would not even let me kiss him goodbye."
Once released on bail, Elizabeth relied on family members to take care of her son while she worked at Taco Cabana and tried to fend off the assault charges. He was nearly 2 years old when her trial date was finally set.
In early February 1997, Elizabeth sat at the defendant's table as the judge stated the charges against her: aggravated sexual assault of a child and indecency with a child. The prosecutor, Philip Kazen, told the jury that Elizabeth had "held a 9-year-old girl up as a sacrificial lamb to her friends."
Sitting in the courtroom, Elizabeth was frightened but also puzzled. Her older niece hadn't acted the way she expected. When Elizabeth had entered the courtroom, the girl who was accusing her of sexual abuse had waved at her and smiled.
Even as a toddler, Elizabeth Ramirez was small for her age. She liked to balance on the balls of her feet, leading her mother to joke that maybe she would become a ballerina. In high school, she remained small, never more than 4-foot-9, though that didn't keep her from playing on the basketball team. On the court, the other girls would call out her nickname, "Little Liz! Little Liz!" Her father had left, but the rest of Elizabeth's large family—three brothers, two sisters—was tight and affectionate. They would barbecue at the park on weekends and take trips to a nearby lake.
After she turned 16, Elizabeth began to stay out later, experiment with drugs, date boys and fight with her mother, Gloria. One night Elizabeth stole some of her mother's prescription anxiety pills and overdosed. Gloria took her to the hospital and then kicked her out of the house.
Elizabeth moved in with her sister Rosemary, who was then living with Javier Limon and their three young children. But Elizabeth soon found problems there as well. Limon was overbearing and lectured her constantly. So she left her sister's home and moved in with a girlfriend from school.
They grew closer and, with Elizabeth beginning to realize she was attracted to women, eventually started dating. Elizabeth knew that being a lesbian would make her an outsider in her conservative Catholic family. The relationship could remain secret only so long, and when Elizabeth's mother found out, their already strained connection suffered further. "I don't want to say I was disowned, but I was," Elizabeth told me.
At school, coming out wasn't as big a deal because nobody talked about it. "I think they knew, but they didn't, you know?" She remained close to her siblings, buying her little brother Mark clothes ("If you had two dollars and needed more money," he said, "she'd give you 20") and giving her little sister Monica advice ("I couldn't honestly ask for a more loving, caring sister," Monica said). But money was tight, and at various times Elizabeth held jobs at Taco Cabana, Arby's and H-E-B. Six months before graduation, overwhelmed with her work schedule, she dropped out of high school.
In other ways, though, her life was starting to look up. Her relationship with her mother improved—Gloria co-signed for Elizabeth's new apartment. "She knew by then she was either going to accept my lifestyle, or I wasn't going to be a part of her life," Elizabeth said. They worked together at a nursing home, where the residents would constantly tell Gloria what a caring and charming girl she had raised.
Though her attraction to women made her an outsider at home, it led her to new friendships. While working at H-E-B, she got to know Kristie Mayhugh, who was born in Montana and moved to San Antonio at age 3 when her father was transferred to the Randolph Air Force Base. Kristie's parents were divorced and her mother, like Elizabeth's, was uncomfortable with her daughter's sexual orientation.
Elizabeth and Kristie moved in together as friends. At H-E-B they met Cassie Rivera, who, before coming to terms with her attraction to other women, had a son and a daughter and then split with their father. Cassie's mother had kicked her out of the house, so Cassie stayed sometimes at Elizabeth and Kristie's apartment.
Anna Vasquez had played sports with Elizabeth in high school. On trips around the city for volleyball games, Anna would bring along a radio and they'd belt out "Friends in Low Places" by Garth Brooks. Anna was working at a Little Caesar's. Cassie met her one night when she went to pick up a pizza. Both later described it as love at first sight.
Though Anna's family was more accepting than the others, she still remembers gawking looks whenever she and Cassie would stroll together at carnivals. Eventually the two would move in together, and Anna would treat Cassie's two kids as her own. "We were inseparable," Cassie said. Anna applied to nursing school. Cassie, who worked at AutoZone and frequented car shows, thought about becoming a mechanic. Kristie wanted to return to veterinarian school at Texas A&M if she could find the money.
Elizabeth still wasn't sure what she wanted to do, and she struggled with her new identity. After splitting with her first girlfriend, Elizabeth started dating a man named Hector. He liked to party and her workaholic lifestyle drove them apart, but not before she became pregnant with his son. Though she hadn't prepared to become a young single mother, she knew she could rely on her three close friends for help.
The letters refer to Elizabeth as "My Little Angel" and include bits of poetry. They ask her to keep secrets and  instruct her to call at specific times, between 7 and 7:15 a.m. or 5:45 and 6 p.m. "I hope these letters are not upsetting, disturbing, or making you feel uncomfortable," one reads. They are signed "Javier Limon."
Elizabeth's friends say she could have done more to reject Javier's advances. Cassie recalls that Elizabeth promised Javier she would marry him. Kristie remembers her friend accepting money and rides. Anna remembers Elizabeth coming to her "real upset" and describing Javier's inappropriate comments. Anna counseled her, "You need to tell somebody, because that's not right." Another friend says Elizabeth "kept telling me over and over that she was afraid something was going to happen" with Javier.
As Elizabeth's mother, Gloria, remembers it, her daughter handed over the letters from Javier and said, "Mom, he's after me." Gloria invited Javier out to breakfast and confronted him. When he denied that the letters existed, she took them out and pointed to his signature. He stormed away.
Gloria was suspicious of Javier. She warned her daughter not to take care of Javier's daughters. Elizabeth shrugged off her mother's warnings. "Mama, they're my nieces," she said. "I love them." Gloria has no unkind words to say about her daughter, but she never describes her as shrewd. "She was so trusting, so lovable." Elizabeth's sister Monica said, "If Liz was a different person she would have had him arrested or placed a restraining order."
Elizabeth told me that after she became pregnant, Javier offered to marry her and was upset when she refused. Shortly after his daughters stayed at Elizabeth's apartment, Javier called her and said he had something important to tell her. Then he put her on hold to take another call. That was the last time they spoke.
Javier Limon, now in his 40s, keeps his graying hair short. He sometimes grows out a mustache that—along with the tweed jackets he likes, the glasses perched on his head and the iPhone in his shirt pocket—gives him the look of a harried college professor. Since his mid-20s, when he became a Jehovah's Witness, he hasn't celebrated birthdays or Christmas. He also gave up drinking, he told me, though he never liked the taste of alcohol anyway.
By late 2013, he had cycled through several careers and was working for a security company and studying criminal justice at a community college in Stafford, near Houston. We met once at the college's library, and then later at a Whataburger, where he takes his kids so often that he knows the staff well.
In the early 1990s, he told me, he had been working as a heavy-equipment operator for the city of San Antonio and dating Rosemary. Her sister Elizabeth would call him and ask for rides because she didn't have a car, and she'd borrow small amounts of cash. His kids took a liking to Elizabeth, so he'd let them stay at her apartment, even after he split with Rosemary. He never felt like Elizabeth took advantage of his kindness; helping people was just in his nature, he said.
Javier said that after the girls spent the week at Elizabeth's in July 1994, he didn't notice anything different at first. Then one day while he was at work, his mother, Serafina Limon, was cooking while the girls played outside. One of the girls ran in and told her that the other had been playing with dolls in an inappropriate way, undressing them and making them kiss.
"Do you know anything about where she learned it?" Serafina asked.
"Grandma, I can't tell you because something happened, and they threatened me," the girl said, as Serafina later related to a jury. When Javier got home, the girls told him the whole shocking story of being held down and raped, he said.
Serafina had said Elizabeth was suspiciously dour when she brought the girls back after the week at the apartment. "She wasn't receptive," Javier told me. "She wasn't the spontaneous, happy-go-lucky girl that she would always be." Javier took his daughters to the hospital and the police station. "I was there every step of the way with my kids," he said.
I asked him, had he been in love with Elizabeth? No. Had he offered to marry her? No. And the letters? Javier claimed they were forged by Rosemary as a pretext for taking the kids from him. When I handed him copies of the letters, he leafed through them disinterestedly. "They needed something to justify why Rosemary left me. They couldn't get me drunk or doing anything illegal." He and Rosemary had gone through a messy custody battle over the kids after she moved to Denver and began a relationship with a former friend of Javier's named Oscar Aguirre. Javier says that Oscar "stabbed him in the back" by dating Rosemary, and that due to a stint in prison, Oscar was an excellent forger. "They used those letters in order to entrap me," he said.
I showed the letters and samples of Javier's handwriting to several forensic document examiners. But because only copies of the documents are available, the experts' reports were inconclusive. "It is probable that [Javier] wrote it," said one, adding that "there is not enough evidence to make a definite identification or elimination." Another explained, "It is one thing to attempt to imitate someone's signature once or twice, but an entirely different and exponentially more difficult thing to attempt to successfully imitate a large quantity of extended writing."
Javier's advances toward Elizabeth are corroborated by her family, but so too are his denials corroborated by his own family members. He went on to have another bitter custody battle with his next partner, Carina Hooper, who described him to me as "hurtful, mean, a sociopath," and said he accused her son of sexually abusing their daughter, and reported Hooper for neglect to Child Protective Services. Her son took a plea deal and is now a registered sex offender. Hooper described Javier's behavior as a pattern, saying he uses the authorities to get back at people who have crossed him. "Our whole relationship was based on him controlling me," she said.
But Javier's sister, Cristina Aguilar, described Javier very differently. She told me about a man who is constantly in relationships with women who take advantage of him. "To be honest with you," she said, "I feel so bad for my brother, because I tell him he's got the worst luck with women."
A year after Javier and Rosemary split for good, he took a bus to Denver, where Rosemary was living, and returned to Texas with his kids. Rosemary, who had trouble fighting for custody since she lived outside of Texas, floated around, at one point moving to Mexico with a husband who had immigration issues. Javier says she went to Mexico to evade paying child support. She says she didn't pay because he wouldn't let her see the kids.
Rosemary recounted years later that Javier threatened her family. "He knew what was going to hurt me the most," she told me. "He had already taken my kids, so he couldn't hurt me there. What was next? My sister."
The more I interviewed the estranged couple, ferrying bits of information between them, the clearer the duality became: Javier was either a vindictive, wrathful man or a caring father who was being smeared by Elizabeth's family. His sister, Cristina, became increasingly angry as she told me, "I remember [Javier's older daughter] telling me that they touched them, moving their hands back and forth down there. [Javier's younger daughter] told me herself, 'They were kissing us.'"
Lonnie Gentry, the jury foreman at Elizabeth's 1997 trial, listened to Javier's older daughter describe what had happened to her. Gentry was a minister, and though he had told the lawyers he believed homosexuality to be a sin, he also said this belief wouldn't cloud his judgment. The lawyers had argued about it, and he expected to get cut from the jury pool, but now here he was sitting in the jury box. "It was hard for me to really get my mind around what they had been accused of doing," he recalled. "It's just so unusual and bizarre."
Javier's older daughter—who, because she is still officially considered a victim of child sexual abuse, I'll identify with the initials VL—testified that after several carefree days at Elizabeth's apartment, her aunt called her into the bedroom one afternoon and began shouting at her. The women had been drinking tequila and were topless, VL said. There were "liquids and powders and different things." There were syringes and vials of white powder. The women held her down and started kissing her and putting cold "liquid stuff" inside her, and then they inserted a tampon into her vagina, she testified. Aunt Liz produced a gun. Her father Javier called, and as VL assured him that everything at Aunt Liz's house was going just fine, her aunt held the gun to her head.
Then Aunt Liz ordered her to take a shower. From the bathroom, she heard screams from her younger sister. She tried to get out, but the door was locked.
Elizabeth's lawyer, Freddy Ruiz, tried to get VL to say that she was mixed up, and that the gun had actually been wielded by her father Javier in Colorado. As a child, he explained, according to the trial transcript, VL had offered a "confabulation of facts," and a "jumbling of things, weapons, bedrooms, hatred towards family." He theorized that Javier had held a gun to her mother Rosemary's head years before in Denver, and that this had been refracted in the child's mind to include Elizabeth.
(That account was backed up by Oscar, Rosemary's partner in Denver, as well as by Rosemary herself in recent interviews. She testified under oath at the trial that Javier had arrived in Denver and threatened her with a gun. "Go ahead and pull the trigger, Javier, I'm not afraid of you," she remembers saying. Javier did not testify, but told me unequivocally, "There was no gun.")
"Sometimes truth is different," Ruiz told the jury. "Sometimes truth has to border these parameters of strangeness of different times, weapons, and that's what happens here in this case."
"The bottom line is this," prosecutor Philip Kazen countered: VL "was very clear about specifics in terms of time, place, and content of the sexual assault." Kazen, who is now a judge, didn't respond to multiple interview requests.
The prosecution's expert witness was a doctor named Nancy Kellogg, who estimated that she had examined roughly 3,500 sexual assault victims, most of them children. She had examined VL and her sister and seen a scar "on the hymen" that was "about two to three millimeters," a scar normally caused by "penetration." VL's mood, Kellogg said, was "guileless or uncontrived, that is she did not appear to be holding back information or embellishing or adding information."
Elizabeth took the stand in her own defense. She was 22. "I know you're very nervous," her lawyer said, according to the transcript. During a cross-examination, Kazen, the prosecutor, broke the flow of his questions to ask, "Am I intimidating you up here? Would you like me to go sit down?" Elizabeth answered, "Yes, please."
Later on, Elizabeth interrupted his questions to declare, "I love those children 100 percent. I would never hurt them in any way, never."
"So says O.J., ma'am," Kazen responded.
Elizabeth's lawyer jumped in, saying, "Judge, did counsel make reference to O.J. here? If he did, I'm going to ask for a mistrial." The judge overruled that request. The questioning continued, focusing on Elizabeth's relationships with women. Kazen asked if she was dating Kristie Mayhugh, her roommate and one of the other women accused of abuse. "No," Elizabeth said. "She wanted a relationship with me. I would not have one with her."
"Did you have a gay relationship with Anna?"
"No."
"Did you have a gay relationship with Cassie?"
"No."
"Well, you were gay and they were gay—"
"That doesn't mean you have to be together."
"You all were friends."
"Because we're all gay."
"Well, maybe I'm confused. I thought you said that if you're gay and you were friends, that's a gay relationship?"
"No. You're confusing yourself because I said that Kristie wanted a relationship with me—a gay relationship with me. I did not want a relationship with her. We were friends; me, Cassie, and Anna. Yeah, they're all gay and we're friends, but that doesn't mean it's a gay relationship. We're all friends. It doesn't mean we're all intimate together, had any kind of sexual togetherness."
The trial lasted only a couple of days. Testimony concluded on a Friday afternoon. The jury went home for the weekend, returning Monday for the closing arguments. They found Elizabeth guilty in just a few hours, but their debate about punishment lasted into the evening. A sentence of 37 and a half years was a compromise between more and less lenient jurors. "I thought she should have gotten life," said Gentry, the foreman. "If it had been a man, I don't think there would have been much of a question."
When the jury announced her guilt, Elizabeth remembers her mother standing up and screaming, "No!" Allowed five minutes to say goodbye to her family, Elizabeth was then escorted to a holding cell, where she fainted.
"Liz kind of distanced herself from all of us," Kristie recalled. "We didn't understand it, and we didn't like it." Elizabeth remembers being racked with guilt as Cassie, Anna and Kristie faced trial together a year later, in February 1998.
In the spare, gray courtroom, Cassie, who often wore denim overalls, had on a black dress with white flowers. Anna had traded her usual T-shirts and jeans for a purple blouse. Her long straight hair was in a perm with her bangs teased up off her forehead. She looked stoic and resigned.
At this trial, the younger of Elizabeth's nieces, Stephanie Limon, who was not a witness at Elizabeth's trial, would testify (her name is used here because she has recently spoken to the media about the case). The prosecutor, Mary Kay Delevan, reminded the jury that much time had passed—the alleged abuse was three and a half years earlier—so the victims "may not be able to keep everything perfectly straight."
VL's new testimony muddled the facts she had presented a year before. Now Kristie had been at the apartment, whereas before she hadn't. Now it was Anna who had wielded the gun, not Elizabeth.
Stephanie Limon did not clarify the situation. In her original statement to police, there had been no gun, but now there was one. There had been other little kids—Cassie's kids and some neighbors—in the apartment throughout the week, but now she was adamant that she and her sister had been the only children.
The prosecutors, as well as Javier when we spoke 15 years later, accounted for the inconsistencies by saying the girls were young children who could hardly be expected to keep facts straight. VL claimed that the court reporter must have incorrectly taken down her remarks at Elizabeth's trial. Some of the discrepancies came from Serafina Limon, Javier's mother, who initially reported the girls' outcries. When I reached her by phone hoping to clarify what had happened, she told me, "I don't talk to reporters. You know why? Because I could say something, and you could twist it around."
At the second trial, there was far less talk of lesbianism. It was mentioned mostly by the defense attorneys, who attempted to show that relationships between women have nothing to do with pedophilia. Delevan, the prosecutor, said she hadn't prosecuted the women for their sexual orientation. "I remember reporters at the time wanting to know if we were trying these women because they were lesbian, which was ludicrous," she told me. "It was really an offensive question."
Cassie remembers her lawyer telling the women that they would surely win and coaching them not to "jump up and down" when the jury announced an acquittal. On Valentine's Day 1998, a Saturday morning, all three were convicted of the same crimes as Elizabeth: aggravated sexual assault of a child and indecency with a child. They were each sentenced to 15 years, but the judge decided they could remain out of prison until their appeals had been exhausted.
As their families paid lawyers to file appeals, Cassie and Anna, still very much in love, set out together to investigate the case on their own.
Cassie and Anna tried to meticulously recreate what had happened the week of the alleged crimes. They scribbled the events of the week, as the women remember, on a large white poster board in a grid organized by woman and by day. It is a portrait of the mundane logistics of low-wage life. Elizabeth had just learned of her pregnancy and was recovering from a car accident. They traded cars so each could get to work, bought hot dogs for the kids and played basketball at the park. Shifts at Arby's. Shifts at AutoZone. Swimming with the kids. Kristie, still unemployed, pawned a radio. They took the girls to Walmart, where they bought a fish. The next day, the fish died and they returned it.
Their reinvestigation wasn't fruitful. There's a home video from the period shortly before Kristie, Cassie and Anna went to prison in 2000. The video cuts between scenes of them spinning Cassie's kids on a small playground carousel and swimming at a beach. At one point, the sound of wind and cars passing on the highway accompanies a shot of an empty lot. Cassie and Anna are looking for Elizabeth's old apartment. A wiry, bearded man appears on camera and tells them the building was torn down. The scene of the crime had vanished.
The three women reported to prison, where they were all given higher security levels—including, at one point, more than 30 days in solitary confinement for Cassie—because they refused to take sex offender rehabilitation classes. The families did their best to move on. Holidays and birthdays were the hardest. Rosemary got a job supervising the cleaning staff at the courthouse downtown. Every other day, she told me, she'd clean the office of her sister's prosecutor, Philip Kazen. He had no idea who she was. "It turned my stomach," she said. "But I can't do nothin' because it's my job."
All four of the women described to me a transition in prison from rage and bewilderment to acceptance and quiet resolve. "I tried writing the innocence projects and Oprah and Maury Povich and Montel," Anna told me, "anybody who would listen. I never heard anything back."
"I could mail out 50 letters and not one of them would [get a response] back," said Elizabeth, who scoured medical and legal textbooks in the prison library and spent nearly all of her commissary money on stamps.
More than a decade later, in 2011, Cassie was transferred to the Hobby Unit in Marlin, where Anna and Elizabeth had been living. Cassie saw Elizabeth for the first time at a Catholic mass. Around the same time, Anna was put on maintenance duty and assigned to fix the lights in Cassie's cell. When the two former lovers saw each other, "We were both just shaking," Cassie remembers.
Cassie's son and daughter continued to drive three hours up Interstate 35 to visit her in prison, but Elizabeth had lost contact with her son when he was 5 and his father obtained custody. Prison was a place of endless routine, and so she started one of her own. Every Sunday, she would write her son a letter and have her mother deliver it. Years went by without a response.
When Darrell Otto first sent the letter, he wasn't sure who would reply. He knew her name was Elizabeth Ramirez, and that she was an inmate in a Texas prison, 3,700 miles from his cabin in Canada's frigid Yukon Territory. She had been convicted of a crime, but the crime didn't make much sense; he knew that women rarely go to prison for sexually abusing children. He let the letter sit on his desk for a week before he put it in the mail.
Otto teaches courses on natural resources at Yukon College. He's been married but now lives alone 40 miles outside of Whitehorse, the territory's capital and, at 30,000 residents, its largest city. Still hale in his mid-50s, with close-cropped hair, Otto lives without reliable electricity or running water. His primary company is a group of huskies. At one point, he had as many as 40 of them, and he would haul 5-gallon buckets from a nearby river for them to drink. "It was like living in a labor camp," he said.
As a teenager Otto had hitchhiked across the continent, but by 25 he was tired and wanted mental discipline. He finished college, got a master's degree, and took the teaching job in the remote Yukon. With a lot of time on his own, Otto developed various research obsessions outside his academic work on fish breeding. He found criminals particularly fascinating, especially the psychologically obscure, because, like him, they were on the fringes of society. "I always felt like an outsider, my whole life," he said. He checked out a video from the college library on female sexual predators. Most of the time, as he learned from reading scientific journals, these women are teachers who fall in love with a student. If a woman abuses a young child, it often means the perpetrator has a mental illness.
But as he scanned articles on the Internet, there was one case that didn't fit the pattern. It involved four women from San Antonio. One of them, Elizabeth Ramirez, had a profile on the website WriteAPrisoner.com.
About a month after he sent Elizabeth a letter, Otto came home from work to find her response in the mail. The letter was several pages long and written in clear cursive script. The language was chatty and upbeat.
More letters followed, each one taking about two weeks between his home and Elizabeth's prison in Marlin. "I miss everyone 'cause I'm not able to see and be home with them," one read, "but most of all I miss my son. I'm sad inside. I never was a mother to that child."
Elizabeth told him about Javier, about her trial, and about the guilt she felt for her friends' prison sentences. Otto was initially skeptical; he asked her the same questions in letter after letter, to see if her answers remained consistent.
They did. So he traveled to Texas to get a better sense of who she was. In terms of mileage from the Yukon, the North Pole would have been a shorter journey. Guards at the rural prison stared in surprise at his Canadian ID card. When Elizabeth first came out behind the glass to meet him, she couldn't stop shaking.
At first, Anna was a little distrustful of Elizabeth's new friend. While visiting her mother across the room, she would glare at Otto. Anna had seen Elizabeth unable to deal with the interests of men before. "She thought I was up to something," Otto told me.
Otto found an organization called the National Center for Reason and Justice, which was created in the wake of the 1980s-era satanic ritual abuse scandals to advocate for people wrongfully accused of harming children. His packet of information about the case ended up on the desk of Debbie Nathan, a journalist who wrote Satan's Silence, the seminal book on the satanic scandals, and who regularly vets cases for the organization.
Since the early 1980s, the United States had seen numerous accusations, investigations and trials of daycare workers and other adults for supposedly engaging in ritual satanic abuse, including the rape, murder and torture of children. There was seldom evidence other than the statements of children or adults who "recovered" memories from their youth. By the time of VL and Stephanie's outcries, these public dramas had largely died out, though Dr. Kellogg, in her exam notes, had written, "this could be satanic-related." Nathan told me it was "probably the last time anyone wrote in the record, 'This looks satanic.'"
She checked Otto's background, since it seemed "strange" that he was so interested in the case. "But he sounded like a respectable guy."
As Nathan examined the case, the testimony of Dr. Kellogg, who first examined the victims and described markings on their hymens as signs of abuse, jumped out to her. By the time of the trials, she told me, "good pediatricians knew this stuff had been discredited."
Nathan brought the case to the Innocence Project of Texas, where well-known attorney Jeff Blackburn agreed to represent the women. But little happened for a year. Then Mike Ware, another lawyer with the Innocence Project, got involved. A boot-wearing, quiet man with a wide smile and blond hair mopped down on his forehead, Ware had worked for years with the Conviction Integrity Unit at the Dallas County District Attorney's office, which investigated old cases for possible wrongful convictions, and helped exonerate dozens of men.
Nathan contacted family members and others connected to the case, and Otto sought out reporters and published a short essay of his own on Texas Monthly's website. Michelle Mondo, a crime reporter at the San Antonio Express-News, read Otto's piece and began investigating. "I called all the women's previous attorneys, and they didn't even remember the case," she told me.
Mondo spent more than a year on the story, reporting much of it in her spare time. She discovered that Javier's two daughters had made abuse allegations before, in Denver, but then claimed at Elizabeth's trial to not remember having done so. Mondo's front-page story came out Christmas week 2010 with little impact. "I think that first story was really complicated," she explained. "It wasn't something easily picked up by the wires."
But the pool of advocates for the women was growing. Nathan convinced a filmmaker she had mentored named Deborah S. Esquenazi to take a look at the case. Esquenazi became passionately involved, collecting footage for a documentary that she is still filming.
Shortly after Mondo's story appeared came the breakthrough. Stephanie Limon, the younger of the two accusers, called Debbie Nathan and recanted. She said that her father Javier had coached her to make the accusations. Stephanie now said the women had never abused her.
In the backseat of a car, Stephanie Limon (now Stephanie Martinez) read from a sheet of notebook paper. It was August 2012, and Stephanie, then 25, was a mother herself. Deborah Esquenazi sat in the front seat and held a camera as Stephanie read.
"I remember everything [Javier] coached me to say, as well as my grandmother. I'm sorry it has taken this long for me to know what truly happened," she said haltingly. "You must understand I was threatened, and I was told that if I did tell the truth that I would end up in prison, taken away, and even get my ass beat.
"I will make things right, and I am sorry for everything I put you through. I was only 7, and I was scared."
Stephanie—who would not comment for this story on her lawyer's advice—soon found herself in a legal battle of her own. An allegation was filed with Child Protective Services that she and her husband were fighting violently in front of their young children and that was grounds for removal to foster care. Michelle Mondo published a story strongly implying that Javier filed the allegation as punishment for Stephanie's recantation. Javier told me he testified in court on the matter, but that the police filed the CPS report, not him.
Javier told me that his daughter didn't recant because she suddenly changed her mind about what happened to her. He explained that she threatened to recant to hurt him, because they had recently been fighting. Javier said that Stephanie had taken advantage of his kindness. "Everything she does is camouflaged," he said, adding that she probably made a deal with Rosemary, her mother, for money or other help. Javier's sister Cristina agreed: "She's going to flip on the recantation, to get back at her mom."
By late 2012, media attention on the women—who were becoming known as the San Antonio Four—was steadily growing. In November, Anna was released on parole. She spoke to reporters at her childhood home, a small bungalow where the street dead-ends at a muddy creek. Dogs were barking and a few neighbors watched from a distance as she sat on the front steps and talked to a local TV anchor. He asked to film her walking around the yard, and she complied, but she wouldn't stick one foot past the curb for the camera to symbolize her freedom, since it would technically violate her parole conditions. She was still a convicted sex offender and there was a long list of parole rules: no cell phones, no computers, no contact with anyone under 18. Her brother got her a job at his auto shop, but she had to quit when they discovered it was near a school.
Anna found a job at a tortilla factory and tried to raise awareness about the case. Originally the most reticent of the four, Anna became their spokeswoman. At screenings of Deborah Esquenazi's documentary footage, she wooed supporters. Asked about how the world had changed during her time in prison, she described going to a restaurant and noticing families eating together in silence while each member stared at a smartphone. "That's so rude," she said. Everyone laughed.
Roughly a year later, in late October 2013, attorney Mike Ware filed writs for all four women. Though he mentioned Stephanie's recantation, and mistakes made by police and lawyers involved in the original trial, his primary argument was that Dr. Kellogg's testimony was inaccurate, since the medical understanding of what constitutes evidence of sexual abuse had changed.
In September, a new state law had taken effect, passed in the spring by the Texas Legislature. The statute made it easier to challenge convictions based on outdated forensic evidence. Lawmakers passed the measure with a host of recent scandals in mind, including debates over arson science, use of dog scents in police lineups and "shaken baby syndrome." The San Antonio Four case will be one of the first tests for the new statute. Dr. Kellogg has told the Bexar County District Attorney's office that her initial claims at the trial are outdated and that she wouldn't offer the same testimony today.
Kellogg's admission suddenly undermined the key evidence in the case. District Attorney Susan Reed agreed that the women could be released on bond pending further legal wrangling in the spring, and that she wouldn't attempt a retrial. They also wouldn't face sex offender restrictions.
Elizabeth's mother called her grandson to tell him that his mother would soon be released.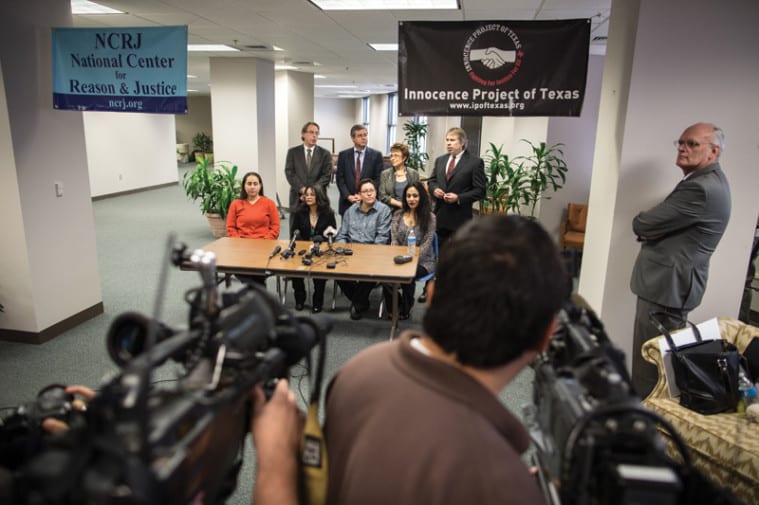 The sun started to set as family members and friends of the four women lined up outside the county jail, breathing in sharply each time the doors opened. It was Nov. 18, and they had been waiting since that morning, having skipped lunch because the release seemed imminent. A friend had brought 10 outfits on hangers, including black slacks and blouses in various shades of blue and gold, so the women could "pick what they'd like to wear."
The cameramen turned on their night-lights, which reflected off the glass of the jail door. The sheriff's spokesman came out and explained that the jail still needed a form from the Texas Department of Criminal Justice. He went back inside as everyone exhaled.
Then, only a couple minutes later, the spokesman came back out breathless. The cluster reassembled. The cameras blinked on. Paper bags of the women's belongings were passed through the door.
Anna, Cassie, Kristie and Elizabeth emerged from the jail, holding hands in a line with Mike Ware, and raised their arms up. The crowd cheered. Cameras flashed and clicked as the women were engulfed. It was nearly silent, except for little clusters of words between the sobs. "I'm your grandmother," Cassie said to her daughter's 2-year-old girl. She, along with Kristie, had been in prison for 13 years. Elizabeth had been incarcerated nearly 17.
The crowd followed the women down the jail steps. They looked like celebrities inundated by paparazzi. Elizabeth was completely lost in the huddle. A car provided by the Innocence Project of Texas whisked them away.
The first days back were like returning from a long vacation. Some things were familiar: Elizabeth savored a strawberry shake from McDonald's and watched a Spurs game on television; Cassie went to a cookout for her son's birthday. The new technology was fascinating, but so were social mores. They stared in awe as two women kissed openly at a convenience store. Gay rights activists treated them like rock stars. Strangers congratulated them. When Elizabeth went to get a haircut, the hairdresser wouldn't let her pay.
Two days after their release, the women appeared at a hastily arranged press conference. Surrounded by cameras from local and national media outlets, the women thanked the DA's office and the media "for letting us tell our story." They also thanked Darrell Otto, over and over again, though none of the reporters asked about him.
The lawyers, standing in a row behind them, answered the big-picture questions about the new state law and the legal actions to come. But they were careful to say little about Javier and his daughters.
When one reporter asked whom they blame, Kristie offered, "I don't think we blame anybody." Ware jumped in and said the blame goes to "a number of factors and people, and that's not something we're going to get into."
Philip Kazen, Elizabeth's prosecutor, is now a judge. Dr. Nancy Kellogg is still a respected member of the San Antonio medical community. Both will be thrust into the limelight in the upcoming legal battles over the case. The Innocence Project of Texas hopes to perform a systematic review of child sex assault cases around Texas, and Kellogg may find more of her work questioned.
Though the women are free, they're not exonerated. A local judge still must make recommendations to the Court of Criminal Appeals about whether to throw out the convictions and how to rule on some of the women's lawyers' arguments. Ware expects a battle over whether the women are declared "actually innocent," a designation that would entitle them to compensation from the state for their imprisonment.
Ware and the other lawyers for the women have said that no matter how much the ongoing investigations may cast doubt on the legal and medical context for the convictions, much about the case will remain a mystery. "I look at this as a giant jigsaw puzzle," said Mary Burdette, an investigator hired by the lawyers, "and sometimes a piece is missing and it's just gone."
If this case returns to court, VL may be the focus of a high-stakes cross-examination over whether she told the truth as a child. Javier told me that his daughter "wants this all to go away," that she still wakes up in the night crying about what happened to her, and that he'll do anything he can to protect her. He may even take the stand and say again what he has always repeated, that he did what any parent would do. "I trusted Elizabeth, that she wasn't going to hurt my daughters," he said. "She would do the same thing if somebody was hurting her child."
Elizabeth herself, several months earlier, had said nearly the same words. "Being a mother, if anything like that happened," she told me, "of course I would try to do anything I could for my son."
We were sitting in a wide, sunny visiting room at the Hobby Unit. Elizabeth had nervously trudged out of the cellblock, wearing purple eye shadow that contrasted with the white prison scrubs. She spoke confidently, her voice cracking a little when she talked about Kristie, Cassie and Anna, and her son. She had not spoken to him for 13 years, though family members had updated her on his growth, his football games and his girlfriends, and informed her that "he was staying out of trouble." He is now 18, with a job and a girlfriend. She never stopped sending him letters.
"I think I'm going to wait for him to come to me," she told me shortly before her release. "I've kind of prepared myself for the feelings he might have, that I abandoned him."
Several weeks later, the night she was released, she met him for dinner at Pizza Hut. "He called me 'Mom,' and I had a big old lump in my throat. He said, 'I love you.' He held me so tight. He didn't want to let me go."