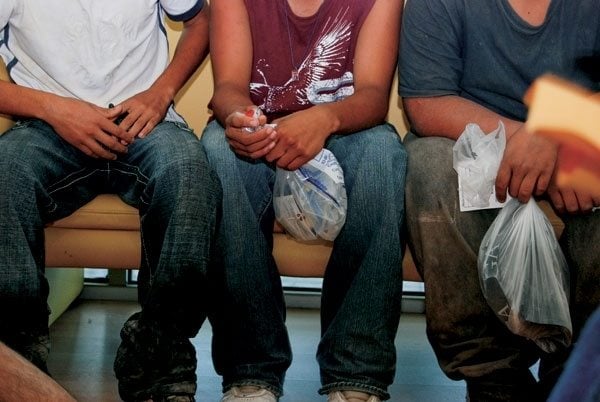 Military Base Reopened as Emergency Shelter for Central American Children
Above: Unaccompanied Mexican children waiting to be processed in Reynosa, Mexico
The U.S. government has reopened an emergency shelter at Lackland Air Force Base in San Antonio to house unaccompanied children from Central America.
Government officials had estimated as many 60,000 unaccompanied kids—the majority of them from Central America—would be apprehended at the border this year, but now officials predict it will be 70,000 or more.
"The shelters are running out of bed space," says Lavinia Limon, CEO of the nonprofit advocacy organization U.S. Committee for Refugees and Immigrants. At least 75 percent of the children traveling without a parent or adult relative are from three countries: Guatemala, El Salvador and Honduras.
On May 12, the Secretary of the Department of Homeland Security Jeh Johnson declared "a level-four condition of readiness" in the Rio Grande Valley, according to the New York Times, which allows the department to receive resources from other federal agencies when it's been overwhelmed. The level-four declaration also triggered the reopening of Lackland Air Force Base as an emergency overflow shelter. The military base was used as an emergency shelter for two months in 2012.
The military base will temporarily house at least 1,000 children, says Kenneth Wolfe, deputy director of public affairs for the Administration for Children and Families, which provides care and shelter to the children as an agency under the U.S. Department of Health and Human Services.
Since 2011, the number of unaccompanied children in U.S. government shelters has skyrocketed from 8,000 to more than 60,000 this year. Limon said that officials had worked to significantly shorten the time in detention as a way to deal with the surge in child migrants but the rapidly increasing number of children outpaced them. The increase in children trying to immigrate to the U.S. is due to several factors, including deteriorating security and economic conditions in Central America. "Honduras is the murder capital of the world," Limon says. "Children are willing to risk the dangerous journey because they think it's less dangerous than staying home."