How 'Mad Moms in Minivans' Injected Themselves into Texas' Anti-Vaccine Debate
Fringe Factor
How a 'group of mad moms in minivans' injected themselves into Texas' anti-vaccine debate
In 2015, Jackie Schlegel, a coffee-fueled mother of three, launched Texans for Vaccine Choice with what she later described as "a group of mad moms in minivans." Angry over a bill that would've made it harder for parents to opt their kids out of vaccinations, Schlegel and other mothers plotted their revenge. Their target: bill author Representative Jason Villalba, a moderate-ish Republican from the Dallas area.
After the session, Schlegel's group campaigned for his Republican primary opponent, claiming to have knocked on more than 10,000 doors. Villalba narrowly won, but the pressure caused him to back off. "I'm not interested in a suicide mission on this issue," he told the Texas Tribune in 2016, and he did not let his vaccine legislation again this session. "We silenced him," Schlegel said at an April rally.
In 2017, Schlegel and her allies were even more organized at the Capitol. They didn't pass any major legislation, but they did manage to repel bipartisan efforts to expand reporting on vaccine exemptions in schools, among other pro-immunization measures. They also succeeded in helping to pass a measure that prevents courts or Child Protective Services from removing a child from their home on the grounds of vaccination status. At the end of June, the group, which is organized as a political action committee, announced its first round of campaign contributions to state lawmakers.
"We've made not only huge progress for Texas, but we've paved the way for the rest of the nation," Schlegel said in a video on Facebook. She proudly calls Texas the epicenter of vaccine choice in the world.
For Schlegel, the fight is personal. She says her 16-year-old daughter, Ashlyn, who is diagnosed with autism, is permanently disabled due to a vaccine injury. The Centers for Disease Control and Prevention recommends vaccinations and says there is no link to autism.
Texans for Vaccine Choice did not return requests for an interview.
Schlegel is irritated when people refer to her or her group as "anti-vaccine." She's not against vaccines, she says. She believes in "parental choice," "medical privacy" and "liberty" — powerful conjuring words in Texas politics. Mandatory vaccinations are lawmakers "reaching their hands into our homes and taking our rights," Schlegel said.
The success of Texans for Vaccine Choice mirrors that of its closest allies in the Capitol, the House Freedom Caucus — both small but vocal groups that derive power from persistence and a penchant for hyperbole.
"Someone asked me, 'Why do you associate with those crazy vaccine people?'" said Representative Jonathan Stickland, a Freedom Caucus member from Bedford, at the April rally. "And I said, 'Cause I am one!"
The fight for more vaccine exemptions worries medical experts. The number of children with "conscience" exemptions in the state has risen from about 2,300 in 2003 to about 44,700 in 2016. A study last year found measles vaccination rates in some Texas counties had dipped close to the 95 percent threshold required for herd immunity. Doctors are concerned the state will again face a slew of preventable illnesses, following a 2013 measles outbreak linked to a Fort Worth megachurch.
Schlegel calls vaccine advocates the "Pro-Grab-Them-and-Stab-Them-at-any-Cost Camp." A blog post from Texans for Vaccine Choice says herd immunity is a "theory" that's "questionable at best."
Photos from the group's post-session victory party in June show Schlegel wearing a glittery American-flag top hat, posing with far-right legislators Bill Zedler and Tony Tinderholt. The party was held in Villalba's district, a fact that "made it even sweeter," the group posted on Facebook.
With the far right ascendant in Texas politics, once-marginal ideas and people have found a place in the political mainstream. Fringe Factor is an introduction to the often-unknown, but influential activists, thinkers and operatives who play a growing role in shaping the state.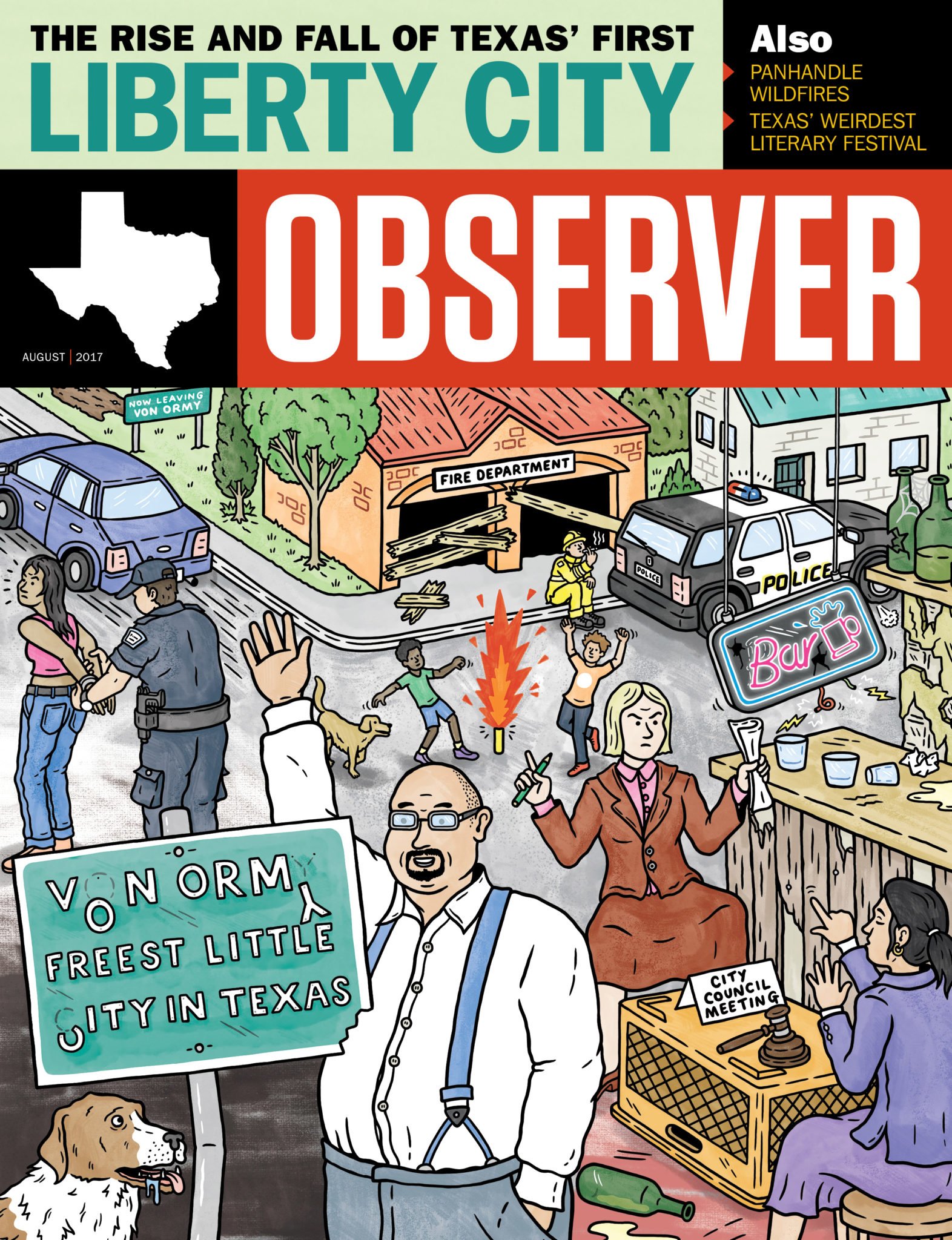 This article appears in the August 2017 issue of the Texas Observer. Read more from the issue or become a member now to see our reporting before it's published online.