Civil rights groups accuse Texas of implementing a layer-cake of voter suppression techniques.
Restricted voting hours for college students, translators barred from polling places in immigrant-heavy communities, an aging fleet of voting machines prone to botching ballots — those are just some of the problems Texans experienced so far during early voting.
Civil rights groups accuse Texas GOP leaders of implementing a layer-cake of politically motivated voter suppression techniques. In recent years, Republican elected officials have fought to uphold racially gerrymandered district lines drawn to neutralize the state's growing minority vote, which experts say contributes to voter apathy and Texas' bottom-of-the-barrel turnout. They have pushed to implement confusing voter ID rules that the courts have repeatedly found to disproportionately harm minority voters. They've balked at making voter registration available online or otherwise easier and stymied get-out-the-vote efforts targeting young people.
"It's a panoply of voter suppression," said Leah Aden, deputy director of litigation at the NAACP Legal Defense and Education Fund. "Texas has actually gotten very good at it."
GOP-led efforts to restrict the vote, justified by the myth of widespread voter fraud, grew bolder after the Supreme Court in 2013 struck down a key provision of the Voting Rights Act that helped police states like Texas with a history of discrimination against minority voters. Across the country, purged voter rolls and the shuttering of polling places have disproportionately targeted minority communities, which themselves disproportionately vote Democrat.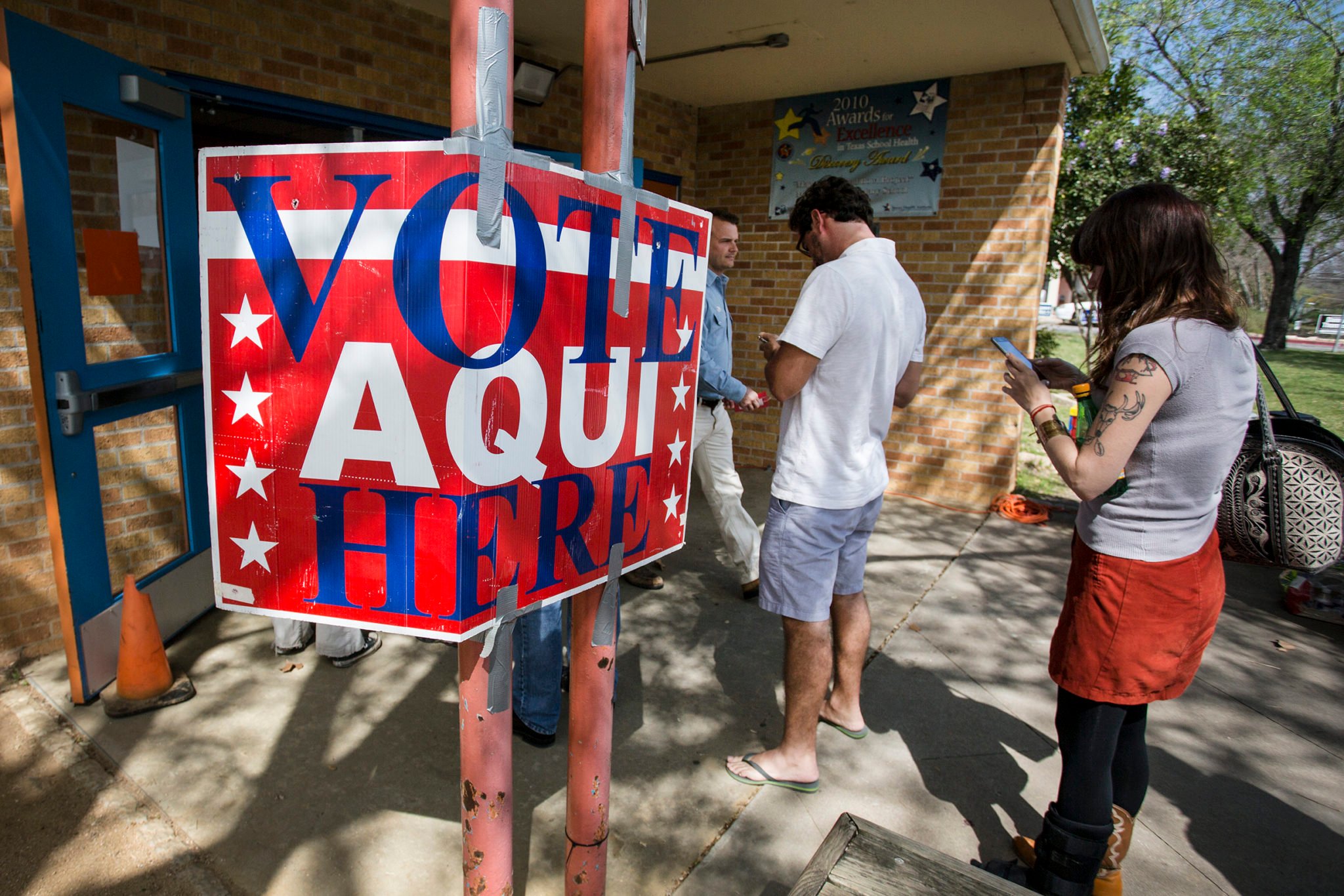 Aden says macro-level efforts by state officials dovetail with localized decisions that make voting harder in certain communities. For instance, last month Aden and her team sued Waller County officials, alleging they had limited early voting hours at the historically black Prairie View A&M University campus as part of a "decades-long pattern of unconstitutional racial and age-based discrimination against Black student voters." The majority-white county didn't give the majority-black city a polling site for the entire first week of early voting, despite whiter areas of the county having numerous opportunities for early voting. The same week, the Texas Civil Rights Project threatened to sue Hays County, prompting officials to extend early voting days at the Texas State University campus, where students at one of the state's largest universities had begged for more time amid high turnout and hour-and-a-half lines.
Both organizations also raised concerns about the nearly two decade old eSlate voting machines on which almost half of registered voters in the state will cast ballots. Last week, the NAACP Legal Defense and Education Fund asked the Texas secretary of state for an emergency audit of the machines after people attempting to vote straight-ticket reported that their ballot mysteriously changed from Beto O'Rourke to Ted Cruz. The secretary of state's office, which has blamed the issue on user error, has yet to conduct an audit. Despite past problems with the machines, the GOP-controlled Legislature has refused pleas from county election leaders to pony up funds to upgrade the state's election infrastructure.
Meanwhile, in Harris County, election workers at a Spring Branch polling site, where Korean-American voters had been encouraged to cast their ballots, blocked interpreters from asking Korean-speaking voters if they need help while waiting in line. Civil rights groups have accused Harris County Clerk Stan Stanart, a Republican in charge of the county's elections, of misinterpreting Texas' election code in order to restrict the rights of limited-English-proficient voters.
In the final push before Election Day, Stanart, who up until last week featured George Soros-related conspiracies on his re-election website, sent out campaign mailers that look conspicuously like voter registration cards, warning that Democrats could control county elections if he loses on Tuesday.
Remarkably, Stanart's mailers list "intimidation" as one of the "voter protections" that would be lost.