Greg Abbott's Business-Friendly Cup Overfloweth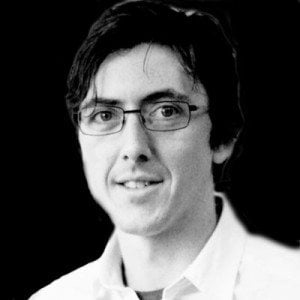 There is no trophy for the state with the worst-funded public schools, no gold stethoscope for the lowest health insurance rate or framable certificate for excellence in income inequality. But there is, by golly, a silver cup for the state with the most new business development, and guess who just won it for the fourth straight year.
You and me, that's who — the great state of Texas.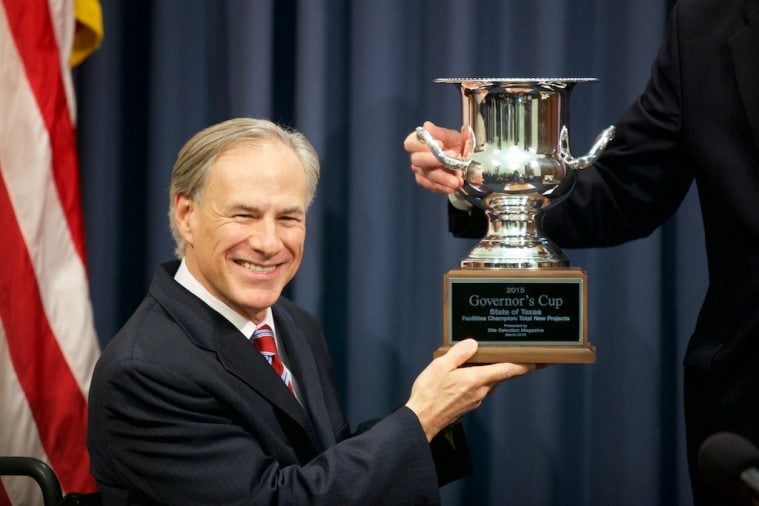 Governor Greg Abbott beamed into the enormous chalice at the Capitol on Wednesday morning as he accepted Site Selection magazine's 2015 Governor's Cup. He did so, he said, on behalf of all of us, but particularly on behalf of the Legislature, his economic development staff and "all the job creators we have." It's a team effort, Abbott said, that keeps Texas winning these things year after year.
At one point Abbott perched the trophy on the edge of a crowded table, beside six others Texas has won since 2004. We've claimed the prize each year since 2010 with the exception of 2011 (when Ohio probably cheated anyway). If this streak continues, Abbott boasted, "We might need another table."
Site Selection is a trade publication built around a proprietary database tracking new business projects across the world. They've handed out the Governor's Cup since 1988 to the state with the most new projects that are worth more than $1 million, occupy at least 20,000 square feet, or create at least 20 new jobs. Last year, Site Selection says, Texas had 702 such projects, up from 689 in 2014.
Fifteen years ago, Texas' poor showing in the Site Selection rankings was used at the Capitol as evidence that we were losing out to other states and needed new economic incentive programs to attract companies. Since then, lawmakers created the Texas Enterprise Fund, the Emerging Technology Fund and the Texas Economic Development Act, all of which were meant to inspire the sort of major development that Site Selection measures. These handouts were a hallmark of Rick Perry's cross-state job-rustlin' years.
By 2012, the New York Times found, Texas was handing out $19 billion a year in corporate tax breaks, by far the most in the country. Earlier this year, the nonprofit Workers Defense Project and University of Texas researchers found that ending just a few of these corporate subsidies could pay the tuition for every college applicant in the state each year, with $500 million left over. The Observer's cover story this month (which we'll post online next week) focuses on one such program, called Chapter 313, which is managed by school districts and will soon cost Texas nearly half a billion dollars a year.
In a state with already low taxes, it's worth considering what all these handouts are getting us. Until this year, Texas hasn't had a system for judging which tax breaks helped to lure new business and which were handouts. Last session the Legislature created a business incentive oversight board, part of Abbott's broader post-Perry reforms, but it has yet to issue any recommendations to the Legislature. Lawmakers are generally wary of doing anything to upset the Texas Miracle.
There is at least one giant, shiny measure — one you can drink from, if you catch my drift — that suggests Texas' economic development strategy is working. Over the last decade, Texas has been the Governor's Cup equivalent of the U.S. women's soccer team. Toyota moved its North American headquarters to Plano and built a new plant in San Antonio. SpaceX is buildings its new launch site on the beach east of Brownsville. Samsung, Amazon and Apple have all expanded their presence here.
On Wednesday Abbott explained why he thought Texas has performed so well. He mentioned the lack of a state income tax, our good transportation network and our good schools, and noted that the Legislature cut the business tax, committed $40 billion for roads in the next decade and added new support for pre-K education. What he didn't mention were the tax breaks, all those little deal-closing bargains that have steered billions from public services.
Abbott said an official with the call center firm LiveOps, which relocated recently from Northern California to Cedar Park, told him they were drawn to the Austin suburb for its low crime and good schools. Abbott recalled a conversation with an Amazon executive he met outside the company's new warehouse in Scherz. He asked why Amazon was building so many warehouses in Texas. "I thought the answer to the question was going to be that you have lower texas and more reasonable regulations," he said. "That wasn't the answer. Unhesitatingly, the answer was because Texas has a top-quality workforce."
While Texas has been mopping the floor with other states in the Governor's Cup, all that new investment and job creation hasn't made most Texans better off. When it comes to household economic security, school spending, public health — the sorts of things business officials say matter most when they're choosing a place to build — Texas won't be winning trophies any time soon. There's only room for so many of us in the governor's big silver cup.