Don Willett's Quiet Revolution
Social media's most famous judge is at the forefront of a conservative legal movement that's redefining what it means to be a judicial activist. And he's on Donald Trump's Supreme Court short list.
A version of this story ran in the December 2016 issue.
Social media's most famous judge is at the forefront of a conservative legal movement that's redefining what it means to be a judicial activist. And he's on Donald Trump's Supreme Court short list.
If you'd ever heard of Texas Supreme Court Justice Don R. Willett before Donald Trump put him on his Supreme Court short list, it was probably because you followed him on Twitter. Firing off 140-character missives on such subjects as the ups and downs of the Dallas Cowboys, the glory of the Greatest Generation, the splendor of Austin barbecue and, above all, the exploits of his three young children, "the wee Willetts," the 50-year-old judge has attracted more than 60,000 followers, earned frequent mentions in the legal blogosphere and been named — by the Texas House of Representatives — the state's "Tweeter Laureate."
"I am real-time fact-checking my 7YO daughter's bedtime," @JusticeWillett wrote the night of the first presidential debate, in September. "I'm thirsty — FALSE; I'm hot — FALSE; I'm cold — FALSE; I need a band-aid — FALSE."
"Wife says if this gets 5,727 [retweets]—1 for each day of our marriage—I can wear this (or Batman!) when we renew our vows!" the 11-year veteran of the state's highest court wrote next to a picture of him dressed in a tricorn hat and Colonial garb.
"I'm often asked, 'Justice Willett, what's your judicial philosophy?'" the judge mused above a familiar Bill Watterson cartoon of a boy and his pet tiger. The answer? "I'm a devout Calvinist. And Hobbesian."
Such Dad humor served with a side of corn makes Willett sound like a 2016 update of Ward Cleaver — a generous sitcom patriarch who happens to decide legal cases in his spare time — and when you talk to those who know him, that's more or less the picture you get of the of offline man.
"He loves Texas, he loves Americana, he loves bacon," said Willett's friend Josh Blackman, a professor at Houston College of Law.
"His car is a hilarious mess. He has kids' books everywhere and three booster seats in the back," said Willett's former clerk Marcella Burke, an associate in the Houston office of the firm Akin Gump. "He's caring and loving and gentle — a very, very understanding boss."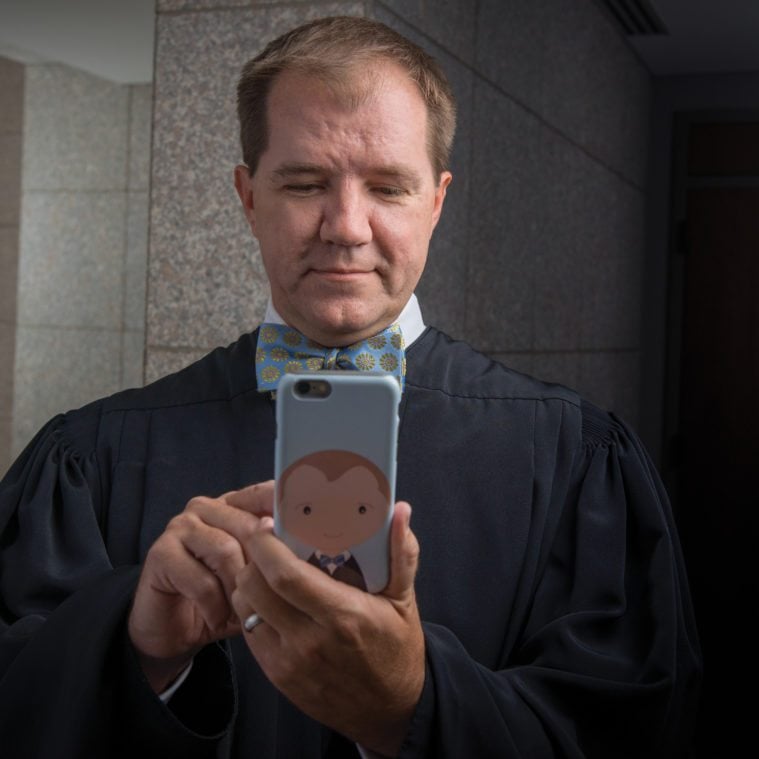 When Willett's law school alma mater, Duke, plays basketball against its archrival, the University of North Carolina, Willett has been known to throw parties for his friends and former clerks. When the justice wants to achieve "what Oliver Wendell Holmes called 'the secret joy of isolated thought,'" he spends all day contemplating legal decisions at his local Chick-fil-A. The late Antonin Scalia, whom Willett knew and admired, might have thrilled to Puccini operas, but Donny Willett is the kind of guy who would rather watch the game.
That, at least, was the side of Willett most people outside the loftier reaches of the legal world knew until recently. Then Scalia died in February, and the Republican majority of the U.S. Senate refused to consider the matter of his successor until after the presidential election. On May 18, under pressure from the right, Donald Trump released a list of 11 potential U.S. Supreme Court picks. The name that attracted the most attention was Don Willett.
The scrutiny wasn't due to any doubts about Willett's right-wing bona fides — those were as red-meat as you can get. When Willett last ran for re-election in 2012, he was endorsed by the likes of Focus on the Family founder James Dobson, Christian revisionist historian David Barton and Empower Texans CEO Michael Quinn Sullivan. No, the reason Willett attracted the spotlight was Twitter.
Social media sleuths had combed through @JusticeWillett's feed and found such Trump-mocking gems as "We'll rebuild the Death Star. It'll be amazing, believe me. And the rebels will pay for it. —Darth Trump." Within the day, the websites of outlets from the Dallas Morning News to People exploded with variations of the headline "9 times Texas Supreme Court Justice Don Willett dissed Donald Trump." While some political commentators thought Willett's tweets would make his ultimate selection by the thin-skinned Trump unlikely, the president-elect might well favor a judge prone to the occasional insult. But the attention garnered by Willett's Twitter jabs obscured a more relevant fact: While the justice portrays himself on social media as little more than a flag-waving, pun-inclined good old boy, he is also a heavyweight of constitutional jurisprudence, one of the leading lights of a polarizing legal movement that has upended the long-sacrosanct conservative doctrine of "judicial restraint," the mantra of Scalia and Robert Bork.
In a series of high-profile opinions over the past half-decade, Willett has mapped out the contours of this position, championing what libertarian attorney Chip Mellor termed "judicial engagement," a more aggressive approach to reviewing (and sometimes declaring unconstitutional) government regulations, particularly those that relate to economic and property rights.
Mellor is the co-founder of the Institute for Justice, an influential libertarian law firm started with seed money from Charles Koch. But Willett, whom Mellor endorsed for reelection in 2012, is a sitting judge, and his opinions have a real-world power that policy writing does not. Offering up phrases such as "police power cannot go unpoliced" and "liberty is not provided by government; liberty preexists government," Willett has taken the language of judicial engagement and deployed it to explain why he and his colleagues have decided to strike down actual laws.
Willett's most famous opinions have come in cases that are deceptively narrow, but which in fact offer a map to reshaping the role of the judiciary. His widely read concurrence in 2015's Patel v. Texas Department of Licensing and Regulation sided with a majority that struck down a licensing regime for Texas eyebrow threaders that required 750 hours of training. But as Willett made clear, the case concerned deeper issues than the cosmetology education of Ashish Patel. The case, Willett wrote, was "fundamentally about the American Dream and the unalienable human right to pursue happiness without curtsying to government on bended knee."
What Willett left ambiguous was exactly how far this unalienable human right extended and what exactly qualified as "curtsying." Does his vision of judicial engagement involve nullifying only those laws and regulations that nearly everyone agrees are unreasonable and unfair? Or would a U.S. Supreme Court that followed Willett's logic declare that everything from minimum-wage laws to labor-union organizing to environmental regulations is a constitutional infringement?
"What you don't know with Willett is whether a decision like Patel is kind of the camel's nose under the tent," said Sandy Levinson, a left-leaning professor at the University of Texas Law School who admires Willett's legal thinking, if not always his legal conclusions. "Is he going to keep going on and on with this opinion and become far more interventionist? If it is the camel's nose, then maybe the safest thing to do is not give him the first inch."
The first time I met Willett, he was in the midst of receiving a hero's welcome. Sitting onstage at an Austin conference of the Federalist Society, a leading conservative legal group, he smiled as Diane Kozub, one of the organization's Texas leaders, told the audience that Willett's Patel concurrence had "warmed" her heart. "I felt myself pumping my fist a lot of times during the reading of it," Kozub said, "and I suspect it would be the same with you all."
Willett sported a polka dot bow tie, a shimmering gray blazer and a purple pocket square, and as his session on "Texas and regulation" commenced, he eagerly engaged the audience.
"This topic really lays bare a pretty spirited, pretty feisty debate, kind of roiling the legal community," Willett said, in his characteristic blend of scholarly analysis and down-home speech. "It's a debate that really does conjure legal buzzwords and legal pejoratives galore. You've got activism versus restraint. You've got deference versus dereliction. You've got adjudication versus abdication. And the rhetoric at times can get a little overheated."
At one point, when a panelist reminded the audience that "judges in Texas are elected officials," Willett mimed a boxer's weigh-in pose, flexing his biceps like a happy and confident champ. In his last election, Willett had won nearly 80 percent of the vote.
Willett's legal views are why he's invited to speak at Federalist Society conferences, but it's his personal warmth and up-from-the-bootstraps biography that make him a successful politician. He started tweeting as a means of voter outreach. He proudly touts not only his conservative résumé, but his bipartisan friendships. (Willett's law school classmate Raphael Winick, now an assistant general counsel at Disney, told me that he's donated to only two campaigns in his life: Willett's for Texas Supreme Court and Bernie Sanders' for president.)
When Willett gives interviews to the press, he does so almost entirely over email, allowing him to stick to talking points and recycle tried-and-true sentences word for word. Read about Willett, and you're almost certain to hear about the unshakable work ethic of his truck-stop waitress mother, Doris ("In [her] 55 years of waitressing, she had walked roughly from the earth to the moon"), and his boyhood in the town of Talty ("so small our zip code began with a decimal!"), and his years with Greg Abbott's "high-octane" (sometimes "high-voltage") Attorney General's office.
Willett's policy of careful, canny disclosure might be prudent for a sitting judge seeking to project impartiality, but it also seems to be part of his DNA. No one gets onto a Supreme Court short list unless he's hugely ambitious, but, according to his old friends, Willett never came across as a striver. Everyone liked Donny, as he was called, and while his friends saw him as a natural and gregarious leader, many were surprised that his career as a political adviser, prosecutor and judge took off on such a heady trajectory. If he harbored lofty goals, he kept them to himself.
Willett is the adopted son of parents who didn't graduate from high school, and he lost his father when he was 6. The Willetts lived out in the country, and with his father gone and his mother working long hours, the young Donny got used to spending time alone. He read everything he could, and spent a lot of time in the woods, hitting baseballs to his dog Tinker on meandering walks. Still, Willett hardly lived an isolated existence. He was a top student, a rodeo bull rider as a young teen and, later, an enthusiastic drummer who played at bars and clubs around Dallas.
"I was fairly well-rounded and participated in most everything," Willett told me in an email. "Football, Little League, basketball, tennis, track (pole vault and discus), FFA and band throughout high school, student government and other extracurriculars, and was also very active in my church (choir, youth group, etc.). I didn't carouse or have a curfew."
Willett graduated from Forney High School in 1984 and began his undergraduate education at Baylor that year. It proved a good fit for a devout Baptist from North Texas. There, Willett triple-majored in economics, public administration and finance, regularly attended services at Columbus Avenue Baptist Church, and spent much of his free time volunteering for the university's chamber of commerce, a men's school-spirit organization that coordinated major campus events.
"We worked on [the chamber] so much we joked that if we'd gotten paid, we wouldn't need retirement accounts," Willett's former roommate Cody Knowlton told me.
But while Willett dedicated himself to the group, Knowlton didn't give much thought to his friend's leadership capabilities.
"He never wore his smarts on his sleeve," Knowlton said. "I had no inclination that Donny would go to law school until he walked into our apartment one day and said, 'I'm going to Duke.' That was the way he operated."
At Duke, Willett cut a similar profile. Everyone knew he was a conservative Christian from small-town Texas, but he wore it lightly. He proudly cultivated friendships with people from backgrounds very different from his — among them future Obama appointee Todd Hughes, the nation's first openly gay federal circuit court judge — and while he wasn't a partier, he injected himself into the social scene. As the regular starting pitcher for his intramural softball team, Causa Mortis, Willett helped guide the club to back-to-back Duke Law School championships. (His nickname on the team: The Truth.)
Willett's mentor at Duke, professor Thomas Metzloff, told me that the future Texas justice always struck him as public-service minded: "For Donny, this was never about 'How can I make a lot of money at a big New York or D.C. firm.'" But neither Metzloff nor Willett's peers imagined him as harboring specific ambitions for elected office or even being passionately political. "I was really surprised when he ended up working for Governor Bush and then President Bush," Winick said. "I thought he might become a small-town lawyer — and be great at it."
Willett's entrance into politics, nonetheless, came swiftly. After Duke, he moved to Austin to clerk for 5th Circuit Court of Appeals Judge Jerre S. Williams, a Jimmy Carter appointee, and afterward took a position at the firm of Haynes and Boone while moonlighting as a fellow at the conservative think tank Texas Public Policy Foundation. In 1996, he became an adviser to Governor George W. Bush, working on a wide range of issues, among them how to forge a closer relationship between religious institutions and the government. Willett followed Bush to Washington, D.C., to do similar work, but he had judicial aspirations and didn't plan to stay in the capital long. In November 2002, a former Texas Supreme Court justice named Greg Abbott won the race for Texas attorney general and began assembling a team of young and talented right-wing lawyers who were tasked, Willett remembers, with "scouring the national legal landscape and positioning Texas at the vanguard of conservative legal dynamism." Among Abbott's first hires were two longtime Bush hands: Ted Cruz and Donny Willett.
Willett's time in the Texas Attorney General's office was short. In December 2004, Governor Rick Perry nominated Willett to the Supreme Court. Willett had never served as a judge, and some legal insiders groused that he was merely a political appointee. Willett's state senator, Austin Democrat Gonzalo Barrientos, vetoed his selection. But a few months later — after Willett had moved to the district of Republican Senator Jeff Wentworth for what he said were family considerations — Perry nominated Willett again. This time he sailed through confirmation and took his place on the court.
When Willett gets a new class of law clerks, he assigns them two books co-written by Scalia, Reading Law: The Interpretation of Legal Texts and Making Your Case: The Art of Persuading Judges. Willett told me he assigns the books because of the way they "methodically examine the bread and butter of modern-day appellate judging — statutory interpretation," but he also admitted to enjoying Scalia's writerly "gusto and occasional pyrotechnics." As a Texas Supreme Court justice, Willett seems to have taken both sides of Scalia to heart.
In his opinions, Willett rarely misses an opportunity to reference pop culture or history, hopscotching between references to Ferris Bueller's Day Off, Rube Goldberg machines and Alexis de Tocqueville — all the better if he can mix in a little home-state trivia.
As Willett wrote in 2011: "Intrepidity at the Alamo; entering the United States as the Republic of Texas; 58 Texas-born recipients of the Medal of Honor; Bob Wills and George Strait; Nolan Ryan and Babe Didrikson Zaharias; five Super Bowl titles (sadly none this millennium); Dr Pepper and the 'little creamery' in Brenham; deep-fried anything at the State Fair; a spirit of daring and rugged independence — the sources of Lone Star pride are innumerable."
Such flourishes, though, are merely frosting, Willett's idea of fun. During his time on the court, Willett has shown a wide-ranging curiosity, wrestling with whether bloggers should be considered members of the media, whether pet owners can sue for sentimental damages, and, most controversially, whether Texas' school funding system is constitutional. (He marshalled all eight other justices to back his opinion that, for the first time in decades, it was.) But he has become best known for articulating a skeptical vision of state power, a robust view of individual rights, and a central role for the judiciary in striking a balance between the two.
Willett's first opinion to attract major national attention came in 2010's Robinson v. Crown Cork & Seal. The case involved a byzantine legal question: whether a 2003 tort-reform law could be applied retroactively to a widow's lawsuit. But Willett, in siding with the majority view that said it couldn't, drafted a concurrence that went beyond the statutory issues at hand and delved deep into the proper roles of the branches of government.
"Judges are properly deferential to legislative judgments in most matters," Willett writes in his Robinson concurrence, "but at some epochal point, when police power becomes a convenient talisman waved to short-circuit our constitutional design, deference devolves into dereliction." In other words, the Legislature had deployed its broad regulatory powers to trample a widow's rights, and it was imperative for judges to intervene on such occasions.
In 2014, Willett argued a similar position in El-Ali v. Texas, a case that placed the state's civil forfeiture practices before the court. Could police seize as contraband a vehicle that was involved in a crime even if its owner had nothing to do with the infraction? Willett thought such a policy placed government interest unfairly above individual property rights, ensnaring "those least capable of protecting themselves, poor Texans who usually capitulate without a fight because mounting a defense is too costly."
After reading Willett's Robinson concurrence, Washington Post columnist George F. Will, one of the first national figures to follow Willett's legal opinions closely, had declared that its logic could be used to strike down the Obamacare's individual mandate as an overreaching use of the Commerce Clause. Greg Abbott agreed. As he put it, Willett's skeptical approach to government economic regulation was "the judicial remedy to Obamacare."
But the case that made Willett into a judicial rock star was 2015's Patel v. Texas Department of Licensing and Regulation, the lawsuit involving eyebrow threaders and their 750-hour training requirements. The Institute for Justice, which also represented Zaher El- Ali, had brought the suit on behalf of the threaders and was looking to raise broad constitutional issues.
"Economic liberty cases are few and far between, and virtually all of them are litigated in federal court under the Fourteenth Amendment," Willett wrote to me. "I recognized instantly what a landmark case it was."
He made this plain in the case's oral arguments. Less than a minute into the statements of Texas Assistant Solicitor General Dustin Howell, Willett interrupted him with a question that cut to the core of the issue:
"As a fundamental matter, does the state agree that its people have a constitutional right to earn an honest living free of arbitrary government interference?"
When Willett ran for his first full term on the Texas Supreme Court in 2006, he cast himself in familiar conservative language. "Every Texan I've met along the campaign trail expects one thing: for me to honor my commitment to judicial restraint," he said at the time. It's unlikely he will characterize himself like that again.
Over the past decade, the conservative judicial movement has split into two wings: One that remains committed to old-fashioned judicial restraint — frequently deferring to legislatures — and one that has found a use for judicial engagement, a more aggressive approach to reviewing legislative action. Nowhere has this split been more pronounced than in the two groups' views of the U.S. Supreme Court's infamous 1905 decision in Lochner v. New York, in which the justices struck down a state regulation limiting the working hours of bakery employees on the grounds that it violated an individual's right of contract.
You won't find the words "right of contract" in the Constitution, nor will you find "economic liberty" or, for that matter, a "right to privacy." That's because these are so-called unenumerated rights — individual liberties that may be implied in various portions of the Constitution, but which are never explicitly laid down. But which unenumerated rights exist? And to what extent? Because of this uncertainty, the unenumerated rights tend to produce the noisiest constitutional controversies, and, when they are defended, they lead to howls of "judicial activism." Lochner laid bare just such a controversy.
In his Lochner dissent, Justice Holmes wrote that his colleagues had invented a "liberty of contract" in the Constitution in order to implement laissez faire capitalism and Social Darwinism. And for three decades after Lochner, courts routinely struck down laws on the basis that they interfered with individual economic liberty. In 1936, after the Supreme Court invalidated a New York minimum-wage law, Franklin D. Roosevelt griped that the judiciary, operating with Lochnerian logic, had established a "'no man's land' where no government — state or federal — can function."
But Lochner fell out of favor not long after, and over the past half century, conservatives led the way in casting the 1905 decision as the antithesis of responsible jurisprudence. When the liberal Supreme Courts under Chief Justices Earl Warren and Warren Burger handed down decisions such as Griswold v. Connecticut and Roe v. Wade, conservatives charged them with doing what the Lochner court had done: locating a made-up right in some vague passage in the Constitution and using it to justify their ideological biases. It was safer to have judges exercise "judicial restraint," conservative legal scholars such as Bork felt, which meant giving a wide berth to legislators when they passed laws that affected the unenumerated rights — whether abortion restrictions or occupational regulations.
But starting in the 1980s, and especially during the presidency of Barack Obama, conservatives have been warming to the idea that judges can apply far more probing scrutiny to legislative actions relating to unenumerated rights. If liberals could strike down laws on the basis of a "right to privacy," why, the thinking went, should conservatives be wary to challenge laws that encroached on economic and property rights? Willett's concurrence in Patel was a full-throated endorsement of this new view.
"Must courts rubber-stamp even the most non-sensical encroachments on occupational freedom?" Willett asked about the state's 750-hour training requirement for eyebrow threaders. "Are the most patently farcical and protectionist restrictions nigh unchallengeable, or are there, in fact, judicially enforceable limits?… Laws that impinge your constitutionally protected right to earn an honest living must not be preposterous."
Some conservatives rejoiced at Willett's gutsy opinion. "Is this the most libertarian legal opinion ever written?" asked Reason Magazine. "If Patel were applied in other states, the nationwide trend of fewer economic liberty victories in state court could be reversed," read a story on the Federalist Society's website. Once again, George Will found himself in lockstep with Willett, comparing the Texas judge favorably to Chief Justice John Roberts and suggesting, a year before Trump, that Willett would make a good pick for the U.S. Supreme Court.
But the opinion was far from universally embraced. Progressives wondered if Willett in calling for "economic liberty" to be treated as a central constitutional right had his sights set on returning America to the Lochner era. New York magazine's Ed Kilgore opined that Willett might well consider a "revival of early-20th-century jurisprudence invalidating social programs and business regulations on a broad scale." Austin attorney and activist Fred Lewis told me he felt Patel was "one of the rankest attempts at judicial activism that [he'd] seen in many years," an attempt to impose libertarian market ideas by finding non-existent economic rights in the Texas Constitution.
"Right-wing legal think tanks look for a case like Patel — where there's a weak public purpose for the economic license — and use it to try to resurrect Lochner," Lewis said. "Courts used Lochner to knock down wage and hour laws, union laws, safety at the workplace laws. This isn't theoretical. This happened."
A few members of Willett's own court of nine conservative Republican judges were perhaps equally dismayed. In his dissent, Chief Justice Nathan Hecht pilloried the court's majority — and Willett, in particular — for opening a Pandora's box of unchecked power from the bench. "Judicial usurpation of authority over the State's policies may provide protection for the economic liberties on which the concurrence waxes eloquent," Hecht wrote. "But it also gives rise to such decisions as Roe v. Wade." Hecht viewed his court like Holmes had viewed his: They'd made an economic policy decision, then figured out a judicial approach to justify it.
When considering Willett's Patel concurrence, the question for libertarians, old-line judicial conservatives and progressives was the same: How far would Willett and other judicial engagement advocates take such a decision? Would a court with a majority of engagement-inclined jurists realize Lewis' worst fears about a Lochner revival? Or was Willett's opinion merely an invitation to invalidate economic regulations like the eyebrow-threading requirements, which many liberals and conservatives agreed were indeed "preposterous"?
Levinson, the UT law professor, told me that after reading Willett's Patel concurrence, he felt that "a lot of that particular opinion makes you feel that you're at a rally for libertarians — he quotes Jefferson and Milton Friedman in certain ways and makes you think the state is a menace." But Levinson also saw a more curious, probing strain. The "more sober pages," Levinson felt, were an effort to find an "intermediate position" between Borkian judicial restraint, which would leave nearly all economic laws unchallenged, and the kind of unfettered libertarian judicial intervention that would slash and burn regulation until all that was left was a "minimalist night-watchman state."
When I spoke with Wallace Jefferson, chief justice for most of Willett's tenure on the Texas Supreme Court (he retired in 2013) and a widely respected Republican moderate, I asked him whether he felt that Willett's Patel concurrence was indeed "the camel's nose under the tent." Did he think, based on years serving with him, that Willett would return Texas, and maybe the entire country, to the Lochner era if given the chance?
"The only way I can answer your question is that that case was about eyebrow threading," Jefferson said. "I don't know whether Justice Willett would come to the same result with different facts and different issues — environmental regulation, oversight of the medical profession, the energy industry, etc. And I think that's a good thing that I don't know. I think Justice Willett is open to persuasion."
Willett, for his part, declined to get into the details. "It'd be imprudent to prejudge specific economic regulations," he wrote to me, but, he added, "without question, many licensure rules are justified by legitimate public health and safety concerns." Future cases would be needed to better define the line between what was "legitimate" and what was not.
Few judges grow old on the Texas Supreme Court. Of the nine current members, all but Hecht joined after 2004. "With the continued politicization of judicial races, it's more of a young person's game now," former Chief Justice Tom Phillips told me. "There aren't a whole lot of 70-year-olds who want to dial for dollars and ride in parades across the state." Phillips and Jefferson retired to private appellate practice at 54 and 50, respectively. Many other justices have made similar moves at similar ages.
But the court has also been a launching pad for political careers. Abbott, U.S. Senator John Cornyn, Austin-area Congressman Lloyd Doggett and former U.S. Attorney General Alberto Gonzales all spent time as Texas Supreme Court justices in the 1990s.
Before the last statewide election, Willett was considered a potential candidate for Texas attorney general, and he might well seek that office one day. But with Trump in the White House, Willett's more likely future appears to be in the federal judiciary, a perch that would give him far more power to spread the gospel of judicial engagement than his current office. It's hard for a Texas Supreme Court justice to establish economic liberty as a fundamental right. An influential federal judge, on the other hand, really could move the country in that direction, particularly if he's on the Supreme Court and has the political skill to convince four of his colleagues to follow his thinking.
Federal judicial appointments are for life, and, as justices such as John Paul Stevens, David Souter and even John Roberts have shown, judges can move in surprising directions. Willett has a more extensive trail of opinions and partisan activities than Stevens, Souter or Roberts, and if Trump nominated him to the federal bench, he would be in for a crushing confirmation hearing in which Lochner, Patel and economic liberty would be scrutinized. Democratic senators would no doubt cast him as a revanchist radical eager to re-examine long-settled pillars of the welfare state, and Willett might well turn out to be just that. George Will told me that he thinks Willett's closest analog on the current Supreme Court is Clarence Thomas, because Thomas is "least likely to genuflect before the altar of stare decisis" — the honoring of judicial precedent. "Clarence's view is if the court made a mistake in the past, you should undo it," Will said. In addition to rulings that give legislatures wide-ranging powers over economic regulation, one imagines Willett might regard Roe v. Wade as one of those mistakes.
But Willett could also prove to be an unexpected thorn in the side of a president eager to enact his agenda by fiat, particularly if he reaches for new and sweeping "police powers." "If Donald Trump recognized that Willett would invalidate regulations that his government passed, he wouldn't be so keen on him anymore," Blackman, the Houston College of Law professor, told me. "I think there could be buyer's remorse." If Willett or another like-minded judge ascends to the court, the Trump presidency may very well put to the test whether judicial engagement is a coherent constitutional philosophy that defends individual liberties, or is, as its opponents allege, merely a conservative policy prescription with a hazy legal justification.
In late September, Willett appeared on a panel at the Texas Tribune Festival titled "Supreme Court Confidential." No secrets were spilled over the course of the hourlong discussion, but Willett played the crowd expertly. He trotted out Rube Goldberg and Godfather references, and talked exuberantly about his Twitter feed and how it would be "political malpractice" not to use it. Then Willett got the question he'd certainly been anticipating, but still felt uncomfortable answering.
"You mentioned malpractice — it would be journalistic malpractice if I didn't ask you this," began the moderator, George Haj, who oversees legal trade publications, including The American Lawyer and Law.com. "Donald Trump put you on one of his short lists of people he would consider for the U.S. Supreme Court. President-elect Trump calls you and says, 'Justice Willett, I'd like to nominate you for Supreme Court.' What do you say?"
A grimace spread across Willett's face, and he tipped forward uneasily in his chair. There was no doubt about what his answer in such a scenario would be — what judge could refuse? — but Willett had long ago decided that being coy about his ambitions was the most prudent course, and if he could do it with a joke and a smile, all the better.
"Couldn't I be the U.S. Tweeter Laureate instead?" Willett asked.