Campus Carry Concerns Drive Another Texas Prof to Resign
A Texas A&M Galveston professor is the third Texas faculty member known to have stepped down because of campus carry.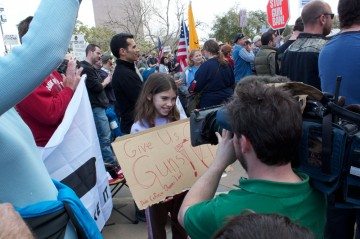 The Observer has learned that another Texas professor has resigned because of concerns about the campus carry law that will allow concealed handguns on college campuses starting August 1.
Wyndylyn von Zharen, a professor of marine sciences at Texas A&M University at Galveston, stepped down in December in part because she feared disagreements between educators and students could turn violent with guns at hand.
"The risk that a student would bring a gun to my office or to the classroom and begin shooting has been substantially enhanced by the concealed-carry law," she wrote in a resignation email to her department head, Kyeong Park. Von Zharen also expressed a desire to pursue research in the Arctic.
In the email, von Zharen referenced confrontations she witnessed between "belligerent, disgruntled" students and "equally disgruntled" professors that escalated to loud arguments.
Von Zharen also stated she worried the presence of guns in the classroom might cause her and other educators to avoid controversial topics, a practice she described as antithetical to the goals of higher education.
"Students must be able to explore and grapple with different perspectives with which they will be confronted in their lives," she wrote.
She is the third Texas faculty member known to have stepped down because of campus carry. A University of Texas at Austin economics professor and the dean of the UT-Austin architecture school resigned last year over the law.
A spokesperson for Texas A&M at Galveston said the university does not comment on personnel matters.
"We're doing plenty to implement the law, but we don't think campus safety will suffer as a result," said Chris Meyer, assistant vice president for safety and security for Texas A&M at College Station.
When it passed the law last June, the Texas Legislature gave universities some discretion on how to implement campus carry.
In April, the Texas A&M Board of Regents approved rules for the College Station and Galveston campuses allowing concealed handguns in classrooms, residence halls, on-campus apartments and private offices, with some exceptions.
Guns are not allowed in child care facilities, counseling centers and all areas prohibited by state or federal law, such as places of worship.
"That TAMUG would even envision a gun-free zone implies that this 'carry' law is indeed dangerous," von Zharen wrote in her email, sent in October. "Therefore, the entire campus, in reality, should be gun free."
Park, head of the marine science department at Texas A&M at Galveston, said von Zharen taught one class remotely during the spring semester while continuing to work with her graduate students. A newly hired faculty member will teach her classes this fall when campus carry goes into effect, Park said.
"As I've always told my students, 'pick your battles carefully,'" von Zharen wrote by email to the Observer. "This is one I felt compelled to pick."