Into the Pines
No one guessed how far Jeffrey Holliman would go to leave his troubles behind.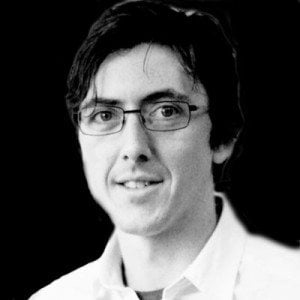 A version of this story ran in the February 2014 issue.
Above: Jeffrey Holliman, in a self-portrait taken with a game camera in the Nacogdoches County woods.
Taz and Kiki knew that trouble was coming from the woods. The two guard dogs—the first a puggle, the other what her owner calls a "chachaweenie"—were small and easily startled, and as the intruder stalked in from the treeline, they sounded an alarm of incessant yips. It was around 3 a.m. on a Friday in March 2013, and inside the Melrose, Texas, house, oblivious to the sound of barking or of the man rummaging in her car, Meagan enjoyed the last night of untroubled sleep she would get for a long time.
She awoke to find her car ransacked and the contents of her daughter's backpack spilled across the floorboards. Her Social Security card was missing from her wallet. She'd had $800 in cash stuffed in her checkbook and stashed in compartments around the car, all gone. The thief had also broken into the car of Meagan's friend who'd been staying at the house—and who had yelled at the dogs to shut up, but hadn't bothered to see what they were barking at—and stolen her purse. Meagan's husband, as was often the case, was traveling for work. The sheriff's deputy who investigated the scene found no clues to the thief's identity, but Meagan knew she wasn't the first in the area to get hit—two days earlier, a fellow coach on the girls' softball team had a break-in, too—and she wouldn't be the last. The thefts would continue for months.
Melrose is a community of about 150 people scattered along a few deep East Texas county roads that converge at a bend in Texas Highway 21, about 10 miles east of Nacogdoches. It's a place that rarely sees change, visitors or serial thieves. Most inhabitants of Melrose grew up there or have family who did, and enjoy the safe, anonymous life of a town that's invisible on most maps and easy to miss as you drive by. There hasn't been a school or a post office in Melrose for decades. There are still two churches, and the thief hit both. He raided the Methodists' kitchen, then stole a computer and more food from the Baptists.
Few residents were willing to discuss the run of break-ins—the sheriff estimates at least 35 in all—that spanned most of 2013. Dyes Kountry Katfish, the last spot in town where locals might gather to gossip about the mystery over iced teas and fried lunch, went out of business in 2011. But privately, in homes or at the school nearby in Woden, residents spun their theories. Popular opinion first blamed delinquent youth on spring break; investigators even pulled kids out of classrooms for questioning. The sheriff's department rushed out for calls about suspicious vehicles that could be the thieves' getaway cars. Deputies patrolled Melrose at night in unmarked cars and called in the Texas Department of Public Safety to fly over the area. But the break-ins continued—cars, homes and abandoned trailers—without a sign of the culprit. Cash and Social Security cards disappeared from wallets, but oddly, not checks or credit cards. The thief plucked food, guns and other tools of the outdoors from their homes, but perhaps most disturbingly, he robbed residents of the secluded security they prized above all.
Meagan adapted to the fear. (She asked that the Observer withhold her last name because she's still concerned for her safety.) Whenever Meagan returned home from work alone, she always had somebody on the phone. She'd fling the door open dramatically like a TV cop, in case the burglar was inside. She and her husband installed motion detectors and lights around the house. "My yard just glows like an airport now," she says. At night, she left the TV on. She slept on a couch in the living room, between her daughter's bedroom and the front door. Some nights she laid awake, peering out the window and listening.
A little after 3 a.m. one morning in May, Meagan awoke to pounding on the door. Blue and red lights flashed in the window, and she opened the door to find four sheriff's cars in her driveway. The thief had returned. The dome light in her car was on, and the Pop Tarts she carried around for her daughter were on the roof. Her husband had left town again the morning before—he'd taken a rental and left his truck in the driveway as a decoy. Meagan saw the truck hadn't been touched, only her car, which the thief seemed to have fled in a hurry. Her neighbor had called the sheriff after spotting a man rifling through the neighbor's van. In the dark, she hadn't gotten a good look at him—all she'd really seen was his black hoodie. Investigators with flashlights searched the dark road for signs of a getaway car. Deputies peppered Meagan with questions and dusted her car seats for prints, and in the midst of the commotion, Meagan noticed her dogs barking in the distance.
The security lights in her backyard blazed, trailing off into the darkness of the thick trees beyond.
The civilized world had not lately been kind to Jeffrey Holliman.
He was a Navy veteran who once ran his own business installing phone and computer systems, then launched a comic-book publishing house, and had most recently managed the local water utility. He'd been a husband twice and a father five times. He was an intelligent man with big ideas, a world traveler and an entrepreneur, but in September 2012 he was without a home, a car or a job. Living in Melrose, without a way to get to Nacogdoches, he had no job prospects either.
What he had, in abundance, was debt. He owed his ex-wife $75,000 in late child-support payments for their three children, and another $50,000 to another ex for his other two kids. He owed $140,000 to his former employer, Melrose Water Supply, as court-ordered restitution for money he'd embezzled. He pleaded guilty to that charge and received 10 years' probation. Despite the plea, he was certain that the whole company was crooked and that he'd taken the fall for years of other people's mismanagement. He also owed Nacogdoches County $60 a month for his probation, plus monthly visits to his probation officer, which were difficult, again, without a car. People would see him walking around town looking for work, or strolling along the highway shoulder at night on his way back to Melrose.
Holliman stayed with his brother for a while and then with his son, who was 23 and earned his living at Arby's. But Holliman realized he was a nuisance. He felt trapped. So he left.
The next year would change his life forever, challenge him in ways he couldn't imagine yet and unsettle an entire town. But his first leap was simple. On an unremarkable day in September 2012, after so many other frustrating and unremarkable days, he stepped into the woods carrying only a tarp and a hunting knife. He walked through the thickets and pines he'd fallen in love with as a child, and busied himself with the most worthwhile job he could think of: survival.
Holliman describes what drove him into the woods
Water, he knew, was the first thing. He found a two-liter bottle on the roadside and filled it from faucets outside empty homes. He found a rope, strung it between two trees and draped his tarp over it to make a tent where he'd sleep that first night. In the morning, his scavenger hunt began again. He walked the woods, mentally mapping the dense hidden spaces between the roads he knew well. He found a big blue bottle—the kind that might sit in an office water cooler—and filled it from the faucet at an abandoned chicken house. Using a rubber tie-down he picked up, he strapped the bottle to his back and returned to his camp. During the first three weeks, he grew nocturnal. He walked the roads at night, shaking ketchup packets loose from discarded McDonald's drive-thru bags and diving back into the darkness at the sight of headlights—he was, after all, on the run.
There was no plan at first, just the impulse to leave and the question of how long he could last in the wilderness. But as the months went on, he missed probation appointments and payments to the state, and he knew there was no going back. By January 2013 there was a warrant for his arrest for jumping probation, though in fact he'd never left the county. Holliman had no idea about the warrant, of course, or much other news from the civilized world. Occasionally he picked up a newspaper at the end of a driveway and read what he'd been missing. Sometimes, prowling the brush, he'd come upon people talking and eavesdrop quietly until they moved on.
But other humans were a rare nuisance. The woods, littered with useful trash and abandoned trailers, provided what he needed. When he came across a deer stand or a trailer he didn't know, he'd watch it for two or three days to see if anyone showed up. If not, he'd venture a look inside for food or supplies, or even take shelter there for the night. That sort of luck was rare. More often, after returning to camp empty-handed, he'd lie in the dark hungry and exhausted, retracing his little failures of the day, and the big ones that had led him to hide out in the woods. At any desperate moment, he could have scraped through the briars and been out on a county road headed back to his brother's place. But facing the law and burdening his family as he had before would only be another failure. He thought of old elephants in Tarzan books, wandering into the wilderness when it was their time to die. He imagined himself deep in the woods like that, seated under a tree and waiting for death, making the rational choice.
The Saturday night before Easter was one of those nights. He'd fished all day with no luck, returned to camp tired and hungry, and opened a Bible he'd found to the story of the Israelites wandering the wilderness, whom God sustained with manna from heaven. He turned the story's details over in his mind, wondering if food really fell from the sky, and as he sat there thinking, he felt an urge to go back out looking for food in the night. He headed down a relatively busy road he rarely took, and as he reached a bend in the road, he saw a flatbed truck approaching and took cover. The truck rumbled past and the driver—drunk or half-asleep, he figured—turned sloppily around the curve, spilling the flatbed's load. When the truck had gone, Holliman crept closer and saw the pavement littered with 3-pound bags of cornbread mix.
Divine sustenance, he thought, manna from heaven.
For all his years in East Texas, Holliman didn't seem to belong. He spoke fast, with no twang or drawl. He told stories about the great hunting exploits of his youth, but—perhaps because he seemed better suited to a computer desk than a deer blind—they sounded to many like fiction. Holliman spent his childhood in Southern California, but after a teenaged falling-out with his stepfather, he moved in with his dad in Nacogdoches County. After graduating from high school, Holliman joined the Navy and didn't return to East Texas until 2004, hoping to start over after his second divorce.
He found a girlfriend and moved into her trailer outside Nacogdoches. Together, they began building a new house on her land. His brother Mike was a cook at Carl Dyes' Kountry Katfish, and Mike's wife, Donna, worked at the water utility next door, which Dyes also ran. Donna asked Holliman for help updating the utility's software, and he did well enough to get hired full time. When Dyes retired in 2010, Holliman took over. Melrose Water Supply took in $600,000 every year, and as manager, Holliman was suddenly one of a few people permitted to spend it. Customers paid their bills in person, often in cash. On busy days, the door opened, and cash flew around the office in the breeze.
The operation was outdated in other ways. Old pipes were breaking, and the company frequently sent letters—sometimes twice in a month—telling customers they'd have to boil their water to make it safe to drink. On the local news, a man turned on his faucet to show the murky water full of sediment. In 2010 the Texas Commission on Environmental Quality fined Melrose Water $31,000 for failing to chlorinate the water and to warn customers about unsafe water. Dyes suggested the agency was trying to balance its budget with steep fines, offering a rare complaint of over-regulation by TCEQ. (The agency eventually cut the fine in half.) In a local TV news story about the water supply's improvements following Dyes' departure, Holliman reflected on the former manager's legacy: "I think, you know, it was probably time for him to retire, truthfully."
Holliman contends that the office was rife with mismanagement when he got there. He says water payments were disappearing or simply left unopened in their envelopes. He says he grew frustrated by the good ol' boy back-slapping between Dyes and the seven-man board of directors (none of whom would comment for this story). At one point, he says, he even arranged a covert meeting at the Brookshire Brothers grocery in Nacogdoches to share his evidence of corruption with the board's treasurer. But nothing changed. So he figured if cheating went unpunished, he might as well get in on the action. He began embezzling money in January 2010, writing checks by forging two board members' signatures, as payment for work that was never done. According to a Texas Rangers investigation, he wrote some checks to his own company, called Hollcom, which was registered to his girlfriend, Pam DuVall. He wrote others to his son Brandon, who he'd meet at Walmart, where Brandon could cash the check and give the money to his dad, minus $200 for his trouble. The embezzling went on for a year, draining the water supply of more than $140,000 before the utility's accountant caught on and alerted the board.
Holliman was arrested at home and spent a year in jail before pleading guilty and agreeing to pay back the money in exchange for a lighter sentence. The investigation stopped short of pinpointing just what happened to the money he stole, and he never had to reveal it at trial. Holliman says there's no great mystery, that he never cared about the money, and that his ex-girlfriend got it all. DuVall disagrees. "I have no clue where the money went," she says, and she was convincing enough to avoid getting arrested herself. When Holliman asked DuVall for bail money and told her he had friends in New Orleans who could help him disappear, she told investigators about the plan, and Holliman's bond was raised.
Payton Andrews, who took over for Holliman, says the water supply endured a lean year rebalancing its accounts but has settled back to normal. Andrews, who had been assistant manager under Holliman, doesn't buy his former boss' version of events. "He was kind of a fairy tale-like dude. … He would start a story, he would make it just so unbelievable to where you know it wasn't true," Andrews says. "I guess you kinda feel sorry for somebody like that." The trouble with TCEQ, the unpaid vendors—it was all Holliman's fault, Andrews says, but Holliman spun all sorts of stories, about doing computer work for the space shuttle, or about a dog that followed him all the way to Texas from California. Holliman, he says, was a man with issues, but not the dangerous sort. When customers came to the water office to complain, Holliman would ask Andrews to handle them. "The guy that I knew," Andrews says, "he wouldn't harm a cat."
Holliman describes his life in the woods.
The day after his providential cornmeal delivery, Holliman sat on a tree stump cooking a corn-pancake breakfast, reflecting that there must be a greater purpose at work. And when a rabbit came hopping down the trail and stopped to sniff around the grass beside him—near enough to reach down and grab, butcher, and cook up for an Easter rabbit feast—surely that was yet another gift.
Wasn't this what he'd come here for, when he left California? He was 13 and his parents had just divorced when he spent the summer of 1975 living with his father, but he spent much of his time in the East Texas woods. Indoors, he breezed through his father's Tarzan books; outside, he learned to hunt, carrying his father's pearl-handled knife everywhere and dreaming of living in the wild, tracking panthers and bobcats forever. These were the woods where the Caddo tribe had lived for hundreds of years and where the Spanish had designated their first town in Texas, but for Holliman it was the land of Tarzan and G.I. Joe. "Had there been decent vines in those trees, I'd have probably swung from 'em," he says. One night that summer, the young Holliman had streaked through the woods during a rainstorm in a homemade loincloth. His nickname, coined by his brother, stuck: Tarzan of Texas.
Years later, living his childhood dream in those same woods, he wore dark camouflage instead of a loincloth, painted his face, put on kneepads and tracked wild animals. "You can learn from books and stuff, but until you actually experience it, to me, that sets it in place. That sets it permanently," he says. "There's a big difference between liking the woods and being able to go into the woods and survive."
During his time in the wilderness, he sensed a change in himself. Once, having gone days without speaking, he was startled when he tried talking to himself and no sound came out—he'd forgotten how. So in his deepest forays into the pines, when he was sure nobody would hear, he'd sing a few of the songs he knew best. He'd trek through the brush belting Elvis hits or march along to "Waltzing Matilda." He followed cattle trails through the brush, covered his tracks and came to know the land well. At first he gave yard dogs a wide berth as he snuck past their houses, but in time he was quiet enough to pass close. Sleeping in the forest, eating possums and skunks, he took on a forest creature scent. He stalked deer and hogs, hunting them, in his telling, with guns he found in abandoned trailers. Standing still one night before a pack of hogs, knife at the ready, moon overhead, he realized he'd embodied the image of a mountain man. "I could walk, say, within a dozen feet of a deer, and the deer wouldn't recognize me as a threat," he says. "I was a ghost out there. I could be literally out there in the brush, this close to you, and you wouldn't know."
After finishing his rabbit and cornbread breakfast that morning, he crept to the edge of the brush. Thinking about all he'd gained out here, and all he'd left behind, he peered into a pasture where children were hunting Easter eggs as their parents, too, looked on.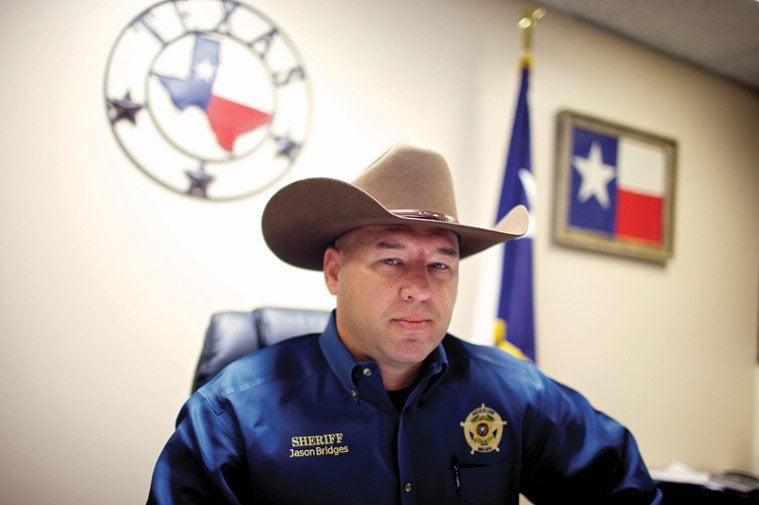 Jason Bridges, the man who keeps order in civilized Nacogdoches County, doesn't appear interested in woodland journeys of self-discovery. Bridges has a young, stern face and narrow eyes that lend him a permanently skeptical look, and on the day I interviewed him, he wore a neatly pressed blue shirt with his name stitched on, a brown Resistol and a monstrous belt buckle. A mounted deer head sat on top of a bookshelf, maybe waiting to be hung, with a long screw jutting unceremoniously out the back. "Friday night football and butchering deer, it's kind of a religion around here," he told me.
Bridges grew up near Melrose, learning to hunt in the same woods Holliman stalked, but planning to be a lawman. He rose quickly from constable to win the sheriff's race in 2012 on a reputation for making big traffic-stop drug busts and ferreting out meth labs in the deep woods. Bridges had been on the job for less than a month when the burglary calls began.
The burglaries were clustered around Melrose and included homes and trailers sitting well off the road. There was a strange pattern in the timing, too: a string of midweek burglaries, then nothing for three weeks, then more in the middle of the week. Bridges says serial burglars usually stick to Nacogdoches or major roads outside town. And even long robbery sprees would last weeks, not months. Bridges could tell that whoever was robbing Melrose knew the area well. "This guy committed over 30 break-ins in cars and houses down there, and we hadn't had nothin'," Bridges says. Officers set up motion-activated game cameras around town. They went house to house asking residents what they'd heard or seen, and questioning a few usual suspects. He says he cleared about a dozen unrelated burglaries that way but was no closer to catching Melrose's serial thief. "This is what we've been working on for hours and hours every day. Our whole life revolved around solving this case," Bridges says. "We were pretty much at a dead end with this case. We were just waiting for him to do another burglary, so maybe we could catch him in the act."
At the end of July, when the prospects seemed bleakest, they finally caught a break. The sheriff's dispatcher took a call from a woman whose trailer home had been broken into. She and her husband—who happened to sit on the Melrose Water Supply board—hadn't been there in months, having moved into a new home they'd just built. But the place hadn't exactly been robbed. "Scene wasn't right," Bridges recalls. The trailer was set back far from the road—even Bridges had no idea it was there—and it was full of things that didn't belong: guns, cameras and computer gear. "And DNA everywhere," Bridges says. "DNA evidence takes longer to get back than fingerprint, so everybody started doing fingerprinting. So by the end of that day, we had a match. And that's what broke the case open."
Lufkin police ran the prints through a database and Holliman's name came back. He made sense, as a probation absconder, but despite the warrant for his arrest, there had been no effort to track him down. The idea that the burglar was a squatter or a camper had come up before—Bridges credits his chief deputy with suggesting it first—but they never seriously considered it. "This ain't like the big city. We don't have a lot of homeless people," Bridges says. The outdoor gear in the trailer changed his mind. He sent out a press release about the "survivalist" who'd stolen "weapons, clothes, money, survival type equipment and large quantities of food," and asked for the public's help finding him. "Holliman is to be considered armed and dangerous and should not be approached by citizens."
In deep East Texas, where all sorts of bizarre happenings are laughed off simply as life behind the "pine curtain," the Melrose burglar was a captivating mystery. Machete attacks and ritualistic drownings all passed with brief mention in the local news during Holliman's disappearance. But the news that the former water supply manager had spent the past year living in the woods and robbing people he knew—now that was strange. And even if Holliman had developed a reputation for exaggerating his past, there was more there than he'd let on.
It turned out that Holliman had an eclectic criminal history, including robberies 25 years earlier in Southern California. At age 23, he joined with two other men and broke into an Orange County auto-wrecking shop, stealing a radio and computer gear. Two days later, the three entered a pawn shop through the roof and stole a gun. Holliman pleaded guilty, got probation, and was released back to the Navy. When he never reported back for probation, a letter to his officer on the U.S.S. Buchanan revealed that he had already deserted. The Navy was after him too. For a while, a detective in the Westminster, California, Police Department tried to track him down, issuing a wanted bulletin that listed Holliman's occupation as "burglar." Members of a gang called "the Rat Pack" claimed Holliman as a member, and even suggested he was involved in another robbery—theft of a VCR, silverware and two bottles of wine—just months after his last guilty plea. Prints on the VCR matched Holliman's, but nobody knew where he'd gone. He was finally picked up in his stepfather's hometown of Waterloo, Iowa, in March 1992. For his desertion, he spent a month at a Navy training center in Illinois before being released to Orange County, where he pleaded guilty to the VCR theft in exchange for a two-year prison term—but only after a brief escape from jail.
"I couldn't tell you 100 percent what was going through my head," Holliman says now, but he tells it with evident pride: how he took off sprinting from three deputies, scaled a 12-foot razor-wire fence and landed on the other side before anyone had moved. "I could've kept going easily, but I only ran so far. And then I dropped down to my knees, put my hands behind my neck, it was like—it was weird to explain it. It's like I didn't do it to escape. It's like I did it for some other reason."
Like most questions about why Holliman did what he did, the answer is long and begins with blaming other people. Rarely does he approach an admission of guilt as clear-cut as any he's offered in court.
He says he was much younger back then, more naive, and he was running with the wrong people. That VCR he supposedly stole? He says he'd been hired to repair it, and that's why it had his fingerprints. Before he jumped his probation and deserted from the Navy, he had a bad motorcycle wreck—"I probably split my head open and everything else," he says—that left him with bad headaches and short-term memory loss. He was also in the midst of divorcing his first wife, Kathryn, a painful process made messier because she was also his stepsister; his father was married to her mother.
In 2005, just after he returned to Texas, he filed for bankruptcy in Iowa. In the filing, his listed profession is "babysitter" for his second ex-wife's relative. He says he and his exes made private arrangements for child support, but collectors in Iowa and Texas never recognized their deal—instead, every month he spent in Texas drove him $1,325 further into debt, including payments for Brandon, who lived in Texas with him. A few years after he returned to Texas, his first wife, Kathryn, who was still living in southern Nacogdoches County, died. He says it was suicide. "If you went back and you checked you would discover that … was the pivotal moment. But there's a reason for it that's not obvious."
Holliman hints at a greater purpose behind his disappearance, but there are some things he still won't discuss.
After Holliman was fingered as the thief, all that remained was the manhunt through the woods. Late on the night of Aug. 2, the sheriff's office got a call from a man who'd seen an unfamiliar path into the woods on his land. Two constables took the call and had to cut branches just to follow the trail to the campsite. Holliman says he heard them coming, of course, and was sitting up in his tent as the constable approached, yelling, "Don't move! I'll drill you through the back!"
Holliman says he saw deputies on four-wheelers crossing pastures and following trails to find him. He says he was in good health, with plenty of water stored away in the woods. But for reasons he won't disclose, he'd decided his time in the woods was done. He says he even left hatch-marks on the trees to lead officers into his camp.
Bridges says Holliman was in far less control. "He made statements like, 'You only caught me 'cause I allowed you to catch me,'" Bridges recalls, "which is not true." Bridges says Holliman was dangerously dehydrated and went straight to Nacogdoches County Memorial Hospital that night. Two deputies stayed at the campsite, and in the morning, Bridges and his team began documenting Holliman's stash.
In the daylight, it was possible to reconcile the differences between Holliman's Tarzanian survival tale and the tormentor that had haunted Melrose all year. The campsite was a messy collection of outdoor gear and civilized comforts: empty Coke cans and tins of Wolf tobacco, AA batteries, cans of coffee, a stack of CDs, a wire kitchen organizer, a small camp grill, a bottle of dish soap, a black case of bows and arrows, a tube of toothpaste, a bottle of vitamins, a Bible, a roll of toilet paper, plastic storage tubs, a camouflage backpack, binoculars, a canteen, a rifle, and piles of sleeping bags and blankets on metal cots a few inches off the forest floor.
Game cameras found among Holliman's stash offered more clues about his life alone: On at least one day during his months away from the world he'd dressed in head-to-toe camouflage, painted his face in brown, black and green, clipped a walkie-talkie to his collar—just in case anyone called—and sat for self-portraits. In some, seated on a log or trying to hide behind a tree, he looks directly into the camera. In others he engages less with the lens. One series features Holliman lying on a trailer's carpeted floor surrounded by an AR-15-style assault rifle, two smaller rifles, a pistol and a sawed-off shotgun. With his head resting on a rolled-up pad, he pretends to sleep. In his arms there's a laptop with a full-screen picture of two people. The faces are hard to make out.
"We had several calls from people in that area that they felt like they were being watched. I think he was building up to something more. Just looking at the way he was dressed," Bridges says. "I think he'd just been out there for so long, by hisself, I think he was losing his mind. Nobody to talk to. Seven, eight, nine months is a long time to be in the woods by yourself."
Holliman suggests there's another, less obvious reason behind what he did.
Holliman says he had no idea at the time that he was being portrayed as an "armed and dangerous" madman in the woods. "When I came out of the tent that night, and it's the two constables that showed up—and I know one of them, OK? They showed up, and they were scared," he says. When Bridges and his deputies questioned him, Holliman says, one of their first questions was whether they should be searching for bodies. He says their law-enforcement mindset projects evil intentions onto any behavior they don't understand. "I get kinda where their perceptions are coming from. But they act like they were surprised that, you know, 'You're out there in camo and your face was painted and stuff.' Well, yeah. The point is I was trying to hide in the woods!" Holliman says. "If I had wanted to really be a bad person out there, I could've been a very bad person out there."
For so spectacularly jumping his probation, Holliman will probably see prison time. He is still awaiting trial, and agreed to speak for this story on the condition that he wouldn't reveal details about burglaries he may have committed. At a court hearing in December, a prosecutor announced plans to charge Holliman with 30 break-ins, and Bridges says he could face federal weapons charges too, for homemade plastic silencers found on two of the guns.
After nine months of ultimate freedom, Holliman sounds calm as he considers the years he could spend locked away. He looks healthier than the gaunt and grizzled man in the jail booking photo, and says he regularly bests younger guys at push-up contests. Inside, he says, they call him "Rambo" as a joke, and "the chameleon," because he adapts to fit his surroundings. He reads, and he quietly watches the people around him—in some ways, it's not so different from his time in the woods. Whenever he gets out, he says, he'd be happy installing phone systems or fixing computers again, maybe publishing more comic books. "I'm big into society and stuff. Look, I like people in general," he says.
But he'd also like to build a log cabin out in the woods someday. He wants to keep himself healthy for when he gets out, to avoid getting heavy and sick the way people tend to inside. (In December, a man in the Nacogdoches County Jail with him died of the flu.) Holliman still believes in the healing power of the wild. "I may be 51 years old, but my hair—you put me there outside, and in two weeks my hair will be blonde again," he says. "People can look at my case and find plenty of negatives in there. But there's a lot of positives. … I have no doubts that if the shit did hit the fan today, I'd be the survivor."
In October, as the weather began to cool, Meagan and her husband invited some friends over to sit around their fire pit. Not long before, any social gathering would have quickly turned to talk of the latest theft, what new details the cops had shared and who the serial thief might be. But now, months after Holliman's capture, Meagan left the subject alone.
She and a friend walked back near the fence line to gather wood for the fire when her friend shined a flashlight on the ground nearby. Three open cans were lined up in a row, dusty from weeks or months outside.
Meagan puzzled over how the cans got there. "Cause basically that's our yard, why would we throw it in our yard?" she says. "And I'm thinkin', now that would be some damn good luck if we threw it and it landed like that. That just would not happen, not us. So I just kind of stared at it for a while, and I told her, 'That's weird.' And that's when it was just kinda like, it flashed back and I thought, 'Were you sittin' here, watchin' us before?' We wouldn't have known."
Though it's been almost a year since the first break-in, Meagan says the burglaries have changed her family's lives, maybe forever. "You took our security away. You were sittin' there, and all I can imagine is this man, during the day, during the night, I don't know when, at any point in time, watching us," Meagan says. "And this is what makes me sick to my stomach. 'Did you enjoy it? I mean, did you enjoy it? Cause you obviously did.'"
Meagan never got back the money that was taken from her car. She says police told her one of the enduring mysteries about Holliman is where all the stolen cash ended up—buried in the woods to be reclaimed later? Or passed along to an accomplice? Nearly everything else she lost was returned to her in a paper sack at the sheriff's department. The day she reclaimed it, she got a look at the property room stacked high with guns, shovels, purses, tents and machetes. "It looked like a garage sale," she says. "I still need to go up there and see if they have our drill charger, because he probably stole that, because we can't find it."
Deputies told her all her belongings in the bag had been found together, just like the things stolen from other people—a pile in the woods for every home and car. "Like a map," is what Meagan guesses, a reminder of his plunder, as if, like stuffed prize bucks and bearskin rugs proudly displayed in the living room, these were his trophies from civilization brought back into the wild.
"I actually heard this from the detective's mouth," Meagan says, "that he went in her house while she was at work, went in, made a sandwich, ate it. She had made a cake the night before—ate some of that, drank some milk, got full, stole some boxed goods, canned goods, and left. I mean, he was surviving. … But that's what I'm saying, if it was a survivalist, to see if he could do it, he wasn't doing it on his own. He was using the whole community to help him."
To support journalism like this, donate to the Texas Observer.