Bloodlines: How the Scion of a Texas Horse Racing Empire Became an Informant on Mexico's Most Feared Cartel
Unwittingly, Tyler Graham, heir to a Texas horse-racing empire, had become an informant on one of the world's most lethal crime syndicates.
A version of this story ran in the August 2013 issue.
Horse racing was in Tyler Graham's blood.
His grandfather, Dr. Charles Graham, a respected rancher and veterinarian, had built the family's fortune over four decades of breeding and racing champion quarter horses. It was the legendary stallion Three Ohs that had changed Doc Graham's career in 1970, turning his breeding facility in Elgin, which he'd started with almost nothing, into one of the nation's elite stud farms. His success with Three Ohs convinced other owners to bring their most valuable race horses to Doc Graham's stud farm, the Southwest Stallion Station. In 2009, the 75-year-old was planning to hand over his legacy and his horse-racing empire to his grandson, Tyler. He'd appointed the recent Texas A&M University graduate as manager of his million-dollar horse breeding facility, and assigned him other duties overseeing the family's feed yard and cattle ranch, along with his partial stake in Heritage Place, one of the nation's largest auction houses for American quarter horses. When Doc Graham was gone, the whole enterprise would be Tyler's. It was time for the 25-year-old to prove his worth.
In the winter of 2009, the most coveted stallion in the world of American quarter horse racing was a sleek, copper-colored colt named Tempting Dash. The horse had arrived from Mexico earlier that year, clocking record-setting speeds in Laredo before setting a track record in the Texas Classic Futurity at Lone Star Park near Dallas, winning more than $490,000 in one of the richest competitions in the sport. But Tyler knew the prize money was nothing compared to what Tempting Dash, with his string of triumphs and impeccable bloodline, would bring in breeding fees after he retired. In the depths of recession, a winner like Tempting Dash was just what Tyler Graham needed to make his reputation as heir to the family legacy.
Tempting Dash's owner, Jose Treviño, in his white cowboy hat and scuffed cowboy boots, had his own reputation. Known as humble and hardworking, Treviño told Graham he made his living as a bricklayer in the Dallas suburbs. The son of Mexican immigrants, he'd grown up in a large family that shuttled between Nuevo Laredo and North Texas. Recently, he'd come into some money—a lot of money. Where the money came from and how a bricklayer had come to own a horse like Tempting Dash was a mystery. But Tyler Graham worked hard to strike up a friendship with Treviño. In the horse-breeding industry, winning colts like Tempting Dash were like top-ranked college athletes, and Graham was like a recruiter trying to acquire one of the most distinguished lineages in quarter horse racing for his family's stud farm.
To win Tempting Dash, Graham dropped $12,000 on a deer hunt in South Texas for Treviño, the stallion's trainer Eusevio "Chevo" Huitron, and each man's son. In January 2010, Graham agreed to act as a buyer for Treviño at Heritage Place's winter auction in Oklahoma. Treviño told Graham he wanted a valuable broodmare named Dashin Follies at any price. Over the shouts of buyers gathered at Heritage Place, the auctioneer rattled off bids that rose in increments of $25,000, climbing swiftly from $200,000 to $650,000. Graham hesitated. He looked across the room at Treviño, who stood with his brother Rodolfo, a Nextel phone pressed to his ear. Rodolfo gave Graham the nod to keep bidding. The sale of the broodmare was expected to top the charts, but the record bid of $875,000, especially during a dismal economy, stunned the assembled buyers. It was the most expensive sale in more than 20 years.
The industry buzzed about Graham's new friend. The humble bricklayer, who was still learning his way around the business, was suddenly spending millions at auctions, winning high-stakes races, and doing interviews with the media.
Not long after the sale of Dashin Follies, there was a knock on Tyler Graham's door. The man said he was with the Federal Bureau of Investigation. Standing in Graham's living room, the FBI agent began quizzing him about horses he'd purchased for Treviño. The agent explained that Graham's new business associate was the elder brother of Miguel Angel Treviño Morales and Oscar Omar Treviño Morales—leaders of Los Zetas, Mexico's most violent and feared criminal organization. Miguel, known as "Z-40," had a reputation for bloodshed and cruelty, which had become Los Zetas' calling card. To get rid of his victims, the crime boss liked to stuff them into oil barrels, douse them with gasoline and set them on fire. Tyler didn't know it, but he was already working for Los Zetas, part of an intricate scheme to launder millions of dollars in drug money through the U.S. quarter horse racing industry.
The scheme followed an old formula—drugs go north, bundles of cash go south—but with a new twist: A cadre of businessmen moved Los Zetas' dirty money from Mexico into U.S. banks, such as Wells Fargo and HSBC, via wire transfers, personal checks and peso exchange transactions. Allies of Los Zetas would then take the funds and purchase quarter horses on behalf of front companies, disguising the source of the money. In this way, Los Zetas had taken money earned illegally and turned it into legitimate investments in the quarter horse industry, spending millions to buy, breed, train and race horses.
Key to the operation in the United States was Jose Treviño, a U.S. citizen with a clean record who had never wanted anything to do with his family's illicit dealings, until Miguel gave him $25,000 to buy Tempting Dash. "You can pick your friends but you can't pick your family," Jose often said.
The FBI wanted Graham to keep working with Jose Treviño and see where it led. He reluctantly agreed to cooperate. Within months, the young horse agent with a Texas A&M ring and an Aggie bumper sticker on his truck was given a Nextel cell phone with a wiretap. The FBI would be listening to every phone conversation Graham had with his new business associates. Unwittingly, Graham, heir to a Texas horse-racing empire, had become an informant on one of the world's most lethal crime syndicates.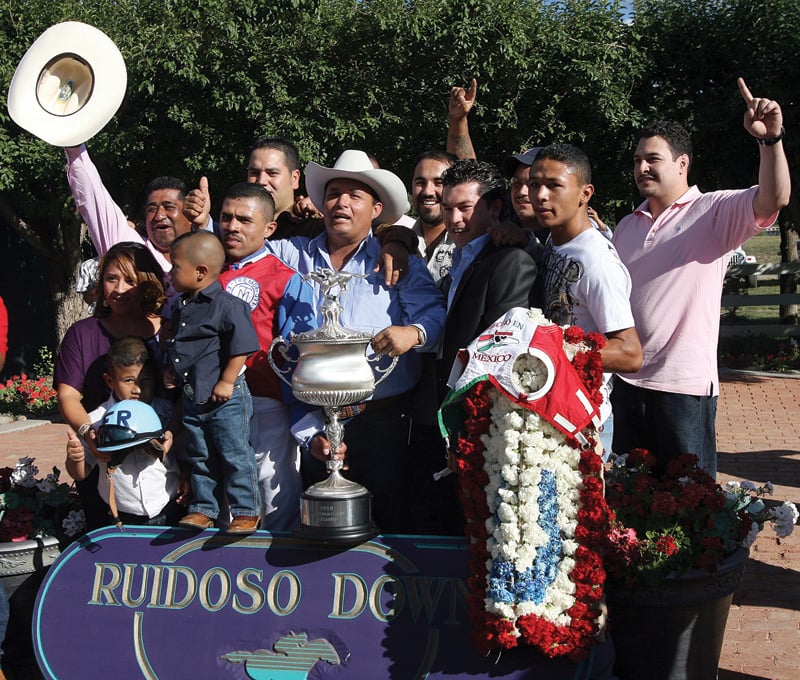 Los Zetas were like nothing Mexico had ever seen. Founded in the late 1990s by deserters from the country's special forces, the syndicate used counterinsurgency tactics, high-caliber weapons, psychological warfare and gory acts of violence to conquer valuable smuggling territories. Los Zetas began as paramilitary enforcers for the Gulf Cartel, often called "the Company." But in early 2010, Los Zetas splintered from the Gulf Cartel, plunging into a vicious battle for territory with their former employers and other rivals, chiefly the Sinaloa Cartel, Mexico's oldest, most powerful drug-trafficking organization. Unlike the Sinaloa Cartel, and other traditional drug cartels in Mexico built on familial ties and bribery of high-level officials, Los Zetas acted more like a rapacious franchise, building a fearsome brand with unprecedented acts of violence. They didn't just murder rivals, they decapitated and dismembered them, bringing a new level of horror to Mexico's cartel violence.
Los Zetas were known not only for their violence, but also for their industriousness. Not content with simply peddling tons of narcotics every year to the U.S. and European markets, Los Zetas aggressively sought new forms of revenue. They expanded into extortion, kidnapping, migrant smuggling and human trafficking. They branched out into trafficking oil stolen from the government monopoly PEMEX, selling it to U.S. oil companies. And they took control of the sale of black-market goods in their territories. Los Zetas functioned more like the Mafia, willing to engage in any enterprise that would generate profit.
"They became a different type of [Mexican] criminal organization, diversified, globalized, that makes use of technology, social media and sophisticated communication technologies," said Guadalupe Correa-Cabrera, a political science professor at the University of Texas at Brownsville who is writing a book on Los Zetas. "They have access to large numbers of weapons, and they use fear as a tactic for marketing purposes: decapitations, narco blockades and narco banners generate their ruthless reputation. So if you're a migrant passing through their territory, or the relative of a family member who has been kidnapped, you are going to pay the money because you know they don't hesitate to kill anyone."
Miguel Angel Treviño Morales and his younger brother Omar, known as "Z-42," cultivated the group's fearsome brand. Part of the civilian wing of the paramilitary organization, Miguel came up through the ranks of Los Zetas after working for the gang Los Tejas, based in his hometown of Nuevo Laredo. His psychopathic tendencies fueled his quick rise, according to George Grayson and Samuel Logan, authors of a 2012 book on Los Zetas called The Executioner's Men. In 2005, Miguel Treviño was put in control of the Nuevo Laredo territory, or "plaza," one of the biggest, most lucrative ports of entry into the United States and springboard to the valuable Interstate 35 corridor. Treviño ran a tight operation; unpaid debts were dealt with ruthlessly. Once, when Miguel heard that street dealers were skimming money meant for Los Zetas, he personally paid a visit. He beat one dealer to death with a two-by-four, then slit the other's throat, reached in through his thorax and yanked out the man's heart, according to Grayson and Logan.
In 2012, Miguel Treviño became the public face and acknowledged leader of Los Zetas after the death of Heriberto Lazcano Lazcano, known as "Z-3," a former special forces officer who had helped lead the syndicate to prominence. Miguel, Omar and others continued to expand the organization into South America, into the United States as far north as Chicago, and into western Africa. Globalization had been good to Los Zetas. The organization's success was built on its ability to obtain, transport and deliver any type of illegal merchandise desired by a growing illicit market that some experts estimated had topped $1.8 trillion globally by 2012.
As their earnings grew, Los Zetas sought ways to make their dirty money look clean. Banks were increasingly stateless, easier to access, and difficult for governments to monitor. The syndicate also found no shortage of legitimate businessmen who were willing to help them launder money or too scared to decline the offer.
"Corruption is a very important component to success in their global operation," Correa-Cabrera said. "There are also politicians and law-enforcement officials in the countries that they do business in. These people are also Los Zetas."
Jose Carlos Hinojosa, a former accountant for the syndicate now in U.S. custody, described during a recent federal trial how Los Zetas earned and laundered money. He came to work for them after Los Zetas, still working for the Gulf Cartel, swept into his hometown of Miguel Aleman in 2001 and later took control of the rest of the border state of Tamaulipas. At the time, Hinojosa was an attorney working as a legal clerk in the federal prosecutor's office, collecting bribes from drug dealers in the area. "It's pretty common in Mexico to accept the bribes so that you won't be bothering … the drug dealers," he testified.
In mid-2001, Hinojosa said, Los Zetas called a meeting. "They gathered up all of us that worked in security agencies, government employees that had to do anything with security or law enforcement, and they kind of read the rules to us," Hinojosa testified. "They established the rules to be followed, and that we were not to interfere with or bother any of the trafficking…and that they were to be allowed to work freely."
After that, Hinojosa testified, "the drug dealers no longer had to pay the right-to-work fees to us, they were being paid to the cartel." By 2002, the attorney had left the federal prosecutor's office and begun working full time as an accountant for Los Zetas. His territory covered the Mexico-Texas border from Ciudad Gustavo Diaz Ordaz, west of Mission, Texas, to Nueva Ciudad Guerrero at Lake Amistad. He had a team of 30 employees tracking and collecting fees from drug dealers and smugglers who wanted to transport migrants across the Rio Grande. They also handled bribes to law enforcement, customs officials and politicians.
In one instance, Hinojosa testified in federal court, Los Zetas directed $12 million to a gubernatorial campaign in Veracruz, a crucial state because of its ports and vast petroleum reserves. The candidate, Fidel Herrera, a member of the Institutional Revolutionary Party, or PRI, won the election and served as governor from 2004 to 2010. Herrera told the Austin American-Statesman that he never collaborated with Los Zetas.
With the help of corrupt politicians and others, Los Zetas' territory grew rapidly. Today they have cells in at least 20 Mexican states, according to Eduardo Guerrero, a security consultant who runs his own firm, Lantia Consultores, in Mexico City. "They created a presence basically in the entire nation, using violence to build their reputation," he said. But Los Zetas were also looking for more opportunities north of the border.
By the summer of 2010, Jose Treviño's horse business had grown tenfold in the United States. He and his wife, Zulema, had moved from their modest two-bedroom house in the Dallas suburbs to a 70-acre horse farm in Lexington, Oklahoma. Treviño named it Zule Farms after his wife. He also started a horse racing business called Tremor Enterprises.
In Mexico, his brothers were in the midst of a bloody war for territory that was killing politicians, journalists and countless others. The violence they used with impunity in Mexico was used more sparingly in the United States, where they followed different rules of engagement, investing quietly in smuggling and money-laundering operations.
After Chicago, Dallas was the second-most lucrative hub in the United States for their wholesale cocaine business. Mario Alfonso Cuellar, a dealer for the Zetas from the border town of Piedras Negras, testified recently in federal court that he sent 18-wheelers packed with 1,000 to 3,000 kilos of Colombian cocaine monthly to Dallas. Those same 18-wheelers returned to Mexico with cash totaling as much as $90 million a month stashed in hidden compartments.
Los Zetas sent a portion of the money to Colombia to pay for the cocaine, and spent the rest on overhead such as bribes and buying firearms in the United States. In Austin, 20 people were convicted in 2010 for acting as front men, buying weapons at Central Texas gun shows and gun stores and sending them to the Zetas in Mexico. Los Zetas also smuggled migrants into Texas. In 2008, police arrested members of a smuggling ring in San Marcos who had been holding immigrants at gunpoint in a safe house until they paid their transport fees to Los Zetas.
With so much instability in Mexico, Los Zetas were increasingly looking for opportunities to launder illicit earnings through legitimate U.S. businesses. They extorted the vulnerable while rubbing shoulders with the wealthy and politically connected on both sides of the border, looking for enablers to facilitate their laundering of the endless flow of dirty money generated by the insatiable U.S. drug market. People like Tyler Graham.
After the winter auction at Heritage Place in 2010, Jose Treviño sent Dashin Follies to Graham's stud farm outside Elgin along with other horses bought at the auction, including a broodmare, Coronita Cartel, that cost Treviño $250,000. Treviño's bill due to the sellers through the auction house totaled more than a million dollars.
The expensive purchases led to a string of victories that rankled his competitors: In a span of three years, Treviño won more high-dollar races than many owners had in a lifetime. Many in the industry wondered how he could afford to buy so many expensive horses. A week after the Dashin Follies auction, Alejandro Barradas Lagunes, a businessman in Veracruz who owned a customs brokerage, sent wire transfers to Heritage Place to pay a portion of Treviño's balance. Another powerful businessman from Veracruz, Francisco Colorado Cessa, who owned a petroleum service business, also cropped up frequently as a buyer. These seemingly legitimate businessmen sent checks or wire transfers for horses boarded in stables throughout the southwestern United States, according to court records. When these horses became especially valuable through breeding or racing, the front men who had bought them would transfer ownership to Jose Treviño. In this way, Treviño was rapidly amassing some of the most valuable bloodlines in the racing industry.
After the success of the Dashin Follies purchase, Tyler Graham began to receive weekly visits from Treviño at his farm in Elgin, and he met two more of Treviño's Mexican associates, Carlos Nayen and Fernando Garcia, both in their 20s. Later, Graham would come to realize that it was Nayen who had been on the other end of the phone call the day of the auction at Heritage Place, directing Rodolfo Treviño. Nayen and Garcia told Graham they planned to bring more mares and stallions for boarding and breeding at Graham's farm. Besides the valuable broodmare Dashin Follies, Graham was pleased to hear that he would finally board and breed the champion Tempting Dash.
Quarter horse racing was an expensive passion, especially in the midst of recession. The price of feed had skyrocketed. The drought had wreaked havoc on many horse farms, and some had folded. Most people didn't ask too many questions when presented with cash. Still, the way Jose Treviño did business was unorthodox. Nayen and the others ran their horses under a dizzying array of limited liability corporations. They also changed their horses' names, an uncommon practice, making it more difficult to track the lineage. The new monikers weren't subtle: Forty Force, Break Out The Bullets, Big Daddy Cartel. And there was a front company involved named Fast & Furious LLC, a chilling choice, as it was also the name of an infamously botched U.S. gun-walking operation in Mexico that had allegedly provided Los Zetas with weapons, including the gun later connected to the murder of a U.S. immigration agent.
By fall 2011, Graham was boarding and breeding at least 15 horses for Treviño and Los Zetas, and the maintenance bills were piling up. When Nayen suggested Graham open a bank account so he could transfer money for their upkeep, Graham opened an account at IBC Bank in Bastrop. That account would soon become another money-laundering conduit for Los Zetas. One day Graham received a call from an official at IBC telling him the bank was closing the account: Someone in Laredo had been depositing cash sums in $9,000 increments—just under the $10,000 reporting threshold required by the U.S. government, in an attempt to crack down on money laundering. Closing the account would be only a minor setback for the organization.
It was clear from Treviño's rapidly expanding horse farm and million-dollar auction bids that money was no object. At Heritage Place, there was still a balance on Dashin Follies and other horses bought during the winter auction. One day, Nayen arrived at Graham's stud farm and handed him a backpack stuffed with $100,000 in cash to pay off the remaining balance. Inside Nayen's vehicle were several more backpacks filled with money, Graham later testified. He told the FBI about the exchange, then drove to the auction house in Oklahoma with the backpack of cash to pay off Treviño's debt.
In the summer of 2011, Graham began to hear dark rumors out of Mexico about the kidnappings and grisly deaths of people he knew from the horse business. Trainer Eusevio "Chevo" Huitron, who had introduced Graham to Treviño in 2009, was becoming increasingly cryptic about his "clients from Mexico" who owned Tempting Dash. Back in Mexico, the copper-colored colt had been known as "Huesos" because he was so skinny. His original owner had been Ramiro Villarreal, a pudgy, good-natured horse agent nicknamed "Gordo" who had a talent for scouting champion horses. Graham knew Villarreal, and had seen him at auctions and races in Texas over the years.
After Tempting Dash won big in Laredo in 2009, Villarreal was forced to transfer the colt to Jose Treviño for a pittance. The papers were backdated to make it appear that Tempting Dash already belonged to Treviño when the colt won its second major race in Laredo, according to court testimony. In Mexico, the 38-year-old Villarreal had worked as a horse agent for Treviño's brothers Miguel and Omar, and for other associates of Los Zetas, since at least 2006.
In September 2010, Villarreal was traveling to an Oklahoma horse auction when he was detained by the Drug Enforcement Agency (DEA) during a layover in Houston. The horse agent was interrogated for several hours and presented with a choice: work with the U.S. government or be prosecuted. Villarreal agreed to work with the DEA. Six months later, his charred remains were found in a smoldering car on the outskirts of Nuevo Laredo.
"Chevo asked if I had heard that Ramiro [Villarreal] died," Graham later testified. Then his friend mentioned another associate, the wealthy businessman Alejandro Barradas Lagunes, who had sent the wire transfers to Heritage Place for Dashin Follies. "He said he'd heard he'd been kidnapped and never came back."
Then there was 46-year-old Alfonso del Rayo, a real estate mogul and politician from Veracruz who had suddenly developed an interest in purchasing quarter horses. Jose Treviño told Graham he wanted him to sell a stallion named Blues Ferrari at the winter 2011 auction at Heritage Place. Blues Ferrari was in poor condition and had never won a race. One Texas horse trainer described the stallion as "death eating a cracker." Del Rayo arrived at the auction in Oklahoma and bid $310,000 for Blues Ferrari. More shocking than the price Del Rayo paid was his physical appearance. "He looked beat up," Graham told the jury. "He said it was a golfing accident."
In fact, three weeks earlier, Del Rayo had been kidnapped in Veracruz by a group of 10 to 15 men who said they were Zetas and wanted $4 million in ransom. Del Rayo's captors bashed his head and body with the butts of their assault rifles, gashing his face and forehead, and breaking two of his fingers. His wife frantically made calls to government officials in Veracruz trying to secure his release. After nine days, he was freed. But Los Zetas were not done with Del Rayo. Less than two weeks later, Del Rayo later testified, Guillermo Herrera Mendoza, assistant secretary of tourism promotion for the governor of Veracruz, said they needed to meet. The governor and Herrera refused to comment.
"When Guillermo came over, he was with Carlos Nayen, who explained that I was saved by his boss and as payback I had to go to Oklahoma City and buy a horse," Del Rayo testified under oath. "I told them I had to have surgery for my injuries, but they said I had to be in Oklahoma City. If not, I would have trouble again, and so would my wife and kids."
At Heritage Place, Del Rayo's hands shook, and he could barely hold the pen to sign the check for Blues Ferrari. Jeff Tebow, chief financial officer for Heritage Place, was so disturbed by Del Rayo's battered appearance that he snapped a photo of him signing the check. "He looked like he'd been in an accident. His fingers and head were swollen," Tebow later recalled in court. "I was a bit alarmed about who this person was and how we would be receiving payments for the horse."
Within five months of the sale, Del Rayo would be a U.S. government witness and law enforcement would finally move in to dismantle the horse-buying scheme. In June 2012, in the small town of Lexington, Oklahoma, more than 100 federal agents in tactical gear converged on Zule Farms in a convoy of bulletproof SUVs. Helicopters circled overhead. The horses, panicking in the chaos, kicked and tore up the green pasture trying to escape, only to turn back at the fence line as agents descended on the ranch. In little more than a year, Treviño had amassed more than 400 horses on his farm—some of them from the most sought-after bloodlines in American quarter horse racing. But he'd amassed too many too fast. His own veterinarian had warned him that it was unwise, even dangerous, to keep so many valuable, high-strung animals fenced in on such a small piece of land.
The demise of Jose Treviño's multimillion-dollar horse farm was as sudden and breathtaking as its rise. Federal agents fanned out across the Southwest to confiscate horses and arrest people in the quarter-horse industry affiliated with the scheme. Treviño and his wife were escorted from Zule Farms in handcuffs. A federal grand jury indicted 18 Treviño associates and family members. Indicted in absentia were the alleged masterminds, Miguel Angel Treviño Morales and Oscar Omar Treviño Morales, who remained at large in Mexico. (In mid-July, just before the Observer went to press, the Mexican Navy arrested Miguel Treviño outside Nuevo Laredo. He could be extradited to the U.S. to face numerous criminal charges.)
In May 2013, Jose Treviño and four other defendants, including "Chevo" Huitron and Veracruz businessman Francisco Colorado Cessa, were found guilty of money laundering in federal court. Testifying as a key witness during the trial, Graham, now 29 years old, had not seen many of his former associates in more than a year. On the witness stand, he described how it all began back in 2009 with his desire to obtain Tempting Dash.
The trial was one of the biggest money-laundering cases ever prosecuted in Central Texas. Information the FBI obtained through Tyler Graham had helped make the government's case. (The sentencing is set for September. Treviño and the others could each face up to 20 years in prison.)
Finally freed of his long ordeal with the FBI, Tyler Graham went home a free man. The U.S. government seized and sold most of Treviño's horses at a three-day auction in November at Heritage Place. Bidders from all over the world came to see what the cartel had to offer. It was the biggest, most lucrative auction at Heritage Place since Dashin Follies had sold in 2010. But there was one champion the U.S. government elected not to sell.
On a recent morning, we drove to Elgin to speak with Graham. He was in the office at his family's farm, surrounded by an impressive number of awards and tributes to his grandfather's long career in the racing business. There was so much we wanted to ask him, about the trial, about his relationship with Treviño, about working as an informant for the FBI. But he politely declined an interview. Dressed in jeans and work boots, Graham said he had refused all media requests and just wanted to put the ordeal behind him. But he agreed to walk us over to the stables to see the copper-colored stallion, now owned by the U.S. government, who still resides at his farm. Tossing his mane as we approached, and still wearing a Tremor Enterprises halter, was the champion Tempting Dash.
Jazmine Ulloa is a reporter at the Austin American-Statesman.